As an RVer, it is important to know all kinds of new tricks to enjoy your lifestyle to the fullest. There are days when as an RVer, you want to go away for more days, but sanitation can become an issue. This is when you look for options and tricks that make it easier.
One of these things that will make it all easier for you is a portable Black Water tank. They will not only give you the opportunity to stay off the grid for longer times but will make the yucky job of cleaning the black water tank bearable.
The portable black tank will help you to expand your black water tank capacity and make it less complicated so you can lay back a little.
What is an RV Black Water Tank?
Before we dive into how to expand the tank, let's first see what it is. The RV Black water tank is essentially a tank that holds all the human waste while you are away camping. It holds solid and liquid waste, including your toilet paper. While the grey tank does the same thing, sometimes some RVs do not have the grey water tank, and then the dirty water will be routed to the black water tank. It is the secondary tank.
Why Do You Need a Portable Black Water Tank?
Usually, the RV's come with an inbuilt black water tank. They range from 15-100 gallons, but sometimes, when you are boondocking, you need bigger tanks. You can think of installing a tank with a bigger capacity. However, it isn't the easiest thing to do. You have to make extensive modifications to the frame of your RV in order to install a bigger tank.
You can increase the size of your Black Water Tank vertically, but for that, you will have to design and install a steel frame to support that. This frame would go in the underbelly. In addition, you will have to keep the increased weight in mind, and it is possible that the RV might not be able to handle this added weight. So, we can conclude that increasing the size of an inbuilt Black Water Tank isn't the easiest option.
This is where the Portable Black Water Tank would come in. A Portable Black Water Tank is a holding tank that helps you empty the contents of your RV's water tanks and take them to the nearest dump station without taking your RV there. It is a great purchase if you are planning to go away for longer periods. Check out these Portable Black Water Tanks that you can use.
This Barker 30844 42-gallon Tote is an easy and clean way to dump waste from your RV. It is designed in a way that can be accommodated in almost all sizes of RVs. This quiet, smooth rolling tote tank has a rugged and leak-free design and is constructed out of blow-molded polyethylene plastic that gives a one-piece design. 
This Portable Black Water Tank has a large capacity and a 3″ waste valve for easy dumping. It comes with a steel tow handle that makes it easier for you to tow it behind any vehicle with a ball hitch. The portable tank has pneumatic wheels and gives a smooth ride. To avoid any potential spills, this water tank has a bobber gauge and a capacity of 42 gallons. The Barker 42 Gallon Tote comes with a 2-year warranty and is one of the biggest Portable Black Water tanks in its range.
The SmartTote2 LX 40518 is the ultimate portable black water tank for you. It offers a large capacity and a built-in sewer hose that stays attached to the tank for easy, sanitary use. In addition, it has the lowest fill height in this industry, which makes emptying very easy.
This portable black water tank has some unique features, like a 90-degrees elbow valve that provides great control while emptying. In addition, it has a sturdy handle that makes it easy to pull by hand or tow with your RV. This portable black water tank also has a built-in ladder hook for better storage. Sporting rugged, heavy-duty wheels, this is a great purchase for your next RV camping trip.
This extremely durable Black Water tank is an easy-to-use transport system that you can use to transport waste from your RV or trailer very easily. This 36 Gallon Rhino Tote comes with Steerable wheels and is ready to use. It comes with a kit that includes everything that you will need to transport the waste.
This Portable Black Water Tank is durable since it is made out of blow-molded UV-stabilized HDPE that does not leaks or deteriorate in natural conditions. In addition, it is sturdy, easy to clean, and comes with accessories that help you maintain it well.
Another option to look at is this Tote-N-Stor 20129 is a portable black Water Tank. It provides 38 gallons of added wastewater storage to your RV. Sporting four wheels and a convenient steel tow handle that makes it easy to move around. Since it has ample storage, you don't have to leave your campsite frequently. It also has a pivoting drain pipe that helps you empty the tank without lifting it. The Portable Black Water Tank also has a translucent pipe that lets you see how full the tank is without a lot of effort.
This Cassette Waste Tank by Thetford is a one-of-a-kind Portable Black Water tank with a rotating no-splash pour spout. Made of high-quality, durable materials, it is an easy-to-use Portable Water tank that features wheels and handles for easy transportation.
Features To Look In Your Portable Black Water Tank
You should be looking for specific features in your portable black water tank that will make it a perfect camping partner. Here is what you should be looking at. 
Storage Capacity – One of the most important things to keep in mind while looking for a portable black water tank. Make sure you ask yourself, how many gallons of wastewater can your tank hold? It would be best if you chose a tank with enough capacity so that you don't have to rush to the dump station frequently. 
2 Wheels or 4 Wheels – All portable black water tanks have wheels. Some have two wheels, while others have four. It is important to make sure you have durable wheels that can also balance the tank. Opt for heavy-duty wheels to make sure easy movement.
Overall Build Quality – It is important you pay attention to the overall build quality of your tank. Heavy-duty materials are essential when hauling your dump. So, look for tanks made out of blow-molded polyethylene waste that is durable.
Tow Bracket – Putting the dump in your tank is only half the battle. You also have to get it to the dump station. Then, when you are on the campground, you have to move the tank to a vehicle's tow hitch. So, make sure you use a zinc-plated steel tow adapter that connects to the handle.
Grab Handle – All portable black water tanks come with a grab handle. Make sure you find a tank with a good handle that makes lifting easier.
Advantages And Disadvantages of Portable Black Water Tank
Being able to extend your trip using these water tanks is a great advantage, but that isn't all. There are a number of advantages and disadvantages of using these Portable Black Water Tanks. Check them out. 
Advantages 
A portable Black Water tank helps you expand your campgrounds as they give you options to park without full hookups.
They can help you save money by providing you with more options to camp with fewer amenities. 
They let you dispose of the waste without actually moving your RV.
A portable Black Water Tank lets you stay off the grid for longer times.
Disadvantages 
Tote Tanks take up space when they are not in use.
You might have to make multiple trips to the dump site if the capacity is less than the RV's holding tanks.
How To Use a Portable Black Water Tank?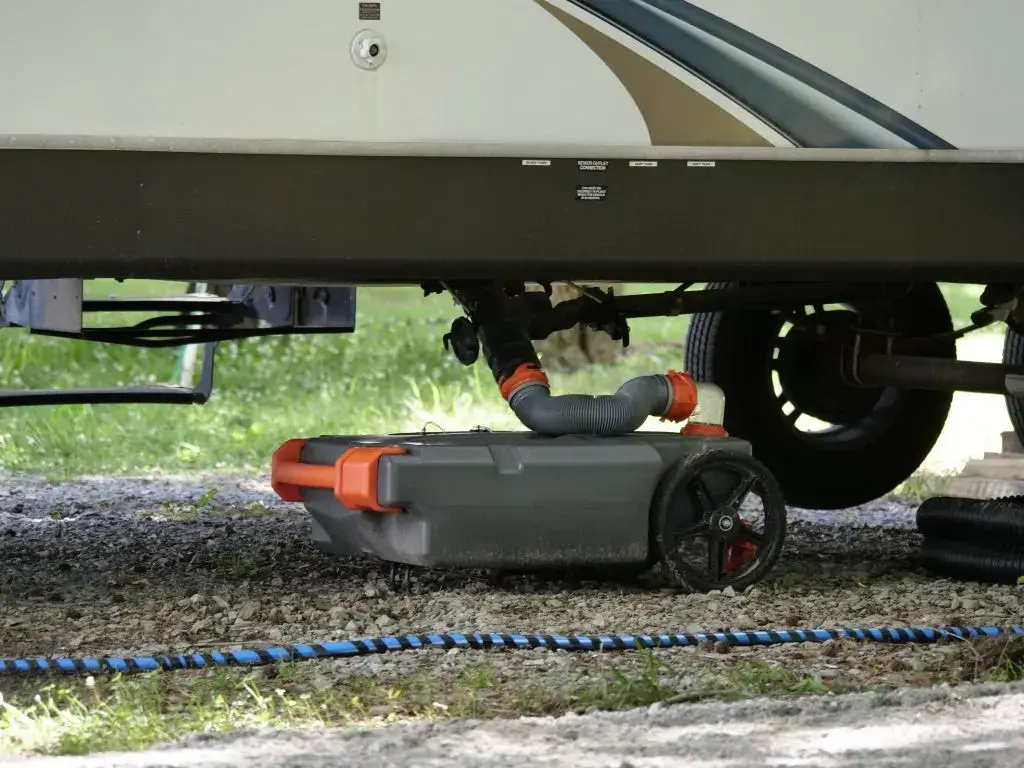 A portable black water tank is similar to your normal portable water tank. In addition, you will need a 10-foot sewer hose and a 90-degree clear elbow connector. To use these portable black water tanks, use the following instructions.
Connect the 90-degree clear elbow to fill the opening on top of the tank. 
Attach the sewer hose between the RV's dump and the clear elbow. 
After this, open the waste tank vent. 
Empty the holding tank into a portable black water tank the same way you'd empty your tanks in the dump station. 
Close the tank's vent.
Detach the sewer hose from your RV's dump outlet and connect it to the dump opening to the side of your black water tank. 
Transport your portable black water tank to the dump station. 
Once you are at the dump station, position the tote near the dump inlet.
Detach the sewer hose and 90-degree connector from the opening. 
Replace the fill opening cap. 
Screw the connector into the dump inlet. 
Open the waste tank vent. 
Pull the handle and empty the contents.

Conclusion
Dealing with RV waste is never a glamorous thing. However, it is an essential one. Since it is such an important thing, you must look for ways to make this process hassle-free and easy.
These portable black water tanks are a great way of doing it. They put you at ease while allowing you to enjoy your camping trips.
These portable tanks are a life and time saver. It will make your trip enjoyable so you can sit back and enjoy!