If you are an RV owner, you must have experienced the challenge of finding the right RV sofa sleeper from a market filled with so many options, in buying RV furniture, whether an RV couch or sofa bed, your guiding principle has to be the best utilization of every square foot of the vehicle's floor space and budget.
Select Your RV Sofa Bed Wisely
In buying the best RV sofa sleeper, you must balance all essential parameters that will justify aesthetics, space, utility, health aspects, and of course, the cost. For buying and comparing RV-related products, amazon.com is a good source.
An RV sofa bed offers you the best of both worlds as a multifunctional seater and a sleeper.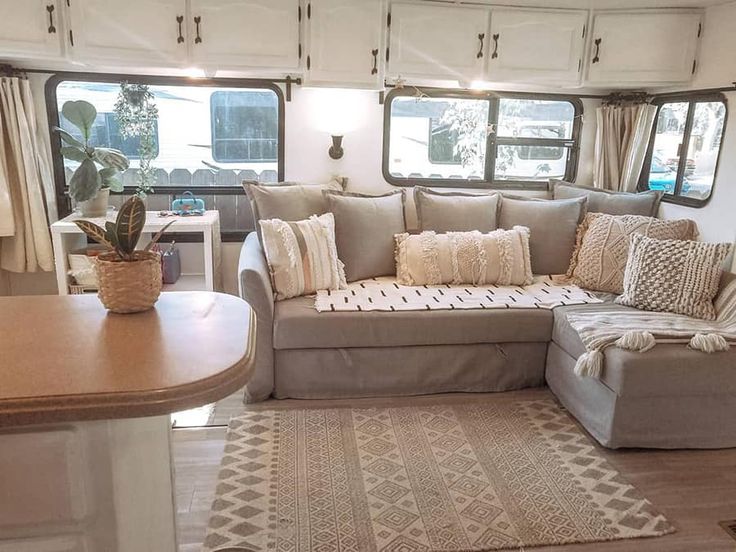 A sleeper sofa is a couch designed with a foldable frame with a mattress good enough to pull out to form a bed. The mattress can stay concealed and slide out or unfold from the sofa's inside when needed.
A jackknife sofa is a couch that flattens as you pull the seat. In the extended form, both the seat and back cushions are at a level creating a flat surface to sleep on. Jackknife sofas require no external mattress.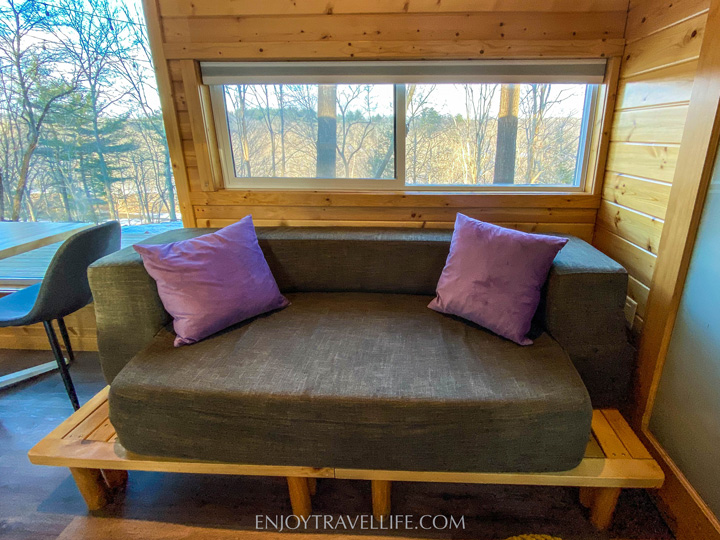 They transition like a futon bed, are lightweight, and work as space-
savers in your RV. You can also move it around more easily than other RV sofas or recliners.
Generally, a jackknife sofa will be 52 to 76 inches, and two guests can sleep superbly. There are also RV jackknife sofas custom-made in various sizes, fitted with removable armrests, and will slide under storage.
Benefits of Jacknives RV Sofa Sleeper
Compared to Jackknives, RV sleeper sofas are heavy and take up more space when converted to a bed. In Jackknives RV sofa bed sleepers, a mattress and a support frame make sleep more comfortable. An example is Lambright sleeper sofas with good looks that appear as quality couches and comfortable bed at the same time.
Tri-fold RV sofas are between 68 to 72 inches in length. Tri-fold sofas look like a combination of a traditional sleeper sofa with a Jackknife.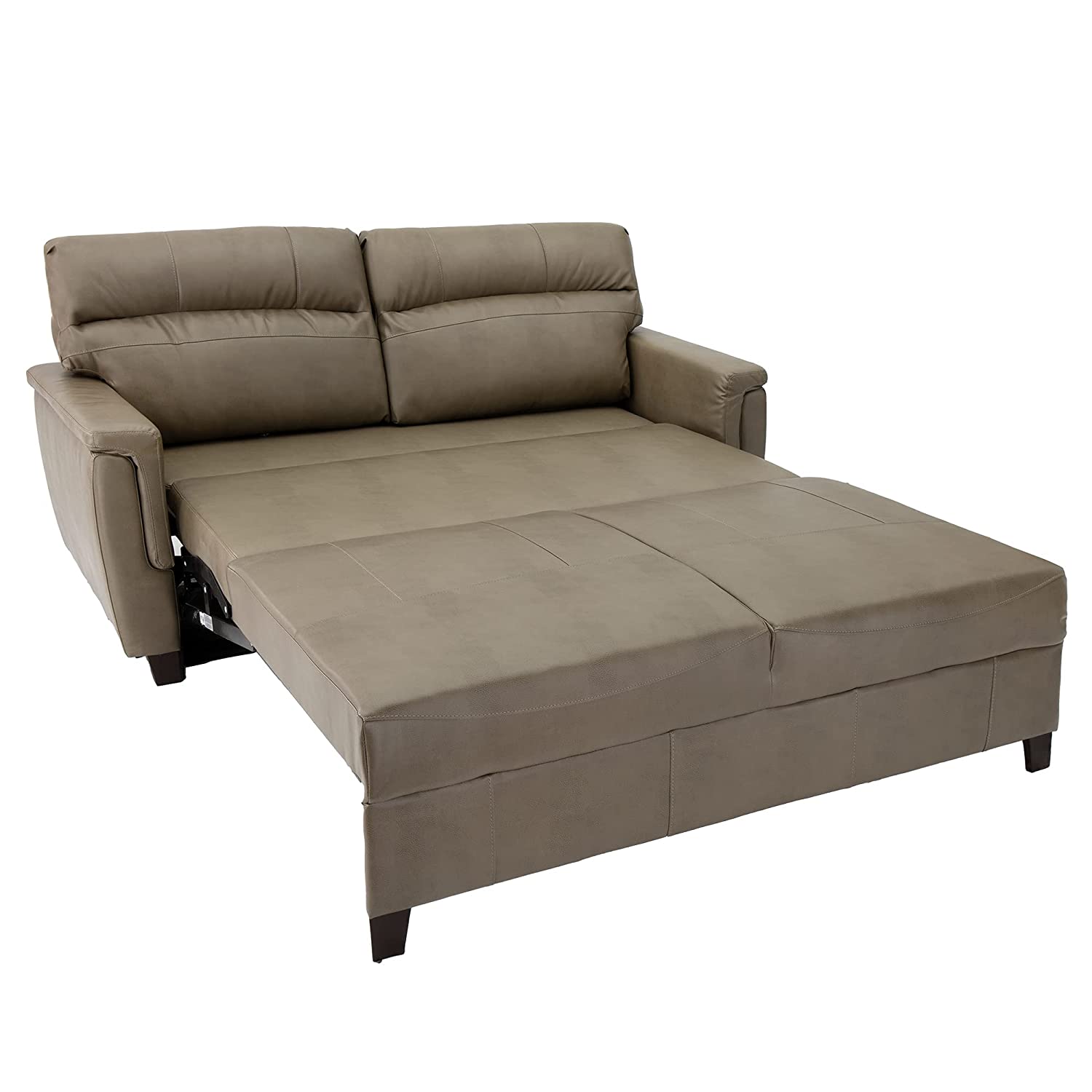 To transition an RV trifold sofa to a bed, remove the back cushions, push the seat upward, and lock with its mid-section, followed by pulling the seat down and mid-section to the ground and extending the legs.
Different models of Tri-fold RV sofas are available that can store bedding, pillows, and others under the seat. One example is the Lambright RV Harrison Trifold Easy Bed.
If you want a flexible option, then go for RV Futon Sofa Bed. It is perfect for all occasions, as the three adjustable backrest settings will ensure a comfortable position.
It can sleep two people peacefully with its 500-pound weight limit, good enough to hold even three people. In addition, the four chrome metal legs add significant power to the structure.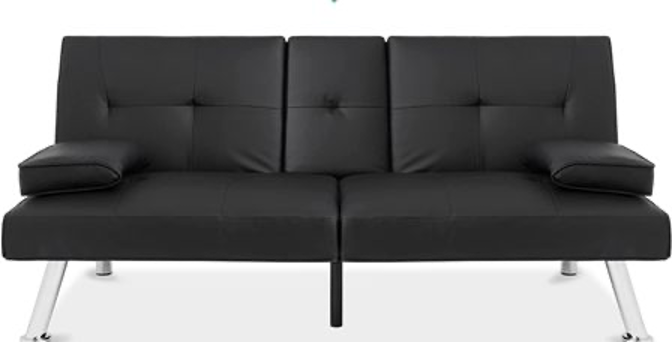 This couch is excellent for binge-watching TV shows as the fold-down armrest containing cup holders in the middle will make you enjoy the time. You can easily make this couch into a sofa bed at any time.
Removable arm pillows and an adjustable back take only a few minutes for this exercise. Additionally, moving this couch is no task as the 62-pound asset is one of the lightest.
The structure of this RV sofa bed makes you fall in love. The 68" RV Tri-Fold Sofa blends comfortable design and splendid high-density foam interior making your travel very relaxing. It can double up as a sleeping area effortlessly. Thomas Payne is a famous brand product in this segment.
Guests cannot stop praising the cozy mattress compared with air mattress beds. In addition, the 68-inch size will mesh with the rig's interior answering the craving for a quality sofa bed in the 60 to 72-inch range.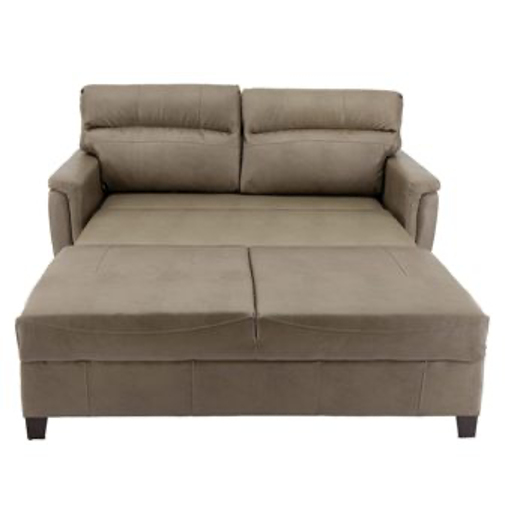 This sofa provides buyers with four style options. The credit for the durable construction goes to high-quality PolyHyde fabric and other innovative materials. It is easy to clean as clumsy drinks spilling will not bother you. But this RV fold-down couch has no recliner with footrest capabilities.
RecPro's Charles Collection 80″ Camper Hide-a-bed Loveseat offers a top-tier performance thanks to the design fabric. The Suprima leather features in the Tiona pattern make the couch flexible and go with most RV interior styles.
The cleaning jobs are easy, and that makes it a hot favorite of pet owners or RVers carrying children. Accidental spills will not be an issue on this couch. Also, you will enjoy the couch as a sleeping and relaxing surface.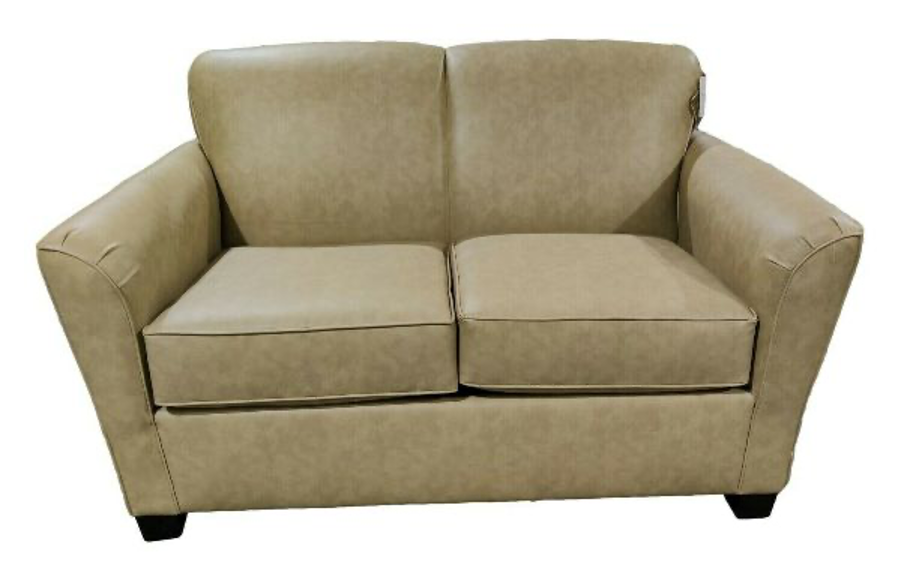 The accompanying mattress is 5″ thick memory foam, and guests will feel the enthusiasm of sleeping as if on a regular bed.
Multiple color options include putty, chestnut, toffee, and mahogany. The price tag will justify every penny for as top-tier quality and durability.
The Plush RV Sofa Sleeper will become your favorite with the couch's ability to squeeze into all small or tight spaces. An example can be the Ashley Furniture Signature Design RV sofa suiting all small spaces.
The compact RV sofa ensures easy moving into the rig and can also create ample room for other furniture. The plush foam cushions are super with top-tier comfort creating leisure moments as you relax on this couch.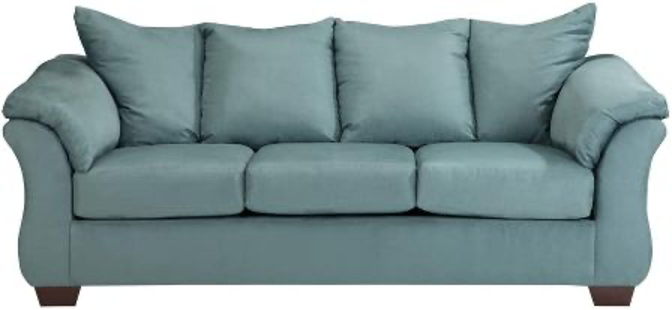 The embedded bi-fold innerspring mattress poses no problem in accommodating any overnight guests. Sleeping on this mattress will give a different experience than the traditional hide-a-bed option.
You will not have trouble assembling the couch as the process consists of taking away shipping cleats and wire hold-downs. Once removed, the sofa will be ready for super relaxation. The beautiful navy blue color lends more glam and elegance to the RV interior.
The Microfiber Sleeper Sofa from Ashley mixes design elegance and comfort. The polyester/nylon upholstery offers a resilient surface to relax, and the pleasure zooms as you watch a movie or TV show lying down.
The pull-out memory foam mattress is excellent for a nice sleep after a hard day. In addition, this sofa offers better airflow and is less sweaty in terms of user experience.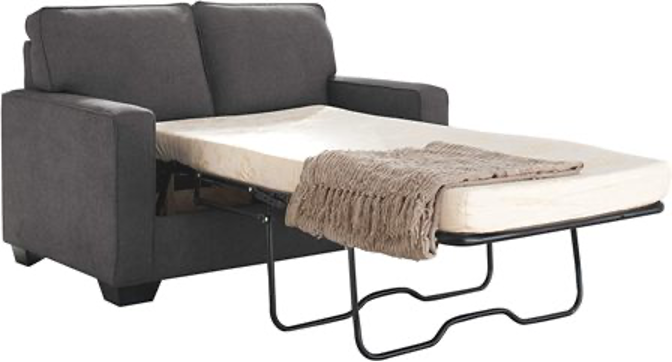 The steel frame provides super top-tier support, ensuring no complaints of back or neck aches after you wake up, and you do not regret sleeping on an unstable surface. It will be a firm and comfy sleeping area.
The size will guarantee the ultimate user-friendliness. The durable construction dispenses out all issues and fits into all areas wherever RV sofa sleepers are needed.