Spending a few days or even a week camping in the great outdoors can be an exciting adventure. But your happiness will quickly become chaos if you are not correctly prepared with well-stocked camping gear.
The easiest way to guarantee nothing is left behind is to draw up an essentials checklist. From the perfect tent and comfortable sleeping back to adequate light sources and a proper water supply, your essentials list is easy to complete. For those who enjoy vaping, don't forget to pack your favourite vape juice and a proper charging device to keep your vape in perfect working condition throughout your camping excursion.
Tent
Even if you plan to sleep under the stars in your sleeping bag, you should always ensure you pack a tent or other emergency shelter regardless of how long you plan to be out camping. Weather is very unpredictable, and it is impossible to anticipate any unexpected emergencies, so having a shelter could become a matter of life and death.
Along with the canvas, make sure to bring all the necessary accessories, including cordage, tent poles, stakes and a rain fly. Depending on the size of your camping party, choose an appropriately sized tent to accommodate everyone properly.
Water & Food Supplies
Adequate water and food supplies are one of the most critical components of any camping gear setup. The further off the beaten track you find yourself, the quicker your supplies seem to run out. Your chosen food is mainly up to you, but selecting options that are high in energy-restoring carbohydrates and healthy fats, proteins, and sugars will keep you well-fueled.
Due to the risk of potentially serious illness due to bacteria in rivers, ponds or lakes, having a fresh water supply is essential. Although, there are many different ways to purify water while out in the wilderness, so having a few other methods on hand is a worthwhile investment.
Plan to have at least two litres of water available, per person, per day. This number can increase when the weather is hotter but don't fall into the trap of packing more than you can comfortably carry.
First Aid Kit
While you will unlikely experience a life-threatening injury, it is nearly impossible to avoid smaller issues and incidents along the way, including blisters, scrapes, allergies, headaches and insect bites. These problems can be adequately managed with a properly supplemented first aid kit.
There are many stocked kits available to purchase online. Still, if you plan to create your own, you should include items like bandages, antiseptic, scissors, adhesive, gauze, soap, an emergency whistle and medication for headaches and allergies.
As part of your first aid kit, include high SPF sunscreen, insect repellent spray and a pocket knife to prepare you for any situation.
Sleeping Bag
Temperatures can drop significantly during the night, sometimes by 20 degrees or more, regardless of the time of year. Additionally, insects and other creatures become more active during the night. With these two points in mind, packing a good-quality sleeping bag is an integral part of your camping essentials.
Thicker materials are better for the cooler months, while lightweight options will keep you covered from the elements without overheating. With many different varieties available on the market, you will have plenty of choices to find the perfect one for you.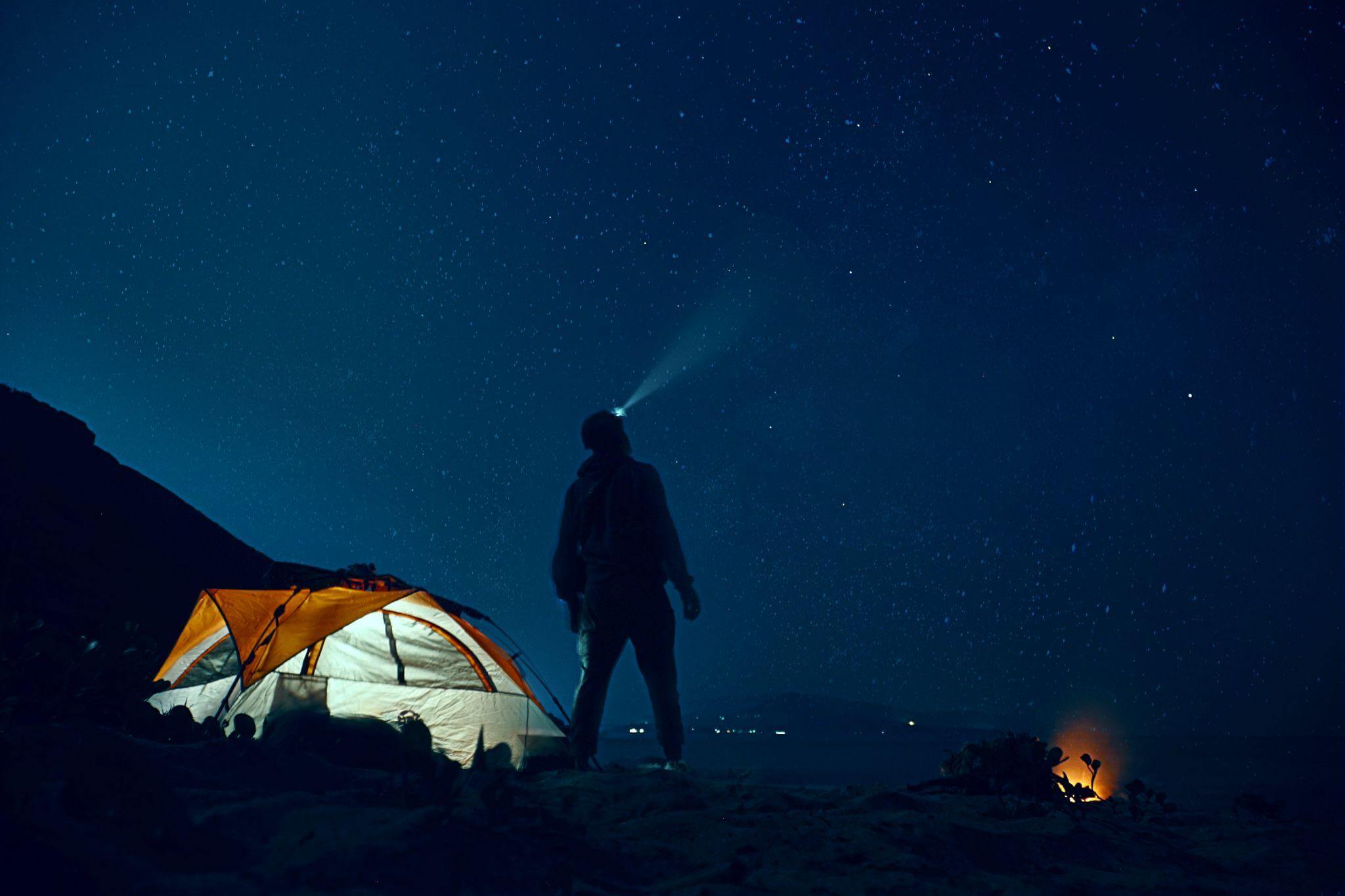 Map & Compass
Whether you are camping in your favourite location or visiting somewhere new, many experts strongly recommend that you pack a map and compass of the area. If weather conditions change for the worse, or you are unexpectedly taken away from your designated path, these items will be essential for finding your way back to safety.
Including a GPS device is an excellent addition, but don't solely rely on electronic devices that could run out of power or lose signal.
Fire Starter
Camping doesn't feel complete without a crackling fire to sit around and enjoy the night sky. Therefore, packing the right tools to achieve this reward at the end of the day is a fairly important addition to your gear.
Take along a small amount of dry kindling, a working lighter and waterproof matches to have alternative methods from which to choose. If you are equipped to use flint and a striker successfully, include it as an additional option.
In emergencies, your safety and well-being could be determined by your ability to start a fire, so it is vital not to underestimate the importance of creating one.
Finally, ensure you have appropriately extinguished your firepit before moving on from your camping site to prevent wildfires from spreading.
Weather Appropriate Clothing & Gear
While camping, you will likely have more than one set of clothing packed. It is vital to ensure these clothing options are weather appropriate for the time of year you have chosen to camp and that the regular clothes are kept dry.
Lightweight, waterproof clothing like a jacket and pants set and warmer layer options are worthwhile additions. Additionally, items like dry sacks, a rain cover for your backpacks, extra underwear, and socks will make your experience more pleasant.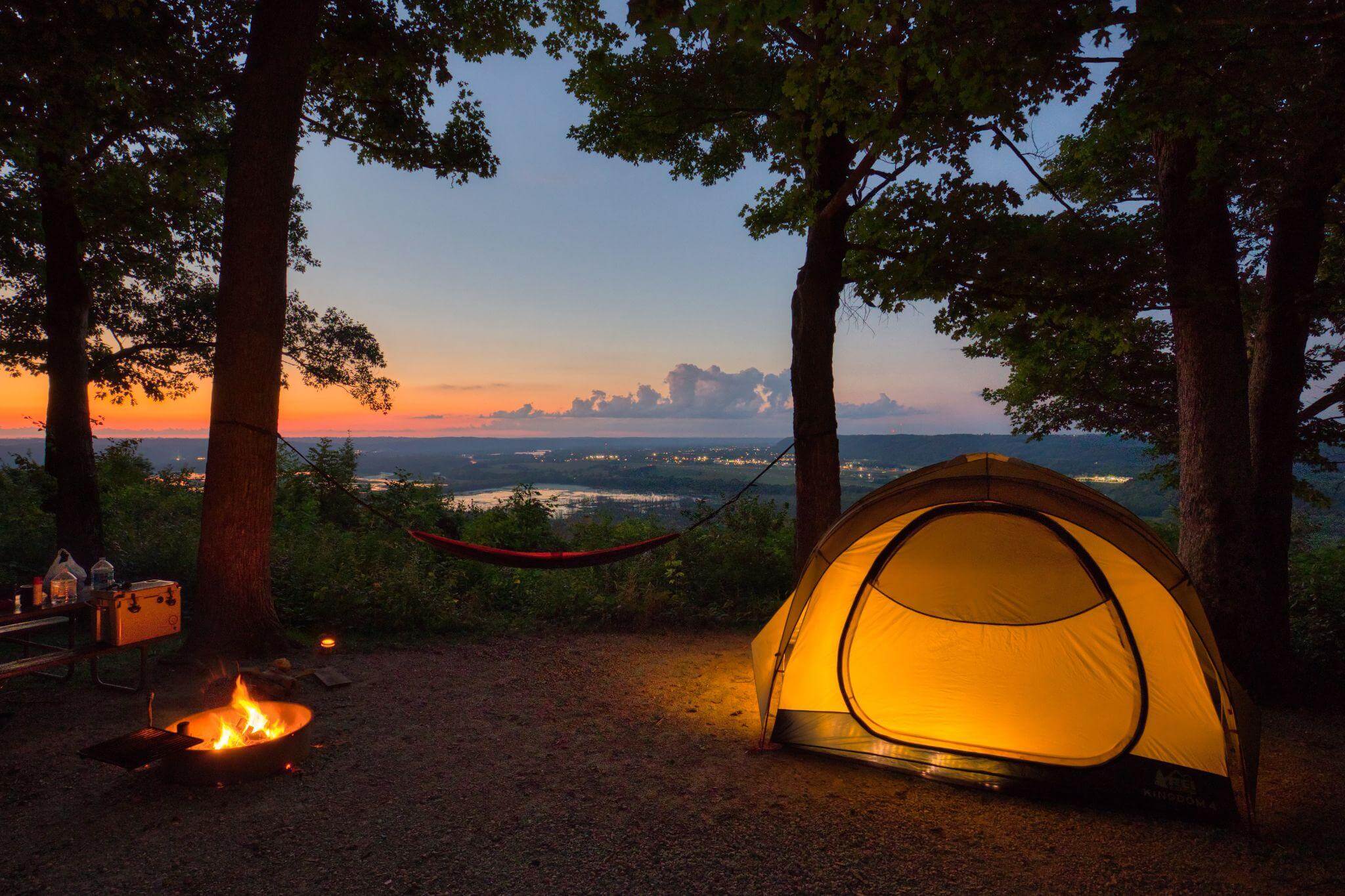 Light Source
A campfire is an excellent source of light and heat, but only for the area in its close vicinity. If you need to venture away from your camp, search for items in your tent or survey the area during the night, having a proper light source is invaluable.
Many campers claim a headlamp is the best selection, as it frees your hands for activities and chores, but regular torches and camping lamps are excellent alternatives. Don't forget to pack extra batteries or charging devices where necessary.