Camping can be the most memorable experience of your life — only if you come prepared.
Camping is one of the best ways to have a fun and healing time close to nature. However, the lack of convenience and the possible risks may ruin the experience if you're unprepared. Packing the right gear is essential to overcome unexpected situations and make the most out of your adventure.
Your camping checklist depends on your preference, planned activities, and chosen camping ground. It's hard to decide what to pack with all the equipment available, plus all the things you want to bring.
Ensure that you know the basics. Here are the essentials that your camping checklist should have.
Navigation Apparatus
You'll need help navigating rough trails. Here are the basic navigation tools you can use:
GPS device. Your phone won't help much in out-of-reach areas. Your best bet will be a GPS device. They work independently from Wi-Fi or cellular data and are resilient to falls and natural elements like rain.
Map. A topographical map is an old-school but reliable tool for any outdoor adventure. A map helps you trace your path and find your way back in case you get lost.
Compass. Find the true north and position your map correctly with a compass. It's best to bring a handheld baseplate compass as it doesn't need batteries to work.
Satellite messenger. Establishing communication is crucial when heading to a remote area without a mobile signal. A satellite messenger can help you send distress alerts and enable emergency responders to locate you.
Tent
You can't underestimate the power of a high-quality, comfortable tent to complete your outdoor experience. Your tent is more than just a space to keep your things and lay your head for the night. It will shelter you from heavy rains, snowstorms, and high winds. It also keeps bugs from feasting on you while you sleep.
Sleeping Bags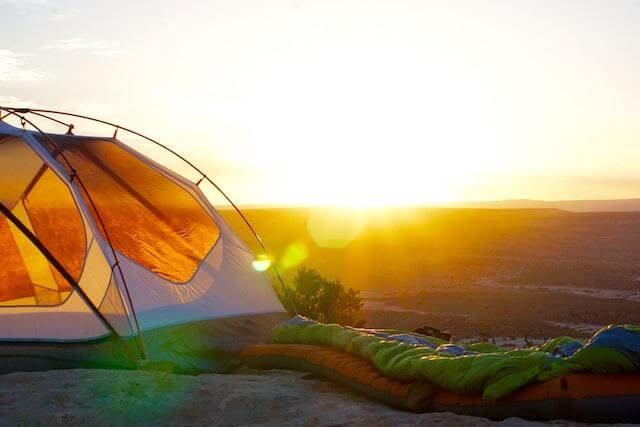 A sleeping bag is your best chance at having the best sleep outdoors.
Sure, spreading a mat out and sleeping under the stars is a romantic idea—except you should consider that temperatures can be freezing at night. A cozy sleeping bag is your closest ally. It'll keep you warm throughout the night for a well-deserved sleep after a day of camping activities.
Cookware and Utensils
While you can bring ready-to-eat meals and snacks, cooking outdoors does take the camping experience to the next level. Bring portable stoves and pans that are easy to pack and set up. There are also compact multipurpose utensil sets, such as an all-in-one spoon, fork, and knife (a.k.a. splayd). They don't take up much space, and you have everything you need to enjoy your food thoroughly.
Don't forget to store your food items properly to keep them from being contaminated. You might need a net bag or use an old knotted poultry netting to hang your fruits and vegetables easily.
Water Containers
A person needs 2 to 3 liters of water daily. As a rule, each person should bring 2 gallons (or 7.5 liters) of water for an overnight camping event. You'll need bigger containers to store more water if you're camping for several days. You can also replenish your supply by boiling water from streams, lakes, and rivers along the way.
Lighting Gear
You can't go wrong with a classic handy flashlight as part of your essentials. However, it can be a hassle to hold a light while preparing food or fixing your tent. Many campers prefer a headlamp for its hands-free convenience. You'll also benefit from bringing a hanging lantern for wider light coverage. This is the perfect lighting as a group if you plan to spend the night playing games, sharing food, and more. Consider getting solar-powered flashlights and lanterns your camping site has no access to electricity.
First Aid
Camping is generally safe, but it isn't without risks. The top dangers of camping trips include drowning, fatal falls, dehydration, avalanches, and vehicular accidents. But with the right precautions, the chances of these fatalities happening are low.
It's important that you can administer first aid to any injuries, even for harmless cuts and grazes. They may not be critical, but an infection will be. A compact basic first-aid kit will serve you well not only when camping but for all trips. Your first-aid kit can be as small and as big as you want it to be. Here are items you must have in your kit:
Sunscreen
Antiseptics
Thermometer
Sterile gloves
Mosquito repellant
Scissors and tweezers
Anti-allergy medications
Bandages, gauzes, and adhesives
Paracetamol, aspirin and ibuprofen
Distilled water (for wound cleaning)
Fire Starters
Besides being a source of warmth and light, a campfire is also useful for cooking, repelling bugs, and keeping away dangerous predators.
Sure, your flashlights and sleeping bags can give you the insulation and light source you need. However, those pale in comparison to a bonfire softly illuminating and warming your night.
Your firestarter kit can include flint and steel, lighter, matches, and candles. For kindling, unused papers or old egg cartons and containers will do. You can also source fire directly from your portable stove. You can also find firewood in your campsite.
Pocket Knife
A pocket knife is a must-have survival item. It's handy and multifunctional. It can cut, slice, sharpen, screw, defend, and more. There are even pocket knife varieties that put various tools in the sheath. You'll have scissors, screw divers, can openers, and more in one tool that you can carry in your pocket.
Entertainment
Camping becomes more popular year after year. Around 10.1 million US households camped for the first time in 2020. The interest remained high the following year, with the number of American campers breaking over 50 million in 2021.
Getting away from the daily grind is among the top reasons people go camping. It's imperative that you spend the break having fun. Entertainment items are essential to your packing checklist!
The easiest and the best entertainment equipment you can bring is a speaker. Nothing beats music to make the occasion more pleasant and enjoyable. You can just put on a song and spend camp vibing to the music, singing, and dancing. Card games are also a great way to get everyone involved and have fun.
Don't forget to add portable power stations to your camping checklist. These power banks can charge your electronic devices like phones, cameras, and speakers while you're on the go, making sure you don't run out of power when you need it the most.
For All In-Tents and Purposes
Hitting the hills soon? Before you go, be sure you got everything in the bag. Preparedness is the best way to have a fun, worry-free outdoor experience. Here are camping must-haves that'll serve you well, regardless of your destination or planned activities.