One of the most frequently asked or searched questions on the internet is how we can replace our RV ceiling panels and what alternative ideas are available in the market.
So, let's start answering all the questions one by one, and hopefully, by the end of this blog, all your queries will be solved regarding the same.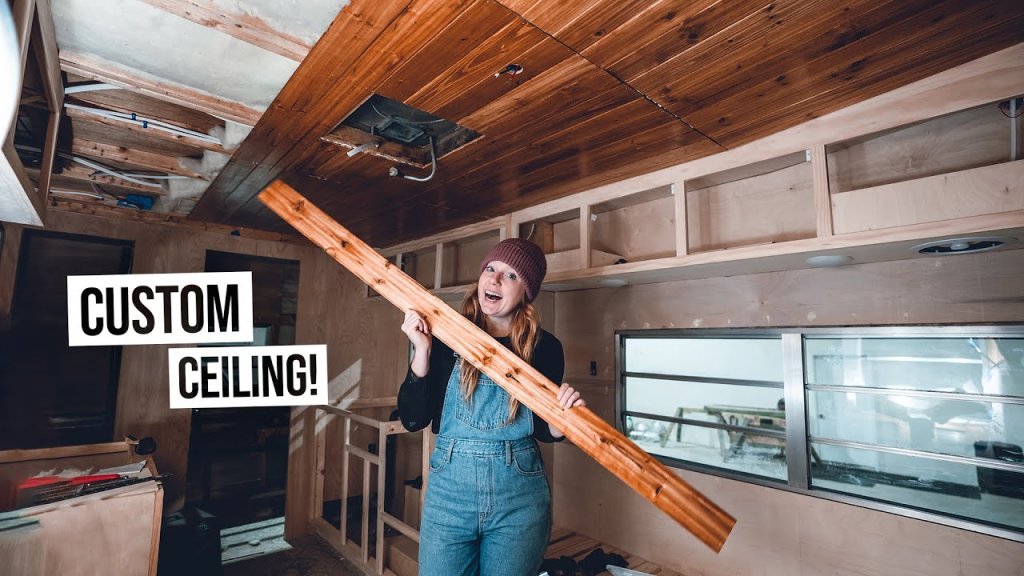 What are RV Ceiling Panels?
Today, the market is flooded with multiple options making it difficult for us to choose an appropriate ceiling panel. So, it's better to do a little research and then make a final decision.
A good RV ceiling panel is one that could work for an extended period.
It must include some characteristics such as water resistance and convenience for installation and should be easily replaceable.
Do check if it will suit your RV or will be able to fulfill all the necessary requirements like covering conditioning vents, doors, and cupboards.
Also, look for something that would not burn your pocket. We know it's difficult but not impossible, so keep hunting for that perfect budget-friendly RV Ceiling panel.
Now that we have discussed a suitable RV Ceiling Panel. Let's look at some of the reasons that tell us that our ceiling panels require replacement. 
How To Tell That Your RV Panel Needs Fixation?
When the panel is damaged – If you find that your RV ceiling panels appear dull or feel slippery on touch, then you can tell by just looking externally that the ceiling panels are damaged and require replacement.
For Better sound quality – If you wish to update your RV with better sound quality or enhance its audio system, then installing a suitable ceiling panel could solve the problem. 
For Insulation – If you focus on improving the insulation inside your RV, you should definitely replace the panel.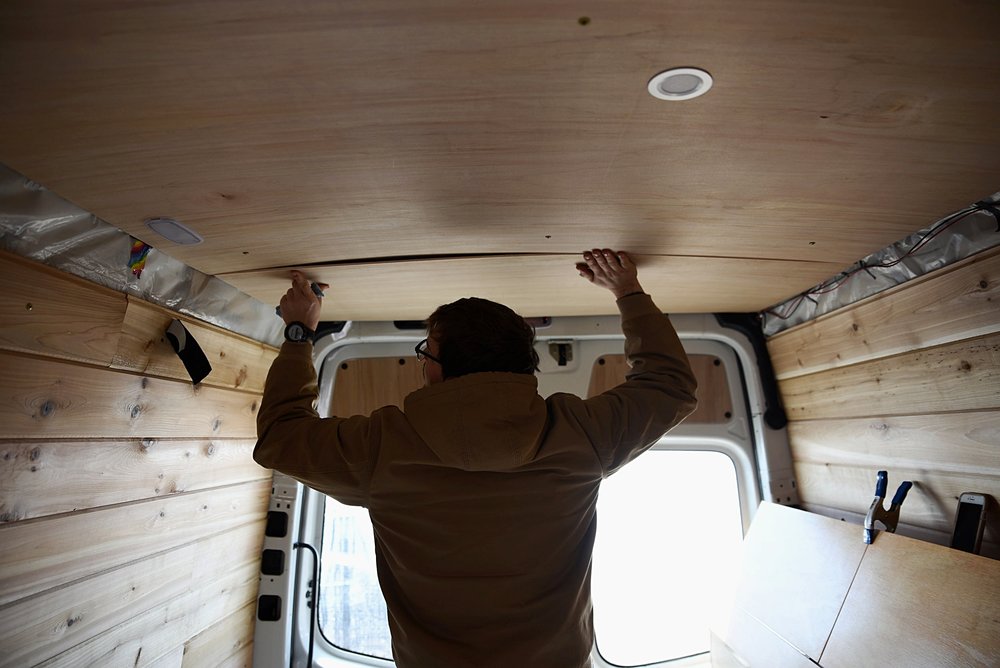 How To Replace Your RV Ceiling Panel?
To initiate the process of removing the RV ceiling, start by taking down the existing panel carefully. While removing the panel, make sure that you are cutting it properly, as it may hamper the size of the measurements afterward. Remember that you are not a professional; try to find the best ways to remove it seamlessly. Also, everyone's RV requires different treatments, and it is suggested to talk to any manufacturer before changing the ceiling.
Once you have removed the ceiling successfully, measure the empty parts on which you are planning to install the new ceiling without interfering with the furniture and windows. After that, you can place the cut pieces of the new ceiling in those empty spaces.
Also, the other way, perhaps the less tedious one, is to remove the old ceiling along with all the vents and windows and replace a whole new one.
Alternative Materials to Use in RV Ceiling
Whether you are planning to install a fresh panel of the existing material or looking for another alternative, it is suggested to do detailed research. In order to enjoy the outcome, one needs to go through the rigorous process of selection and installation.
1. Metal Carved Panels
If you are planning to choose metal panels for your RV, then you do not have to worry if it catches fire because it doesn't. Perhaps also prevent it from stinking as it claims not to hold water. Indeed, metal has the properties of ductility and malleability that allows you to mold and shape it in your own desired way. Also, you can do some carvings finishing off with different paints to create an exquisite vibe inside your RV.
All merry things bring a few flaws with them as well. Here, you need to take care of the metal panel encounters any leakage, then in no time, it could get corrode. But, despite this setback, metal panels are undoubtedly capable of adding a hint of elegance to your RV.
2. Wooden Panels
Installing wooden panels can be an excellent option for your Campervan as it brings coziness and an authentic soothing vibe. Plus, it can be customized according to one's wish. The only thing you need to take care of is that wood and fire do not go hand in hand. So, it would be best if you were very cautious as wood can catch fire easily. But, other than that, wooden panels make a good choice, and branded wood can make a lot of difference.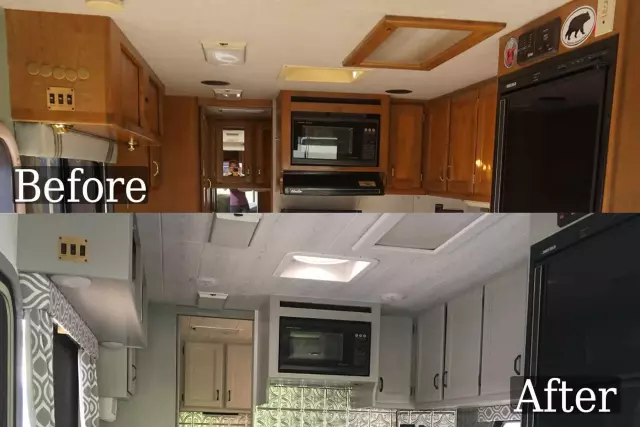 3. Vinyl
Vinyl can be your long-term friend due to its tendency to withstand extreme temperatures. Its cleaning also requires minimal effort. If you aim to install a panel with comparatively low weight, then vinyl should be your choice over metal and wooden panels.
4. Fiberglass
Fiberglass is also a great alternative for RV ceilings. It comes with numerous benefits such as high strength, durability for a longer time, ease to afford, need low maintenance, effortless cleaning, and the list can go on and on.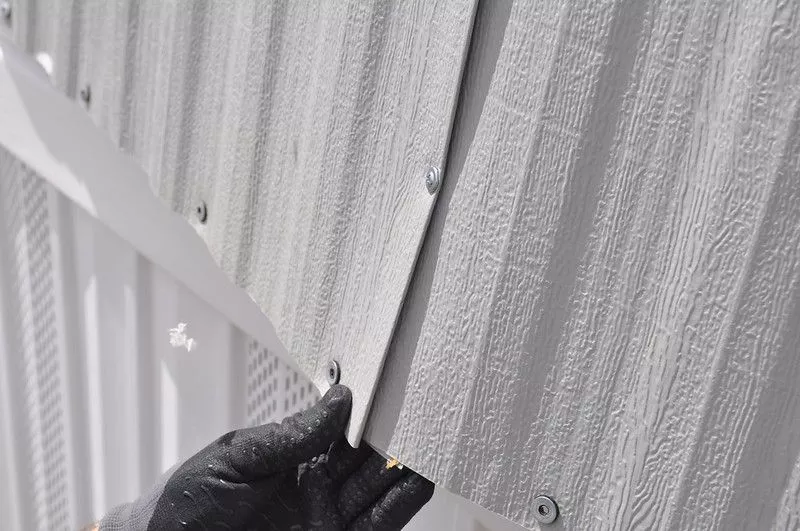 5. Fabric Covering
Probably,Fabric covering can turn out to be an awesome alternative for covering the ceilings of the RVs as it softens the sounds making it suitable if you plan to shoot a video. Moreover, it's pretty easy to install fabric covering and making it a good choice for those who are looking for a savior to hide their ceiling's imperfections without running behind something fancy.
Conclusion
Hopefully, you have acquired enough knowledge after all this thorough discussion that may help you in some way to revamp your RVs.
Whichever alternative you choose, do not forget to do a little research. And, of course! Get creative and innovative to produce a pleasing aesthetic vibe that anyone can't help but admire.