The concept of smart home has come a long way. Now, we see compact size homes and apartments that showcase perfect examples of modern home décor. These modern homes usually have compact bathrooms.
Some homeowners might find it tough to get the most out of tiny house bathrooms. This holds true when you have limited bathroom space for customizations. Don't worry; we have some cool hacks to share with you. For example, you can opt for corner shower enclosures.
This blog post has all you need to know about these corner-side shower doors. So, let us get into it!
Storage Constraints for Tiny House Bathrooms
First, let us discuss some storage constraints for tiny house bathrooms. So, here are a few of them:
1: Limited cabinet space
Tiny house bathrooms often have minimal or no built-in cabinet space, making it challenging to store toiletries, towels, and other bathroom essentials.
2: Lack of closet space
Tiny houses typically have limited or no closets, leaving little room for storing linens, cleaning supplies, or additional toiletries.
3: No dedicated storage area3
In some tiny houses, there may be no designated storage area for bathroom items, forcing homeowners to find alternative solutions.
4: Height restrictions
The height of a tiny house bathroom may be limited due to the overall size and design of the space. This constraint can make it difficult to install tall cabinets or shelves for storage.
5: Narrow wall space
The limited wall space in tiny house bathrooms restricts the placement of shelves or storage units, reducing available storage options.
6: Limited floor space
With limited square footage, tiny house bathrooms often lack floor space for freestanding storage units, such as cabinets or drawers.
7: Weight restrictions:
Tiny houses have weight limits, and additional storage solutions may need to be lightweight to avoid exceeding those limits.
8: Plumbing obstacles
Plumbing lines and fixtures in a tiny house bathroom can limit available storage space, as it may be challenging to place storage units near pipes or behind fixtures.
9: Accessibility concerns
Tiny house bathrooms need to be accessible, and storage solutions must consider the needs of individuals with disabilities or limited mobility.
10: Aesthetic considerations
Balancing storage needs with maintaining a clean and uncluttered aesthetic in a tiny house bathroom can be challenging, as visible storage can impact the overall visual appeal of the space.
Some Space Saving Hacks for Tiny Bathrooms with Corner Shower Doors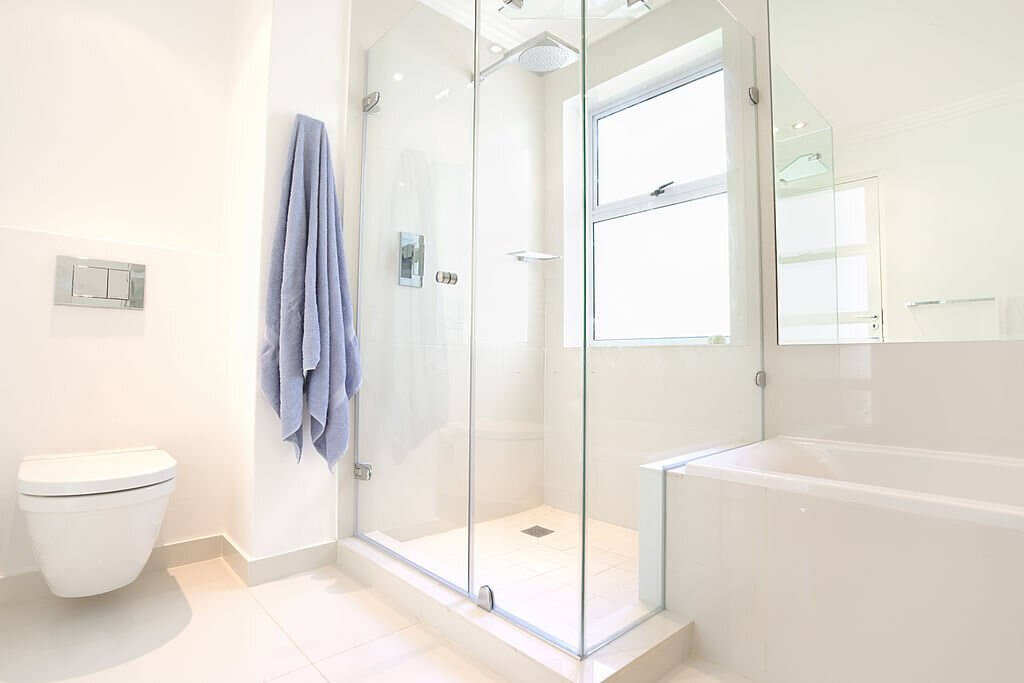 Now, let us discuss some practical space saving hacks. Here is how these shower enclosures help save maximum space:
1: Built-in shelving
Install built-in shelves within the corner shower enclosure. These shelves can be recessed into the walls or constructed as separate units.
They provide convenient storage for shower essentials such as shampoo, conditioner, soap, and other toiletries, keeping them easily accessible while saving space.
2: Corner Shower Organizers
Utilize corner shower organizers specifically designed to fit into the corners of the shower enclosure. These caddies typically have multiple tiers or shelves to hold bathing products, loofahs, razors, and other items. They effectively utilize the vertical space while keeping the shower floor clutter-free.
3: Hanging storage solutions:
Utilize hanging storage solutions inside the shower enclosure. Hang a shower caddy or mesh pockets on the showerhead or attach suction hooks to the walls to hang various items.
This helps keep items within reach without taking up valuable space on the shower floor or walls.
4: Over-the-door storage
Consider utilizing over-the-door storage solutions on the outside of the shower enclosure. These can be over-the-door hooks, baskets, or racks that provide additional storage for towels, robes, or other bath accessories. They maximize space without interfering with the showering area.
5: Utilize Wall Space
Make use of the surrounding wall space outside the corner shower enclosure. Install wall-mounted cabinets, shelves, or towel bars to store towels, bathrobes, or extra toiletries.
This way, you can optimize storage space while keeping the bathroom organized and clutter-free.
6: Freestanding Storage Units
Place freestanding storage units, such as small cabinets or trolleys, adjacent to the corner shower enclosure.
These units can store towels, bath products, and other bathroom essentials while providing additional surface area for placing items like candles or decorative elements.
Final Thoughts!
So, now you know all about increasing storage space with corner shower enclosures. By implementing these storage ideas, you can maximize the available space within a corner shower enclosure. These options enable the efficient organization of showering essentials and bathroom items.
No matter how you plan to increase your bathroom's storage space, always buy the glass panel for shower doors from a reliable glass distributor.