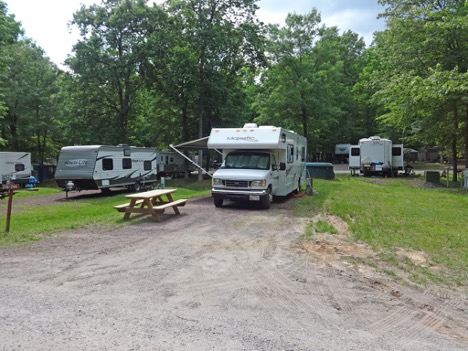 Spending weekends or upcoming holidays in an RV park with your family is a perfect idea for enjoying your time. Whether you are with your family or want a solo adventure trip, RV rides can meet all these needs of yours. So, let's pack your bags and plan for an RV park trip. But I know what stops you from finding the right RV. It is the exorbitant prices of RVs that hinder you from listening to your calling for RV trips. The prices of the trips are not always high and range from as low as $25/per night to as high as $95/per night.
You must be wondering how to find affordable RVs. If yes, I can help you find RV parks available at affordable prices. The solution to your RV price-related confusion is an RV membership. If you want to know more about it, read this article that I have written to provide all the crucial details that RV lovers need to know.
RV Memberships for Affordable RV Parks
Spending a substantial amount of money for only one RV ride is not a good idea. So, if you want to save your money and enjoy RV rides as well, you can enroll for an RV membership. RV memberships are clubs that provide RV'ers with a facility to use their collective buying power to reduce RV trip prices. They can pay low prices to enjoy rides as members of clubs.
You must be overwhelmed with the myriad of advertisements available on the internet that offer discounts on RVs. Well, I faced the same problem when I was searching for the right membership for myself. That is why I want to provide details about the three RV park memberships that you need. You can find the benefits of these memberships and select the one that meets your requirements the best.
Three RV Memberships that You Need to Leverage Exceptional Benefits
Harvest Hosts
Do you feel exhausted because of your busy 9 to 5 routine and want some relaxation? If yes, nature is calling you to slow down the pace of your life and appreciate its beauty. If you are a nature lover and want to explore the simplicity of farmers' lives, then Harvest ss is the perfect RV choice for you. This RV membership provides you with an opportunity to explore farms, breweries, wineries, and natural surroundings at more than 953 locations in the United States. Eat fresh dairy products and taste freshly picked fruits from orchards. Enjoy the real taste of pure food in the campaign spots of Harvest Hosts.
Well, now you must have made up your mind to take a break and explore dairies, farms, breweries, and wineries with this RV membership. If so, the price of Harvest Hosts membership price will excite you more, which is only $79 annually. It will offer you unlimited access to single-night campaigns in more than 953 locations nationwide. Whenever you think about your next RV park trip, consider the extraordinary benefits that Harvest Hosts membership offers at a reasonable price.
Good Sam Club
When you seek quality services, you opt for a reliable brand. One of the most renowned and reliable brands for RV membership is Good Sam Club. The brand has the largest RV network, with working experience of more than 50 years. Good Sam Club RV membership focuses on making RVing safer. So, while traveling with Good Sam, you don't need to worry about your safety because your safety is the club's responsibility. It offers RVing across North America.
The club has more than 2,100 affiliated campgrounds and RV parks for overnight stays. If you enroll for Good Sam Club RV membership, you will always have plenty of choices to spend your free time in any of the affiliated RV parks of the club. Enroll for the club's membership and visit RV parks that you like any time of the year.
Now, you must be curious to know the prices of the largest RV network, Good Sam Club, to enjoy at several RV parks. Surprisingly, the price for a Good Sam Club annual membership is only $29. The price of a 2-year membership is $55, which also includes a merchandise certificate of a value equal to $15. However, the price of a 3-year membership is $79, including the elite benefits of a merchandise certificate of value equal to $30. The longer your RV membership period, the lower price you pay for the membership. So, you always have the choice to select a Good Sam RV membership according to your budget and needs. If you are searching for budget-friendly RVing, then a Good Sam Club membership is the right choice for you for sure.
Passport America
PA offers the biggest discounts on its RV services on weekdays and during off seasons. However, if you have a Passport America RV membership, you don't need to worry about discount offers. You can always enjoy rides to more than 1,200 RV parks in the United States. PA offers a 50% discount on its RV membership.
The price of a PA annual membership is $44. A 2-year Passport America RV membership will cost you $79. The price of a 3-year membership is $109. However, the cost of a 5-year membership is $179. But wait to know the more exciting thing about the RV membership price that Passport America offers. PA also offers you a lifetime RV membership called "Lifetime Gold Membership" at $299. Visit different places in nature anytime in your life, and you don't need to pay an extra penny for an RV trip after purchasing the PA lifetime membership.
Passport America RV parks will mesmerize you with the beauty of nature by offering you RV trips to beautiful natural locations. If you are a nature lover and want to spend some time with your family or yourself in nature within your budget, you can opt for the Passport America RV membership as per your budget and needs.
Wrapping Up
In a nutshell, Harvest Hosts, Good Sam Club, and Passport America are the three best RV memberships for you. All of them provide exceptional service.
But the choice of an RV membership depends on the experience that you want through RV park trips.
If you want to see the simplicity of farmers' lives, you can choose Harvest Hosts memberships. If your preferences are budget-friendly RV membership, you can opt for a variety of recreational experiences offered by Good Sam Club RV membership.
Nature lovers can enroll in the Passport America membership to witness the beauty of nature.