Flipping RVs have become a serious business nowadays. Turning old RVs into new ones has created new enthusiasm among RV admirers. People are using this technique to give their creativity a new life and make some extra money out of it to start an emergency fund.
This can be seen as a DIY for flipping an RV into a new form. Some people do it as a hobby, while others want to establish a business out of it. Either way, it is your creativity and efforts that matter in this line.
We have made a list of things that will help you to make your purchased old camper into a new RV and sell it on the Facebook market. So let's start from scratch and build a beautiful camper.
First, Search for a Used RV and Buy it.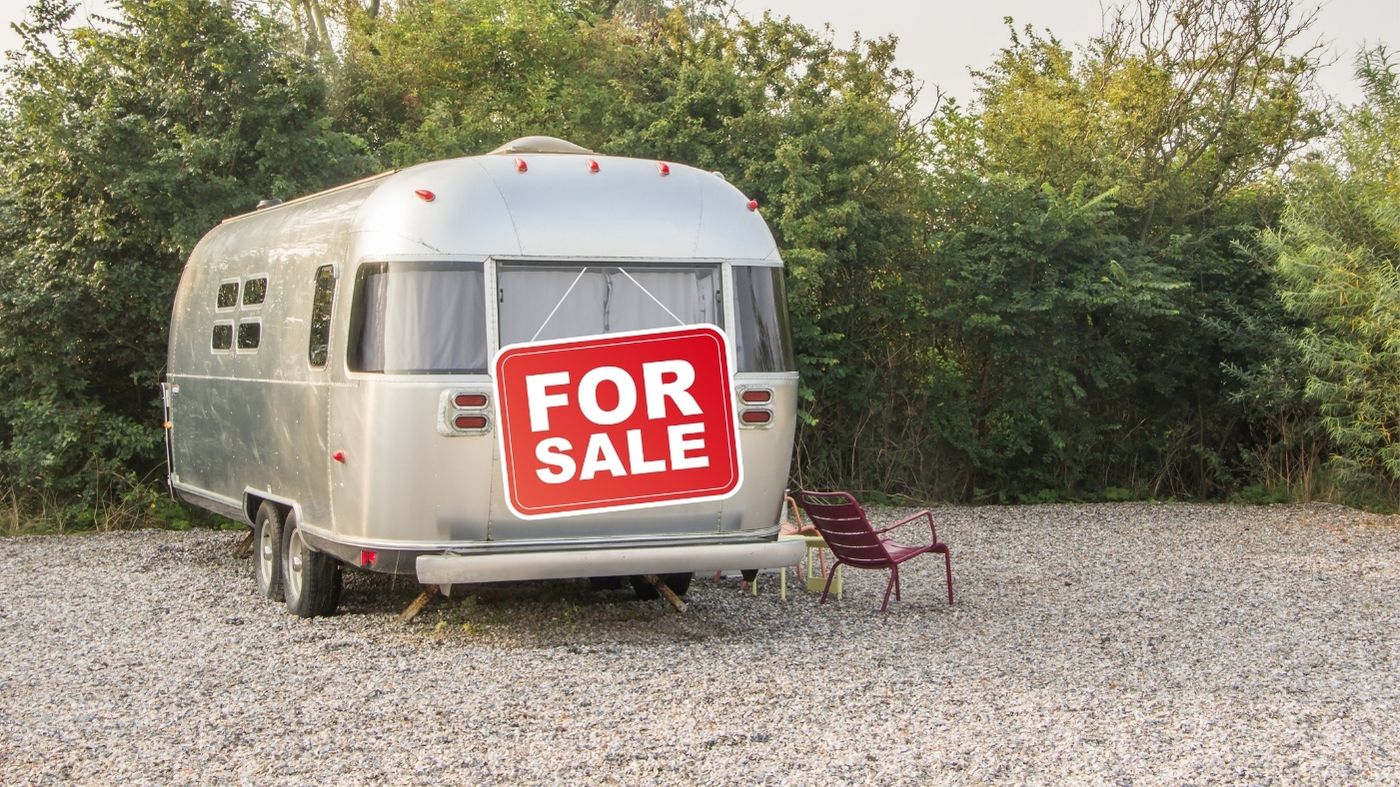 The first step for flipping RVs would be to go on the RV hunt. The Facebook marketplace is the best place to hunt for a used RV at reasonable prices, so always go through it. Make sure to decide before buying as to which type of RV you want to buy, like Class A, B, or C. And if you find one that suits your requirements at a great price, then do not waste any time and buy it. The point is to contact the seller as soon as possible. Many RVs that are priced low tend to sell fast.
You can also look for Vintage models in the campers. They have a certain charm. Nowadays, people are appreciating RVs with a vintage touch more than regular ones. So if you want to make money by flipping RVs, this could be a brilliant hack.
You have to be sure to keep in mind your finances and the type of renovation you are going for while buying the RV. Also, the last tip in this section would be to check the Facebook marketplace often and keep your notifications on.
Now, Make a Call
Sellers answer many inquiries daily, but you have to show your genuine interest in the RV and make a call. Now that you have your eye on one marketplace camper make sure that you gather all the information about it on the messenger. But do not negotiate on the messenger. Instead, physically go and inspect the RV for yourself first. This will help you understand the expenses you will be spending on renovating the model.
Before physically assessing, check the market price of that particular model before physically assessing. Search for the pricing of the model in its current condition and what it will be when it gets into a better shape. What will make it unique after flipping, and what are the features that can attract potential buyers in the marketplace?
While negotiating, make sure that you get the RV at a price that can make you enough profit margin after selling its flipped version.
Inspect the RV In and Out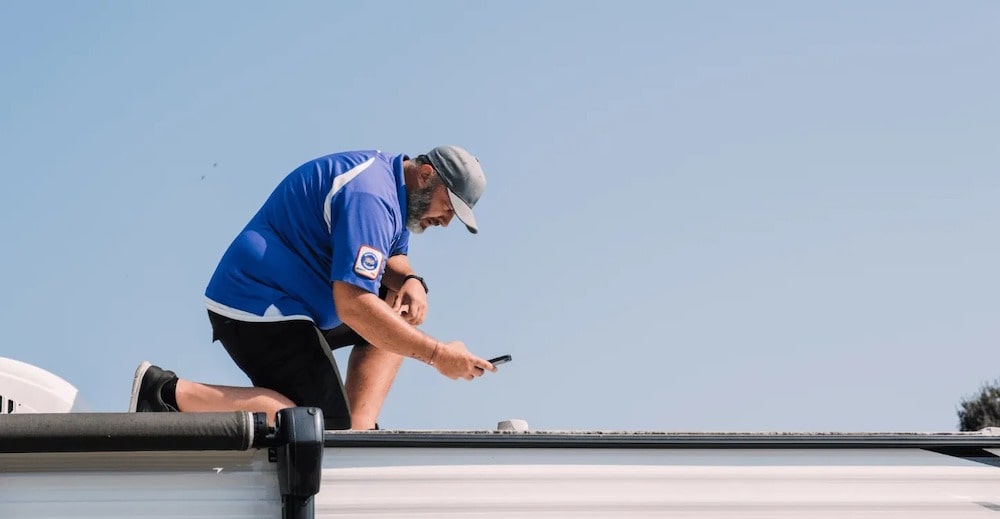 Before buying a used RV, the inspection of the vehicle is very important. Many things can be damaged or need attention in the used RV. So if you do not want to buy a damaged RV, make sure to inspect it thoroughly.
We are presenting you with some checkpoints to look at before buying the RV for flipping purposes.
Inspect the Exteriors of the RV
You need to look at a few things during the inspection of the exterior parts in the RV. We have curated a list of points that are very important to check before buying.
Windows – Check that the windows are working, and also the vent coverings and skylights.
Tires – Tires are pretty pricey, so do check if they are in proper condition. See tire treads for any signs of damage or rot. Also, check how old the tires are and how much they have been used.
Frame Damage – These can be costly and difficult to repair, so carefully check if they are damaged or have any cracks or rust.
Electrical – Check all the lights of the interior and exterior as well. Do they all properly function or not, as these things can create a problem while renovating if not checked before?
Gas Tanks – Check their connections and any potential damages.
Sewage hoses.
Awning and stabilizing jacks.
Examine the roof of the camper in detail by going up through ladders.
Inspect the Interiors of the RV
There are numerous things to look for when inspecting the inside of the RV. A few general things are listed below.
Flooring
Smoke detectors
Old toilet or faucet
Lightings
The wallpaper and its designs
LP gas or monoxide detectors
Check the appliances' functioning like a stove, oven, hot water heater, fridge, AC, heater, water pump, etc.
Furniture items like couches and mattrasses' conditions
Check cabinets and doors for any scratches.
Inspect RV's Systems
The functioning of the RV is determined by its systems and how they work. Therefore, for the final round of inspection, make sure to check the water and engine systems, as they play a crucial role in the RV. The below-provided information will tell you what to study in the systems.
Water System and Damage – Check carefully for water damage, as some people can overlook it. The water system in the RV is crafted inside the walls, so always look for the rust spots on the walls, near the vents and windows. The spots indicate that the water has been seeping into the structure for a long time. Be sure to check because water damage can travel, and it might be hard to fix. Again it's not impossible, but it may come as a costly challenge to overcome. So negotiate and decide accordingly.
Engine – If you want to avoid any problems with the engine, then make sure to ask enough questions about the engine, like how many miles are on it, etc. Check for oil levels and the history of maintenance.
Titles of the RV and its Registration
Purchasing a marketplace camper without its titles and maintenance record should be a No for you. Make sure to ask for the papers regarding their title and registration. Now they can vary because every state has different laws regarding the title and registration of campers and trailers. Some may require a title, while other trailers do not, according to their weight. So make sure you check it properly.
The best option is to check your state's website or visit the Secretary of State's office.
Time to Renovate the RV
You have completed the first step by purchasing a used marketplace camper. Now the work gets real because it's time to renovate your RV. Also, keep in mind to sell it in the marketplace for money. If you want to flip the RV, you have to flip it according to the buyer in mind. Certain things should be your unique selling points, but some things should be left as it is. Not everything you fix in the RV should be an expensive art item, and you are allowed to skip some things. These things will only add to your additional expenses on the RV and will become a burden on you.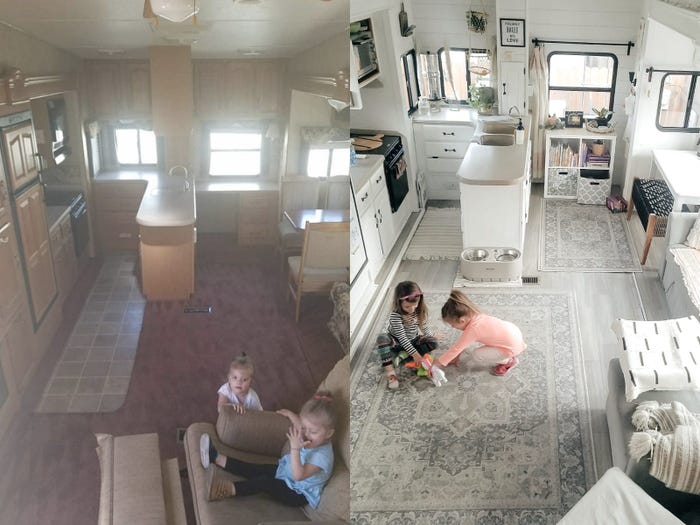 You should create a beautiful model that you lived in your mind but don't get too involved. You have to think from the buyer's perspective too. There may be some people who would appreciate your creativity, but there will be some who want a basic RV at an affordable price to travel. The primary purpose should be that you repair every damage and make it function like a new one for a great trip. Then your renovation would be successful, and your creativity would be appreciated.
You can follow current design trends and looks. In addition, you should be updated with the RV world and its styles and decors, which may help you carve an idea for your flipping of the marketplace camper. Make sure to keep the buyer's point of view and your creativity in a parallel line.
Sell Your Renovated RV
All the work has been done, and now it's time for the final step, which is to sell your renovated RV. This is, without a doubt, the most important step in your flipping RV journey. So don't worry, as we have listed all the tips covering every aspect of selling and where to sell.
Where to List Your RV?
Facebook Marketplace is the best online place to list your RV for sale. There are over 3 billion people who use Facebook every month for sales. This gives you a great way to meet your potential buyers and is free of charge. You can also find various sale groups which can provide good exposure to you and your RV.
Now to list your RV on the Facebook marketplace and find potential buyers, here are some tips that sellers use for their marketplace campers' sales. It can be beneficial for you, so do read them.
How to Flip Your RV on Facebook Marketplace: Tips
Choose the right season for listing your RV. Most buyers will likely look for RVs in late winter and early summer to go on summer trips.
Take eye-catching pictures of your renovated RV. Showcase your creativity by taking after and before photos as well so that the buyer would know the efforts you put into making this beautiful RV.
Put necessary details about the RV on the list. Like, as weight, mileage, model number, age, number of beds, brand name, etc. Include as many details as possible to give the buyer a clear picture of your flipped RV.
If you think you priced the RV too high, make sure to delete it and start again.
You can also pay to 'boost your post,' and this will help in targetting the buyers that are near your area.
As the Facebook marketplace sends you notifications from time to time about RV-related stuff, you can take advantage of this thing. After a few days of listing your marketplace camper, you can reduce the price by $200 to give your potential buyers a little push.
How to Price your Renovated RV
Research the Sales Market- Google the current prices for your RV in its old condition and the renovated ones in your locality and nationally too. Check the marketplace campers and how much they are priced on online sites.
Considering What You Need Financially- There are many factors that you have to consider while pricing the renovated RV, like the value of the time and energy you put into renovation, the price of purchasing an old RV, the cost of repairs, etc. You have to make sure that you get rewarded, too, for your efforts and creativity while selling the RV.
Seal the Deal and Finalize Your Sale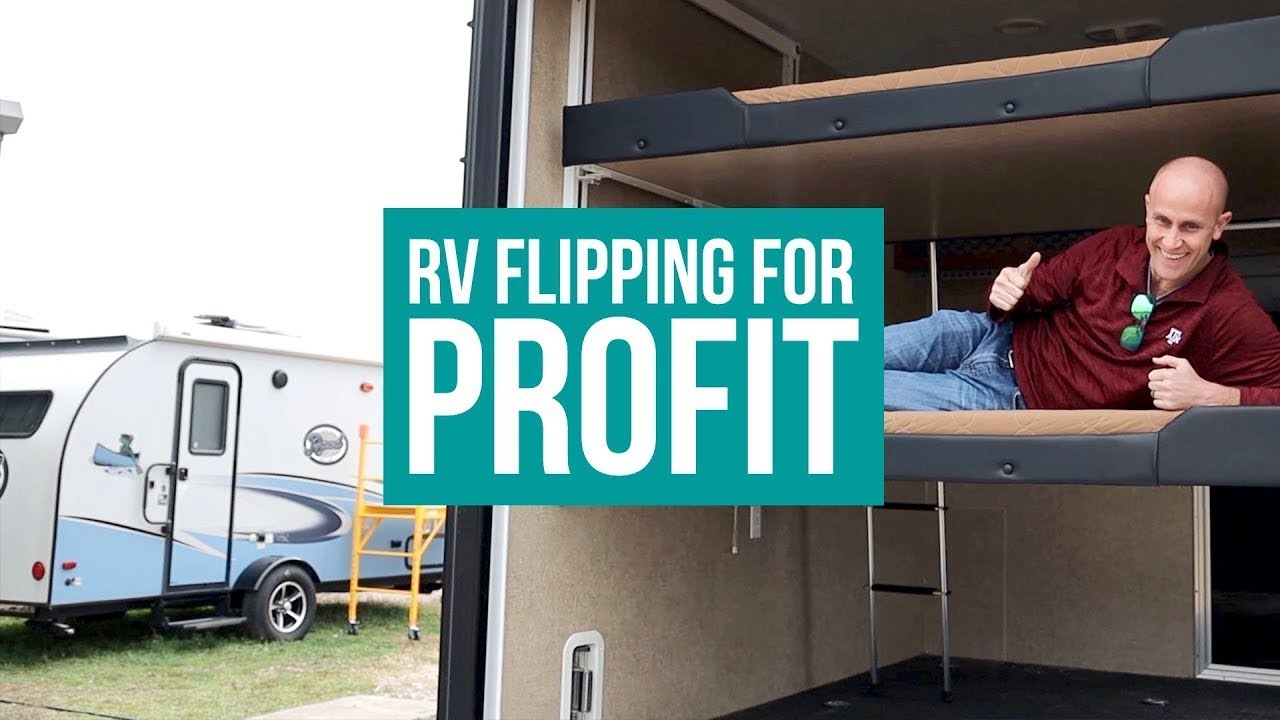 After finalizing the sale, make sure that your buyer signs two copies of the bill, one for you and one for them. You should accept the payment in cash or cashier checks from a reputed bank.
Take pictures of the license as well. Sign over your title after the payment has been made, and remove all the insurance and registrations with your information on them. Last but not the least, do not leave any personal items in the RV and take the license plate off.
Is Flipping RVs Profitable?
Yes, there is a lot of profit in flipping RVs. However, once you understand the nitty gritty of the flipping business, you can enjoy its advantages.
In the flipping business, you need to consider the amount of money spent on the purchasing of the old RV, the cost of materials, and repairs. A reliable selling strategy and price listings also greatly impact the sale so that you can make a profit.
The tips and suggestions listed above in the article can make you a profitable flipped RV seller. It may sound easy, but it does require a lot of effort and great strategies to practice. So make sure to research everything and start your journey of flipping RV.
Conclusion
You love RVs and traveling in them, but now you can make your passion a profitable business. Flipping RVs will give you the freedom to nurture your creativity and share it with other people who love RVs just like you.
We tried to give you all the tips and tricks with which you can successfully flip an RV and make money on the Facebook marketplace. So research and get started with the new chapter of your life in which you get to work with many RVs. Good Luck.