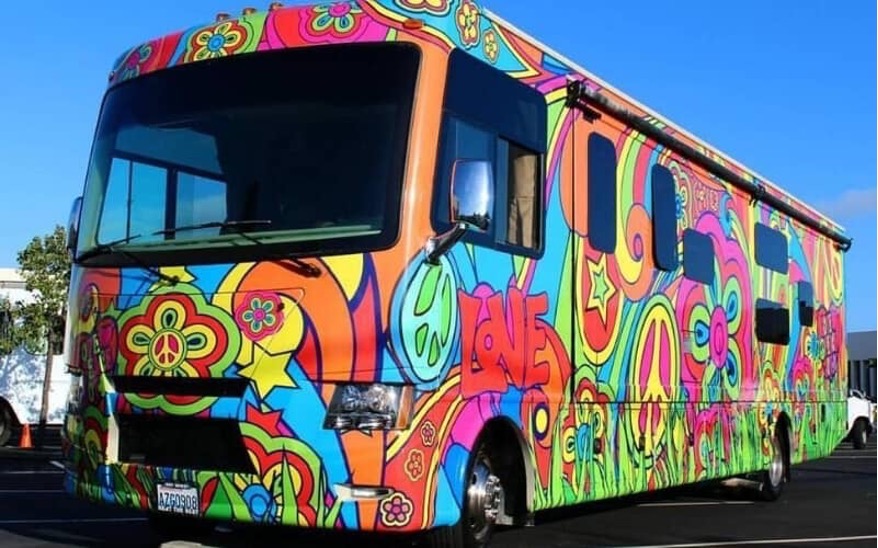 If you are traveling in an RV, you must have noticed that the motor home has been wrapped in various ways to look good. By wrapping your vehicle, you are adding a 'wow' factor to your vehicle fact, you are making your moving vehicle a wonderful place to chat. You can easily engrave your company logo into the vinyl wraps and can sport with pride. These could be done much more quickly and could protect the body of the vehicle from being faded away. But, before making your RV look 'dream-like,' it is essential that you must know the cost of wrapping vehicles. We have researched some costs of wrapping RVs and put forward for your knowledge and convenience.
Here is a chart of the prices that RV wrapping might cause you.
Wrapping a Class A RV Would Cost Like:
| RV Size | Half Wrap | Three Quarter Wraps | Full Wrap |
| --- | --- | --- | --- |
| 20 feet | $1600 | $2400 | $3200 |
| 24 feet | $1900 | $2900 | $3800 |
| 28 feet | $2200 | $3400 | $4500 |
| 32 feet | $2500 | $3800 | $5000 |
| 36 feet | $ 2900 | $4300 | $5800 |
| 40 feet | $ 3200 | $4800 | $6400 |
The various factors that influence the cost of wrapping and painting of RV are mainly the shape, size, brand of paint, type of paint, and color. To paint a 40 feet motorhome might cost $ 30,000-35,000. You will have to decide between buying a wrap and some paint. The main deciding factor is the cost and the convenience. Painting seems to be a bit costlier than wrapping. Anyways, there are several benefits of wrapping an RV or a motorhome.
It's lesser expensive.
It has higher durability.
The resale value of the RV increases.
There is a plethora of design options that you can choose from.
Wrapping a Class B or Class C motorhomes or RV Would Cost Like:
| RV Size | Half Wrap | Three Quarter Wraps | Full Wrap |
| --- | --- | --- | --- |
| 16 feet | $1000 | $1500 | $2000 |
| 20 feet | $1250 | $1800 | $2500 |
| 24 feet | $1500 | $2250 | $3000 |
| 28 feet | $1750 | $2600 | $3000 |
| 32 feet | $2000 | $3200 | $4000 |
| 36 feet | $2250 | $3500 | $4500 |
Most auto shops have different pricing, depending significantly on their labor, quality, and services. Various factors are going to play vital while you decide whether to wrap or paint is:
Shape
Size
Type of paint
Brand of paint and
Color
To wrap a 40 feet motor home, the cost involved would be $(30,000-40,000). Pricing is the most significant factor that decides whether to go for a wrap or a paint. A wrap can even last for four years or more, depending on whether it was cared for properly or not. Wraps could be damaged easily and can be replaced. Having a wrap on the RV is like putting on a protective shield. If you wrap an RV that could be sold at a higher price than whatever it was brought for.
What Are the Various Tips for Wrapping That You Should Keep in Mind?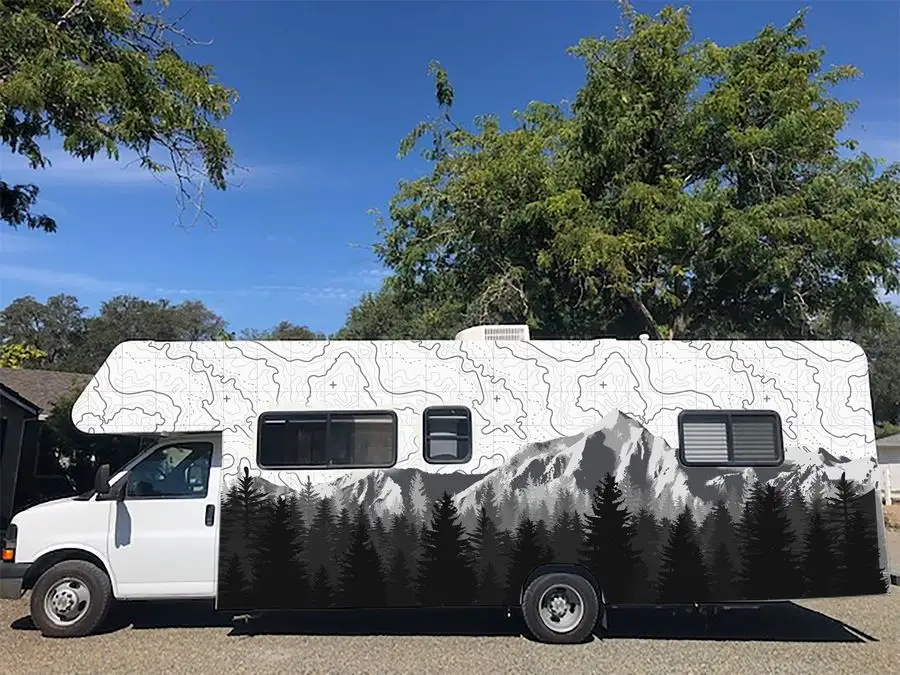 If you want to decide between whether to paint or maybe wrap your RV, then you must consider certain specifications.
Talking with a consultant: You can go for action, but before that you must talk to an expert and understand how to go about it.
Taking a designer's approval: Consulting a designer is important before you get a wrap designed and then put on your vehicle. If you don't like the final print after putting on, you will have to remove. Better, you get the design approved by an accredited designer and then put the wrap across the RV.
Doing research: Before getting a wrap done on your vehicle, you should talk to an expert and another RV owner. You will have an idea about the design, the wrap, and finally, the outcome. So, research before you take the final action.
Coming up with a trendy design: While you have decided to put up a wrap, you will have to finalize a design. Common designs like floral shapes might not show attractive after a certain time. That's why you should always go for trendy designs.
Decision on the quality of wrap: Deciding on the quality of the wrap is also essential. You can prefer vinyl over any other material. Calendered vinyl is a much more aggressive material and thicker.
How Do You Do a Shrink Wrap to Your RV?
Aside from putting a cover around your RV, you can also place a shrink wrap, and that can protect your vehicle throughout. In order to measure the amount of shrink wrap you require, you will have to measure the mid part of the RV and also 8 inches on the sides. Follow the steps while installing the shrink wrap.
Bringing the film up to the top of the RV, you will have to unfold it equally and then trim the material creating equal pleats.
You can use some tape across the corner in order to hold the pleats.
Use a perimeter band around the vehicle; this could be best created with a brightly colored tape or ribbon.
After inserting a buckle you can further adjust the band to the dimension of the RV. Leave 6 inches of material under the band and then leave it. Cut the excess material. This is kept as a precaution since the heat can cause the material to shrink.
You have to heat weld all the pleats to the corner and also across the entire perimeter. You can make some small slits and then fasten the belly straps.
Finally tape all the pleats and the seams by using the shrink.
Wrapping an RV could be done easily and then placing the shrink wrap. You can look for some DIY sites to check the amount of material to be used while wrapping. You might get knowledge of the cost of wrapping and also the types you use here. So, once you are done, you've officially weather proofed your vehicle.