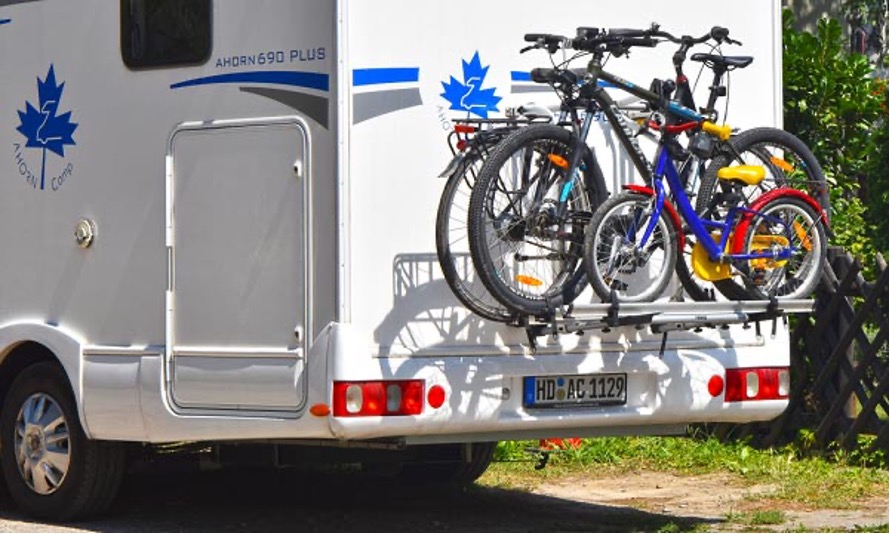 Are you planning a camping trip in an RV, and looking for the best RV Bike rack to transport your bike with your RV?
In this article, we've compiled a list of various RV bike rack styles from which you can select and then look for a suitable one for your trip.
Why Bring Your Bikes to Camping?
Bikes and camping go hand in hand! Bikes can provide simple, enjoyable transportation in a large RV park or campground. Bikes can be a great way to get around if you're camping in the woods or going off the beaten path.
E-bikes have become especially popular as a secondary mode of transportation among RVers. These bikes, which can travel up to 40 miles, are helpful and enjoyable to bring camping!
Dirt bikes can be a great addition to your camping excursion for those who want a faster paced adventure. In that case you will need a motorcycle bike rack for your camper.
Taking your bike on a defined route also exposes you to more scenic views than simply walking. A bike allows you to explore more than you expect!
Where Should You Mount Bikes on Your RV?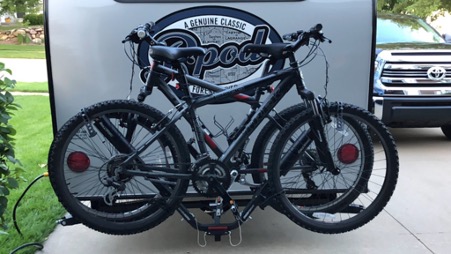 When packing for that camping trip, figuring out WHERE the bikes will fit is often a puzzle. If you have a toy hauler RV, you might be able to roll the bikes into the toy hauler garage section and call it a day. However, it takes up space inside the RV that otherwise could be used for a second bedroom or office.
RV Bike Rack with Mounted Ladder
The most significant advantage of mounting the ladder is the saved space. These are not universal; you will need a specifically designed rack for your RV. They are best for one or two bikes, so they may not be suitable for those with more. Most ladder mount racks can carry up to two bikes and have a maximum weight of 60 pounds.
RV Bike Rack with Bumper Mount
Depending on your RV and towing condition, you might bumper attach an RV bike rack. This works best if your RV bumper is at the tail end of your towing situation rather than in the center. RV bumper-mounted bike racks eliminate the need for a hitch. Bumpers often have a larger weight capacity than ladders, so a bumper mount may be a better option if you transport more than two bikes.
RV Bike Rack with Hitch
If you're towing something, you've already got a hitch. You may easily install a dual hitch receiver to tow your car and transport your bikes on the same hitch. These have a significant weight capacity and can transport up to four bicycles. In addition, these racks are frequently the lowest to the ground of all rack types and might be easier to load and unload the bikes.
The Most Effective RV Bike Racks
Here are the top RV bike racks on the market right now. These are RV-friendly and will have you camping with your bikes in no time. Check to ensure that your bike rack is rated for the weight of your bikes and that it will fit within the dimensions of your ladder, bumper, or hitch.
Camco's ladder-style RV bike rack easily fits on regular RV ladders and is held in place by pins. It securely holds two bikes weighing up to 60 pounds combined and folds for easy storage.
The basic hitch-mount rack on the Swagman XC can handle up to two bikes of various sizes and types. Many customers like that no bike wheels or additional time are required to keep the bike secure. Furthermore, the rack folds up for convenient storage.
Quick Products' bumper-mounted rack fits a 4 – 4.5″ bumper and can accommodate up to two bikes weighing 60 lbs. It is not compatible with fat-tire bikes or wheels more significant than 29″. However, the value for money is hard to better, making this a popular choice among RVers.
The best part about this Surco 501BR ladder-mounted bike rack is that it can fit on ANY bike! It can transport up to two motorcycles on comfortable cradles. You do not need to dismantle the frame to get to your ladder. Because the arms rotate away from the ladder, you may never need to remove the rack!
This RV Bike Rack can hold up to four bikes and a maximum weight of 150 pounds, making it ideal for the extreme mountain biking RV family! The Thule Range RV Bike Rack has 7″ spacing between bars and is individually ratcheted down. In addition, the hitch-style RV Bike Rack includes an inbuilt lock to keep your bikes secure when traveling and parking.
With a Reliable Bike Rack, You Can Easily Bring Your Bikes Camping
In conclusion, the best RV bike rack for you is determined by the type of RV you have, the type of bikes you have, and the number of cycles you intend to transport.
We hope this compilation of RV bike rack options helps you determine which is best for you.
Take advantage of having bikes on your next camping vacation!