When you are switching to an RV lifestyle, the most important question that arises is the space. That is, how many campers or RVs can comfortably fit on an acre of land? When you are traveling to some place, it becomes necessary to understand the logistics of accommodating your campers on an acre of land where you get an enjoyable experience.
RVs are usually big, and they require space, so the question of how many campers can fit in 1 acre RV park layout is a common question among new buyers. Thus, we have mentioned below some factors that determine camper capacity, different camping styles, and tips for maximizing space while maintaining comfort and safety.
This will help you take a closer look at how much space and how many campers can fit on an acre.
Factors that Influence Camper Capacity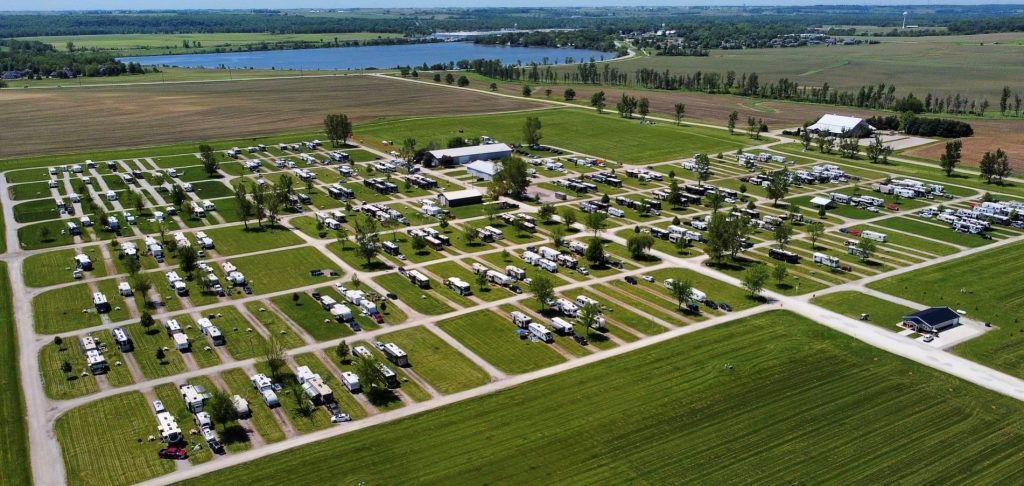 Determining how many campers can fit on an acre of land involves several factors that interact to define the overall capacity. Here are some of the most important considerations:
Type of Camping: The type of camping you're planning plays a significant role. Traditional tent camping, RV camping, and glamping (luxury camping) have varying space requirements. RVs and campers generally occupy more space than tents due to their size and infrastructure.
Tent Size: If you're going the traditional tent camping route, the size of tents matters. A smaller two-person tent requires less space compared to a larger family-sized tent.
Amenities and Facilities: The availability of amenities like bathrooms, cooking areas, and communal spaces also affects the camper capacity. Campsites with ample facilities can accommodate more campers comfortably.
Regulations and Zoning: Local regulations and zoning laws determine the maximum number of campers allowed on a specific acreage. These regulations are in place to ensure safety, minimize environmental impact, and prevent overcrowding.
Fire Safety: Adequate space between tents and campers should be maintained to reduce the risk of spreading fire. Following recommended fire safety guidelines is crucial.
Environmental Impact: Responsible camping involves minimizing your impact on the environment. Too many campers in a small area can lead to soil erosion, damage to vegetation, and overuse of resources.
Calculating Campers per Acre for Different Camping Styles
Tent Camping: For traditional tent camping, the general rule of thumb is that you can comfortably fit around 2 to 4 two-person tents on each acre of land. This estimate provides enough space for tents, a central cooking area, and a campfire ring.
RV Camping: RVs and campers come in various sizes, from compact camper vans to large motorhomes. On average, you might fit around 2 to 3 smaller RVs or campers per acre. Remember that larger RVs require more space, and you'll need to factor in parking and maneuvering space as well.
Glamping: Luxury camping or glamping often involves larger tents with more amenities. Depending on the level of luxury and space required, you might accommodate 1 to 2 glamping tents on an acre.
Tips for Maximizing Space and Comfort
Plan Ahead: Before setting up camp, create a layout plan to ensure efficient use of space. Designate areas for tents, communal spaces, cooking, and facilities.
Group Size: Consider the size of your camping group. Smaller groups may allow for more spacious setups, while larger groups should plan for more efficient space utilization.
Centralized Facilities: Designate a central area for communal activities like cooking and socializing. This prevents the need for multiple small cooking setups that can take up valuable space.
Leave No Trace: Practice Leave No Trace principles to minimize environmental impact. Concentrating campers in a smaller area reduces the overall impact on the land.
Safety First: Maintain adequate spacing between tents and campfires to ensure everyone's safety. Follow fire safety guidelines and avoid overcrowding around open flames.
Respect Regulations: Adhere to local regulations and guidelines for camper capacity and camping practices. This ensures a safe and legal camping experience.
Consider Terrain: The terrain of the campsite matters. The uneven or rocky ground might limit the number of feasible camping spots.
Conclusion
In the United States, the trend of having RVs has increased significantly. According to the municipality rules, the RV park density should not exceed 15 RVs per acre. However, it varies according to the state this is because some states allow a maximum of 12 RVs per acre for urban areas and a maximum of 5 RVs per acre for rural areas.
By planning, following guidelines, and respecting the environment, you can enjoy the great outdoors while preserving its beauty for future generations of campers to come.
Frequently Asked Questions
Can I Have a Campfire if There Are Many Campers on An Acre?
Yes, you can have a campfire, but it's important to follow fire safety guidelines. Maintain proper spacing between tents and the fire ring to reduce the risk of fire spreading.
How Many Tents Can I Fit on An Acre of Land for Traditional Tent Camping?
On average, you can comfortably fit around 2 to 4 two-person tents on each acre of land, considering space for tents, communal areas, and safety precautions.
Are There Limitations Due to Local Regulations?
Yes, local regulations and zoning laws often dictate the maximum number of campers allowed on a specific acreage. These regulations exist to ensure safety, protect the environment, and prevent overcrowding.
Can I Adjust the Camper Capacity Based on The Terrain of The Campsite?
Yes, the terrain matters. If the ground is uneven or rocky, it might limit the number of feasible camping spots. Always prioritize safety and camper comfort when choosing camping locations.
How Can I Minimize the Environmental Impact of Camping with a Larger Group?
Concentrate campers in a smaller area to reduce the impact on vegetation and soil. Follow Leave No Trace principles, pack out all trash, and avoid disturbing wildlife.