When you buy a custom recreational vehicle (RV), you have much input over the selection of materials, color schemes, and even the floor plan. If you intend to live in your RV full-time, you might find it more appealing to personalize your vehicle to function as a mobile home tailored to your specific requirements and aesthetic tastes. Regarding recreational vehicles (RVs), no two persons have the same requirements. There is a wide range of possible uses and preferences for recreational vehicles (RVs), depending on whether you are a weekend warrior, full-timer, large family, or solitary traveler. While some people are content with whatever they discover on the lot, the majority would rather have a unit that is uniquely theirs.
If you are interested in purchasing a customized RV, we will discuss some possible possibilities today.
What are the Advantages of Having a Custom RV Built?
The primary advantage is that you can create an RV tailored specifically to your needs. For example, alterations could be made to the arrangement of the space, the fixtures, the color palette, and the appliances. When you construct your own RV this way, you'll have a better time and be more comfortable there.
Another advantage is the opportunity to select the components the manufacturer will use in the building process. If you are on a tight budget, this is fantastic news since it enables you to spend money where it matters and save money where you believe it isn't essential. You can also construct an apparatus that is hardier, more long-lasting, and capable of withstanding use in a continual fashion.
Are There Any Disadvantages?
Having a customized RV built has several drawbacks. Undoubtedly, buying a pre-built RV will be much less expensive than ordering a custom RV from a custom RV maker. On top of that, if you order a custom-built RV from out of state, you will likely also need to pay extra to ship the RV as well.
But aside from the price, there's also the wait period. Depending on your chosen manufacturer, you might have to wait two years or longer for your RV.
Additionally, the used market is more difficult for custom RVs. RV retailers might purchase your custom coach for less money than you anticipate since they are so tailored to your needs. In their experience, custom homes are left on the lot for a very long time before a suitable buyer is found. If you intend to sell your RV at some point in the future, research what other people did before investing in your ideal RV.
RV Manufacturers That Only Create Personalized RVs:
Certain manufacturers focus only on producing individualized RVs. These firms collaborate with you to construct your personalized recreational vehicle (RV), starting from the frame up. Let's look at a few of the available choices when it comes to constructing a personalized RV.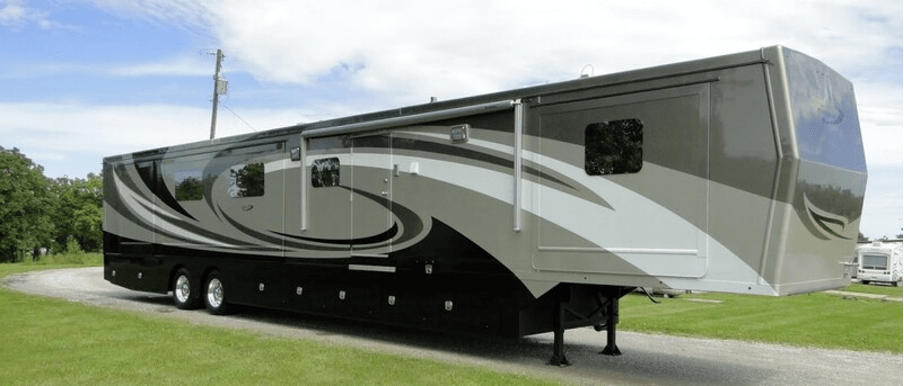 Because SpaceCraft places such a high level of importance on the quality of its individualized fifth wheels, the company refers to them as the "bread and butter" of its operations. The highest priority at this company is quality, as evidenced by the fact that many of its vehicles are still in operation after having been put through their paces for 20 to 30 years.
The floorplans of SpaceCraft units can be altered in any way the customer desires. It provides owners with sample floor plans that they can use as a starting point for their own designs, or you can work directly with the company to develop a fresh floorplan. The starting price for a SpaceCraft fifth wheel is $65,393, and this is before any customization or upgrade options are applied.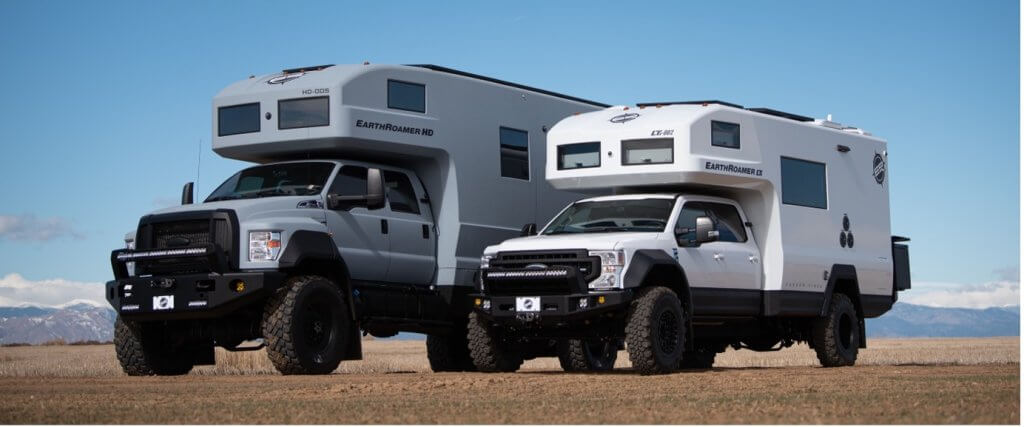 Every EarthRoamer is built to suit tastes. They are designed to go on terrain that would be impossible for any other type of RV. A durable Ford F-550 chassis support these campers underneath them.
The experienced designers collaborate closely with the clients to personalize every design aspect. This encompasses not just the purely technological inner workings but also the furnishings and the appliances. When it's finished, this overlanding vehicle will be able to carry you about wherever you may possibly want to go.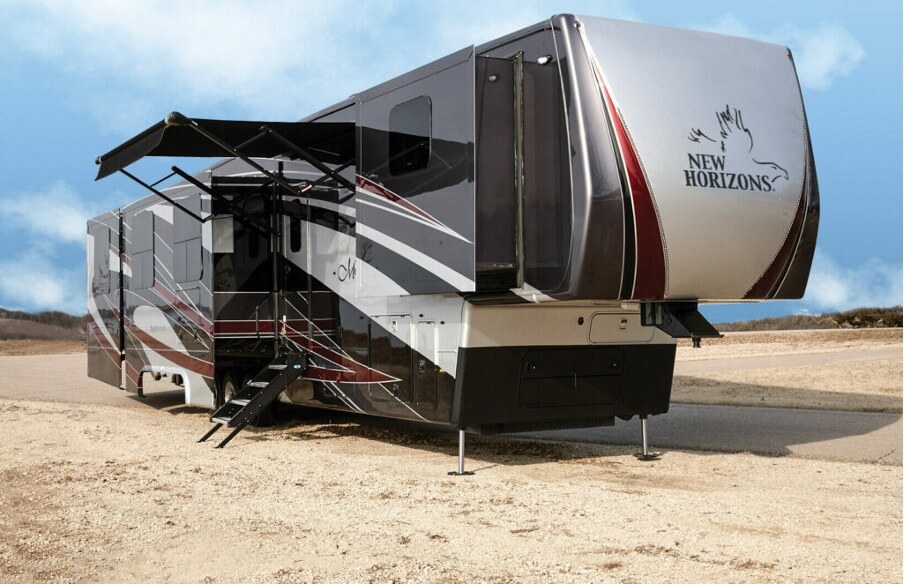 RVs built by New Horizons are tailored to the needs of full-timers and those who frequently use their vehicles. Its RVs keep luxury in mind in order to feel like a true home. New Horizon Recreational Vehicles are created to order, and during the entire manufacturing process, the owner's input is considered.
Two different lines, the Summit and the Majestic, each have dozens of different floor plans that can be customized. These two lines each have a few different models that can be categorized as toy transporters. RV proprietors can totally personalize their vehicles, down to the design and appliances.
Before any additional costs for improvements or choices are factored in, the base price of a New Horizon fifth wheel is $162,000. There is a starting price of $266,745 for those who are interested in purchasing a toy hauler.
Travel trailers made of custom-molded fiberglass are very popular. Due to their molded fiberglass construction, these small campers retain their value and survive very long.
These RV manufacturers will create the custom fiberglass camper of your desires; they are aerodynamic and less prone to leaks.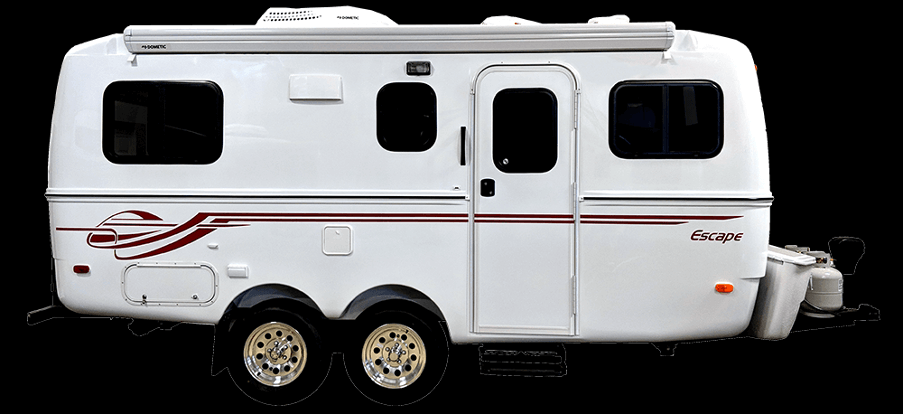 Escape Trailers manufactures fifth wheels and travel trailers made of fiberglass. This Canadian RV manufacturer produces the biggest fiberglass-molded RVs now on the market. Despite not being a direct descendant of Boler, their strategies are tested and true.
Customizations for Escape include:
Equipment Exterior characteristics
Fabrics
Electronics and Multimedia Flooring
packages for off-grid power
These are just a few basic and extra features that these reasonably priced campers provide. In addition, escape offers a variety of popular feature packages that you can customize to your preferences if you're not quite sure what you want.
Conclusion
There are currently hundreds of RV manufacturers and thousands of RV floorplans available, so there is a good possibility that you will be able to choose a fantastic floorplan that is suitable for you and your family.
However, you are not required to make a compromise on anything, even if you are unable to discover an option that fulfills all your requirements and wants; there are several options for custom RV manufacturers that make it possible for you to possess a recreational vehicle that is suited to your preferences, way of life, and specific requirements.
If you haven't been successful in finding what you're searching for, you might probably consider designing it on your own.