Living in an RV full-time sounds all fun and exciting, but there is a lot of work involved before making it your reality. So, this blog post is for you to ensure you are well-prepared to live in an RV full-time and know the challenges you may face on the go and how to tackle them.
Things To Consider Before Jumping Into Living In An RV Full-Time:
1. Planning
You are first supposed to research what living in an RV full-time would be like – read blogs, watch YouTube videos, talk to those who are already full-timers, and learn as much as possible before jumping to living such a lifestyle. Then, create a conclusive plan for yourself – from purchasing and designing your RV to your traveling lifestyle and your income and expenditures.
2. The RV
After you have planned the basics, your next step would be to purchase an RV. If you already have an RV, be sure that the RV is suitable for living in their full-time. If you are going to purchase one, consider the number of people living, pets, comfort, etc. Once you have chosen your RV, find out what modifications need to be made to make it more comfortable and suitable.
3. Income
To make RV life work, you must ensure enough income. There are several ways to ensure enough income to cover your expenses, including working remotely, living off savings, etc. Various options are available for those who want to work and live in an RV full-time.
4. Kids and Pets
The decision to live on the road full-time becomes more complicated when you have children because you will have to consider your children's comfort, space, and schooling. So, you should clarify these before living in an RV full-time.
RVs are indeed pet-friendly since you can modify them to accommodate your pets. But you will have to consider whether the places you visit are pet-friendly, how you will keep up with regular vet visits, etc.
5. Supplies
It's important to keep hoses, leveling blocks, wheel chocks, and other basic tools in your RV so that you don't have to run around when there's a problem. So, before you begin living in the RV full-time, make sure you have these items.
6. Health Insurance
It is important to have yourself covered with insurance while traveling on the road full-time. If you face unexpected health problems, the insurance will help cover your cost, protecting your savings. Furthermore, it will also support you in dealing with medical inflation.
7. Maintenance
Having a list of service centers or mobile mechanics you can contact is good and safe if you encounter an RV problem beyond your ability to handle.
8. Internet
Even though internet coverage is good in most places today, make sure you have multiple connection options and plan your campsite accordingly. In addition, you should be aware that not all mobile internet solutions work everywhere.
What To Look for in an RV Before Living in There Full-Time?
Size
How big should the RV be? How many people should it accommodate? The more members, the more beds and space you will need. Always remember that the bigger RVs are comfortable, but you will face problems finding parking spots, etc.
Layout
Always make sure that the RV layout fits your family's lifestyle. For example, consider how much workspace there should be for everyone and space for children to attend school. Whether your washroom needs to be big and spacious? How big should your kitchen be to store everything? Etc.
Tank Size
Your RV lifestyle is heavily influenced by the size of your fresh, grey, and black tanks. If there are more members, purchasing an RV with a bigger tank is always preferable.
The other things to consider are whether you need a washer or dryer, solar and battery upgrades, the layout of your washroom, the supplies in the kitchen, etc.
What Should You Consider When Booking Campgrounds While Traveling Full-Time in an RV?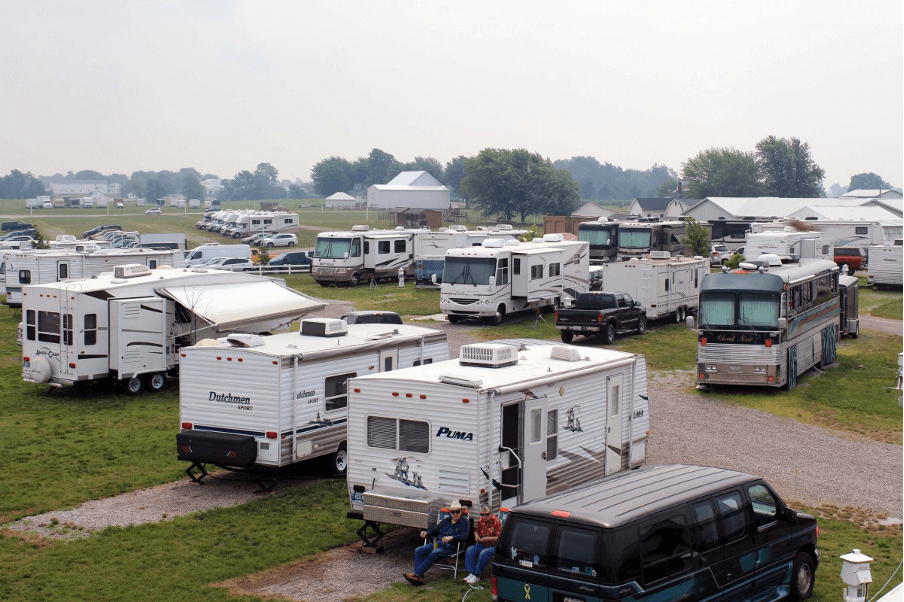 Types of Campgrounds
There are various campgrounds, including private RV parks, public campgrounds, and public lands. Private RV parks are expensive, with all facilities available and even options for extended stays. At the same time, public campgrounds can get crowded and have fewer facilities, which might cause you to move frequently. The charges are pocket friendly, though. Parking on public land is usually free, but they do not provide any facilities. Based on your convenience, decide which type of campground you'd want to stay at.
How Long are You Going to Stay
You must decide beforehand how long you will stay at a particular campground. Some choose to stay for a week and move, whereas some choose to stay at a campground for a month or so. Depending on your convenience and traveling style, decide the length of your stay and book early. If you like the surrounding place, you can always extend your stay.
How Is It Traveling and Living in an RV Full-Time?
As fun as it sounds, traveling and living in RV full-time requires a lot of practice and management to ensure that you don't burn out.
You Will Get to Visit New Places
I believe the best part of living in an RV full-time is traveling to different destinations often. So, while you are at it, make a list of places to visit, things to see and experience, outdoor activities, etc. Be flexible and get out of your comfort zone and experience the place as it is and meet new people. Just remember, you cannot experience everything about a place in one trip.
No Fixed Traveling Day
Since most of your days will involve traveling on the road, make sure to check the map and see to it that the roads and bridges can accommodate the size of your RV. Always Park in a retail location or rest stop if the drive is for long hours, and don't cause inconvenience on the road to the public.
You Will Have to Manage Resources
Life in an RV will be completely different from your normal life of living in a house. The former requires constant resource management, topping up goods, balancing work and travel, etc. In the beginning, you will come across various problems. Learn from it, and you will eventually get used to the lifestyle. Meanwhile, Make the best of the process.
Best Jobs While Living in an RV Full-Time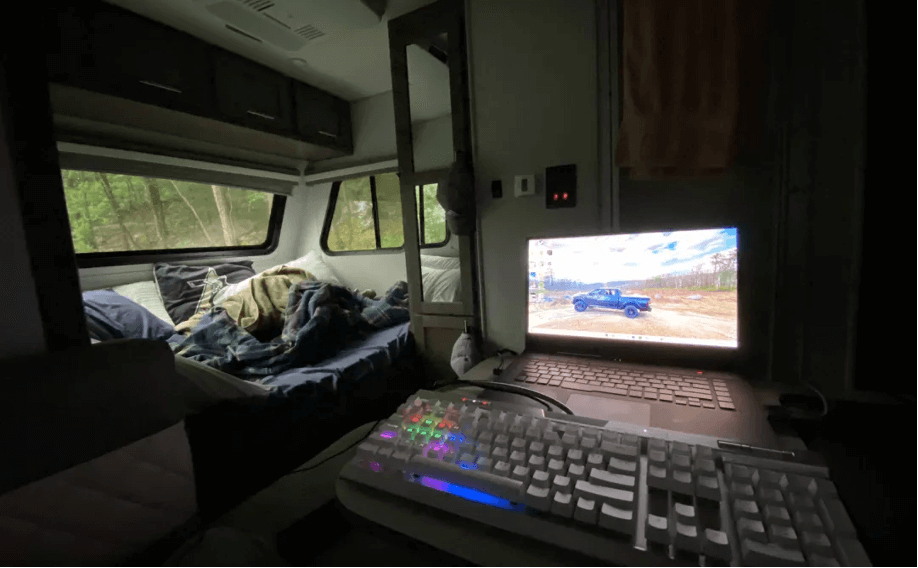 Freelance Writing
Graphic Designer
Web Developer and Designer
Online Teacher
Virtual Assistant
Social Media Manager
Remote Sales Manager and Remote Business Development Manager
Photography and Videography
Affiliate Marketing
Customer Service Representative
The best way to find jobs that are suitable for your RV lifestyle is to find a job that allows you to work remotely based on your skills and experiences. Go to various recruitment platforms. Filter, and find jobs available to work remotely. Given the aftermath of the Covid situation, more opportunities are available to work remotely. But be cautious of scammers online.
How Much Does It Cost to Live in an RV Full-Time?
The cost of living full-time in an RV may differ from person to person based on your lifestyle. However, your budget can always be scaled down with the type of campground you choose to stay at and the frequency with which you travel.
How Do Taxes Work When You Live in an RV Full-Time?
The laws to abide by will depend on the state you establish your domicile. Whereas about the specifics, it depends on your income sources, expenditures, etc.
Concluding, the full-time RV lifestyle is exciting but also a bit daunting. You must consider various things before you embark on your full-time RV life. We hope this blog post guides you on where to start and what to consider and expect. Happy planning and I hope you have an exciting and adventurous stay in your RV.