Sometimes you'd just want to park your RV and stay at a place for a long time. Is there a better place for it than Florida? Winter in this part of the State is perfect for RVers as the weather is sunny and warm.
Various parks with the best amenities in Florida allow RVers to stay for a long time. This blog post will mention the 11 best long-term RV parks in Florida.
Based on various factors like price, amenities, location, availability, etc., the following are our top picks:
1. Fisherman's Cove RV Park
The park is set in Terra Ceia Bay. If you want to stay away from the city buzz but are also closely connected to the city, then this is a suitable space for you. The park has all the facilities to ensure a peaceful stay – full hook-up RV sites, a clubhouse, an outdoor pavilion, laundry facilities, etc. Furthermore, various water activities are available for visitors, including kayaking, fishing, etc. Additionally, you can head out to explore Sarasota, St. Petersburg, and Tampa.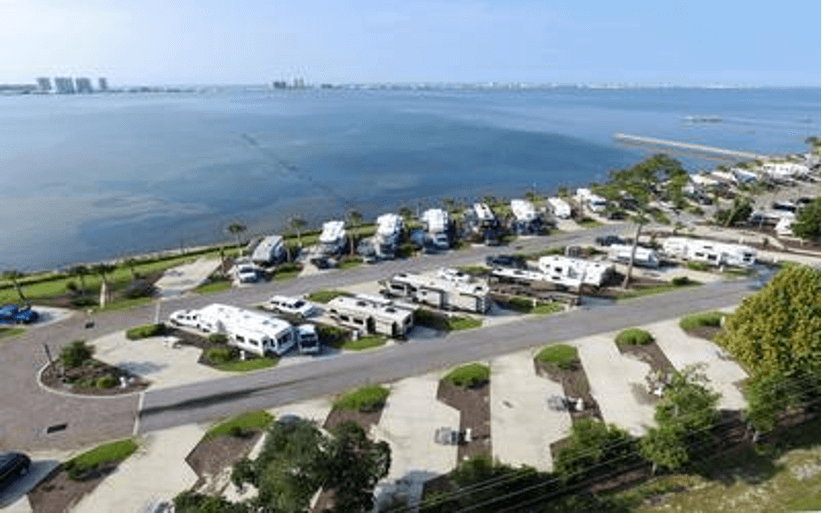 To learn more about the resort and its offers, visit Fisherman's Cove RV Park, or contact them at 941-246-2157 to learn about the current prices and availability.
2. Santa Rosa RV Resort
It is a beautifully landscaped waterfront spot in Navarre. The site has 88 RV campsites. They are provided with full hookups, including 30/50-amp electric. They also have a strong Wi-Fi connection. You can also enjoy the white sand beach, heated pool, and fitness room while you are there. Additionally, since the park is between Pensacola and Destin, you can enroll in Scuba Diving courses or find dolphins gliding by at their long fishing pier. Oh, interestingly, they have a fenced-in dog park and dog beach. Sounds exciting?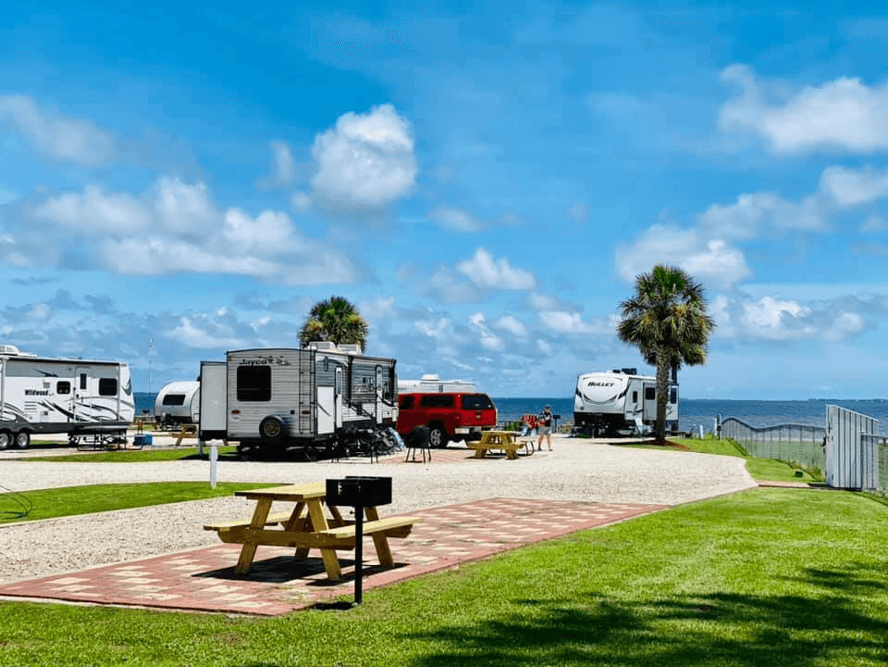 Then check it out at Santa Rosa RV Resort to reserve online, or call 850-936-4791 to make your reservations.
3. Coastline RV Resort
It is a luxurious resort located in Eastpoint, Florida, with an availability of 108 full-site hook-ups. They are uniquely located along the coast of Apalachicola Bay, offering guests unobstructed views of St. George Sound, St. George Island, Dog Island, and Franklin County's spectacular sunrises and sunsets. In addition, the resort has all the facilities you'd need to ensure you feel at home – from a fitness center to fully equipped kitchens and laundry facilities. Besides, you can go offshore fishing, enjoy the sun at the beach, or challenge your partner to a game of cornhole.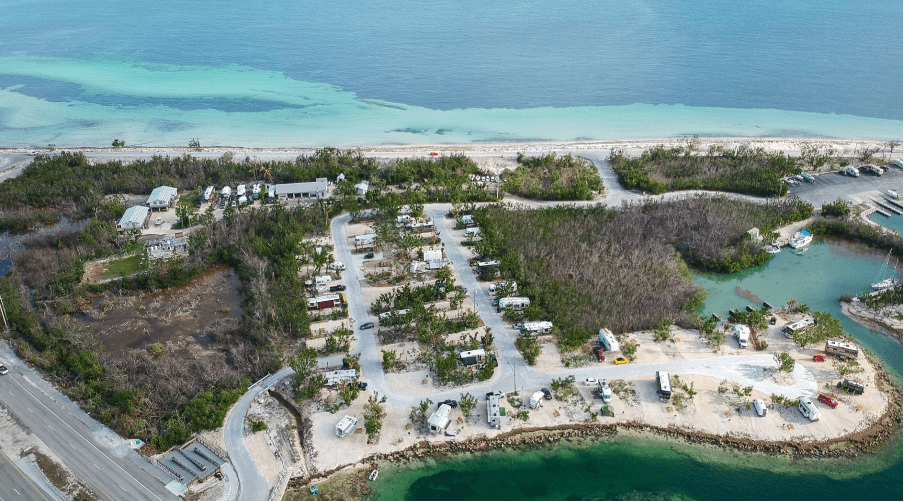 To know more about the resort, visit Coastline RV Resort or call (850) 799-1016 to contact them.
4. Bahia Honda State Park
Located in the Florida Keys, this is one of the most popular parks in the State. Due to its popularity, it is always in high demand. So, make sure you reserve a spot for yourself beforehand. They offer full hook-ups and all the basic amenities to ensure a comfortable long stay.
The park is known for its rich flora and fauna. You will find almost 150 species of fish and 50 coral species here. Their award-winning beaches, Calusa Beach and Sandspur Beach, are perfect for spending a relaxing afternoon. You can also enjoy kayaking, snorkeling, and other fun water activities here. Additionally, they offer programs on a wide range of natural and cultural history subjects. Guided tours are also available on request for the same.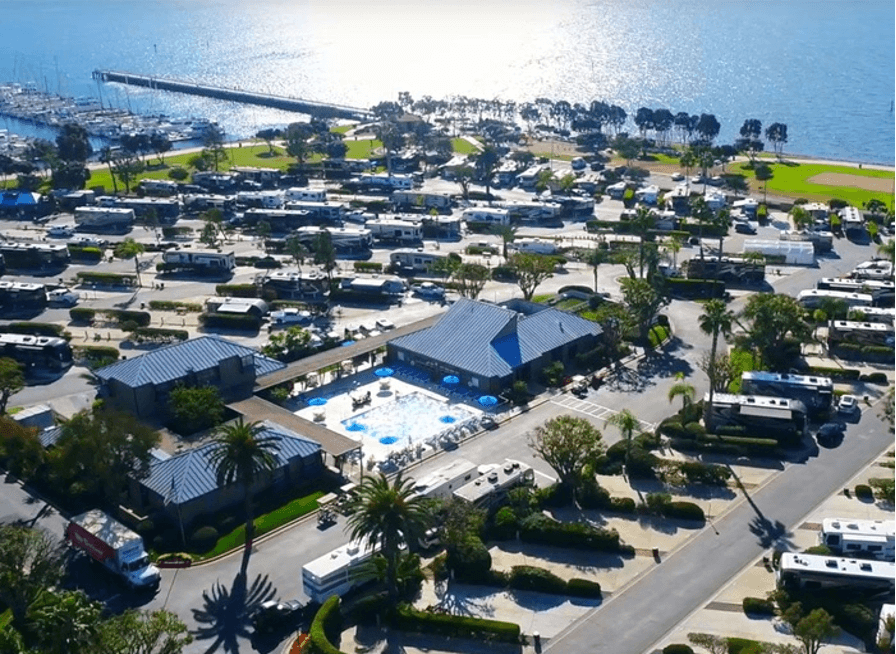 Look no further and check out more about the resort Bahia Honda State Park or reach out to them at 305-872-3210.
5. Sun Outdoors (formerly known as Compass RV Resort)
If you love history and want to delve into historical sites, this stay is perfect for you as it is very close to St. Augustine. It is also very close to the beaches for you to have a relaxing time. The resort is divided into three sections – The Grove, The Pond, and The Oasis. Each one of them has different facilities and its vibe. They have many RV sites with full hook-ups, picnic tables, patios, and other facilities. The resort also has a fitness centre, clubhouse, and other amenities. They also organize various planned activities like fishing, etc., from time to time to make sure the guests engage with each other.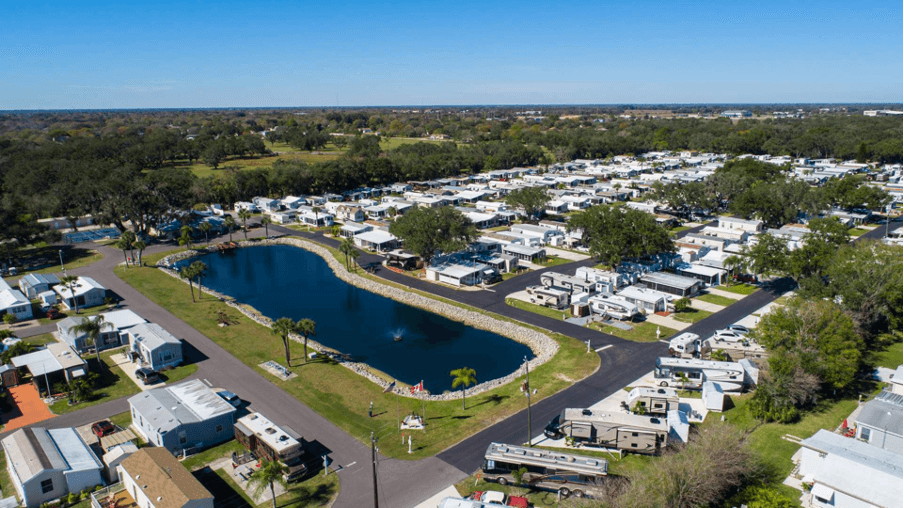 They roll out various offers from time to time. Check their website, or call 904-824-3574 to make your reservations.
6. Big Tree RV Park
It is one of the few parks in Jacksonville that offers tree-shaded sites with electric services and a laundry room. The park also permits dogs with prior approval from the management. If you want to pass the time, you can relax in a good oversized hot tub, swim in a heated pool, enjoy fishing, and read. They also organize game nights, movie nights, etc., to keep you entertained.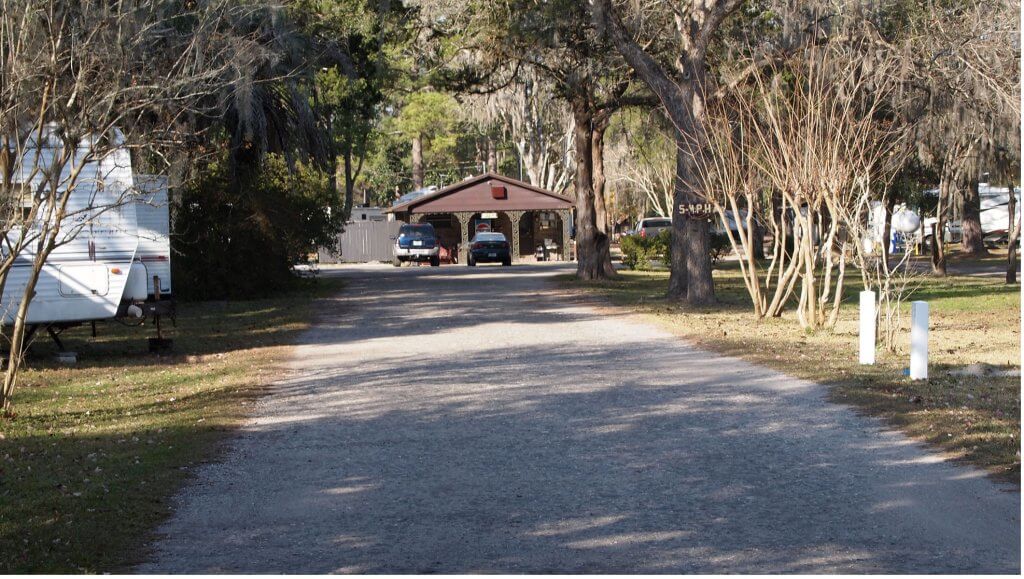 To learn more about the park, visit Big Tree RV Park.
7. St. George Island State Park
This is one of the best state parks in Florida. It is quite an isolated and private place. It is the perfect place to escape the city and stay at undeveloped beaches for long hours. One of the most interesting things about the place is that it is perfect for stargazing with a clear night sky view. It is a very minimalistic park with a very friendly and helpful staff. All the basic amenities are available at the park and are pet-friendly.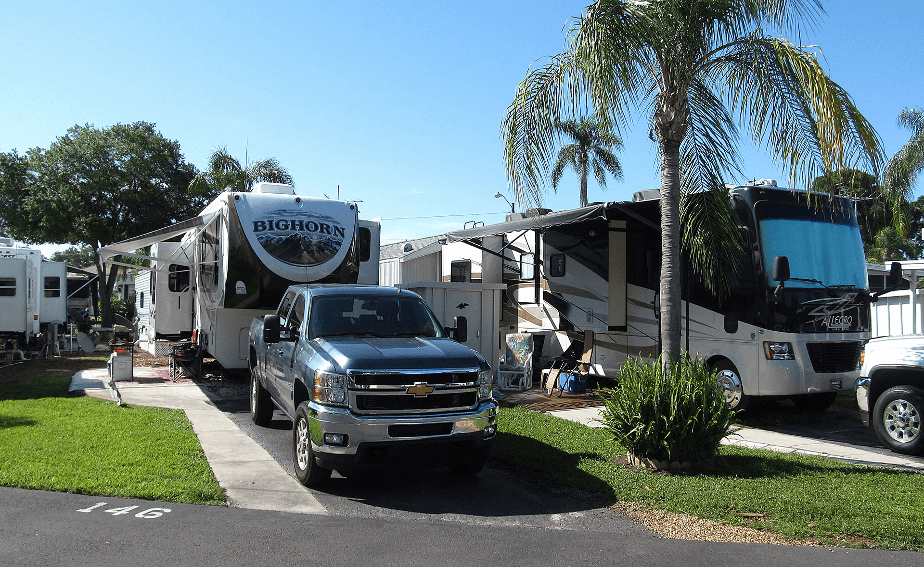 To learn more about what the park offers, visit St George Island State Park, or call 850-927-2111.
8. Bickley RV Park
The park is minutes away from Clearwater and St. Petersburg. They have various options, from luxury lots to standard lots providing all the comforts of home. Various activities, like barbecues, morning coffee socials, etc., are organized to ensure you aren't bored and get to meet other people. They also have huge recreational and gaming rooms. Any day, you can just sit back and enjoy the peace and tranquility of the calm waters of the Gulf of Mexico.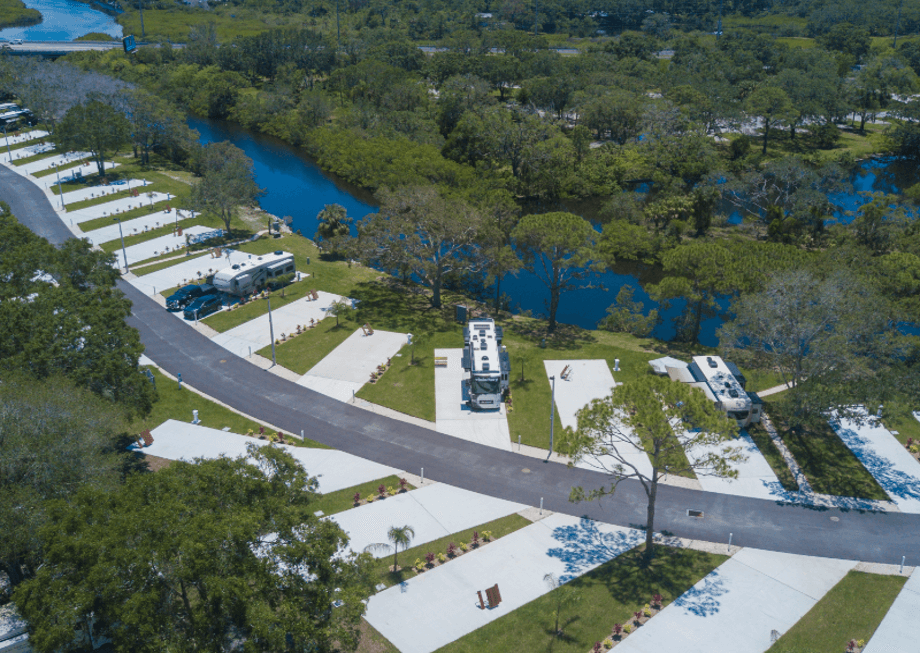 See all the park offers at Bickley Park or call them at 727-392-3807 to make your reservations.
9. Bay Bayou
As well as offering deluxe facilities and amenities, Bay Bayou offers a friendly staff to help you. They organize activities like biking, kayaking, and shuffleboard to keep you engaged. There are around 300 full-size sites that include sewer, water, and a patio. They also have good Wi-Fi connections around the park. Seasonal activities like bingo, dinner dances, etc., are also organized.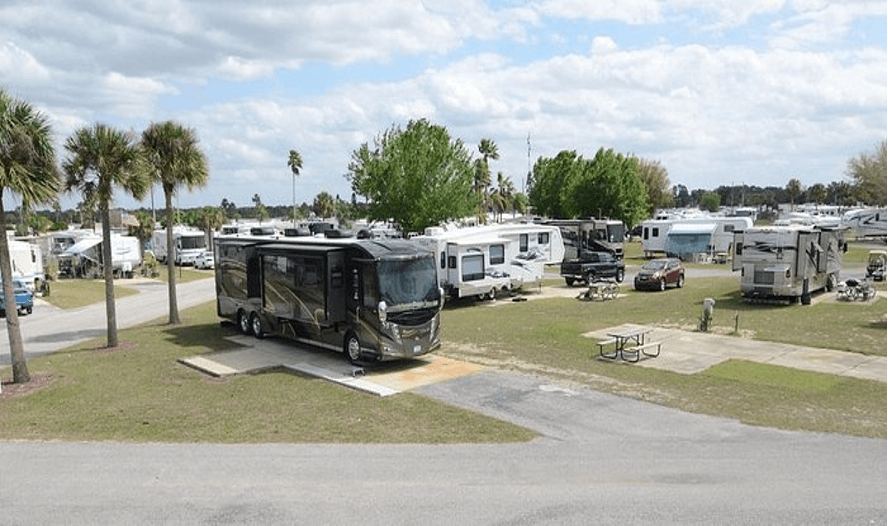 To know more about the place and the prices, visit Bay Bayou or contact them at 813-855-1000.
10. Lake Magic RV Resort
The park, a short mile from Disney World, is peaceful and secluded and makes for a perfect getaway. They have oversized lots to accommodate any size unit and offer full hook-ups. It is also pet-friendly. Additionally, they have a dance hall, church services, and a computer club. Some of the activities they offer include water aerobics, arts and crafts, etc. It is a great place to stay if you like to do crazy, exciting things!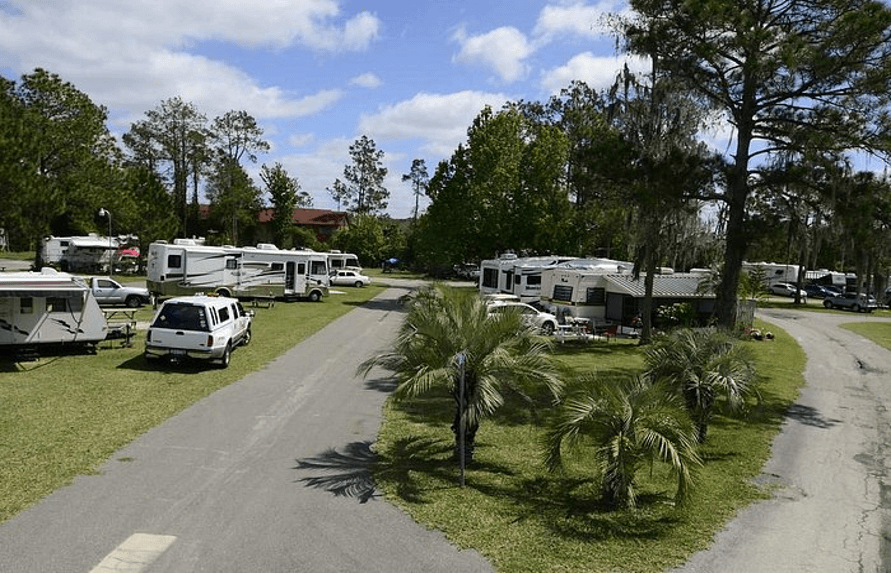 Visit Lake Magic RV Resort or call them at 877-570-2267 to book your lot.
11. Sherwood Forest RV Resort
Surrounded by lush greens and clear water lakes, this is one of the most beautiful and peaceful stays in Kissimmee. Unfortunately, it is also close to Disney World. They organize various activities, including board game nights, dance sessions, crafting, cookouts, etc. With mature shade trees, picnic tables, and cable television, they offer a variety of sites and park-model cottages. The resort amenities include a clubhouse, swimming pool, and laundry facilities. They are also pet-friendly.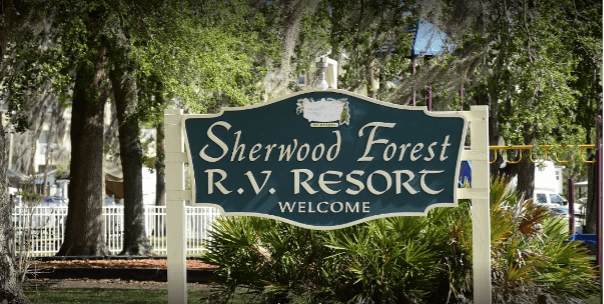 Know more about the place on their official website, or call them at 800-413-9762 to make your reservations.
How Much Do Long-Term RV Parks Cost in Florida?
Although it depends on the duration of the stay and where you stay, it can cost somewhere between $300/month to $4000+/month, depending on the stay you choose. However, there are stays available for every kind of budget. Moreover, booking a stay for more than six months will cost you less than booking a stay for less than six months.
Henceforth, it's no secret that Florida is one of the nicest states to live in your RV for the long term. These were our top 11 picks of long-term parks in Florida to ensure a comfortable stay. We hope this helps you!