Upgrading your RV by installing a solar panel can have its benefits. Your RV can generate enough power directly from the Sun with the help of a solar panel. You can also increase your battery life for a few days by parking your RV outdoors under the Sun.
If you are planning to put Solar panels in your RV and are looking for an RV solar installer, then we bring you the solution to this problem by sharing with you the following ways to help you find a good RV Solar Installer.
Finding RV Solar Installer Near You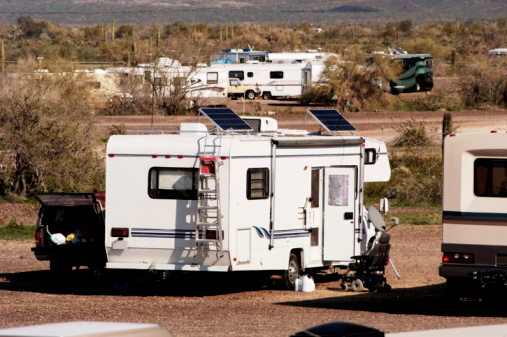 You can search "RV solar installation near me" online and get a list of individuals and companies claiming to be good at this. Then, you can filter the list accordingly by checking the reviews and references.
You can reach out to some companies who are specialized in residential installations because they might also be able to do RV solar installation. These can also be a good option for finding the best RV installers near you.
Social media platforms could also help in your search. For example, you can look for some nearby RV installers on Facebook groups and, based on unbiased feedback from other RVers, can decide on the installers.
Apps like Pro Referral and Angi might also help connect you to the right RV installer in your area.
You must research and have some knowledge or information regarding RV Solar installation systems and other related things before deciding upon hiring any RV Solar Installer near you.
Some RV Solar Installer Recommendations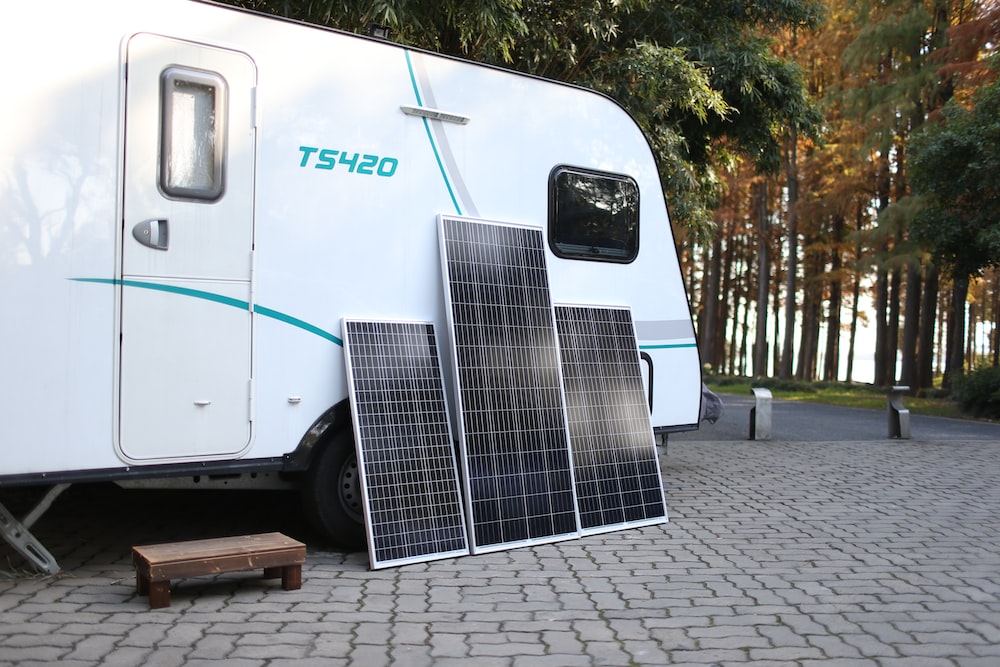 Here are a few recommendations from our side as a solution to your problem of reaching out to a good RV solar installer.
Based in Central Ohio, they do Solar and off-grid power installation for RVs and other specialty vehicles. They also do custom designing. Their focus is on quality and giving attention to all the big and small details. They also provide for DIYers. They are authorized dealers for Merlin Solar, Lithium-ion Batteries, Victron Energy, etc. If you need any equipment for your DIY project, then you can get a supply from them.
It is an RV storage facility and service center based in Glendale, Arizona. You can get guidance about the right amount of Solar that meets your needs from their skilled technicians with years of RV electrical systems experience.
Based in Springfield, Oregon, AM Solar provides independent power and energy management solutions for RVs and other off-grid applications. You can also get your RV solar and other power equipment like lithium batteries, Solar panels, chargers/inverters, complete do-it-yourself kits, etc., from them. They can also help you find a good RV Solar installer by providing you with a list of their solar installers and dealers.
Located in White House, Tennessee, and Fort Myers, Florida, these are electrical experts focusing on a wide array of applications like RVs, utility vehicles, boats, solar power applications, etc. They can help you in taking your RV off-grid by designing your RV electrical system with solar panels and other necessary equipment.
Located in central Texas, it is a full-service RV center. You can get your RV designed and installed and obtain other necessary components of an off-grid electrical system, like batteries, solar panels, inverter, etc., from their RVIA master-certified technicians.
The Dry Campers
You can get your RV solar installation done by Mike. He is a reputed RVer who is featured on YouTube Channels and provides RV Solar installation services across the country.
You can visit his website. to learn more about him and to schedule a consultation with him.
It is located in Mississippi and provides customized solar system installation services for RVs and Vans. Due to their expertise in this area, they complete projects quickly. They also provide DIY training if you prefer to learn the installation work yourself.
Chris @ Why Not RV
Chris is a U.S military veteran from the WHY NOT RV YouTube channel. He is also a solar RV enthusiast who designed and installed off-grid solar systems on the RVs. He now offers RV solar installation, repair, and RV solar consultation services.
You can also have a look at this amazon page.
Based in Florida, it is a new company run by RVers Thomas and Stacy of IMNOTLOSTIMRVING YouTuber Channel. They provide customized RV solar installation and off-grid RV add-on services in Florida and other locations around the U.S.
They install and design RV solar systems in the midwestern region. They are also dealers of AM solar, Victron, and Battle Born.
Cost of RV Solar Installation
It depends on the size of your RV and other upgrades like wiring, getting a solar charge controller and inverter, etc., that you need to do for RV Solar Installation. Charges of some installers vary between $100 to $150 per hour. So, the smaller your RV's size is, the fewer hours it will take for the installation.
Installing RV Solar Panels by Yourself
Yes, you can do RV Solar installation by yourself. Still, it needs proper research and information about the step-by-step process starting from selecting the right panels, placing them correctly, correctly connecting them, and doing a proper setup.
Many RVers have installed solar panels themselves. But you need to take care of each and everything, be it the right component or the proper wiring. Or else you might end up spending more on fixing your mistakes.
Things to Know Before Doing RV Solar Installation Yourself
If you have decided to do the RV Solar Installation yourself, then you should have a clear idea about the following things: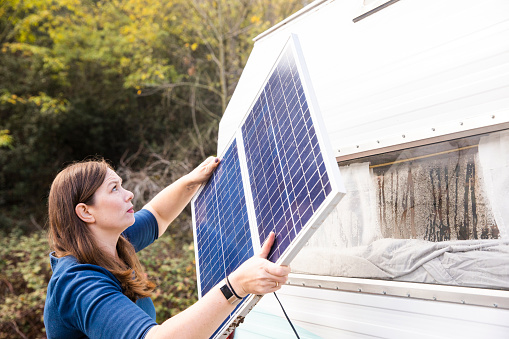 Power Consumed by Your RV Appliances
How much power your RV consumes in total can be determined by calculating the amount of power that all your appliances consume as well as the number of hours you use them in your RV. This might give you an idea of the total watts consumed each day.
The Number of Solar Panels
If you have a 100-watt solar panel that you leave under the sun for eight hours, then considering other factors like weather, and location, which might impact the solar panel's efficiency, you can put an average estimate of 350 watts of energy a day that one solar panel will produce. So now you can divide your daily RV energy consumption by 350 to get an estimate of the number of solar panels required.
Your RV Roof Space
If you are going to mount solar panels on your RV roof, then make sure that you take the correct measurements of your RV roof because Solar Panels are not small. Crosschecking the measurements with panel dimensions could also help.
The Type of Batteries
Batteries could be considered an important factor in any solar power system. Even if the solar panels produce high power, if you do not have a good battery to store it, then the efforts might go in vain. Even when in RV electrical systems, the Lead-acid batteries are considered standard ones, it would be better to use lithium-ion batteries as they are newer technology and provide many advantages like efficiency, greater capacity, and the depth-of-discharge. These also last for more than 10 years and usually do not require any maintenance.
Portability
Your travel style, location, and other needs decide whether you need a portable RV solar panel or permanent mounting. Both have their pros and cons. A portable system allows you more sun exposure and flexibility. But a permanent system will not require assembling and dissembling each time you change the camping site.
Your Budget
Before installation of the RV solar panel, do remember that you might incur extra hidden charges after RV solar panel installation, like battery upgrades, mounting the hardware, etc.
Conclusion
You can search RV solar installation near me" online and filter out the list of companies and individuals claiming to be good in RV solar installation services according to unbiased reviews and references. We have also recommended some of the companies and individuals who provide services related to RV Solar Installations and off-grid electrical systems for your convenience.
The cost of RV Solar Installation depends on the size of your RV and the other upgrades related to the installation. Generally, an installer charges between $100 to $1500 per hour. Of course, you can also do the installation yourself, but you need to be very careful about each step of the process, or you might spend more on rectifications.