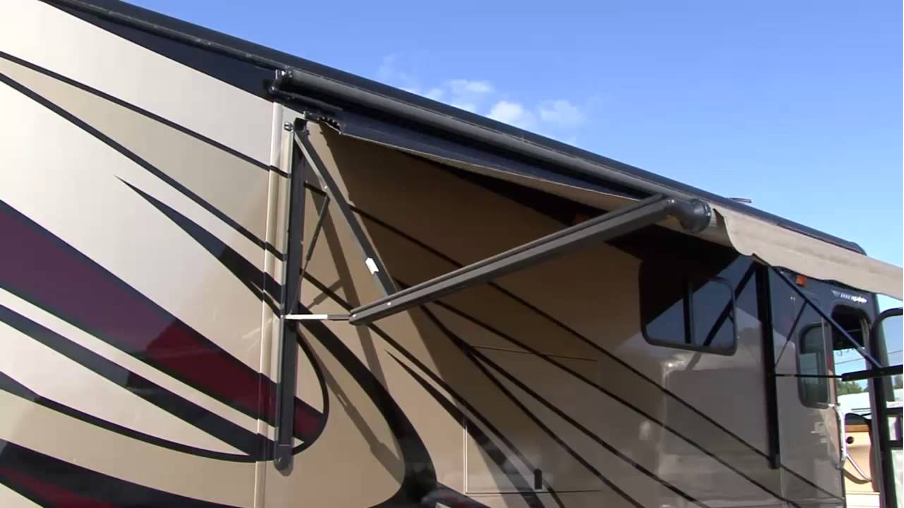 Understanding how your RV awning operates is crucial for its correct use and upkeep, which will help to avoid damage. In addition, they are essential to enjoying RV camping because they help you stay cool by keeping the sweltering summer sun off you and your RV.
How does an RV awning operate, then? RV awnings are foldable awnings that can be opened and closed mechanically or electrically. While electrical awnings employ a motor in the roller tube, mechanical awnings use a torsional spring.
Once you've handled it a few times, opening your RV is a straightforward operation. The general directions for closing RV awnings are provided in the following recommendations.
What Is an Electric RV Awning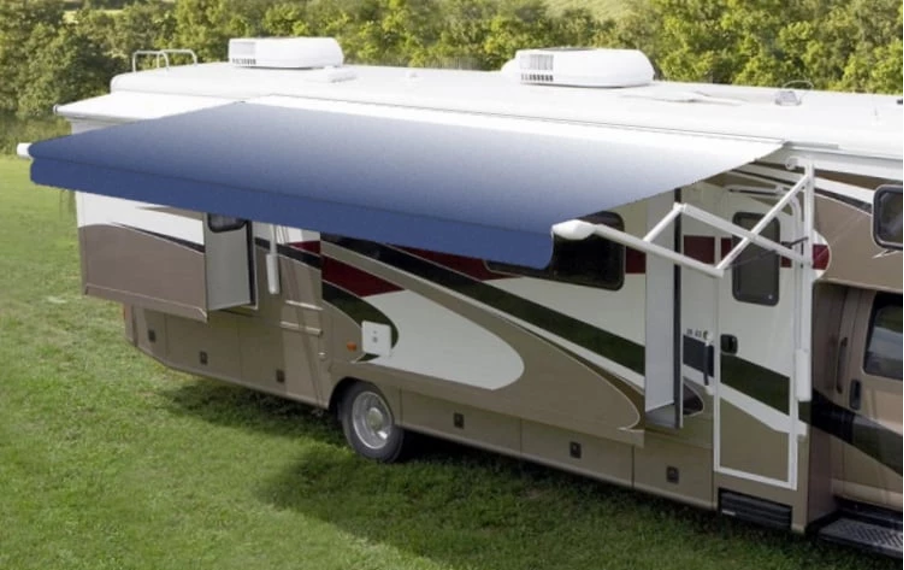 An embedded tube motor allows an electric awning to expand and retract. This motor model tucks away neatly inside the tube roller of your camper's awning.
Depending on the awning's make and type, it can be operated by either 12V DC or 120 AC power. The cables are covertly threaded out of one of the awning arms and connected to the primary power source of the RV.
Some awnings have arms folded against the material, keeping your patio area airy. However, this fashion is frequently more expensive.
You shouldn't be concerned about extending the awning in the case of a power failure or a damaged motor. A manual override is integrated into every electric awning. But you'll need a drill and a hex key. To determine what size hex key you must have on hand, consult your manual.
How To Open RV Awning That Is Electric?
Your electric RV awning may be opened with just a button. Press the extend/open button until your awning is at the target, using either a control panel within your RV or remote control.
Many electric awnings don't have travel locks because of the way their motors are built, unlike specific awning models that require them before you may extend your awning.
How To Close RV Awning That Is Electric?
Your motorized RV awning opens similarly when it is closed. Use the retract/close key on your control center or remote control to retract your awning fully.
Awnings with auto-retracting systems that sense wind or rain will entirely retract themselves if there is too much wind.
What Is a Mechanical Awning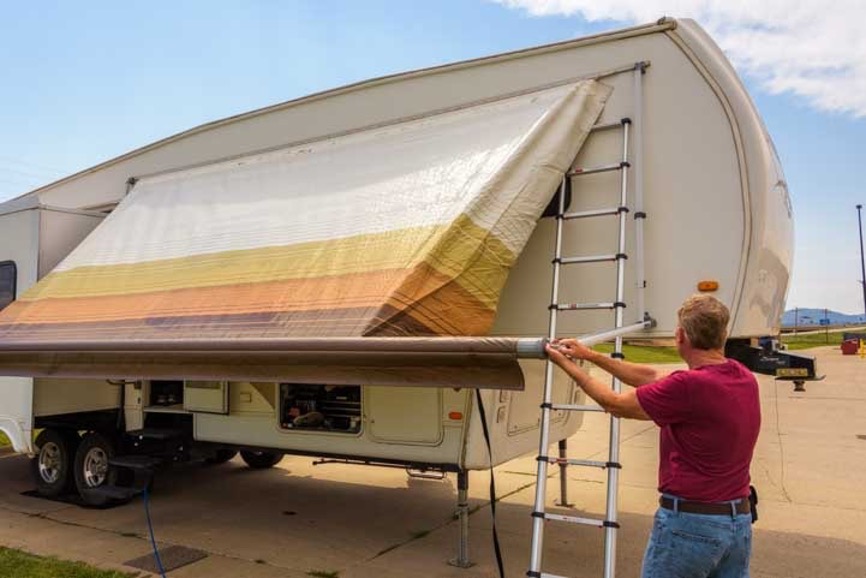 Since mechanical camper awnings are more inexpensive than electric camper awnings, they are more common on older and cheaper RVs. However, they are still relatively simple to use and as effective.
Because mechanical RV awnings are manually operated rather than having sophisticated auto-retract features, you must be cautious of the wind and rain. To allow water to naturally drain off your awning, keep one side of it marginally lower than the other.
Your awning's corners can be secured to help shield it from wind damage caused by jolting blasts of wind. And give you a few minutes before the wind picks up to stow your awning safely.
Even though it's not as easy as pressing a button with an electric awning, opening your awning is straightforward and can be done by one person quickly and effortlessly with a bit of practice.
How To Open a Mechanical RV Awning?
First, unlock the travel locks on the arms to open your awning. There are several types of travel locks, but to protect the awning, some locks must be permanently unlocked first.
A small lever needs to be moved to the extended or open position located at the top of the awning, usually on the right. Flip down the lever with the awning rod.
Hook the awning rod into the pull band located in the middle of the awning. When you reach the strap, slowly remove it using the rod; once you can, grab hold of it and pull until the awning is completely stretched.
The awning will then be raised using the outermost arms. If you're extending your awning by yourself, you should first partially lift one side, then the other, until your awning moves back and forth at the required height.
How To Close Mechanical RV Awning?
Step 1: Lower the Awning Arm and Unpeg It
If your awning's arms were pegged out, you should unpeg them before carrying them back to the RV and fastening them to the body. Please shake it slightly to ensure that the mounting clip is firmly attached.
Step 2: Retract the Support Arm
Suppose your RV has a latch that requires it to be unlocked to pull the inner arm down to the bottom of the outer arm; loosen the knob on the inner arm first.
Step 3: Retract Awning
Retract the awning currently. Release the strap gradually to allow the awning to roll back on itself. Use your awning rod to hook into the end of the strap just before it becomes too high to reach.
Step 4: Engage the Travel Locks
You will then reconnect the travel locks to complete the. We lift the outer arm of our awning just enough so that it latches on the inner support arm. The trip lockdown is then flipped, engaged, and locked. Naturally, you must do the same on the opposite side.
Conclusion
Electrical awnings have the benefit of being incredibly simple to use and relieving some concerns with practical features like auto-retract. They do, however, typically cost more to buy and repair.
A mechanical awning requires a little more work to open and shut, and you must closely monitor the weather to prevent errant storms from damaging your awning. But if you're a little handy, you can fix them yourself for significantly less money.
You can utilize a used awning and lower the tub to suit if you need to replace your awning due to problems.