The new trend of remodeling the camper on a budget in the RV world is passing with flying colors. There is plenty of opportunities for every RV lover and RV owner in this field. Everyone has started chasing this activity for fun but also as a serious career option. Remodeling provides the freedom to design the space according to your creativity.
It seems pretty straightforward, but there can be a handful of hardships that you have to go through in the process. RV renovations are exciting, but we have to be cautious too. At every step, you have to decide wisely so as not to splurge too much money on repairing unnecessary items for the camper. But you do not have to worry because, in this article, you are going to find some fantastic tips to help you with the RV renovation on a budget.
We will provide a full step-by-step process on remodeling your camper while keeping the budget in mind. So let the creative journey begin.
First, Find an Old RV or Camper
In today's world, connectivity is no longer an issue; each piece of information is just a click away. Well, because of this, there are many places where you can find an old RV at a good price and within your budget. Social media platforms are one of the best ways to look for the old camper. Other than the lookout, one more important thing is to decide on an amount that you are willing to dedicate to the purchasing of the RV.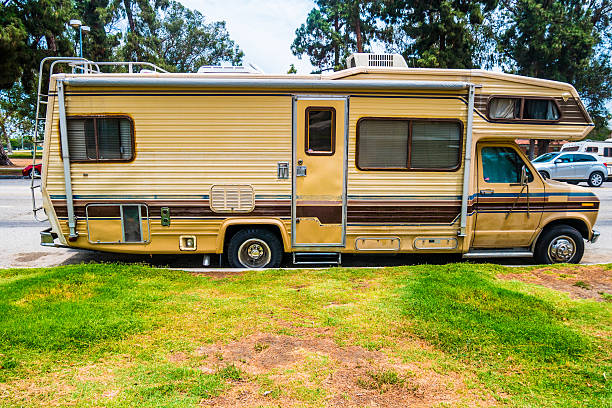 What makes the RV renovation look good is the RV and its condition itself. When you find your RV, make sure to assess it correctly. While checking, we would recommend you look for certain things in the used RV so that you can save the trouble of spending huge amounts of money on the repair. The list below includes some important parts of the RV to look for as they demand the replacement of the whole system, which would be expensive.
Working Appliances – When buying an old camper, ensure that appliances like the stove, refrigerator, microwave, etc., are functioning properly.
Water Damage – The damage done by rain to the roof can be very expensive to repair. Also, it can lead to collapsing of the roofs. So make sure to check for water damage to protect yourself.
Bathroom and Water System – If your RV includes these things, then check the functioning of the bathrooms and water tanks thoroughly.
AC and Heaters – Both are required in different seasons but it should not stop us from looking at the workings of both these devices in the RV. It can save you from some expensive repairs.
Tires, Brakes, and Towing system – The technicalities of these things can be overlooked by just looking at their surface. So try to thoroughly check for the brakes, tires, and towing system to avoid any serious accidents and expenses.
Planning your RV Renovation
The planning of the RV renovation can cut down many challenges beforehand. If you are on a budget, then you must plan accordingly. Make a list of which item and corner of the RV you want to spend more money on than the others.
The list can include items like decorative items, the style of things you want to include, and some other things like the kitchen sink or flooring of the RV. You can also include some fun items like the Squishmallow hammock for your kids' toy collection, which can be an excellent addition to the RV.
When you shop for the remodeling of the RV, make sure to look at alternatives to expensive items. These tips will give an idea of how your budget is going to be spent and on which things.
Make Necessary Repairs
Before starting anything, ensure your camper has no serious structural or mechanical damage. Check your interior and exterior of the RV for any damages properly.
This will ensure your camper's foundation is strong and is completely ready for a new makeover.
Rip Out All the Insides of the RV
After doing all the necessary repairs, now it's time to clear the foundation on which you are going to build your creativity. That is to rip out all the unnecessary things that you do not want in your RV. These may include windows, carpets, blinds, fabric panels, etc. If the things that you think need replacement and do not match your ideal style for your RV, then clear them all out. And make space for the new one. After all, it can be cathartic to rip all the things from your RV to get it ready for a new makeover.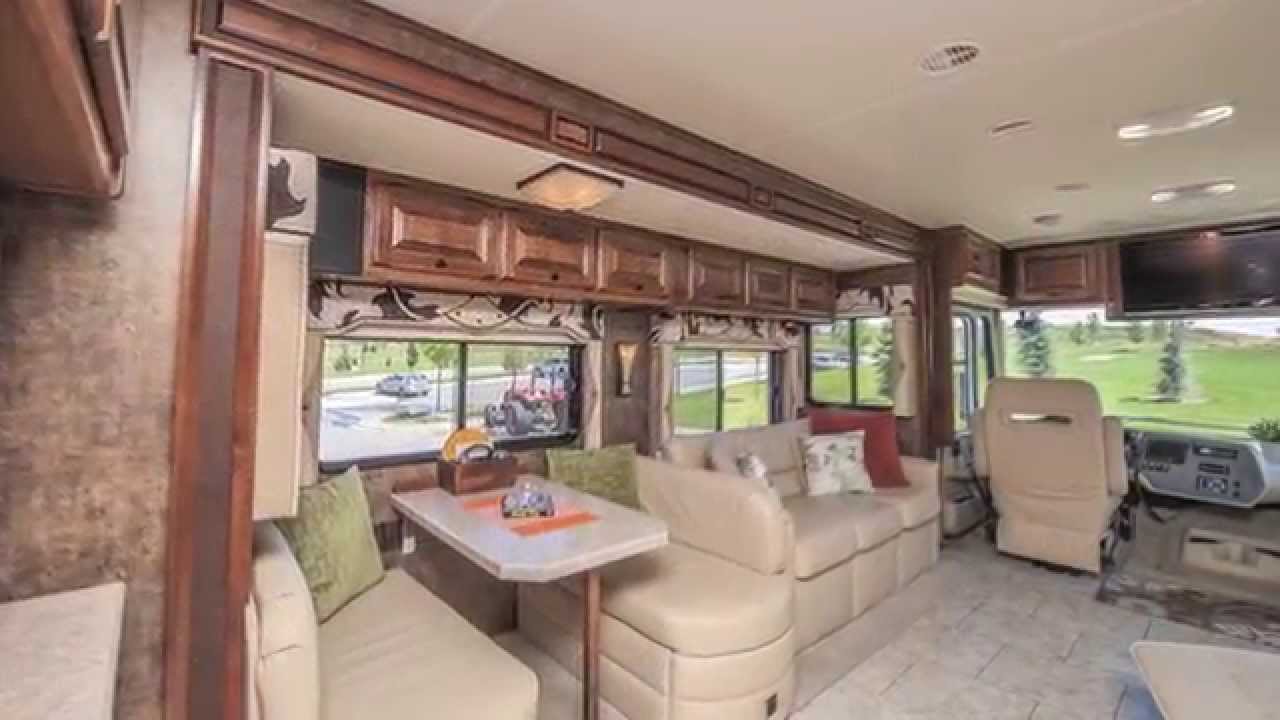 Time to Prime and Paint
It is the most fun and time-consuming task to do while renovating your RV. First, choose the color of the paint according to your theme. Then remove all the doors and kitchen cabinets from the RV to prime the walls. Also, prime all the cabinets, doors, and ceilings of the RV. Make sure to use a good oil-based primer like shellac primer or Killz primer.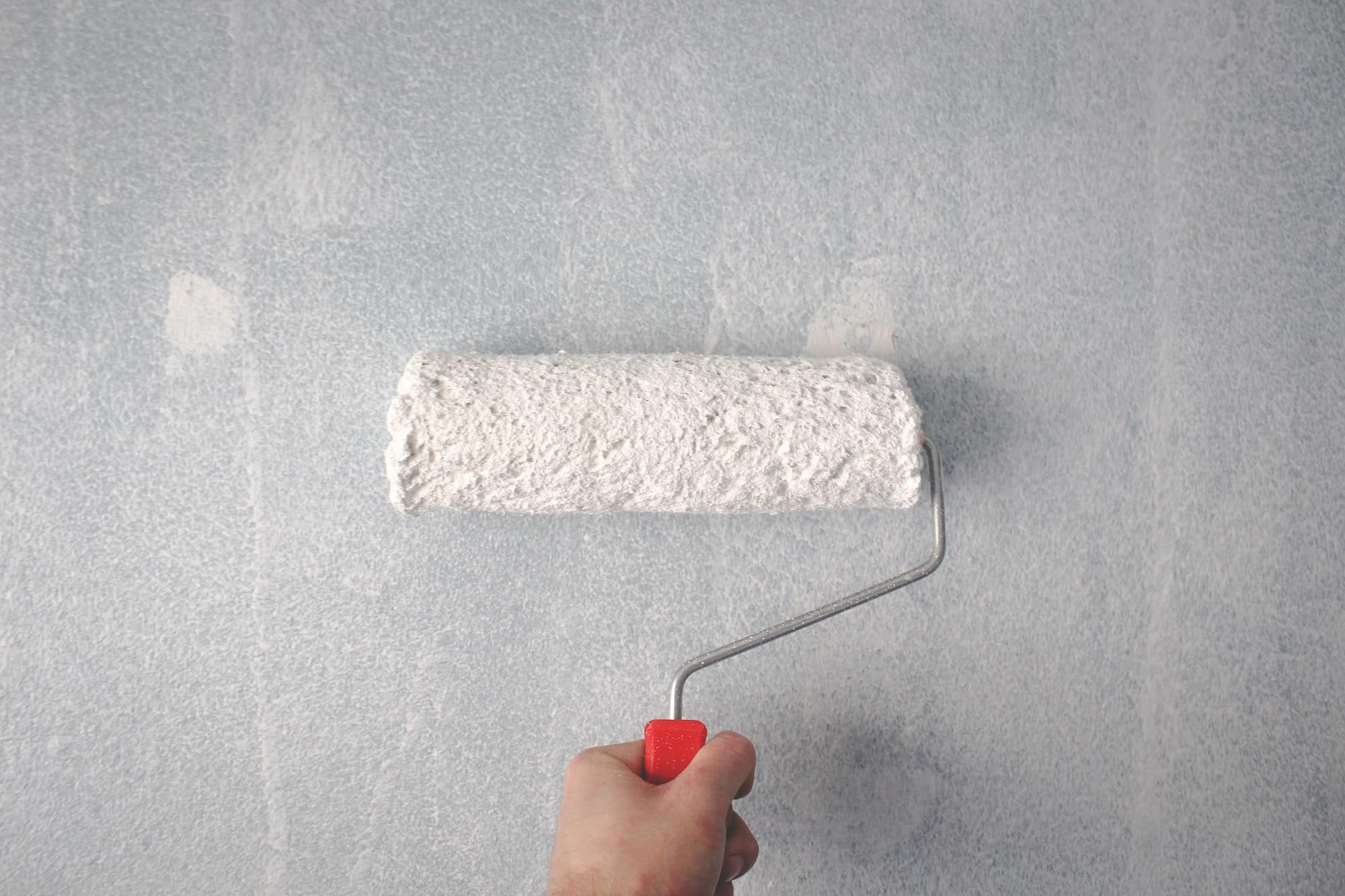 We would not recommend using a water-based primer as it can moisten and lift off the porous substrate, which can crack the paint. To finish it off, use good paint to use on all the cabinets, doors, and ceilings. And do not forget to seal the paint using a good sealant to keep the paint for a long time. This step will give a new life to your RV.
This step will take you closer to the RV that you imagined. Like you can add wallpapers and peel-and-stick tiles to give a little accent to your RV walls and floors. Both decorative items are pretty simple and easy to install. Ensure that you provide them enough time to dry out completely before performing the next step. The modern look that it will give your RV would be amazing. This tip can also save a lot of money while providing you with the best-looking RV.
Replace Lights and Install Window Treatments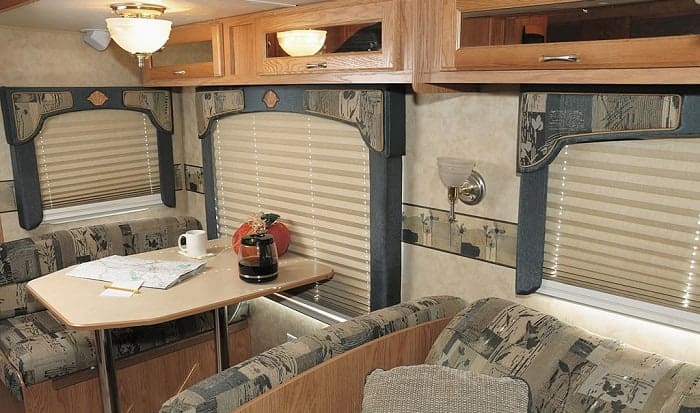 The lights can add so much shine to your RV renovation. The perfect size and type of light bulbs installed inside the RV can change the look from ordinary to something more classic. However, make sure to use the light bulbs that are suitable for the RV, which is the 12-volt type. Lighting can go over many corners of your RV, like the dining, couch, and kitchen areas. You can buy cheap options on online websites for your RV. Since it is remodeling, you can design your chandelier and lights for your RV.
For window treatments, replace and install the new ones. You can use blinds to protect the interior of the RV from sun rays, and it can help at night, too, while sleeping.
New Flooring
Flooring can be very important while doing RV renovations. You should always choose to install new flooring whenever you want to remodel your RV. Many people opt for the peel-and-stick type of flooring for their camper. At the same time, many go with other easy-to-install options like hardwood, laminate, vinyl, or tile. These types of flooring are durable and can be safe while going on road trips. A bonus point is that it takes less time and money, a win-win situation. So choose wisely.
Replace and Add custom Furniture
If you have a used RV, then there are chances that the furniture has stains and is a little faded. To solve this problem, you can either replace the current furniture items with new ones or wrap new fabrics and renew the old furniture. But, of course, it also depends on the shape and condition of the furniture.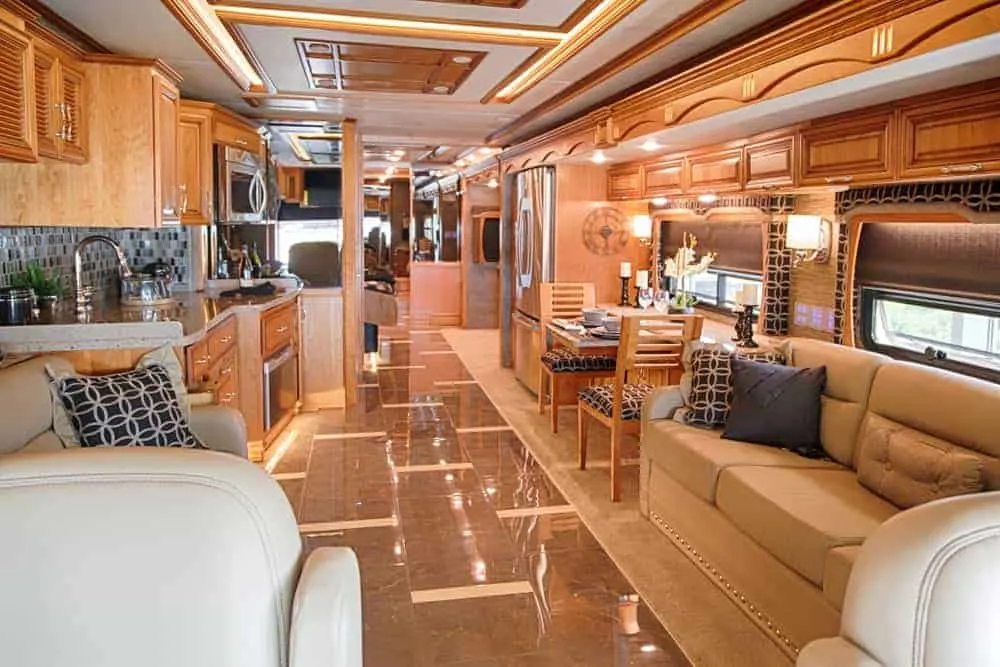 You can add furniture in whichever way you want to build the aesthetic of your RV. For example, for a cozy aesthetic, you can add bench seats with a folded table. You can also add an entertainment center in your RV.
Add bedding mattresses and beautiful couch covers to make your RV look even more well-designed. You can also hang curtains and add comfortable fluffy cushions to make the RV look more put together.
You can also add new kitchen wares for your newly renovated RV. Select the kind of wares that goes with the theme of your RV. You should also keep in mind the kind of ware you are purchasing. The RVs are used for road trips, including lots of driving, and kitchenware like glass can easily break. So make sure to opt for the kind that is unbreakable and hard that can hold up during camping and road trips.
Final Decorative Chores
We are almost done with the remodeling of the camper, and that too on a budget. Now comes the fun part of adding a little personality to your RV by adding some accessories and decorative items to it. Make your RV beautiful and functional at the same time by adding hooks and bars for storage purposes.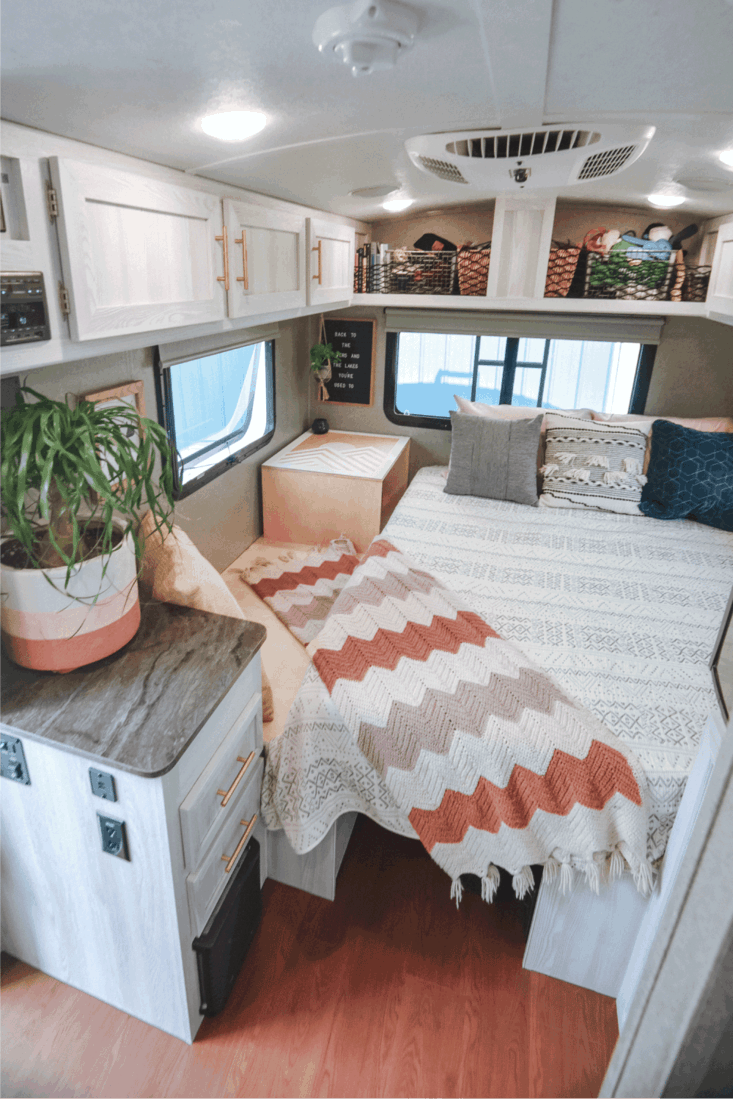 You can add wood accents to the walls and storage units to give a more rustic look. Add pictures and art that hold some meaning in your life to make the RV more personal and candid. You can add whatever thing you like and be sure to make it a more home-like space where you can enjoy and relax.
Conclusion
Renovating RV is a fun task to do. Now that you have seen all the tips and tricks on how to remodel your camper on a budget, we hope that it gave you some inspiration for your creativity cells.
Take your time to plan clearly how you want to do this thing. It is not about being good at it that shows results.
It is your creativity and efforts that make the final product stand out in the crowd. So happy remodeling to you. It is going to be beautiful.