Are you an RV rider? Then, you must have heard about the RV Macerator Pump. But, have you ever thought if you need an RV Macerator Pump or not? In this article, we will be discussing the need for a Macerator Pump, and we will also take a look at some popular Macerator Pumps that you can get for your RV.
RV Macerator Pump
An RV Macerator Pump is nothing but just a device that is needed to dump the RV holding tanks. RV Macerator Pump is useful because they could be used to dump uphill, dump to a longer distance than any sewer hose. It is also easy to store because it uses a thin dump hose. However, there could be a situation where the waste needs to be dumped uphill; hence, RV Macerator should be the one device you carry for dumping the waste.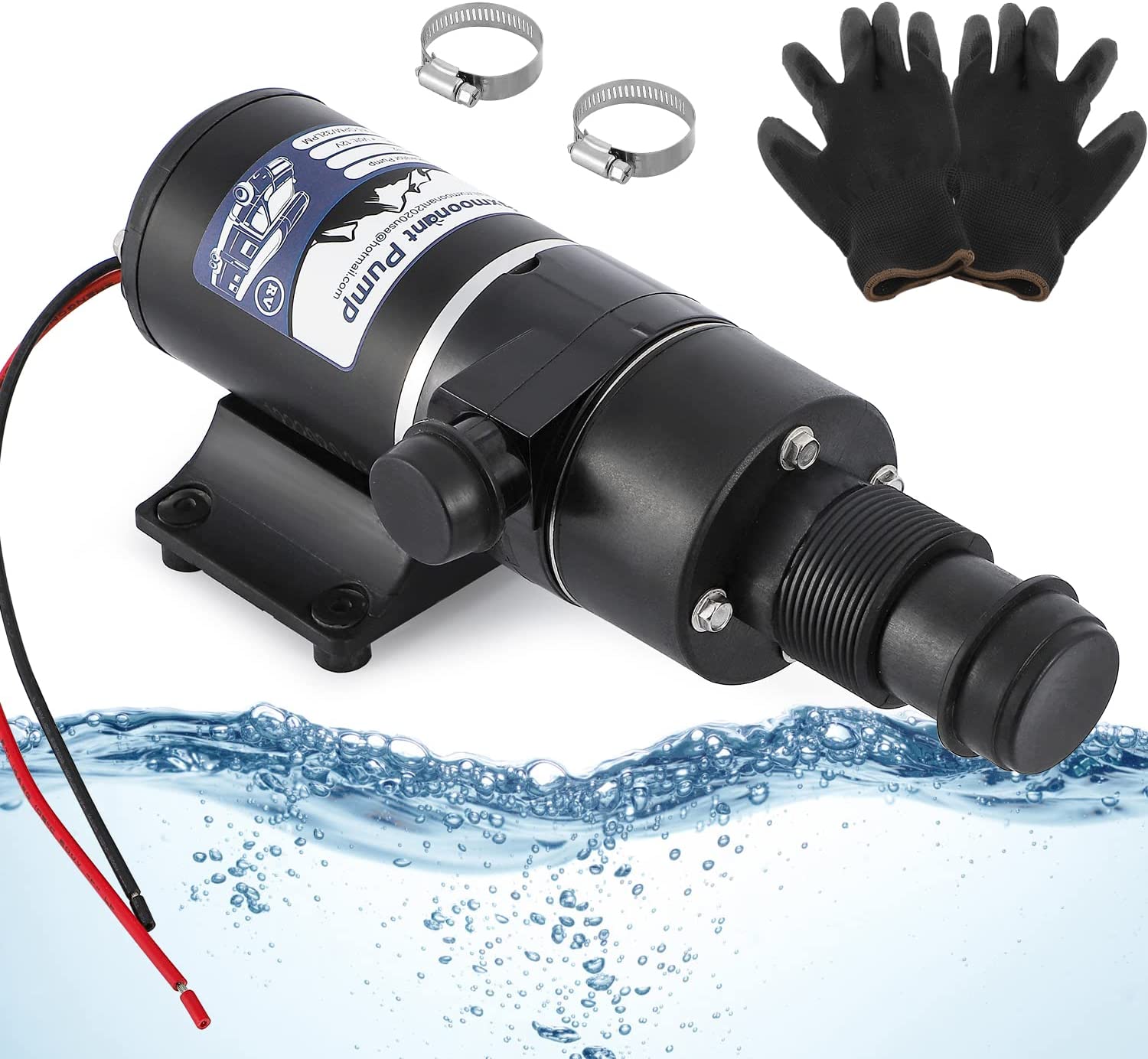 RV Macerator has a pump with blades that can be used to grind and blend the made-up waste, hence, it becomes easy for an RV Macerator to dump the waste. A regular sewer hose could not perform these actions as they are not made for this purpose. However, so many people do use the standard sewer hose, which could be used for dumping waste to some extinct, but it is not as helpful and useful as an RV Macerator Pump.
Benefits of an RV Macerator
As you might know, an RV Macerator is mainly used to dump waste. It is pretty popular because it is designed and manufactured in such a way that it could make your task easy by disposing of the waste easily. When compared with a sewer hose, you will find that an RV Macerator is much more helpful than a sewer hose. Here are a few facts which you can consider as reasons:
RV Macerators can dump the waste uphill as well. So, it is very difficult for any sewer hose, be it standard or regular, to dump the waste out of an RV Black holding tanker to the dumping area.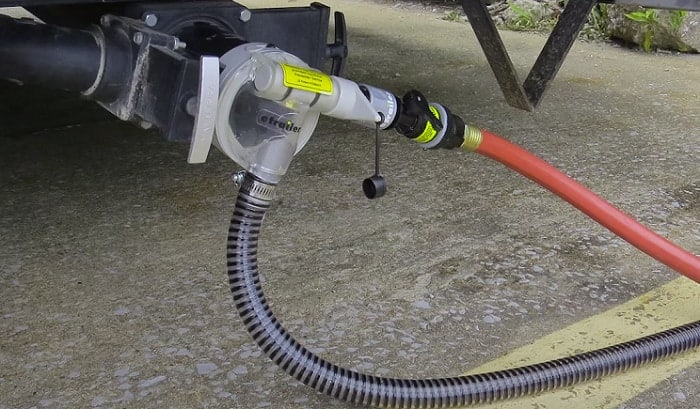 It can also be used to dump the waste to a longer distance so that you don't feel uncomfortable with dumping the waste on your own. You will not find this functionality in any standard or regular sewer hose. This is one of the main reasons why there are so many people who purchase an RV Macerator over any sewer hose.
You can also use an RV Macerator Pump to dump the waste at home cleanout or any septic system. Of course, you can do this with any standard sewer hose as well,, but an RV Macerator gives you an upper hand by making this task as simple as possible. All you need is to set the pump and then see how it performs the task in just a blink.
People seem to have problems with toilet paper back in their RV black holding tanks because they are too wide and large. Another reason to have issues with toilet paper is that even being in the black holding tank, they do not seem to be broken enough so that they could be disposed of quickly. As they are much larger and wide, they also restrict other dumping materials from being easily dumped by blocking them. RV Macerator Pump performs this task so quickly. The force that it uses to dispose of them breaks the dumping material so fine that they could be disposed of easily.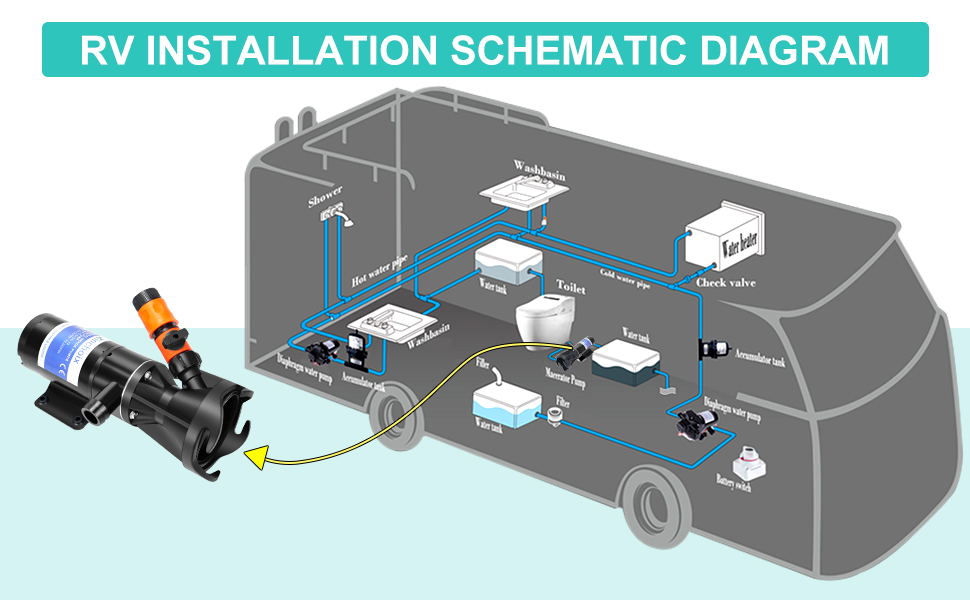 So, if you're having this specific problem, you must give RV Macerator Pump a try, and we can assure you that it is worth trying. But there is one condition you need to follow, the toilet paper you're using must be RV Safe. Otherwise, the regular toilet paper does get clogged up and hence blocks the entire area from being dumped off.
Cons of RV Macerator Pumps
So, as we have discussed a lot of what an RV Macerator is, how it is helpful and what possible advantages could be if you want to get one for your RV, we should now also discuss the related cons. Well, one should not be biased while spending a lot of money on something such valuable, and hence we will also cover their disadvantages. Lastly, it is up to you to decide whether you need an RV Macerator Pump or not. So, let's dig deeper into the cons as well.
The RV Macerator Pump works by slowing down the tank's emptying process. It smoothly controls the flow of the waste going out through the tank, and hence there could be a possibility that some of the waste could still be present inside the tank.
As you know, the RV Macerator Pump throws out the waste from the holding tank, which requires power. Therefore, power is the main source of running an RV Macerator Pump to clean off the waste coming from the holding tank. Without power, it would not be able to work quite as well. So, if you are thinking of buying one for your RV, then make sure that you are ready to spend that much power in running the machine.
The RV Macerator Pump is quite expensive. However, given the quality of work which it provides, the amount spent on it is worth it. However, suppose you think that the price of an RV Macerator is too expensive and you would not want to spend that much money for mere convenience. In that case, you can think of getting a standard sewer hose that will also work like an RV Macerator but cannot provide the quality of the RV Macerator.
Macerator Pump Installation
So, as you now know how an RV Macerator Pump works, you must have thought about how it could be installed. Of course, there are many RV Macerator Pumps that already comes installed with the RV. However, if the original one is not functioning lately or you want to get a new one for your RV, then you should be aware of how to install it properly so that it could function accordingly and ease your work.
Some portable units are attached directly to the sewer outlet on the RV. You can directly pull it out and attach it to the RV macerator. You can do so, but it would be a lot easier to get an RV with an installed RV Macerator Pump, which would help eliminate all the hassle you go through.
Some Popular RV Macerator Pumps
There are lots of RV Macerator Pumps available in the market which you can consider purchasing. We have listed some of them here, and you can take a look at them.
One of the best RV Waste Pump which has a stainless-steel cutter with dimensions of 13x12x6 inches. It is also quite portable and hence easy to be carried anywhere.
It connects directly to the RV waste outlet and can easily dump to longer distances. You can also use it at home to drain the waste in any sewer receiver.
It is also equipped with a Garden hose discharge port and has natural and freshwater rinse capability. It is also equipped with a fully enclosed stainless steel shaft and a motor.
Another RV Macerator that you could think to purchase is the SewerFlo Quick Release RV Macerator Pump. It comes jet black and has dimensions of 11.6 x 5.79 x 5.2 inches. This RV Macerator Pump is easy to be attached and detached from the RV waste outlet.
It also has the ability to dump to longer distances. This is one of the best features of this RV machine as everyone wants to get an RV macerator which could help in dumping the waste to a longer distance.
It also has a thermal-protected running motor and a garden hose outlet for removing debris and making cleaning easy.
Another RV Macerator which you should consider purchasing is the Valterra Sewer RV Macerator Pump. It comes in silver and black and has dimensions of 12.6 x 4.79 x 12.25 inches. This RV Macerator Pump cleans the waste in just no time. However, it has a quick dump process, and hence it is quite expensive as well.
It also has the ability to dump to longer distances. It has the ability of strong pumping action along with a self-cleaning design.
Conclusion
So, many people purchase an RV macerator pump to make their work clean and easy. Some of the RVs come with an installed RV macerator Pump, but if your RV doesn't have that attached to it, you should think of getting one for your RV.