Getting a shower is exciting, especially when you are roaming around in an RV. But many hassles associated with RV showers call for an RV shower upgrade. Your overhaul of the RV shower must correct the shortcomings and design problems with a long-term vision. The main problem in an RV can be the small shower size that is factory-installed and maybe with frustrating shower heads. Let us look at the options to upgrade an RV shower by making a few changes to make for a refreshing camping time.
Partial or Total Upgrade of RV Bathroom
You need to solve issues with RV showers, such as hot water running out fast or freshwater tanks getting hastily drained.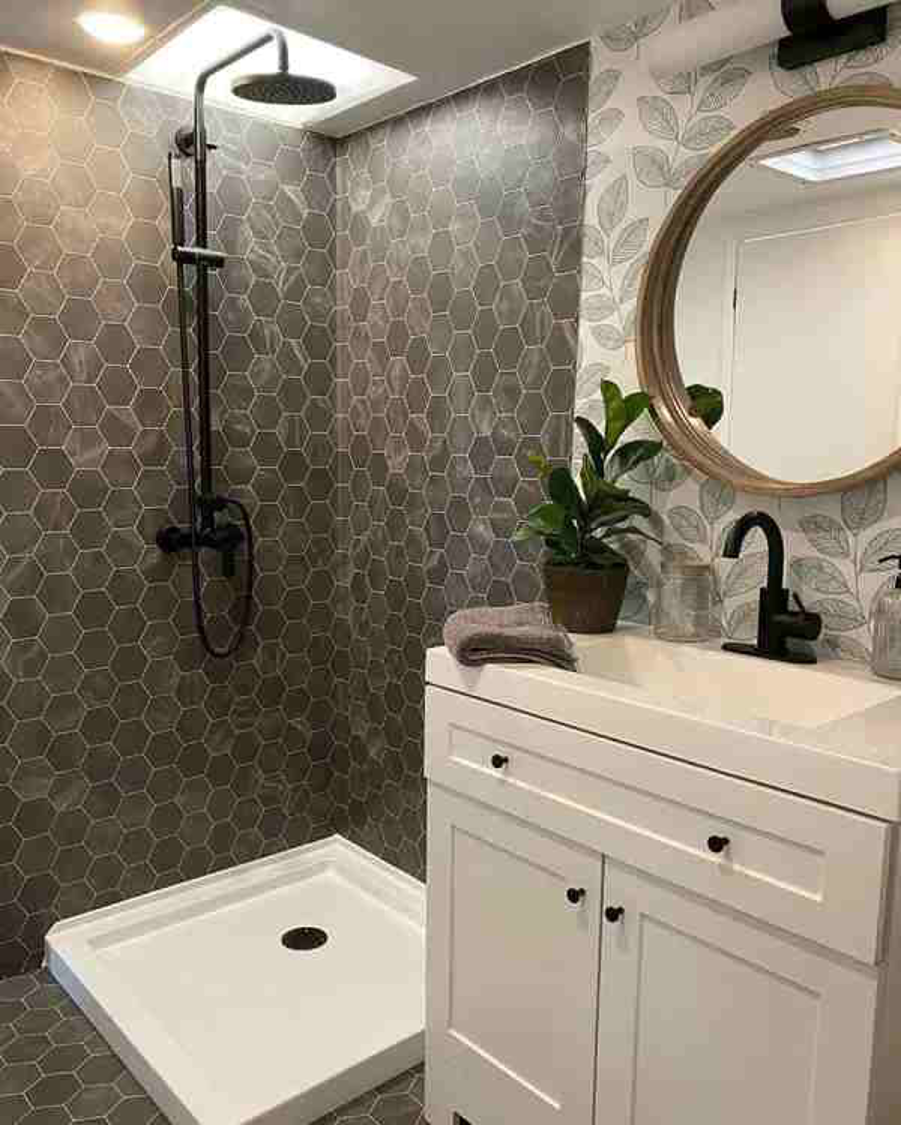 As for an RV shower upgrade, the options include renovating an entire RV or merely sprucing up the bathroom. The RV shower door can have a partial or complete makeover to make it more effective and aesthetic. So, now we may look at the nitty-gritty of the shower upgrade to overhaul the cookie-cutter RV bathroom with a few smart plans.
In your RV shower renovation, budgeting is important with Plan A and Plan B in place to ensure a satisfying shower time.
Improve Shower Door 
In choosing the right shower door, the criteria must be faster maintenance and cleaning. RVs have many things needing regular care and attention.
Take clear measurements and ensure any upgrade kits or your order will fit well. Take measurements repeatedly to avoid errors and ambiguity.
Options for Shower Door Upgrade
Glass Shower Doors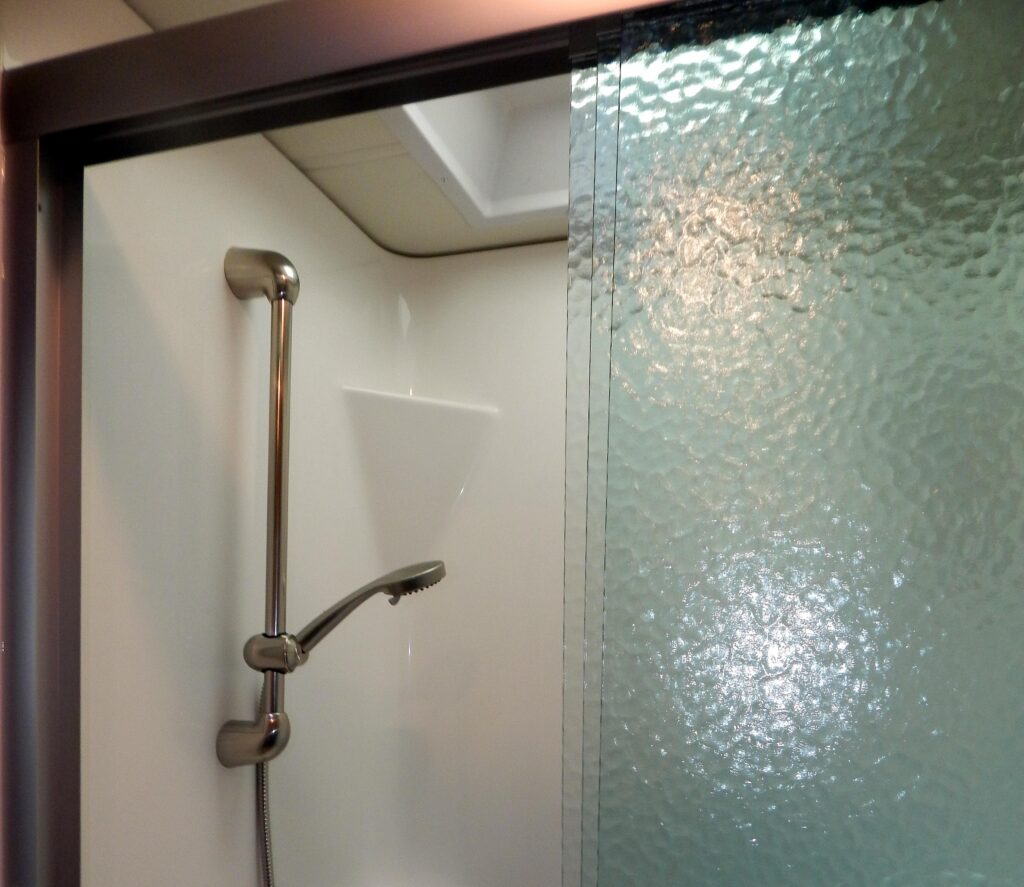 Glass doors signal luxury, and they are penetrating the RV segment. They are used more in larger RVs such as Fifth wheels and motor homes. However, many RV owners dislike it for the difficulty to clean as soap scum, and other waste ups will be accumulating in areas along the door track.
If you have reasonable space in your bathroom, order a custom glass shower door. It can provide the RV shower with a luxurious modern look.
Retractable Shower Doors
A retractable shower door is fine if you have limited space in your RV bathroom. These doors will have a slide tracking aligned better than other sliding doors. This RV door upgrade costs approximately $200.
Pleated shower doors will be the cheapest in an RV shower if you want a budget-friendly option. If you want to skip the classy feel, the cost of $100 will be justified for the vinyl or polyester shades. But they break in a couple of years, perhaps forcing you to a complete replacement of the door.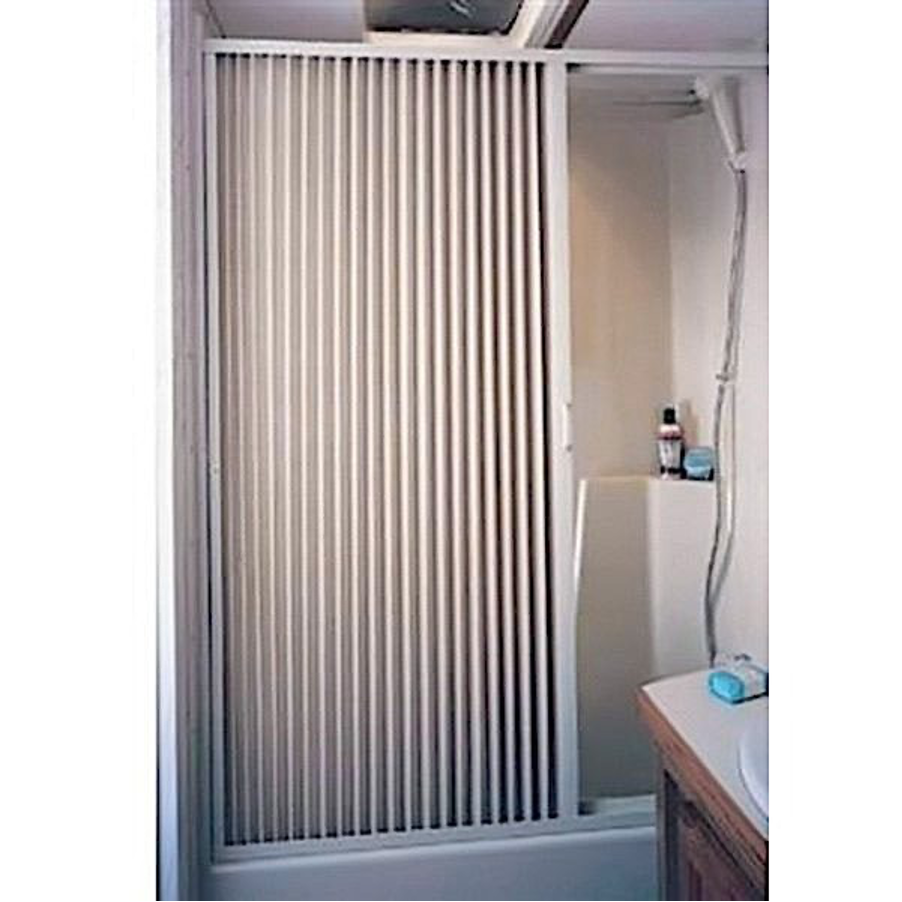 Some of the options for shower doors include the following.
RecPro RV Retractable Rolling Shower Door
The rough cost of a RecPro RV Retractable Rolling Shower Door will be $200. In terms of technology, its slide and glide add more space to use the shower, and the weight is also moderate at 6 pounds.
RecPro uses a platinum vinyl material that inhibits the growth of harmful organisms like mold and mildew. This makes for easier cleaning and prevents the breeding of bacteria in the shower.
The cheapest option for an RV shower upgrade is to install a shower curtain. It is an option that many RVers choose. It minimizes weight and makes cleaning as easy as possible.
No worry about dirt and grime getting into tracks from a door, as a plethora of shower curtains give a new look and feel to your bathroom.
Upgrade your RV Showerhead
One area every RVer needs to pay attention to is the showerhead in hiking RV shower pleasure. A low-flow showerhead of Oxygenics brand can cut down on the amount of water you use and make your hot water stay longer.
The right RV shower head upgrade will manage the water pressure problem, too, and minimize water usage.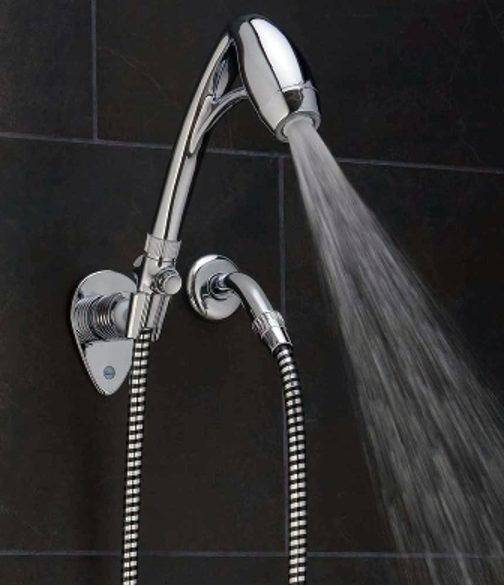 Add Space to RV Shower Stall
One major complaint about RV showers is the extreme lack of space. Although it is hard to make a more oversized shower overnight, a few things will remove the cramped feeling in your showering space.
For major upgrades using RV shower kits is the remedy. This will solve problems like yellowing, cracks, and faulty shower pans. RV shower kits allow RV owners to upgrade with special care on the right sizes. Measure carefully to ensure the right size for your bathroom.
Upgrade RV Bathroom Sink
In upgrading RV bathroom sinks, you can select good materials. There are acrylic and stainless steel options as better choices. Normally the sink synced in the RV via PVC pipes and compressed into a tighter, unlike normal sinks.
RVs normally have a plastic sink in the price range of $12-$30. Changing these cheap sinks can give your RV an updated look. There are stain-resistant metal RV sinks, such as those made of brushed nickel and stainless steel. They are easy to polish, and special care will keep them clean and shining. Acrylic RV sinks priced in the $40-$150 range are also good.
Change Showerhead, Faucets
A good showerhead will give an exhilarating RV shower feeling. They increase water pressure even while using less water. Change your faucet that can fit your RV bathroom sink. In choosing a faucet, you must insist on a lighter piecethat can be easily cleaned.
Replace RV Tub and Shower Pan
The tub and shower in an RV bathroom can be fiberglass or plastic. The focus must be making it more like a soothing spa on the move. You must replace the shower pan with due care. Try moving out surround systems deftly, as they can crack if done unprofessionally.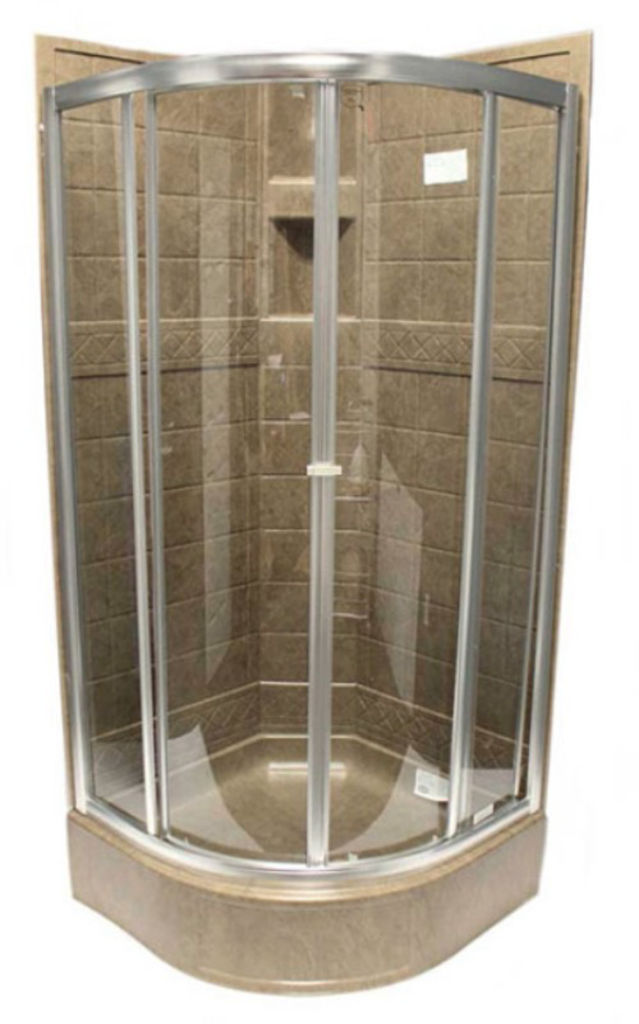 Add RV Bathroom Backsplash
You can also uplift the looks of the shower place in an RV with a backsplash using materials of different styles and colors, including faux stone, wallpaper, and simple tiles.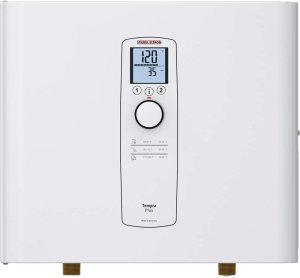 The RV bathroom upgrade will be meaningful by adding a tankless water heater that will not run out of hot water. This will take care of the shortcoming with standard water heaters of 6 to 10 gallons that exhaust fast.
The heating process in a standard water heater is time-consuming and takes an hour. The tank-less water heater is $1,000, uses less propane, and is lighter weight than traditional tanks. Since they do not hold water, there is no need to winterize.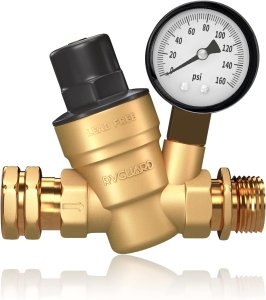 Buying a water pressure regulator is not strictly any RV shower upgrade. Water coming out of a connection at a campground is often unmonitored, and the water pressure variations can cause many problems. Both high and low pressure can trigger problems.
Low water pressure will irritate, particularly when showering. If the pressure is high, it will damage your RV with leaks and water damage. A water pressure regulator offers the advantage of providing the required pressure when water emits through your hoses. Regarding pressure standards, expert opinion seeks a 40-50 PSI as best for RVs.
Buy an adjustable water pressure regulator to see what the PSI is.
RV Bathroom Insulation is Essential
Ensure proper insulation if camping in extreme heat or cold. Frozen or broken pipes will mar a comfortable stay in a brutal climate.
Minimum insulation in the bathroom will cause plastic showers to become cracked in a cold environment. Insulation with fiberglass, rigid foam boards, cellulose, and natural fibers is a must to prevent the loss of heat or cold.
Foam insulation provides soundproofing as well. Insulation also decreases the cost of heating and cooling on RV furnaces and air conditioners.
Get a Curved Curtain Rod: Cramped RV showers bother average-sized people, especially when the shower curtain starts sticking to the skin every time you move. The solution is installing a curved shower curtain rod that provides more shower width.
Use Soap Dispensers: Sometimes, taking a shower is super frustrating after seeing shampoo bottles on the floor of the shower with contents spilling out. The only solution to this problem is setting up soap dispensers on the wall that is more user-friendly.
Set up Baby Bathtub: One issue many RVing parents highlight is RVs not providing a bathtub for babies. A solution could be a collapsible laundry basket with solid sides that can work as a toddler bathtub.
It can be placed on the shower floor and can fill water, and when bathing is over, it may be dumped out. The best part is that the temp bathtubs are foldable too, when done.
Set an Extra Towel Rod- Set up a tension rod in the shower to make way for an extra towel rod that will supply space to hang swimsuits and wet towels between showers.
In case an instant RV shower upgrade is looking hard to come up, and the camper wants to enjoy a nice shower, then the answer is a portable camper shower. It can be the Rinsekit brand of the portable shower that hypes a warm shower in between the ride where space crunch is inhibiting a good bath.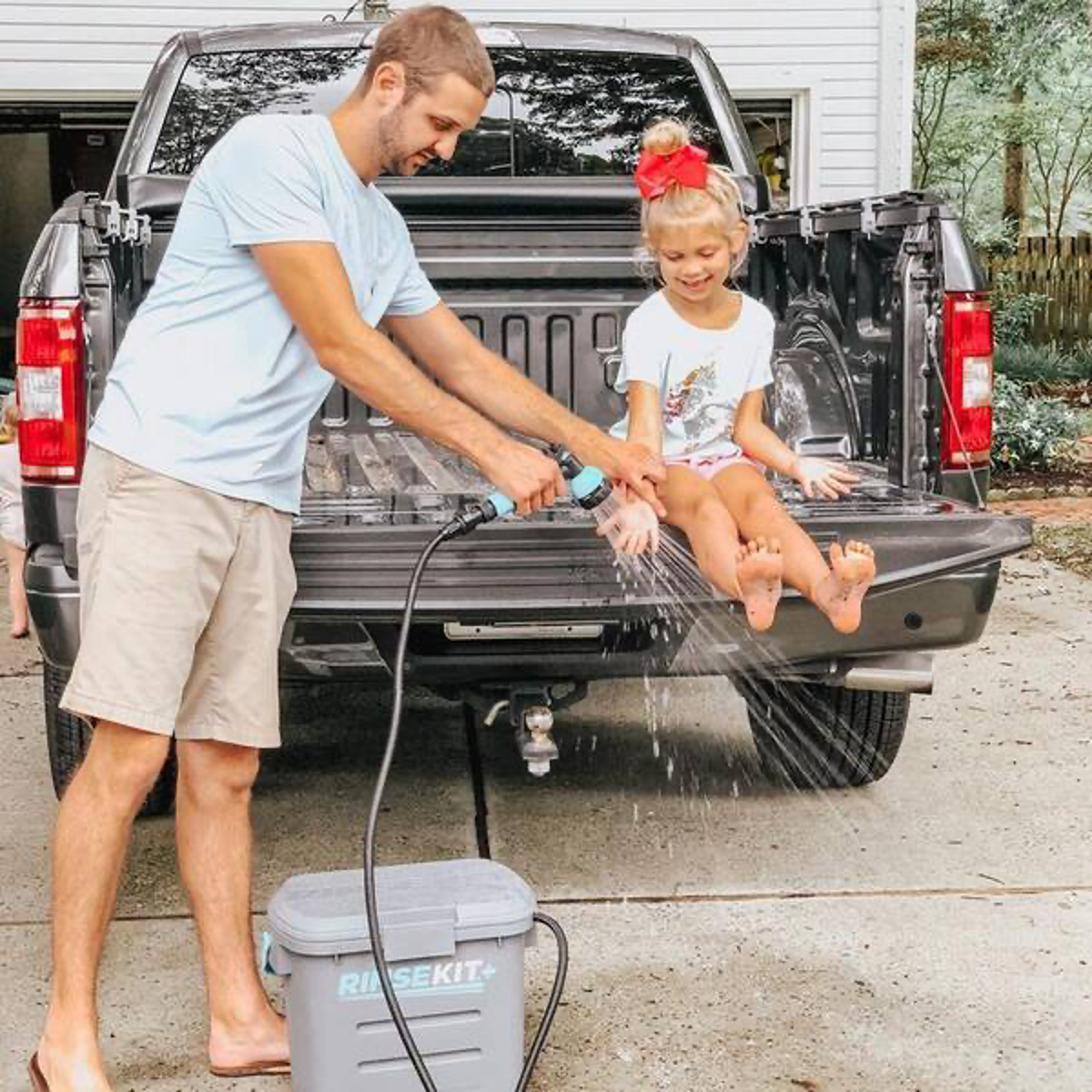 The Rinsekit is locked in a durable plastic case with its big handle allowing easy storing and moving. Rinse it will be full with 2 gallons or 14 liters of water. Weighing some 24 pounds (10kg) gives a pressurized shower for 5 minutes and is fine for couples, too, if they have to clean camper gear or wash dishes.
The overview and the discussions have already presented before you how to manage the space crunch if you ever experience an RV shower. In terms of buying all these items or shower kits, you can choose from Amazon.com as well. The point is to make the journey memorable in all respects without glitches in any department.