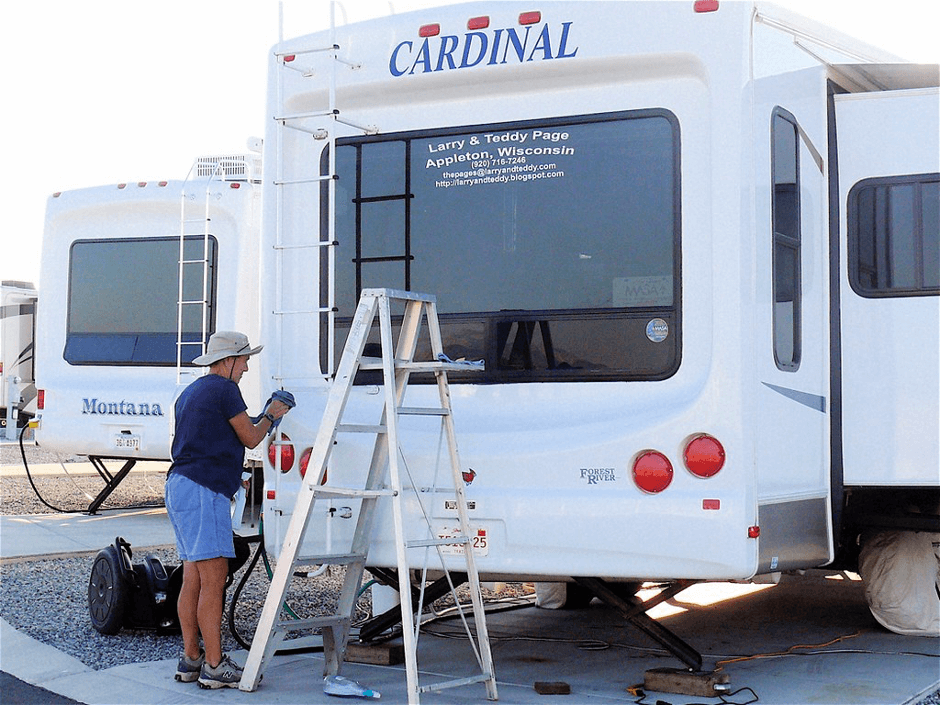 Washing an RV may seem like a challenge, but it needs to look its best and stay protected on the road.
It is like any other investment and so, regular washing is best way to ensure the RV is in perfect condition.
It is one of the ideal ways to keep the dirt and debris off the car and of course to keep it looking new.
Proper Planning for RV Wash
The first thing one should think of is where to get a proper RV wash done before thinking of how. You will need a bucket full of water and a place to drain if you plan to wash the vehicle at home. The surface must be strong enough to withstand your weight on a ladder.
If you are thinking to consider a campground, you will probably need a waterless cleaner as most campgrounds don't allow RV washing with water.
If you find a shady spot, then take it.
How to Wash an RV Roof?
The first step is to lay out the cleaning tools which will include a soft wash mitt, sponges, and a range of hard and soft bristles. To reach high up and across the roof, you will need a long or extendable handle for brushes. A car wash brush with a long handle that can be attached to a garden hose is something that you will need and will work well.
No products found.
Look For the Right RV Cleaner
Very often, looking for the right cleaner or RV wash can be a bit of a challenge. You wouldn't want your car to end being damaged or to be stripped of the decals or even damage the clear- coating on aluminum trailers.
Hence, when in doubt, you can always look up the owner's manual for recommendations.
To sluice off the loose dirt and grit, use a lot of water and then use a soft-bristled brush or buy car wash mitts and a non-abrasive cleaner. Use a washing product for fiberglass as it leaves a coat of wax behind.
but hang on, have you ever wondered if you can pressure wash an RV rubber roof?
High pressure washer must be used carefully as they can blow right past the gaskets, silicone seals and sliding windows. Avoid using like a garden hose and allow the brush to do the job of removing the dirt. Avoid using it unless you know how to use a pressure washer, even If it for an RV rubber roof.
Start From the Beginning
It is time to get down to the basics, which starts with closing all the doors, windows, and rooftop vents. Begin with a top-down wash, which is basically removing some of the dirt on the dies, front and back before you tackle them. To ensure the seals are in perfect condition, cleaning and examining the roof is an important process. Avoid using cleaners that include petroleum, distillates, or citrus oil.
Walking around on a wet soapy RV is not recommended and the roof will not bear your weight. The best way to clean the roof is to climb up a ladder, reach across the roof with a brush on a pole spray water around, loosen the dirt and rinse properly. On the other hand, when it comes to getting the seals and gaskets repaired, wait till the roof is completely dry.
All Sides
With a brush on a pole, all sides of the RV must be washed. Wash the surface by removing the dirt and then finally rinse it. The right cleaners and brushers should be used to soap up, brush down and rinse off the sides. To avoid sediments from getting into the mitt or brush or even damaging the side walls, it is best to change the water in the bucket.
Clean Your RV Awning
Use the perfect awning fabric cleaner and extendable brush to clean a vinyl awning. Slightly strong cleaner like spray nine or simple green are used to remove heavy stains. A bleach solution is often used to remove mildew. With air circulating through the fabric, Acrylic and other fabric awnings can dry quickly. There are times when all you will need is a mild dish detergent and water. Besides all this, how do I clean my RV Slide and Window Gaskets?
Remember to clean the insides and outsides of the window. You should examine the rubber seals and gaskets for cracks or tears and clean and repair with the right conditioner while cleaning the windows.
Wheels and Tires
Whether painted, polished or chrome, the RV wheels can be cleaned or washed using the same basic products and methods used to wash a Tow vehicle. Cleaning the wheels gives people the chance to check for cracks, splits, and punctures. Mild detergents are recommended to be used to clean tires. Avoid using harmful cleaners that contain petroleum distillates or ammonia.
Undercarriage
The undercarriage is the direst part of the vehicle and is often forgotten about. Dirt sitting on these surfaces, if not cleaned will lead to rust and decay. The steel frame can sustain any cleaner or water spray thrown at it. There are certain kinds of cleaners like Spray nine and simple green along with an extension brush and hose with a sprayer can be used.
Use a pressure washer carefully in case the frame is dirty. Once it's dried up, use a rust stop spray paint for a final touch up.
Wax To Protect the Gel Coat
It may seem like an extra or unnecessary step, but waxing is the best way to protect the RV from getting damaged. Think about it, when the paint of the RV comes off, you'd spent a huge amount of money to get the job done, but waxing would cost you nothing. It ensures the RV looks nice and keeps it protected. Just ensure you wash your RV properly first and then apply the liquid, paste or spray wax to complete the job.
Think Of Hiring a Professional Service?
Very often, it does become a bit overwhelming and time-consuming cleaning the RV on your own. The best solution to this problem is hire professional services. Make sure the services you hire have experience with RV wash and will do a thorough job of cleaning the vehicle.
Cost To Get A RV Washed
Are you wondering how much it would cost you to get a RV wash done?
The prices often fluctuate but it would cost about 5$ per foot, which is about 100$. Most services offer basic cleaning of the exterior and most offer waxing and interior detailing which could cost about 45$ per foot.
So, go ahead and decide what kind of cleaning you would want for your RV.
Conclusion
It is often easier to see the problem on a clean RV as opposed to a dirty one. Inspecting the truck camper or motorhome up close is the best way of ensuring things are intact and functional.
So, take the opportunity of getting your vehicle cleaned properly to examine any kind of damage, rush sports, wear points and much more. These things shouldn't cause major problems later.
Small or big leaks can cause damages if not checked. Hence, a good RV wash will give a sense of satisfaction and happiness.