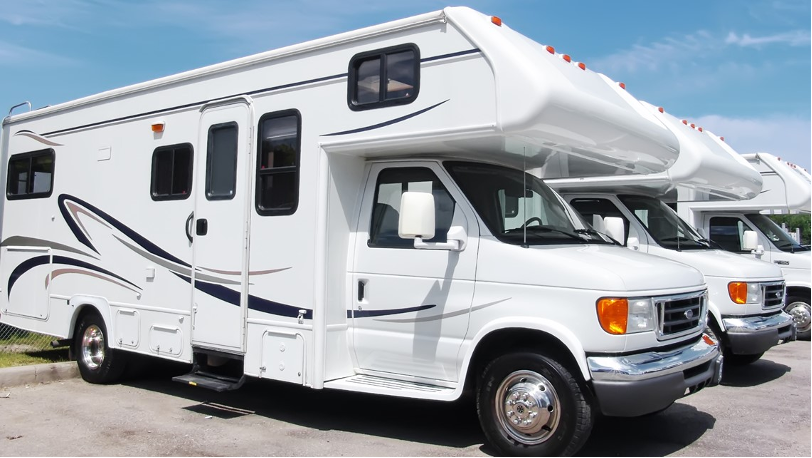 RV Giveaway is the quickest and most convenient way to enter to win free recreational vehicles for a trip that is not only relaxing and secure but also exciting and adventurous.
You have the chance to win an RV or camper from a variety of manufacturers, including Airstream, Coachmen, Newmar, Teardrop, and Winnebago.
You don't have to spend a lot of money to compete in the PCH, Camping World, or Omaze RV giveaways to have a chance at winning a branded recreational vehicle, travel trailer, or camper.
Because some RV contests include daily entries, you should try to enter as many free RV sweepstakes as possible in order to increase your chances to win an RV and avoid having to pay any money out of pocket.
Why Are RV Giveaways Popular?
Giveaways play on some of the most fundamental aspects of the human experience and touch a chord with potential participants. Consumers are looking for products that will give them rapid gratification, positive emotions, and a chance to succeed at something. Companies experience tremendous results when they develop a gift that caters to those specific requirements.
For instance, a study conducted by Tailwind demonstrates that "Giveaway contests earn 3.5 times as many likes and 64 times more comments on average than regular posts." [ This form of participation affords businesses several advantages, including the following:
Developing a sense of community
Awareness of the brand
A rise in both customer numbers and subscriptions
However, unfortunately, some may misuse these chances by scamming others to gain followers/engagement or cash.
Common Ways to Spot a Fake Giveaway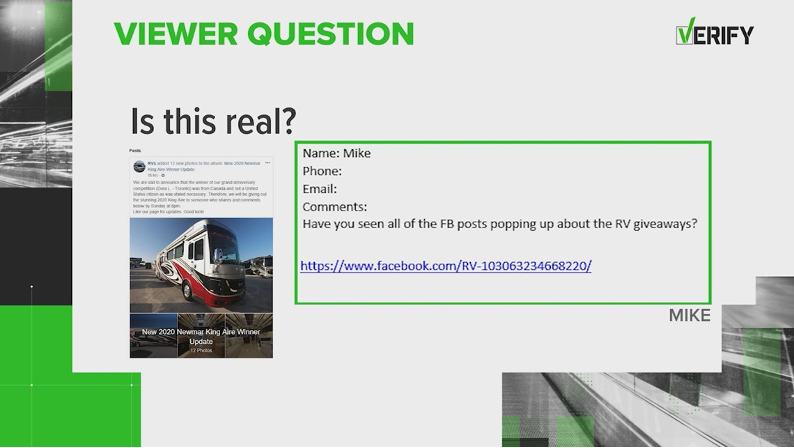 We have compiled a checklist in order to assist you in recognising fraudulent recreational vehicle (RV) contests so that you do not fall victim to one of these scams.
If there is no URL mentioned for the website, this is a major red flag indicating that it is a fraud.
If they do not have the firm website displayed on the page.
There Is No Listed Telephone Number: In most cases, con artists will not go to the trouble of setting up a page with the appropriate telephone number.
Google Search: You can determine whether it is legitimate by doing a quick search on Google.
No Additional Posts: outside the giveaway will be allowed: Do not share the page if it appears like the only posts on the page are for the contest. They are obviously trying to pull a fast one by engaging in this dishonest practice time and time again. Other posts should be present on a genuine Facebook profile.
Low Engagement: If they have additional posts, check to see if those posts have comments and likes. If they don't, the engagement level is low. To determine if they are a genuine brand, it is not necessary for them to have a significant amount of involvement.
Low Number of Likes: Most of these RV Manufacturers have thousands of likes and followers, so if you see a giveaway for someone mimicking Tiffin or Winnebago and they just have a few likes, you can be sure that the page is a fake.
How to Improve Your Odds of Winning Giveaways and Other Contests
The larger the prize, the greater the likelihood that individuals will attempt to earn it. To help you increase the number of prizes you take home from these online competitions, here are some pointers:
Set Up a Google Alert That Will Notify You Whenever There Are New Competitions Available.
You can't be bothered to hunt for contests to enter every day, can you? You really can set up an alert with Google that will send you an email anytime a new RV contest is made available.
Put In as Many as You Can Manage
Mathematical calculations must sometimes be made. The more competitions you take part in, the greater the likelihood that you will take home the prize. Because participating in many of these contests does not require you to pay any money, the potential benefits are enormous.
Create Accounts That Are Dedicated Solely to Competitions
If you anticipate doing this somewhat frequently, it is in your best interest to establish separate accounts that are used solely for entering contests. Keeping your personal email account and your business email account separate from your personal email will help you avoid a significant amount of spam.
In addition, several of these competitions award you with additional entries if you post the information on your social media profiles. It's easy to alienate your Facebook friends if you run a lot of competitions on the same account, so if you run a lot of contests, you should probably consider creating different social profiles just for the giveaways you do.
Filling Out a Form Can Help You Save Time
Many of these contests require participants to provide the same information many times. Writing your name, email address, street address, and similar information each time can be very tedious and take up a significant amount of time.
Use a free form filler instead, such as Robo Form, to take care of all that work for you, which will not only give you back a significant amount of time but will also reduce the likelihood that you will mistype your email address and thereby miss out on a prize.
Legitimate Websites to Win an RV Giveaway: