RVs are great places to live in and a great option to set up an exciting camp. You have to work on hookups with power, electricity, and sewage; the basic facilities are generally provided in the parking grounds. If you plan to do the hook-up yourself or maybe involve a professional, there are some costs involved in the process. It is good to have a transparent idea of RV hookups and their costs. To save time, you can do easy research and then act accordingly.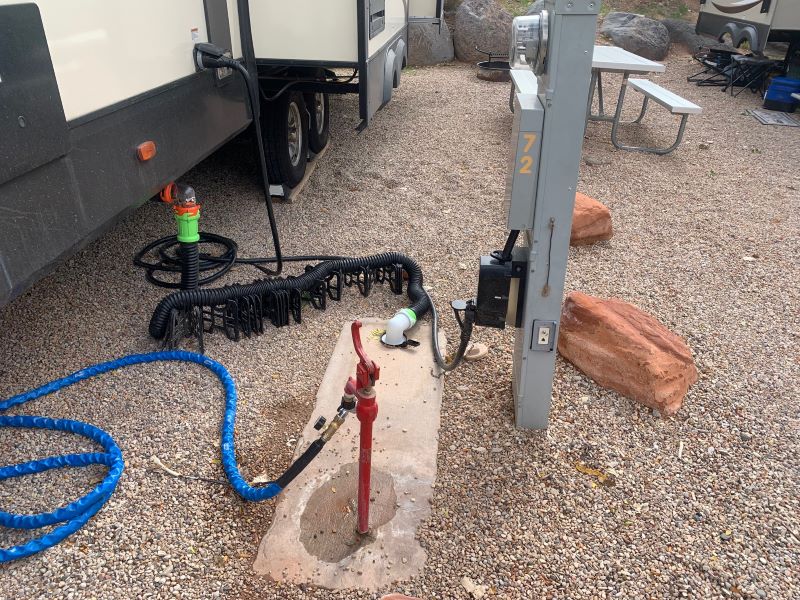 The cost of hookup outline with water, sewer, power, and pads would depend on the available rigs; the price varies from $430 (DIY) to $12,000 (professional). You can save thousands of dollars doing the job yourself. Although installing things can be daunting, you can save money by following proper instructions. The various costs are like:
| RV Hookup | DIY | Professional Installation |
| --- | --- | --- |
| Parking Pad | $300 (gravel) | $ 4000 (cement) |
| Water hook up | $30 | $700 |
| Power hook up | $100 | $1200 |
| Sewer hook up | free | $6100 |
| Total cost | $430 | $12000 |
The prices are more or less the same everywhere, but you may find some differences.
Installing RV hookups at Home
If you are going to do the RV at Home, it won't be complicated. However, you have to gather some tools before starting the operation. Some tools that you might require are:
Parking Pad/Gravel/Concrete
Tools for digging the ground
Wooden posts are required for mounting water or electricity.
Leftover concrete
Four-inch pipe
How to Make RV Pad at Home
Pads are essential as they keep your RV at a level and away from dirt and dust. The most commonly used are gravel and sand. Two types of pads could be ready for your RV to set in.
Gravel Pad (costs $300): You can do it yourself by laying down your filter cloth and leveling the dump from the gravel truck with your hands.
Cement Pad (costs $4000): You might require the cement truck and little help. Anyways, you will need the gravel base.
You will have to decide where to keep your RV; the closer you keep it to your Home, the easier the hookup for water and power will be. The minimum measure for the launch pad would be at least four feet wider and four feet longer than your RV. Please ensure no low-hanging branches or power lines over the area.
To start the work, you will require permission from the municipality. Next, you can begin digging the measured area and then level the ground. You can dig around for up to six inches inside the ground, depending on the depth of your RV. Next, you can lay down a filter cloth in the area and keep the dirt from eroding once the pad is installed. Once the filter cloth is installed, you can pour over the gravel or concrete. After the foundation is done, you can place your RV.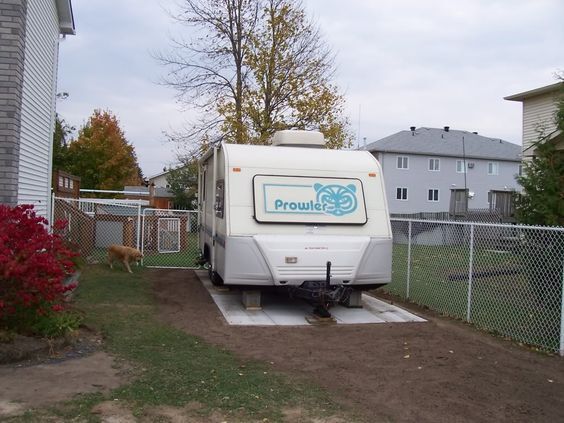 How Will You Hook Up for Power at Home?
When you are trying hooking up to your RV from your home connections, you won't be able to run all the appliances 24/7. However, you can connect your RV to the standard 3-prong household plug used in your Home. Your RV will require 30/50 Amp of power to the equipment; you will be restricted to at least 15/20 Amp in your house.
When plugged into a standard household outlet, engage the all-weather extension cord of the 15/20 Amp connection for the RV's electrical connections. Ensure that the extension cord from your Home to the RV is the shortest to prevent overheating. You can follow the following steps for a setup:
Ensure all appliances are turned off in your equipment, then plug in the extension cord from your Home to the RV.
You have to turn off the breakers in your house too.
If necessary, you can connect the extension cord to your RV's electrical connections using an adapter.
After everything is done, you can reset the breakers of your house.
Some appliances are VR hogs, so you have to take care of them. However, without hesitation, you can run gazettes like air-conditioners, hair dryers, microwaves, toasters, and toaster ovens.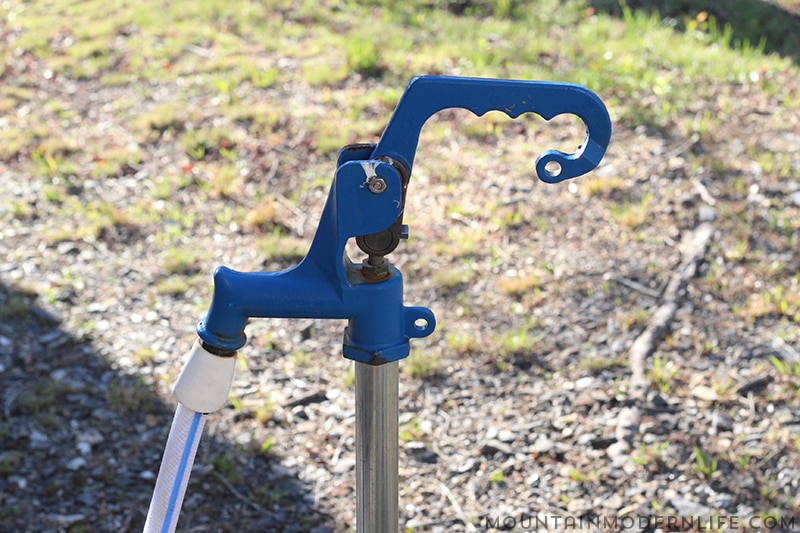 Installing a Hook Up For Water at Home
You can dig up a trench of water for your RV. Call the utility company to dig a water or gas line. Let's discuss the costs for a water hook-up:
DIY water hook-up ($30): If you are putting an RV next to your Home, you need to connect the water pipe from your tap to the RV. You can do it yourself; the only cost will be buying the extended pipe.
Professional water install ($700): If you want to dig a trench below the ground, you must call the municipality. This option is for pressurized water. If you are calling for professional help, the cost would be higher. If you live in an area having harsh winters, digging a trench would be necessary. Else you can rent a trenching machine where there are stores and offer your hard labor.
You can install CPVC pipes which are more expensive than PVC pipes. They can handle high temperatures suitable for the water.
Ways Of Hooking Up The Sewer At Home
The ultimate part of your life is installing the sewer line. This could be a simple process.
Hook up to a public system: This is the easiest way to drain your tanks. You will have to make sure that it's done in a legalized manner. This is all done free of cost. You will have to connect or couple with a connection. If you already have the green light, you can look for the sewer cap in the yard and hook up with the sewer line.
Hook up to a private septic system: This is a considerably costlier method. You will have to gather a coupling or a connector. You can use a four-inch pipe to connect to a septic tank, and you have something for dumping in the sewage.
Add a ground septic tank: The most expensive method is when you are installing a sewer hook-up and in-ground septic tank for your RV. The cost required to incur this procedure is $6100. There will be a four-inch pipe that can connect your RV's septic tank to your holding tank. The contractor will see that the hook-up is done efficiently. Again, the price to incur this cost is $6100.
Points To Be Considered while Choosing an RV Hook-Up
The concept of hook-up in the case of RVing is quite interesting. Please know some essential points before you spend some days on wheels. They could be power connections, water, sewage, and a launch pad. Some RV parks offer you all these basic amenities, but of course, not all.
There are some privately owned parking places, privately owned, or even some resort-style parking grounds with many amenities.
Power hookups are the basic amenity that any park can offer. Get a polarity tester that can ease your mind before you can dive in to test the power point. Rigs generally come with a 30 amp and a 50 amp plug.
Having a water hookup, you can run your kitchen and flush your toilet. In addition, you can invest in a certified portable water hose that prevents funky odors or flavors. The drinking water hose is easy to spot.
You can invest in a high-quality RV sewer hose that would make your life easier; some camping grounds offer sewer hook-ups and some with centralized dump stations.
You can pick up a passport America membership that would make parking cheaper. Otherwise, usually, parking areas are damn expensive.
Conclusion
When you have made up your mind and prepared to camp in your RV, you will need to know about these hook-up points and how these could be useful. Buy some necessary things that can make your life easier while RVing.
Your life centering an RV could be the most comfortable and flowery; you can enjoy a cup of brewed coffee while watching your favorite TV show and cooking your favorite meal. If you are setting up your RV for the first time, you will have to gather a good deal of information, especially things you need to consider for an easy setup for RV hookups.
Leading a life, 'out of the box and being a vagabond within your territory could be fun, provided you know all the integrities and get your plans done accordingly. Happy RVing, and get ready for all the hookups done at the best possible price.