RVs, or motor homes, also require proper maintenance as much as we maintain and clean our houses. As we all know, RVs are exceptionally crafted for traveling and camping purposes. Hence, they encounter huge weather conditions and disasters while traveling or even parked there. However, RV maintenance is an essential and multilayer aspect to gain knowledge of.
Hence, in this piece of article, we are going to talk about especially RV rubber roof cleaning. Many RV owners might be using a washer for RV roof cleaning, but they are unaware of some facts. For instance, Is it really safe to pressure wash a rubber RV roof?
How do you maintain and clean an RV rubber roof? These queries and so many others, too. So, to find answers to these questions, stay tuned to the article.
Guide to Maintain RV Rubber Roofs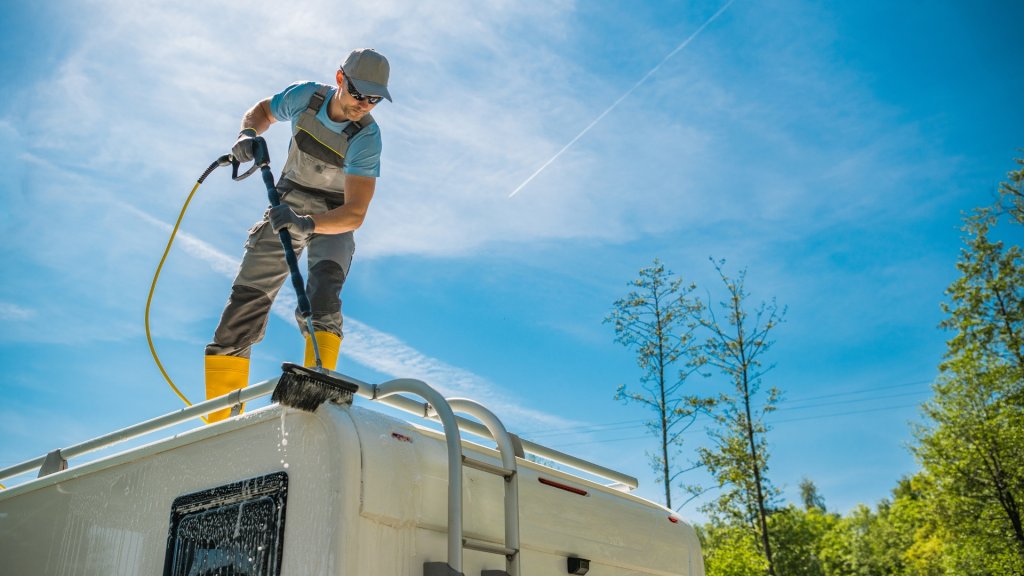 Roofs are an essential part of an RV, and they need frequent maintenance to avoid wear and tear disasters throughout the year traveling or camping activities. But sometimes, it might get neglected by the owners, and they just randomly wash it with a washer without learning how much pressure the roof can bear. To get proper knowledge of it, first, we have to see the types of RV roofing materials. So, let's go ahead and start with the same
Types of RV Roofing Material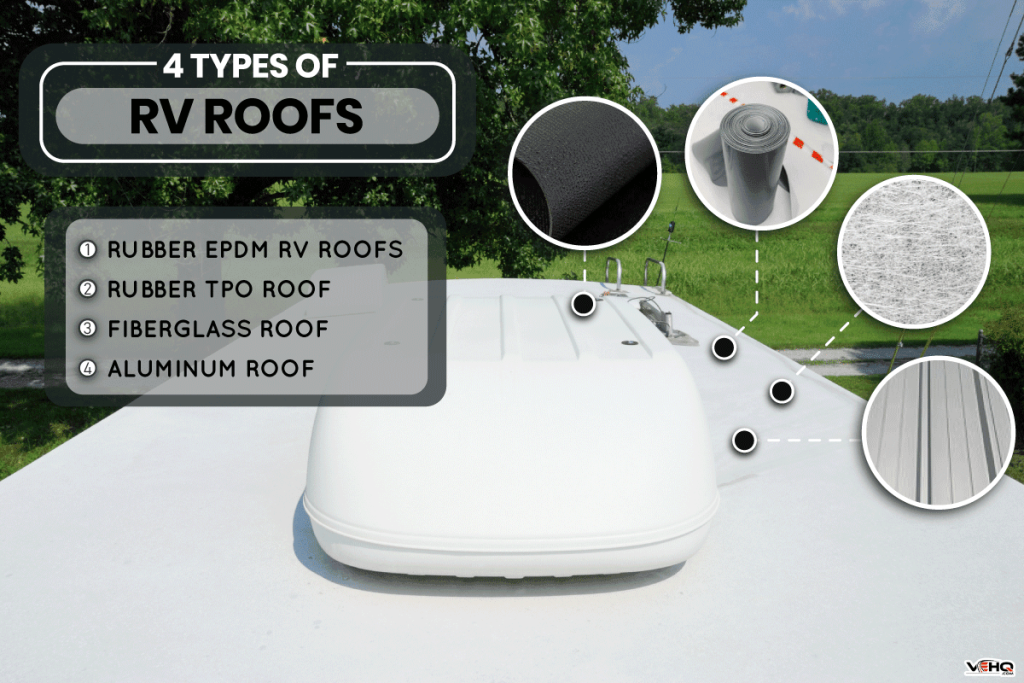 Generally, 4 types of RV roof membranes are common these days, and aluminum is a very old one and least recommended.
Fiber Glass
EPDM (Ethylene Propylene Diene Terpolymer Rubber) / Rubber Roof
TPO (Thermoplastic Polyolefin)
PVC (Polyvinyl Chloride)
Aluminum Roof
These roof membranes are crafted especially for RV roofings. Each of them has its qualities. Even so, the rubber roof is the most common type of roof. EPDM membrane is a worthy and long-lasting type of roof for motor homes. However, to get these benefits, it is necessary to conduct quarterly maintenance of RV roofs. To do so, the owner must research how to wash rubber roof membranes to avoid unpleasant damage to RV roofs.
Using Pressure Wash on The Rubber Roofs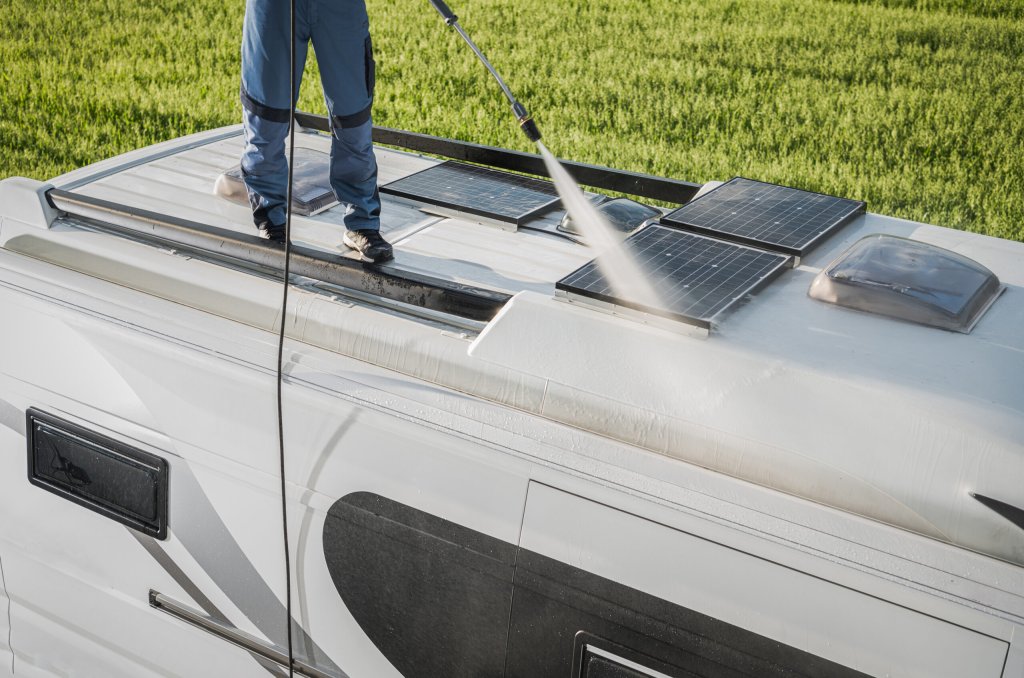 The answer to this question might be varied; some experts will claim it is okay, some won't recommend it, or some will suggest meddling solutions.
But fairly speaking, the pressure wash can damage the rubber roof if it is done with high pressure. For instance, due to a high-pressure wash, a rubber roof can puncture or tear and ultimately start interior leaking. So many experts advise a soft washing process rather than pressure washing to control the roof damage. Here, we have shared steps to clean the rubber roofs more safely.
Steps to Clean RV Rubber Roofs
Get on the RV roof and first wet it using mild pressure wash from a distance (don't put the washer too close to the rubber roof)
Try to do cleaning in sections so it will be easy and safe. I.e. divide it into portions and then one by one.
Apply a cleaner on the surface (of the first section), let it rest for half a minute, and then scrub it with a medium soft-bristled brush. (There are many cleaners available, especially for rubber roofs.)
After scrubbing, rinse it with the soft wash process.
The above steps are useful for conducting the appropriate RV rubber roof cleaning more effectively and safely.
Along with it, there are a few tips for maintaining RV rubber roofs to make them durable, as well as to maintain their resell value
Expert Tips to Maintain and Care RV Rubber Roofs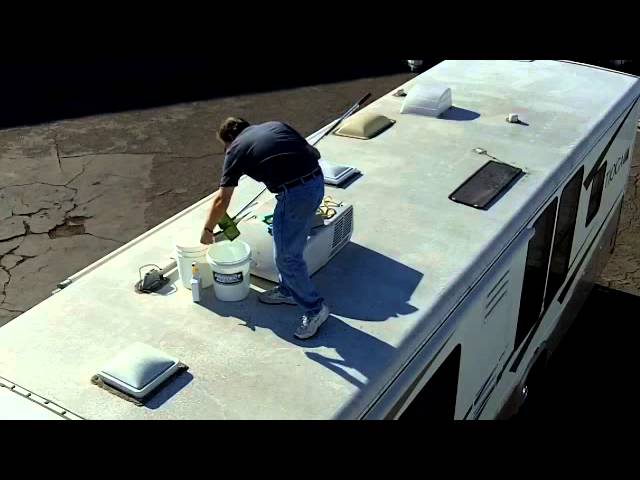 Expert recommends that the RV's exterior part should be cleaned at least once a year. However, for frequent travelers, they recommend every 3 months to maintain and keep up the resell value.
Do take care of various vents and antenna-like parts while cleaning the rubber roof.
It is very necessary to check if there is any problem with the rubber roof because if there is even a small hole, it can trap the air and moisture, which causes serious damage to the whole roof if not fixed at its early stage. So do inspect the roof after washing them. If there is any puncture, tear, scratch, or any other damage, then fix them quickly with the appropriate solution like patches or sealers, etc.
Due to sun rays, rubber roofs are damaged quickly. However, it can be protected with conditioning. Even though conditioning is an important aspect, it is often avoided; hence, after cleaning the RV roof, let it dry thoroughly and apply UV protection on the rubber roof. It will resist maximum roof damage due to sun rays i.e. ultraviolet rays.
To extend the life of an RV, rubber roof coating is a smart choice. It will make the rubber roof last very long.
Conclusion
RVs are not considered investments, but they need proper maintenance to deliver long-lasting performance throughout usage. In this RV maintenance process, exterior maintenance of an RV is equally important as interiors. However, RV washing is one of them which requires special attention for every exterior part.
So, we have particularly discussed a major exterior part maintenance in this article: RV rubber roof washing. We have covered what type of washing is appropriate for rubber roofs, along with the steps to wash an RV roof more efficiently.
Apart from this, we have shared some important tips to guide how to maintain and care for a rubber RV roof to make it durable and up to date. This overall article regarding RV rubber roof maintenance will be a perfect guide to getting the required knowledge about the same.