Moving and living out of your RV full-time is all fun until you must find places to rest when you are tired, especially at night. It can be even more challenging with different regulations in each city. The following blog post will guide you in finding safe parking for motor homes.
What Are the Safest Places for Parking Motor Homes?
1. Campgrounds
If you are someone who needs a very peaceful space to sleep or rest, then campgrounds are the best choice for you. There are various campgrounds, including private RV parks, public campgrounds, and public lands. Based on your convenience, you can look for one on the go and book it to park overnight. They are the safest choice of all.
2. Walmart
Various Walmart stores allow RVers to park for around 24 hours. The space isn't all glamorous, but it has good security, cameras everywhere, and plenty of space to park. Furthermore, since you'll be parking and resting there, you can also stock your RV with all the needed supplies before you head out on the road again.
3. Casinos
Many casinos allow RVers to park overnight. It is usually free of cost unless a big event or party is happening. But you will have to be cautious while parking here as many RVers have faced safety issues.
4. Big Box Stores
Apart from Walmart, other stores have space for overnight parking motor homes. It includes Cracker Barrel, Cabela's, Denny's, etc. Generally, these parking spaces are available for free but check with the parking facility beforehand to find out what their rules are.
5. National Parks
Look on the map and mark the national parks on the way. These roads are usually quiet and less traveled during the night hours, so you can park safely on them. If you love nature, I think this is the best opportunity for you to live within the greenery. Ensure you are not causing a nuisance on the road or near the park.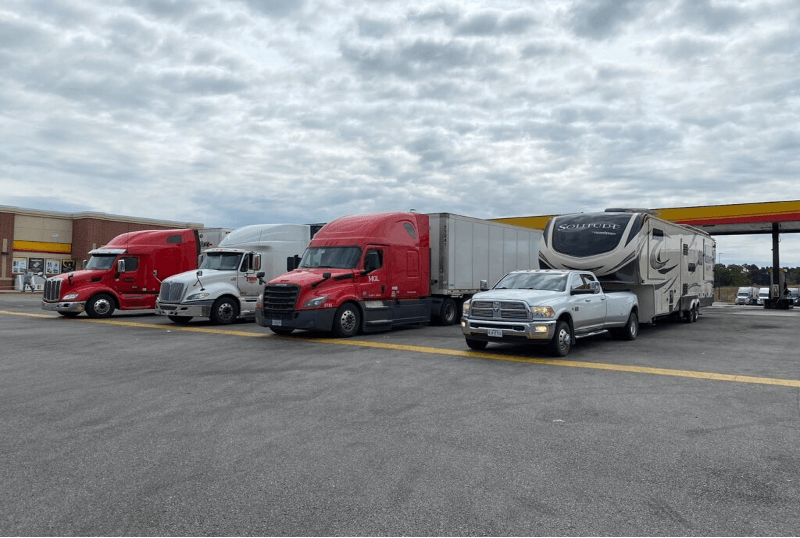 6. Gas Stations
Some gas stations have space for overnight parking for motor homes. You will have to ask them beforehand if the gas station allows overnight parking. It is quite safe to park at the gas station as they have cameras all around. The gas stations functioning 24/7 is an added advantage as there will be people around all the time. Furthermore, you'd be better off parking at a larger gas station since you'd have more space, and you wouldn't be causing any problems for other drivers.
7. Hotels, Motels, and Lodges
Today, you will find Hotels, Motels, and Lodges on every corner of the road. Most of these have a huge parking lot. You can check with the valet if they have any parking availability and if yes, then you can park and rest in your motor home there overnight. They might ask you to pay nominal charges, so be flexible. Always ensure you park within the range of other vehicles in the parking lot.
8. Approved Rest areas
Various platforms are available to check for the nearest rest areas to your current location. One such is the AllStays App. Open the app and narrow down your search to only rest areas and not truck stops by selecting the "Rest" filter. Sometimes, the rest areas might be closed, so make sure you cross-check before proceeding.
The rest areas are usually facilitated with Wi-Fi access, hookups, RV dump station, and recycling facilities. Always make sure you have two to three rest areas in mind so that if any inconvenience happens at one, you can move to another.
9. Camping World
The largest RVs and RV-related goods supplier, the camping world, usually permits RVers to park overnight. Call the store and check with them ahead of time to ensure they have space for overnight parking for motor homes.
10. BLM Territory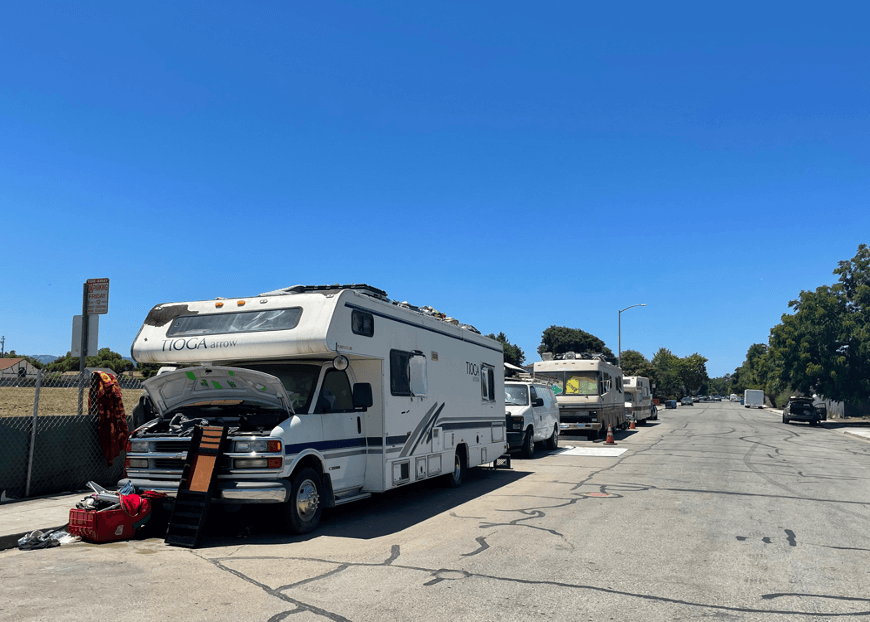 Most of the Bureau of Land Management-administered lands are available for recreational use at no fee or nominal fees. Depending on where it is located, some BLM lands may have good facilities while others may have none. It can be an amazing experience to stop at BLM territory as you will be surrounded by nature.
11. Urban Stealth Camping
If you're wondering what stealth camping is, it's when you camp without being noticed. The best way is to arrive late at an area and leave early before anyone notices you. Just make sure you don't leave behind any traces that you were present there, and also be mindful of the local laws. For example, although some areas allow people to sleep in their campers on the street, some have called it illegal.
Dos and Don'ts
1. Do Park in Residential Neighbourhoods
Residential neighborhoods are normally safe and quiet. Usually, residents are focused on themselves, so unless something goes wrong, they aren't concerned about others. However, having said that, make sure you don't cause problems for the other residents, and if it were conveyed to you that they don't approve of your parking there, then please move.
2. Keep Your Blinds Drawn
Keep your blinds drawn to ensure you don't draw unnecessary attention from the residents. If you must turn on your lights to get some work done, try parking closer to the streetlight to take advantage of it, as it will make your lights less noticeable.
3. Do Use Meters and Side Street Parking
These can be very helpful given that you move after resting before they start ticketing in the morning. For instance, if meters start ticking at 8 am, locals will often avoid parking there overnight to avoid any inconvenience in the morning. Taking advantage of this is possible, but you'll have to move quickly in the morning.
4. Always Stay Alert
It is always safe to pretend you are not there when someone knocks on the door. You never know what the knock has got in store for you. Unless it is someone you invited, do not open the door. Always be cautious, especially during the night hours.
5. Leave No Trace
Always ensure you don't leave behind anything at the place you have parked. If required, carry your dirt/garbage. Don't use these roads to clean your RV, etc.
6. Don't Park Near Play Homes, Schools, Or Playgrounds
Even if you are harmless, the parents might worry about seeing you parked around the corner of school areas or playgrounds. Because they might find it fishy, and parents are always overprotective about their children. So, it is better to avoid unnecessary attention.
7. Don't Freshen Up After You've Parked
Ensure you are done with your night routine (wash your face, brush your teeth, etc.) before finding a spot to park. Once you find a spot, pull over and go to sleep. Keep your neighbors in the dark by not engaging in activities that will disturb them.
What are the Websites & Apps to Find Free Overnight Parking?
The following websites and apps will come in handy in finding overnight parking for motor homes: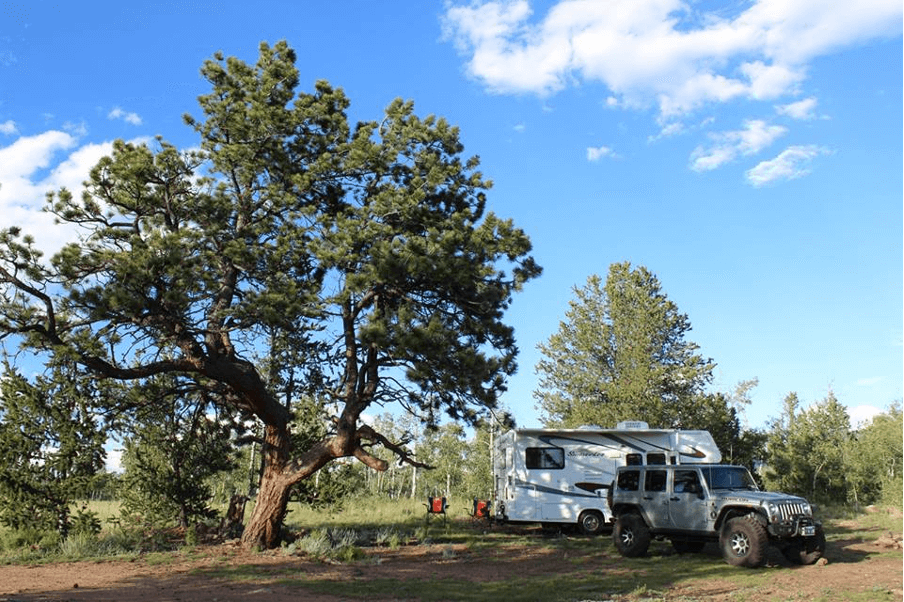 Remember These Simple Rules to Keep Your Hosts Happy
Make sure you don't overstay. If it is for one night, then stay only for one night.
Before pulling up at the parking space, ensure you have permission from the designated person. Don't show up randomly!
Be mindful and respect the rules and regulations of the place.
Make sure you don't dirty the place. Always leave it cleaner than it was.
If you are parking at a store or gas station, always give them minimal sales from your side.
Be cautious! If you feel uncomfortable or unsafe in a surrounding, always leave from there.
Final Thoughts
Lastly, do not pull over your RV anywhere and sleep. You might attract cops for causing a nuisance. So, ensure you always have the necessary permission before staying anywhere overnight. Talk to your friends and go on different forums to check what others have done before you. Hopefully, this blog post has widened your options for convenient and safe parking spots!