It seems like a dream come true to get into your RV and live on the open road until you need to watch TV.
The good news is that you have a few alternatives for connecting your RV to the internet and TV service, including Directv for RV, satellite internet, and mobile hotspots.
Let's take a look at them:
What Kind of Satellite Antenna Should I Get for My RV?
You must decide between a mounted and portable antenna if you want satellite TV in your RV.
Regarding the internet, you could buy mounted or portable antennas as well. However, you also have a few additional possibilities, such as Wi-Fi extenders and cellular hotspots.
All of these solutions have different costs and abilities, but the following is what we usually advise:
If your RV serves as your primary residence, buy a mounted antenna and a backup cellular hotspot.
If you frequently travel through popular regions, pick up a portable antenna and a Wi-Fi extender for a free Wi-Fi connection.
DirecTV vs. Mobile Satellite TV for RV
Let's take a look at their advantages and disadvantages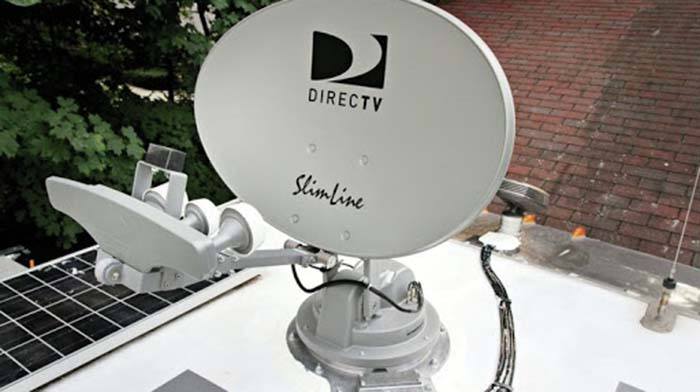 If you enjoy Mobile satellite TV, we're delighted to let you know that DISH makes it easier to take your TV programming in your RV with you.
You can choose from four DISH satellite antennas and Wally HD receiver packages with the satellite TV provider's DISH Outdoors service. After selecting your DISH TV package, call to activate it or add DISH Outdoors to your current subscription.
For all of your equipment, the DISH satellite antenna starts at $379, although DISH asks you to contact us for an exact quote.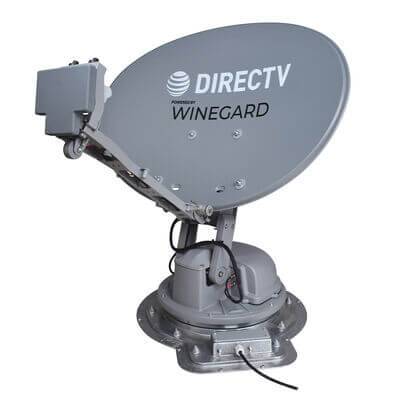 Unlike mobile satellite TV, Directv for RV demands buying a satellite antenna and a receiver from independent vendors. This is an extra hassle, but it's worth it if you're traveling across the nation in an RV and need your NFL or Super Bowl game on Directv fixed.
Depending on the supplier you contact, prices and satellite dish features may change. Like DISH, you'll pay more for DIRECTV programming that is RV-ready than you would for Directv at home. Once more, this is probably because you are paying more to have access to satellites all over the country rather than just one particular spot.
How to Get Internet for Your RV
Suppose you're camping in a barren land. In that case, satellite internet is your best choice as it uses satellites that can send signals practically everywhere. However, satellite dishes that link you to broadband global area networks (BGANs) function flawlessly in most distant locations.
How are those BGANs accessible? You'll need a SIM card, for sure. A SIM card will instruct your satellite antenna which satellite network to connect to, just like how your phone connects to a cellular network.
Although we recommend having a backup plan for your primary internet connection, the expense of purchasing a BGAN contract and a satellite antenna is expensive even to consider.
Cellular hotspots and Wi-Fi extenders are a couple of more affordable solutions for doubling your available internet connection possibilities. Remember to consider them because they both function admirably for full- and part-time motorhome enthusiasts.
The disadvantage of using a cellular hotspot is that you are constrained to the provider's service area from whom you buy a SIM card. However, Verizon now offers the most comprehensive cell phone coverage. Thus, it is your best option if you want to get a signal in the midst of the desert.
To connect your devices to the internet, you'll also need a data plan and a SIM card that works with your hotspot device. Again, you can include this in an existing program or compare the top prepaid cell phone deals.
Remember to maintain the security of your connection if you use your Wi-Fi extender to connect to a free public Wi-Fi network.
Features to Look for in a Satellite or Directv for RV
Your Directv for RV and internet experience can make or break certain functions, such as automated signal acquisition.
Where to begin when purchasing a satellite dish for your RV that will provide internet or TV service? We completely understand.
If traveling in an RV is a family tradition, getting a Directv for RV or satellite TV antenna that supports multiple receivers will help your children feel comfortable on the road.
Your teenage son or daughter can DVR their favorite show and watch it later while you and your partner watch the news in the living room.
In addition to a high price, satellite terminology can be challenging. To help you determine which features are essential and which ones you can live without, we'll list them below.
Tripods
It is easier to connect to a satellite every time you move to a new area, thanks to the fact that many mounted satellite dishes instantly acquire a satellite signal.
Moreover, you can buy mounted dishes-like external tripods. They work exactly like a dish attached to your RV.
You can move portable satellite dishes around to find the best satellite signal, as they aren't permanently fixed to your RV. Instead, they are supported by a tripod that resembles the one professional photographers use to hold their cameras steady.
Automatic Satellite Signal Acquisition
If a manual acquisition is your only option, you can spend hours adjusting your antenna to locate a strong signal.
Hence, Automatic acquisition is essential.
Compatible with Your Service Provider
Ensure the satellite dish you buy is compatible with your chosen service provider.
Most dishes supporting Directv for RV and DISH are highly compatible. However, there are many that we've seen that only work with one supplier, so it's worth double-checking.
Similarly, cellular hotspot devices will only work with specific service providers.
Final Takeaway
Are you ready to travel? Then, you only need to subscribe to one of our programs and have a mobile receiver.
Bring Directv for RV with you to your camper to enjoy the best selection of family-friendly programs, sports, and movies.
Over 185 channels are included in packages, including premium movie networks and HD sports channels.