In the event you decide to hire someone to clean your RV, you need to know precisely what you are paying for, what the usual prices for the services offered, etc. RV detailing prices may usually vary because of different factors like the size of the RV, the type of the RV, and the different fittings in each RV.
In most cases, detailing a larger RV will cost more than detailing a mid-size RV or a small RV because it takes more time and effort. As a result of the various types and varieties of RVs,RV detailers charge by the foot size of the RV.
It can vary anywhere from $5-$50 per foot, depending on the packages and the company you choose to do the detailing. Otherwise, they charge per hour—for instance, $50 per hour for basic detailing of interiors.
You'll Need the Following Services to Detail Your RV Fully:
Exterior
Spot Free Wash & Dry
Clean Windows
Clean Rims & Shine Tires
High-Quality Cream Wax
Oxidation Removal
Compound & Buff To Restore Shine
Interior
Vacuum Interior
Clean Windows
Dust
Clean Tables
Clean Kitchen Counters
Clean Bathroom Counters
Detail Drivers Cabin
Clean Appliances
Condition Leather
High-Intensity Stain Pre-Treatment
Shampoo Carpets & Chairs
Deep Clean Living Quarters
Deep Clean Bathroom
Deep Clean Kitchen
Optional
Roof Wash
Awning Cleaning
Wheel Polish and Restoration
For a small-sized RV, the above services as a package will cost somewhere around $1365 (minimum).
Why is RV Detailing Important?
Detailing your RV may seem unimportant at first, but the paint will fade over time, and the coach will lose its shine. The interiors will be shabby, and the carpets will smell bad. This will eventually lower the reseller value of your RV. And personally, it will also cause various health problems. So, it is suggested to detail your RV once or twice a year. In short, the benefits of detailing your RV are its longevity, health, aesthetics, resale value, and ownership pride.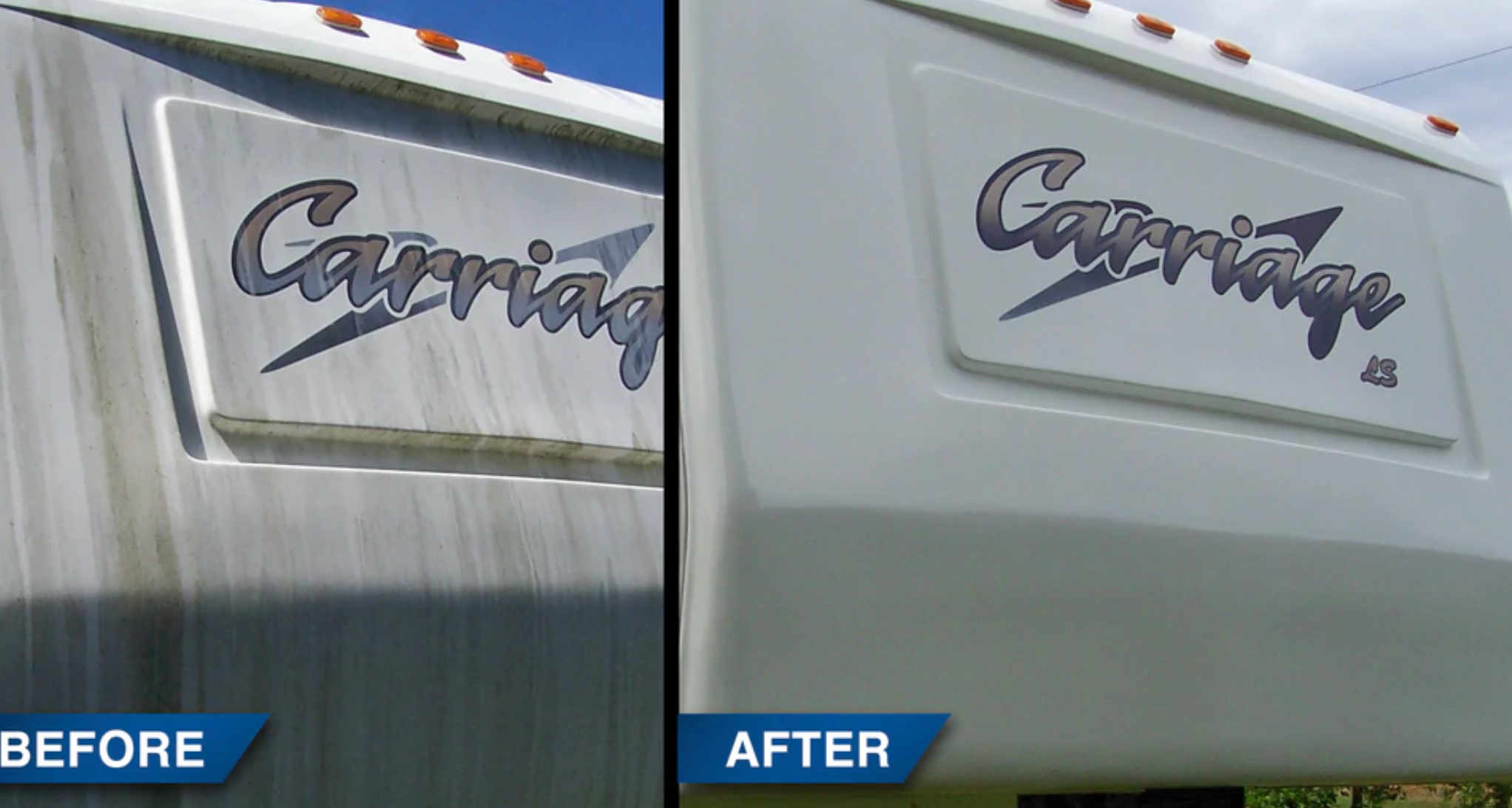 What Are the Factors That Affect RV Detailing Prices?
As for a basic package, you can expect a complete exterior wash and mini interior detailing for around $15 per foot. Again, it is the most preferred for a small-sized RV. For a medium-sized RV, a package can cost you around $250-$300; it includes dusting, vacuuming, and cleaning the counters and surfaces in the living area, bathroom and kitchen.
Cleaning the Water System
Mini interior detailing doesn't include sanitization and deep cleaning of your RV. If you want this to be included, then it will cost you around $20 per foot. Additionally, you will have to pay extra to get your freshwater system cleaned and sanitized.
Wax Treatment
The prices would be around $20-$25 per foot if you want to get an RV wash and wax service because it is labor-intensive and special products are used to detail the RV. This process would also remove stubborn bugs, tar deposits, and all other contaminants in your RV.
Specialist Roof Cleaning
Although basic rooftop washing is included in the package, any specialist detailing will be charged extra depending on the type of roof you have. For instance, detailing a rubber roof with a UV protectant will cost you around $140 and even extra if it is an RV fiberglass roof.
The Age and Condition of your RV
This is one of the most varying factors. If your RV is new and well-maintained, then the detailing costs would be lesser compared to an RV that needs a lot of work. On the other hand, the RV detailing prices can double if the model is old.
Oxidation Removal
If your RV is showing signs of oxidation, then it will need more detailing than just washing and waxing. It is a specialist process to restore its gloss and shine by removing the oxidation. It can cost up to $20 per foot for just oxidation removal.
Cleaning the Awning
It is not a compulsion to get your awning cleaned, but if you do want your awning washed and cleaned, then you will be charged an extra $25. But, on the other hand, it will make your RV look much nicer.
Mobile Detailing or a Location-based Detailer
RV detailing prices vary based on whether you want the convenience of mobile detailing or visit a local RV detailer. Usually, mobile detailing prices are lower than location-based detailers because location-based detailers add other costs they incur (like rental costs, etc.) into their prices. Therefore, we would suggest you compare the prices before making the decision to go with a location-based detailer or mobile detailing. Also, consider factors like the experience of the detailer, whether they are a renowned brand, etc.
How To Find a Good RV Detailing Services?
Since many factors affect RV detailing prices, and it is quite expensive to have everything done, you should make sure you are going to someone trustworthy and good at it. Therefore, you should ask your service provider the following questions to ensure you are in good hands.
Do you offer detailing packages?
Is your detailing done by hand?
Do you use detailer clay?
Is there any warranty you offer?
It is definitely a good deal if all these questions are answered positively.
Things to Remember
Always be careful with who you choose for the work, and be sure that he knows what he is doing, especially for detailing the roof. Because one wrong step on the roof will cause you major damage.
Make sure the person is not using harsh chemicals or power washing your RV because that, again, will cause major damage to your RV.
Don't neglect your RVs cleanliness, and get the detailing of your RV regularly.
How To Save Money on RV Detailing?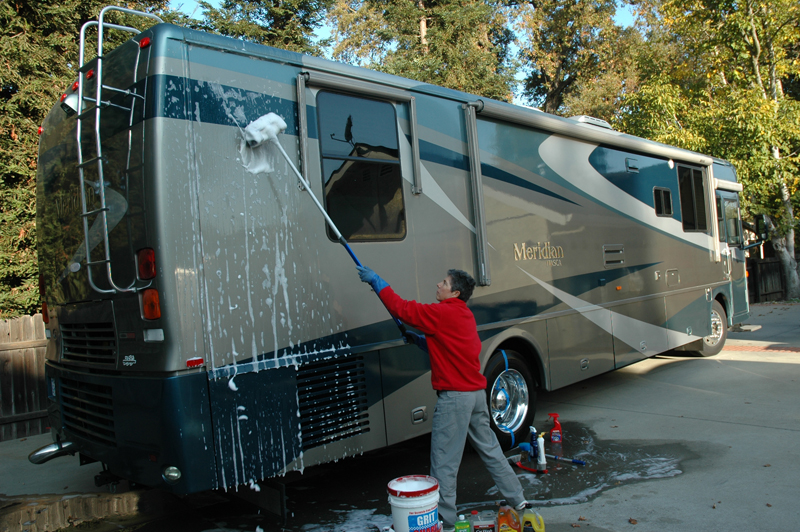 You don't necessarily need all the services mentioned above. However, you can make a list of services you would need and ask the service providers to quote you for the same. This will reduce your price compared to the average mentioned above.
Always ask for more service providers and get quotes from them. Bargain with the service providers based on that because they are all competing with each other for your order. You can also do the basic cleaning by yourself. Follow a pattern of cleaning and maintaining your RV regularly (say once every month) so that there is no major chunk of dirt collected that would need heavy work from these detailers.
How Do I Detail My RV Myself?
It is possible to do basic detailing of your RV at home. There are pretty simple remedies that you can follow. For that, you must first determine how to clean your RV's exterior.
Vinyl RV Siding
Vinyl is a mixture of white vinegar and water (70% of water to 30% of vinegar). Put this mixture in a large bucket and stir it well. Then, apply it to the side of your RV using either a mop or a sponge. After you are done, wash off the vinegar solution with your garden hose.
Fiberglass Camper
While cleaning a fiberglass camper, you need to make sure that you do not damage the gel coating on the outside. So first, use a gentle cleaner and wipe the large debris from the outside. Next, use a mixture of water and laundry detergent (one cup of detergent for each gallon of water) to clean your fiberglass RVs.
Then use a rag to gently dry the RV after rinsing it off with your hose. Once your RV is dry, polish it with fiberglass polish. Once it has been polished, apply wax to protect it. This will keep your RV shining and glossy for the long term.
Conclusion
The price of RV detailing depends on a number of factors, including the type of service you choose and the size and condition of the RV. It is common for RV prices to rise with the size of the RV.
In addition, if you need more work done, then it will cost more. So, maintain your RV well to reduce the costs in the long run. Also, when choosing a person to do the detailing, make sure that he understands the parts and knows what he is doing because one small error can cause major damage.
Please note that the above prices quoted are a general estimation for your better understanding; the actual prices may vary considering all the factors mentioned above. Nevertheless, we hope this article has helped you better understand your RV detailing prices.