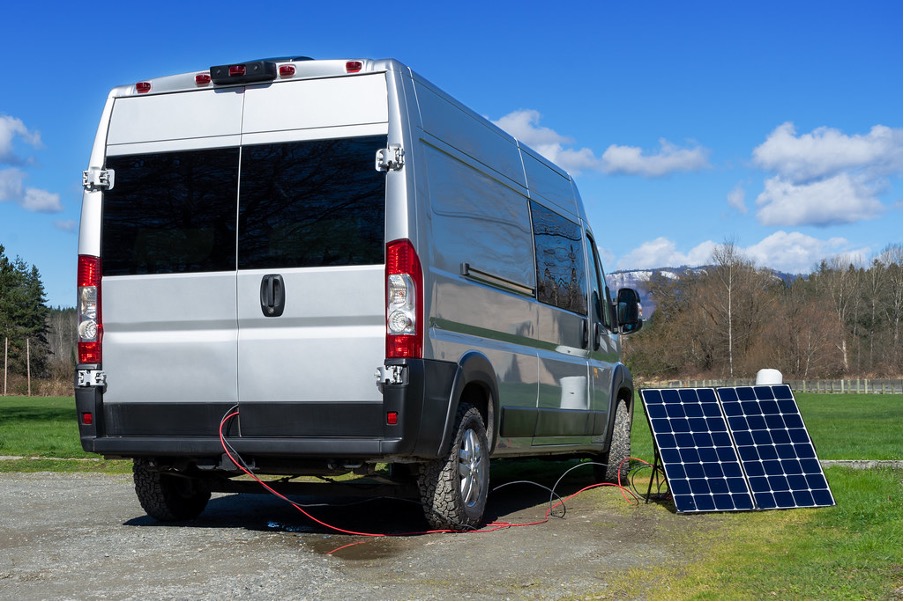 One of the hottest topics people talk about a lot is our RV and RV solar systems. Newer RVs come with either pre-wired or complete solar systems installed. One of the biggest questions people often ask is "how much will a solar system cost and how will it compare financially to other RV power options, especially ground and portable generators"
Components Needed For a Solar RV System
There is no specific size for a solar RV system. There are certain power requirements for those who want to run their basic RV solar systems, as opposed to those who travel with their electronics and appliances. There are several guidelines for choosing solar RV systems that people should be aware of.
Starting system
DC appliances
Most off-grid RVs start out with limited DC power to run the RV's water pumps, fans, lights, and 3-way refrigerator. This requires a single 190 watt solar array and 200 amp hours of AGM batteries or 100 amp hours of lithium. The basic single roof system is ideal for a family weekend where there is plenty of space. Solar and battery power can be added as the system is easily expandable. $2000+ is the estimated cost for a basic DC power system.
Mid-level Power System
Powering your AC appliances
When it comes to powering electronics or using household appliances, campers will need to convert DC power to power at home. It simply means adding performance settings to the base settings. A basic power inverter can be used in your RV's electrical system. One of the most important things to remember is to make sure the inverter can handle even the largest item you plan to run.
The 700-watt inverter, which is about $500, is perfect for charging a laptop, cell phone, small laptop fan, or string lights. A 2000 watt sine wave inverter, which is about $900, is perfect for a microwave, toaster or coffee maker. Flexibility and creature comforts will be covered by alternating current. $3000+ is the estimated cost of a basic rooftop AC/DC power system.
Big system
Residential Refrigerators Or Air Conditioners
A robust rooftop solar installation with a large battery pack of at least 500 Ah lithium batteries is ideal for busy people or demanding users who need all the comforts of home. Anyone who owns an RV may not be able to live without AC power, so a generator or RV solar system would be ideal for them. The stock converter or charger with 3 in 1 inverter charger with power sharing function allows people to use a small generator. $5000+ is the estimated cost of an advanced rooftop AC/DC power system.
Portable Solar Equipment
Most RV owners would not like the idea of having holes in the roof or going through the process of installing a solar system. A portable solar kit would be ideal for those with limited rooftop space. A 100-watt portable solar kit costs around $600. The set is ideal for supplementing roof systems. The best battery you can choose is a 200ah AGM battery which is about $800. Estimated cost of a portable DC power system over $1300.
If you have a solar array on your roof, charging the AC to your RV with a portable solar panel would work. In case you want portable solar kits and want to charge electronics, then a 200 watt inverter will be ideal. Estimated cost of a portable AC/DC power system is about $1300-$1900+.
Homework is a Must
The more power you want, the more money you'll spend on a system that can keep up. Every RV owner has their own needs and it is important to understand your specific needs before investing in a solar solution. While most users can use a solar array, most large RV operators will want a more powerful fixed system or generator solution. A solar system is much more compact and offers an attractive option for the most basic camping setup.
In case you're not sure what you need, there are various tools to help you decide what kind of energy you need and discover the best solar options.