When it comes to designing a luxury kitchen, careful consideration must be given to every aspect of the layout. A well-designed kitchen layout not only enhances the overall aesthetics of the space but also improves its functionality, making it a joy to work in.
In this article, we will explore some key factors to keep in mind when choosing luxury kitchen layouts, highlighting how each factor can positively impact the aesthetics and functionality of the kitchen.
Furthermore, we will provide practical suggestions under each factor to help create a truly remarkable luxury kitchen. Therefore, if you've been planning to splash on your kitchen, here are some key factors to think about first.
Space and Layout Optimization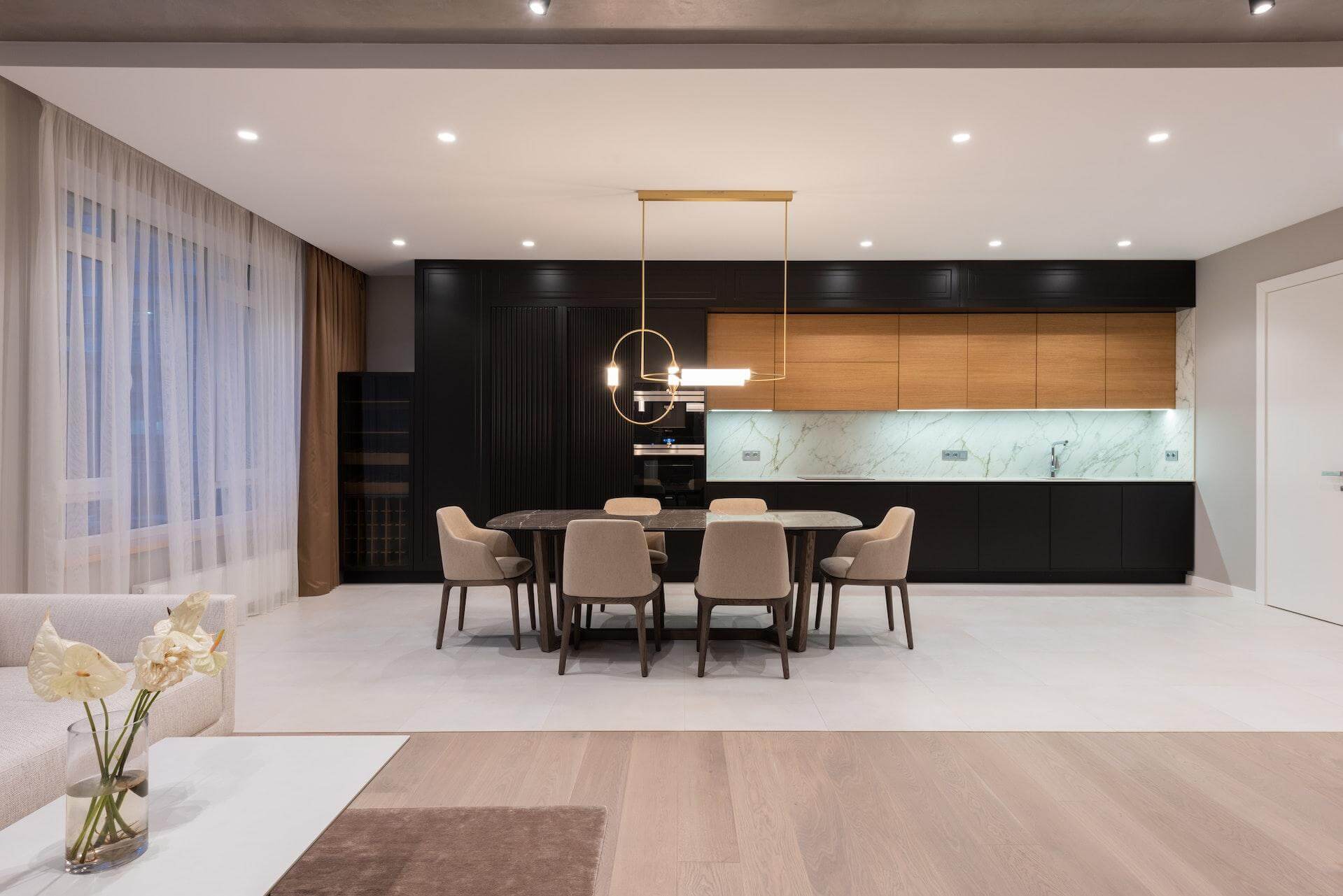 The first and foremost consideration in luxury kitchen design is space optimization. An efficiently planned layout ensures smooth workflow, maximizes storage capacity, and creates a sense of openness. To enhance the aesthetics and functionality of the kitchen, consider the following suggestions:
Work Triangle: The work triangle is a fundamental principle in kitchen design, ensuring that the distance between the sink, stove, and refrigerator is minimal. This concept allows for easy movement and efficient workflow, making cooking tasks a breeze.
Ample Storage: Luxury kitchens should prioritize ample storage space to keep the countertops clutter-free. Incorporate custom-built cabinetry, pantry units, and well-designed organizers to optimize storage capacity and improve functionality.
Island Design: A kitchen island serves as a central focal point, providing additional workspace, storage, and seating options. Opt for a stylish and functional island design that complements the overall aesthetic while maintaining a seamless workflow.
High-Quality Materials and Finishes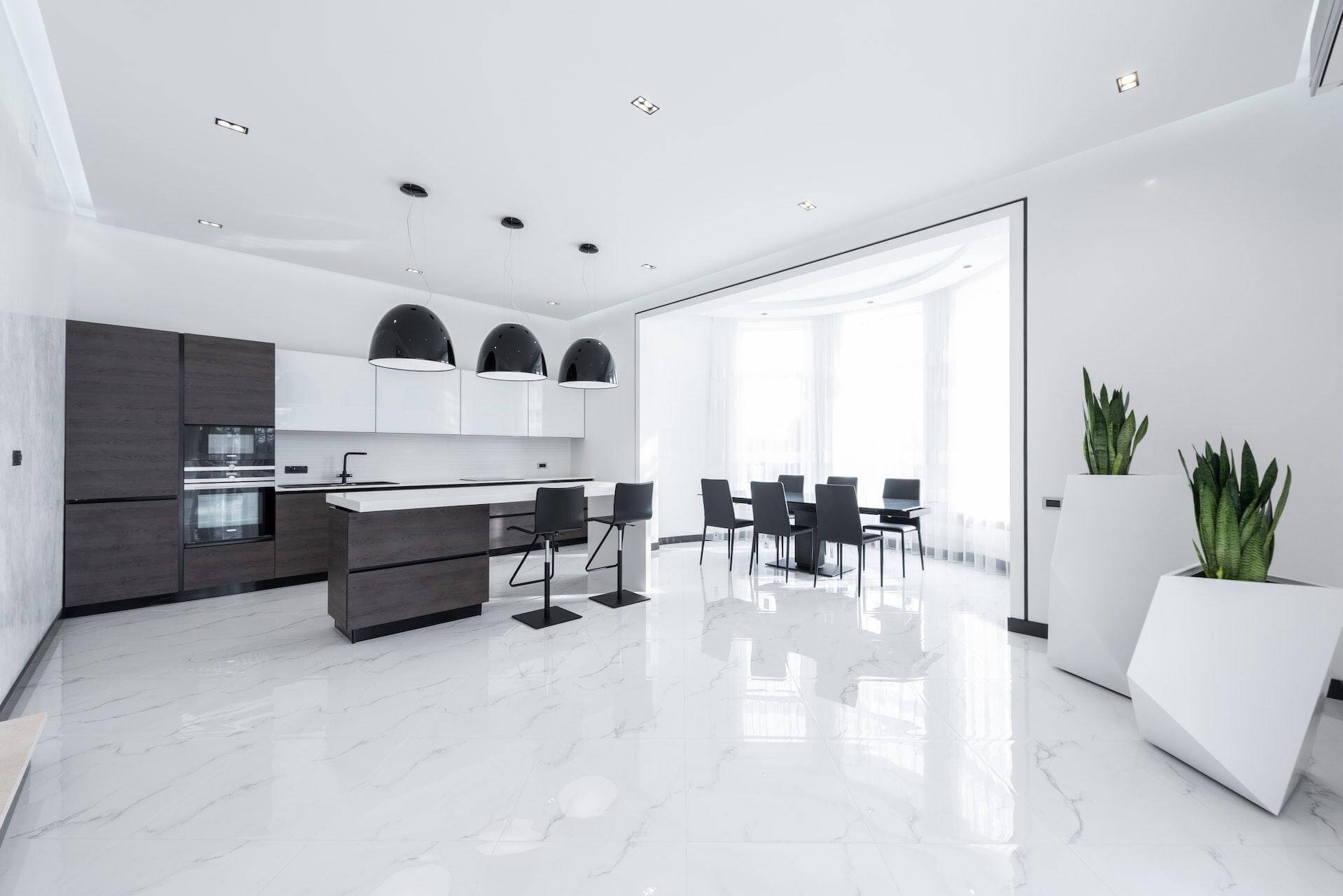 Luxury kitchens demand high-quality materials and finishes to exude elegance and sophistication. The choice of materials greatly influences both the aesthetics and functionality of the kitchen. Consider the following suggestions to elevate the overall look and feel of the space:
Countertops: Invest in luxurious countertop materials such as granite, marble, or quartz. These materials not only provide a stunning visual appeal but also offer durability and ease of maintenance.
Cabinetry: Choose premium-quality cabinetry made from solid wood or high-quality veneer finishes. Consider custom designs with soft-close mechanisms for added convenience. Incorporate glass-front cabinets to showcase fine china or collectibles.
Flooring: Opt for high-quality flooring materials such as hardwood, natural stone, or porcelain tiles. These materials are not only visually appealing but also durable and easy to clean.
Functional and Stylish Lighting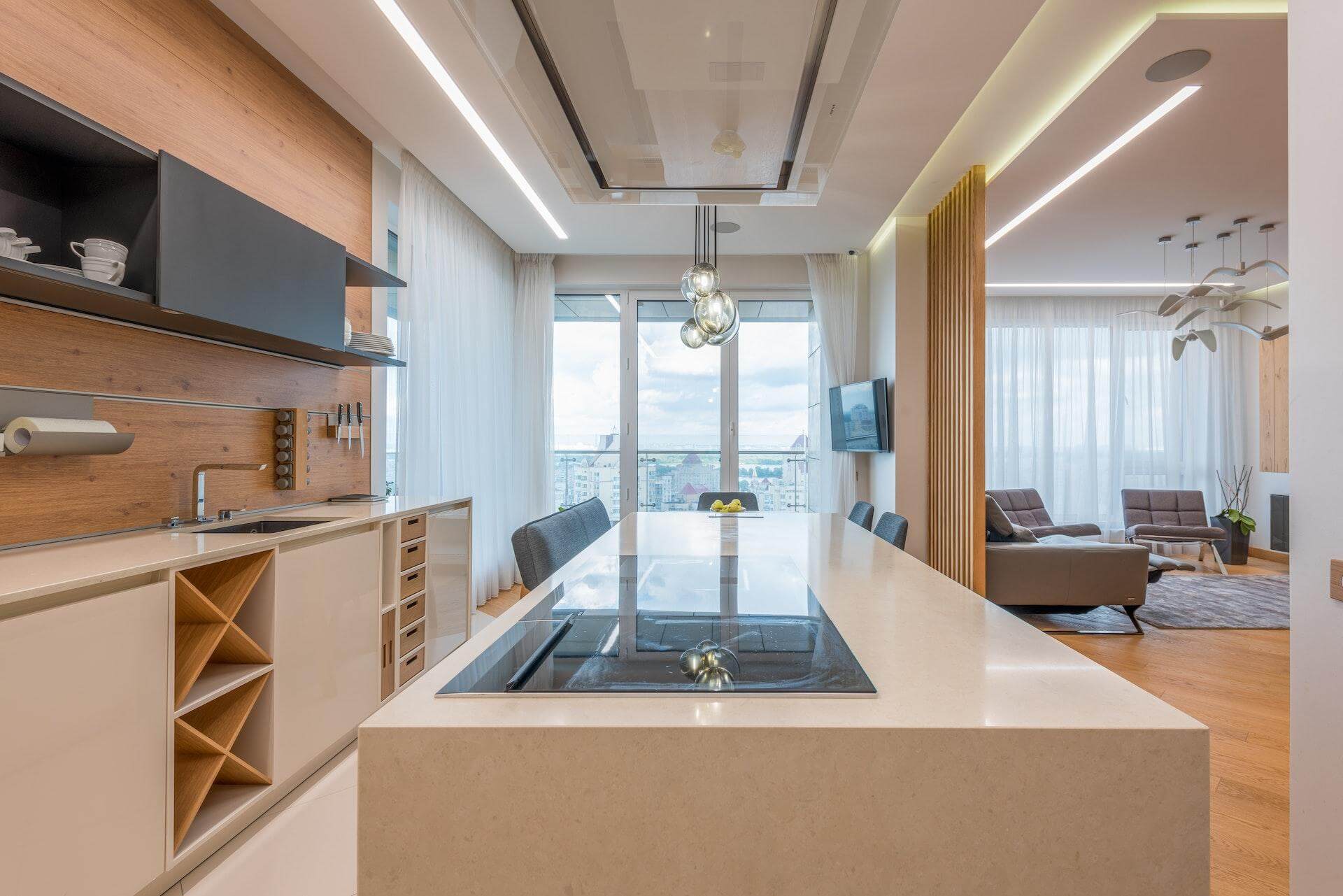 Proper lighting is essential in luxury kitchen design as it can dramatically enhance the overall ambiance and functionality. A combination of task, ambient, and accent lighting can transform the kitchen into a welcoming and functional space. Consider the following suggestions:
Task Lighting: Install task lighting fixtures, such as under-cabinet LED lights, to provide focused illumination for countertop workspaces. This enhances visibility and facilitates efficient food preparation.
Ambient Lighting: Utilize ambient lighting, such as recessed ceiling lights or pendant lights, to create a warm and inviting atmosphere. Dimmer switches allow for adjustable lighting levels based on the mood or time of day.
Accent Lighting: Highlight architectural features or decorative elements with accent lighting, such as spotlights or LED strips. This adds depth and visual interest to the kitchen, making it feel more luxurious.
Appliance Selection and Integration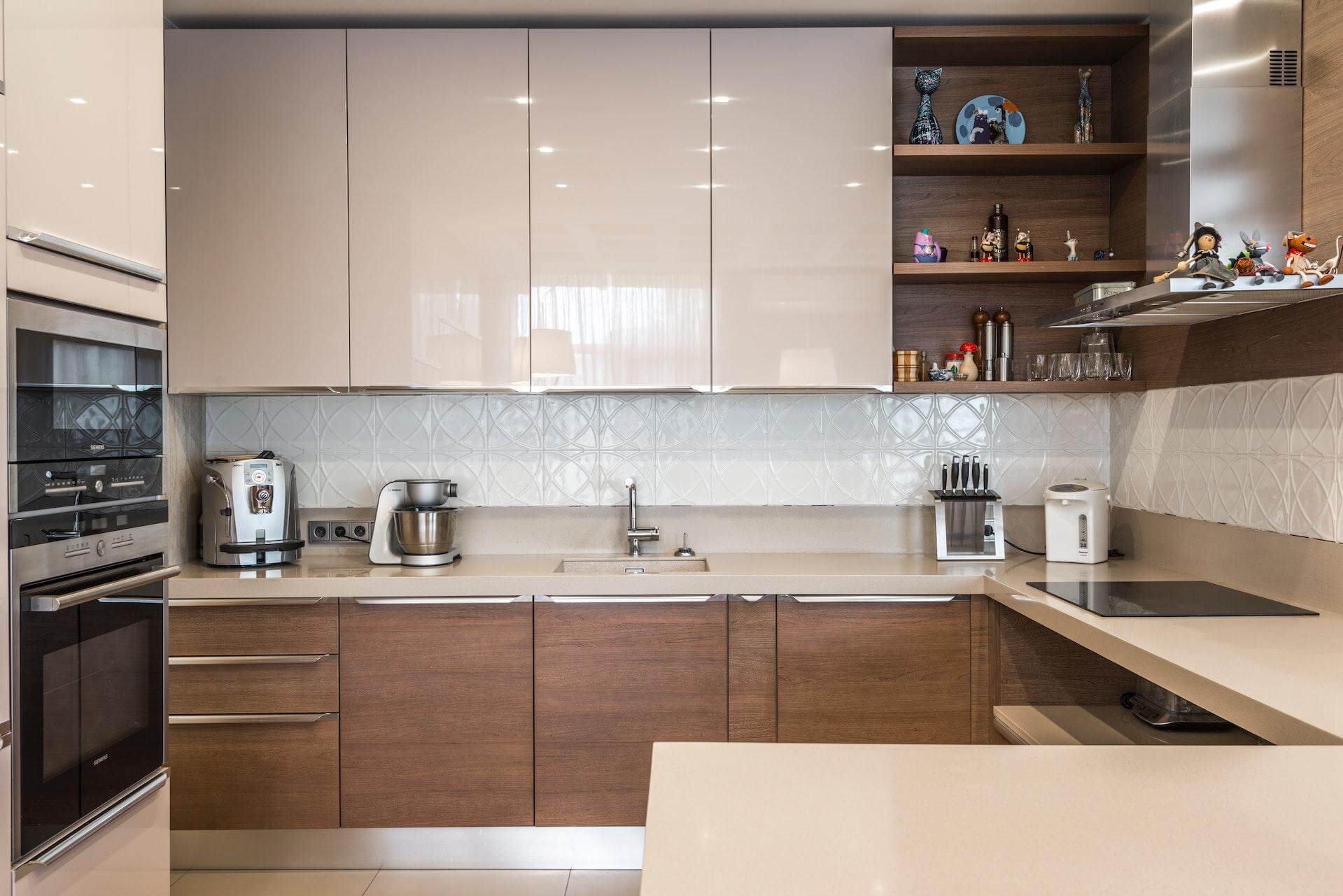 Luxury kitchens require high-performance appliances that not only meet functional needs but also blend seamlessly with the overall design. The right choice of appliances can significantly enhance both the aesthetics and functionality of the kitchen. Consider the following suggestions:
Built-in Appliances: Opt for built-in appliances that seamlessly integrate into the cabinetry, providing a streamlined and cohesive look. This ensures a clutter-free aesthetic and maximizes available space.
High-End Brands: Choose appliances from reputable luxury brands known for their innovative features and superior quality. These should include accompanying accessories like plumbing pipes and fittings..
Smart Technology: Incorporate smart appliances that offer advanced features such as voice control, Wi-Fi connectivity, and programmable settings. These technological advancements elevate the functionality and convenience of the kitchen.
Thoughtful Design Details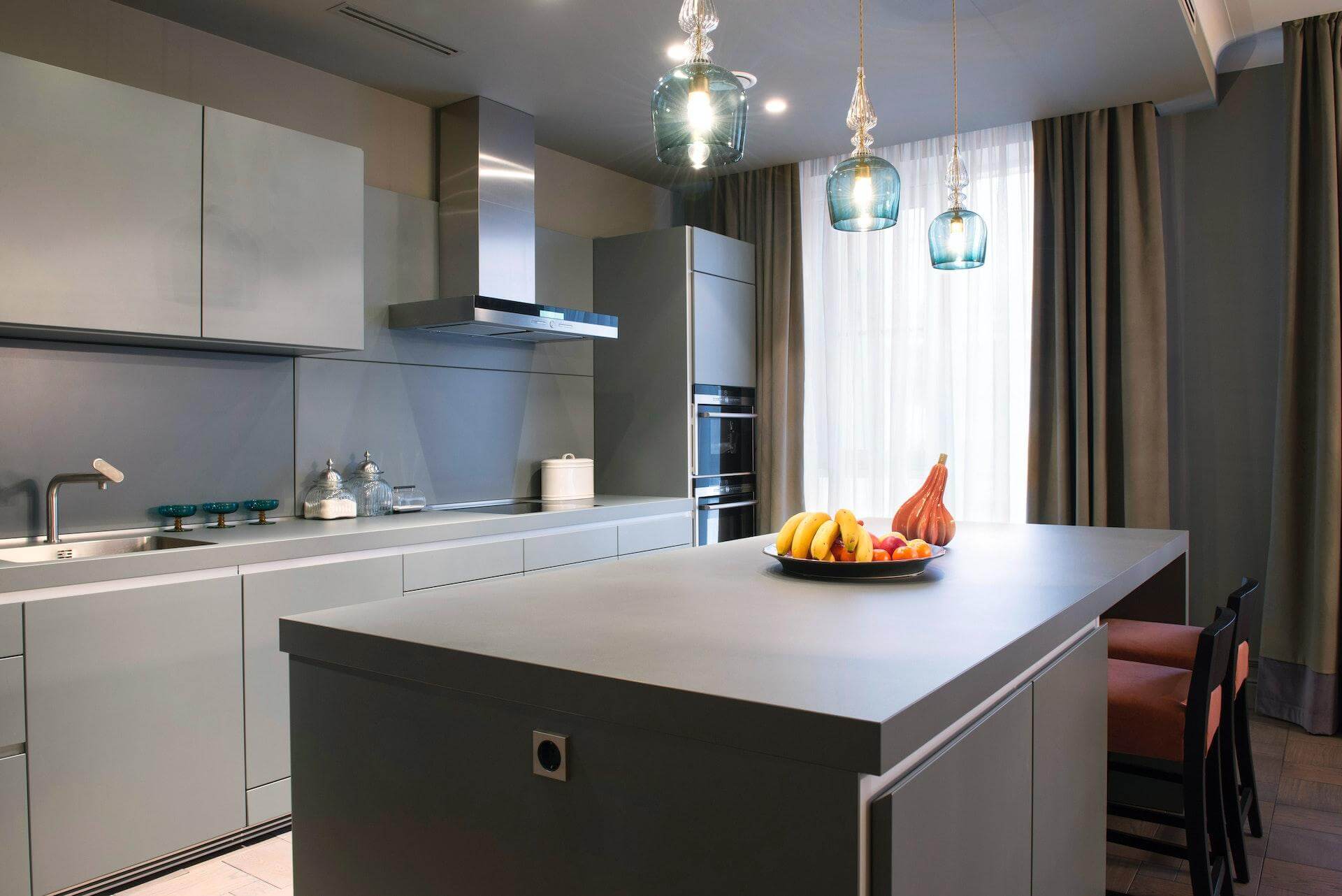 The inclusion of thoughtful design details can elevate a luxury kitchen from ordinary to extraordinary. Paying attention to small elements can make a significant difference in both aesthetics and functionality. Consider the following suggestions:
Backsplash Design: Select a stunning backsplash design that complements the overall aesthetic and acts as a focal point. Utilize high-end materials such as glass, mosaic tiles, or natural stone to create a luxurious feel.
Hardware and Fixtures: Choose high-quality hardware and fixtures that add a touch of luxury to the kitchen. Opt for elegant handles, faucets, and pulls in finishes such as brushed nickel, polished chrome, or matte black.
Statement Pieces: Incorporate statement pieces like a striking chandelier, unique pendant lights, or a decorative range hood. These eye-catching elements become conversation starters and add a touch of opulence to the kitchen.
Conclusion
Designing a luxury kitchen requires meticulous attention to detail and careful consideration of various factors. By keeping in mind the key factors discussed in this article – space and layout optimization, high-quality materials and finishes, functional and stylish lighting, appliance selection and integration, and thoughtful design details – one can create a truly extraordinary luxury kitchen.