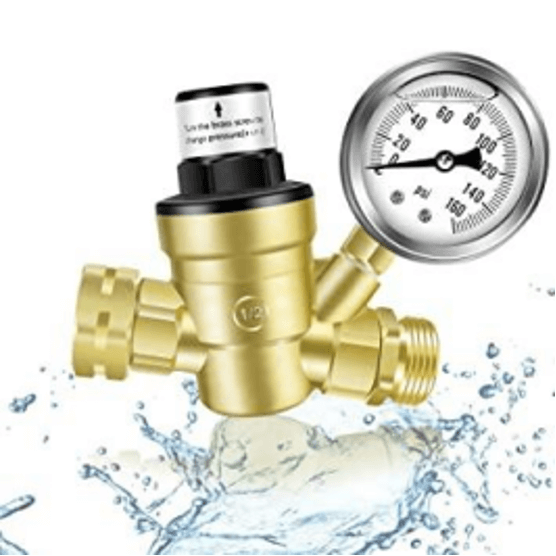 Imagine facing damage of thousands of dollars due to an over-pressurized RV system and bursting of pipes. Well, a water pressure regulator for RV can for sure secure this from happening. Yes, this is what a small device like a water regulator for RV is capable of. This regulator not only helps in regulating the flow of water to an RV but checking the pressure built before it reaches the hose.
Let's discuss more about the water pressure regulator for RV in this article and get answers to a few questions.
When and Why to Use a Pressure Regulator?
You cannot imagine the water system working appropriately without the pressure regulator for the RV. This device is specifically designed to withstand high water pressure and protect the pipes and fixtures from bursting. The regulator increases the lifespan of these devices and prevents you from any unnecessary plumbing repairs and charges. Hence, when the water flow will be regulated it will avoid any unnecessary water wastage and less water bills.
Do You Need a Water Pressure Regulator for RV?
Of course, you need a water pressure regulator for RV as it can't sustain the high-pressure water channeled into the building. Because the RV's plumbing is not intended for high-pressure commands hence, a regulator is required. You can fix your RV anywhere but in vain if the water pressure regulator is not being used with it. With this essential commodity, you can maintain water pressure.
Where Does The Water Pressure Regulator Go On an RV?
The water pressure regulator should be fitted where the water supply enters your RV. This is at the water inlet, where the hose attaches to your RV.
Installing the water pressure regulator at the inlet will protect your RV's plumbing from high water pressure.
What Should a Water Pressure Regulator for RV Be Set at?
Most RV pressure regulators are adjustable so that you can set them to the perfect pressure for your needs. However, before you adjust your RV's pressure regulator, it's important to know the maximum pressure for your RV. This information can be found in RV's user manual.
Once you know the maximum pressure for your RV, you can start adjusting the regulator. For this, turn the knob on the regulator to the desired setting. As a general rule of thumb, you'll want to set the regulator to about 10 psi higher than the maximum pressure for your RV. Also, it's notable that you must remain in a lower psi range depending on the age of your RV.
Can You Adjust an RV Water Pressure Regulator?
The Water Pressure Regulator for RV can be adjusted according to the need and it is a simple process. You don't require professional tools, and it is not a hardcore job to do. Follow the steps given below for detail:
Firstly, locate the water pressure regulator. It is situated next to the water heater or the water pump.
Then, turn off the RV.
Now, loosen the nut using a wrench and secure the regulator to the pipe.
After that, turn the regulator's screw using a screwdriver in a clockwise direction. It will raise the water pressure in a counterclockwise direction to lower it.
Once you've adjusted the water pressure to the desired level, tighten the nut back down.
Lastly, restart the RV.
What Happens When Water Pressure is Too High in RV?
Too much water pressure in your RV might result in many issues. Your water lines can burst as a result of it. This can be a very messy and expensive problem to deal with. High water pressure can harm your RV's plumbing, causing another issue. This can also cause leakages.
How Long Do RV Water Pressure Regulators Last?
It's difficult to say because it will rely on a few things. However, a good rule of thumb is to expect them to last around 3-5 years. Of course, your mileage may vary. The lifespan of a water pressure regulator for RV may depend on many factors as follows:
One is the quality of the unit itself. If you buy a cheap, no-name brand regulator, likely, it won't last as long as a higher quality unit.
Secondly, how often do you use your RV and maintain it? If you only use your RV a few times a year, your regulator will likely last longer than if you use it more frequently.
Finally, it's important to remember that your RV's water pressure regulator won't last as long if your area has hard water. Mineral buildup inside the regulator from using hard water can eventually cause it to malfunction
Can I Install a Water Pressure Regulator Myself?
The answer is yes! Installing a water pressure regulator is a simple process that most people can do. You need a few basic tools and some know-how. Here's a step-by-step guide to installing a water pressure regulator for RV:
Shut off the water to your RV.
Find the main water supply line to your RV. This is usually located near the water heater.
Cut the water line using a hacksaw.
Insert the water pressure regulator into the cut water line.
Secure the regulator in place using pipe clamps.
Turn on the water in your RV and check the pressure.
What Happens When a Water Pressure Regulator Fails?
If your water pressure regulator fails, you may notice a sudden drop in water pressure or a complete loss of water pressure. This can be a problem for your RV, as it may cause your water pump to overheat or your RV's plumbing to back up. It's important to turn off your water pump immediately if water drops suddenly and check your water pressure regulator for RV. If the pressure regulator is the problem, you'll need to replace it.
How Do You Fix Low Water Pressure in an RV?
Sometimes the water pressure can be so low that it is hard to get the water out of the shower head. Try a few things given below and repair the issue if you're experiencing it:
Firstly, check the RV water pressure regulator. This is a device that is located near the water pump. It handles regulating the water pressure in the RV. If the regulator is not working, it can cause the water pressure to be too low.
If the regulator is not the problem, the next thing that you can do is check the water lines. Sometimes, the water lines can become clogged, and this can cause the water pressure to be low
If neither of these two options seems to work, you can try to adjust the pressure regulator.
If you still can't get the water pressure to increase, you may need to replace the RV water pressure regulator.
The Final Word
Using the above-mentioned strategies, you may use a water pressure regulator for RV more effectively and get the most out of it. Ensure that the water regulator is of renowned brand and fixed properly. You can also take the help of a plumber if you are unaware of how to fix it. But, yes if everything goes well, you will hardly face any water pressure issues in the future.