Hey, there, outdoor enthusiasts! Are you someone who loves to hit the trails with your ATV or dirt bike? If so, then a toy hauler camper might just be the perfect addition to your adventure-seeking lifestyle.
A toy hauler camper is a special kind of RV that is designed specifically to transport your toys and provide comfortable accommodations on the go. It's the perfect way to take your passion for off-roading to the next level.
In this blog, we are going to talk about the many benefits of owning a toy hauler camper and why you should seriously consider buying one for your next outdoor excursion. So, whether you're a seasoned pro or a first-time adventurer, keep reading to find out more!
What is a Toy Hauler?
A Toy Hauler is a type of recreational vehicle (RV) that is designed to haul "toys" such as motorcycles, ATVs, and even golf carts. It typically has a large cargo area with a ramp door for easy loading and unloading, as well as living quarters up front. Think of it as a swanky mobile garage and vacation home all rolled into one! These bad boys can range from the size of a trailer to the size of a bus, so you can bring all your toys and your crew along for the ride. It's the perfect way to hit the open road, explore the great outdoors, and have all your gear right at your fingertips.
Who Should Buy a Toy Hauler?
Are you the adventurous type? Do you love to hit the road and explore the great outdoors with your toys in tow? Then a toy hauler is a perfect fit for you! These RVs are built to handle all your gear, whether it's motorcycles, ATVs, or even a small boat.
But it's not just for gearheads and thrill-seekers. It's also a great option for those who like to camp, tailgate, or attend rallies and events. Toy haulers also make for great camping vehicles, with spacious living areas and amenities like kitchens and bathrooms.
Toy Haulers are also perfect for those who like to travel with a crew. Plus, the garage area can easily be converted into extra sleeping space for your friends and family.
The Best Toy Hauler Travel Trailers in 2023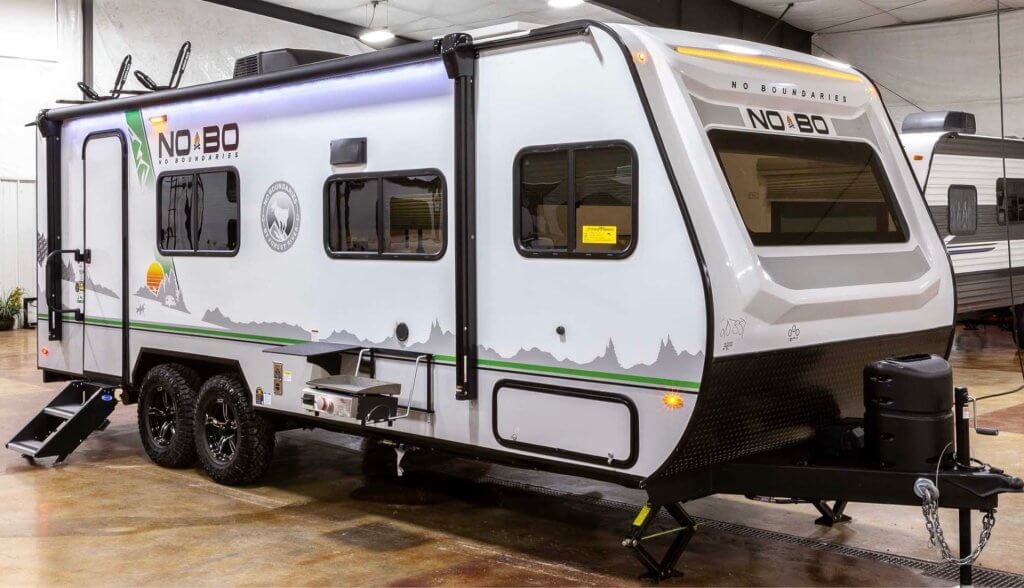 The Forest River No Boundaries 19.1 is a towable toy hauler RV. It is lightweight and small, which makes it easy to tow behind most vehicles. Because This travel trailer is small, it is easily maneuverable on the road; on the other hand, it is spacious enough to provide a comfortable living space with all the features and amenities.
One of the standout features of the Forest River No Boundaries 19.1 is its excellent capacity of fresh, grey, and black water tanks. You get a total of 30-gallon capacity, which is enough to fulfill all your needs. The RV also comes equipped with a 16′ awning, which provides shade and protection from the sun's rays and rain when parked.
Inside, the Forest River No Boundaries 19.1 packs a queen size bed, a dry bath, and a full-size kitchen area. What's included? The full-size kitchen area includes a refrigerator, stove, and sink. So you can easily prepare all your favorite meals while on the road.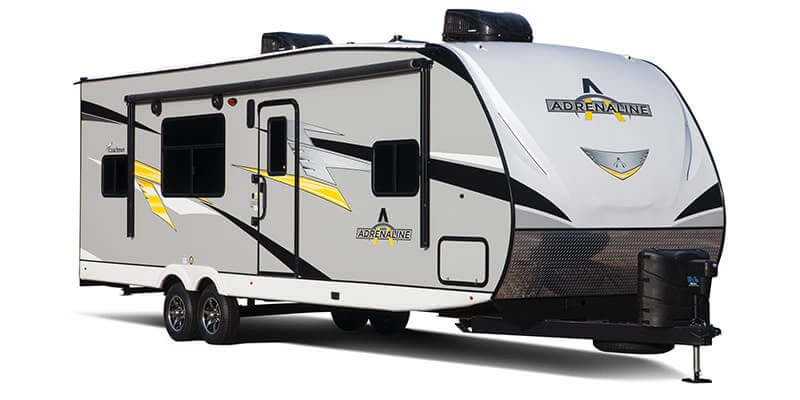 Moving on the list, we have the Coachmen Adrenaline 29SS, a top-of-the-line toy hauler travel trailer that is perfect for those who need plenty of room to spread out. Measuring 36'4″ in length, 8'8″ in width, and 12'4″ in height, this trailer has a generous amount of interior space. Apart from being spacious, it is a well-equipped toy hauler.
Inside, the Coachmen Adrenaline 29SS has two sleeping areas. It includes a bedroom with a king-size bed and a dining area with a queen-lift bed. The sleeping area can house up to eight people. Talking about the living space, it has a sofa, two chairs, a full-size bathroom, and a fully equipped kitchen.
On the outside, it has an 18′ awning which is definitely larger than some of the competition and provides plenty of shades. All of it allows you to stay comfortable and enjoy extended trips and extended stays at your favorite campsites.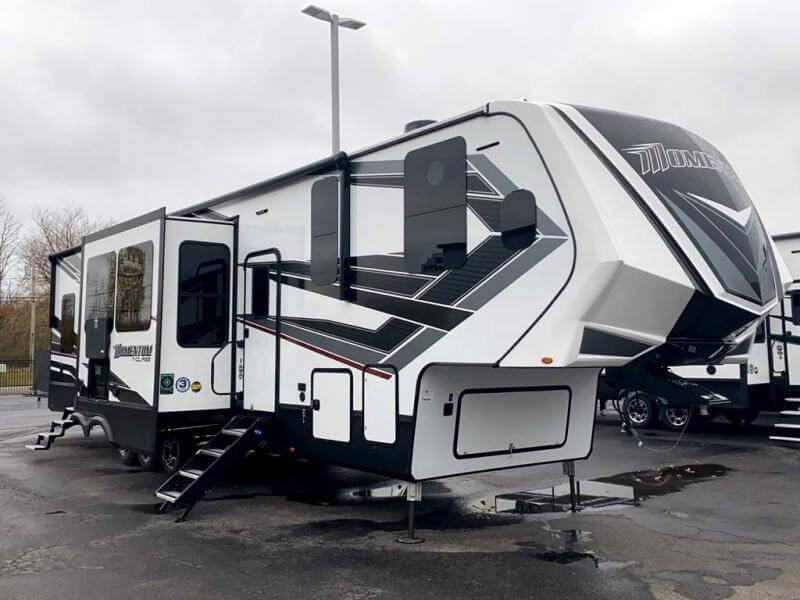 For those looking for a luxurious option, The Grand Design Momentum 381M Toy Hauler is the perfect fit. It is a fifth-wheel RV that offers a spacious and comfortable living experience for families who love to go camping with their toys. The RV features a kitchen island with seating, making it easy to prepare food for the kids. The 381M boasts a master bathroom and suite, with a full walk-in closet, as well as a second half-bath and a 15′ garage space. 
It can sleep up to five people, with a 15′ garage that doubles as a second bedroom when your gear is unloaded at the campground. Additional features include a fireplace, dual entry doors, a full and half bath, a universal docking station, and other features that raise the bar for Toy Haulers.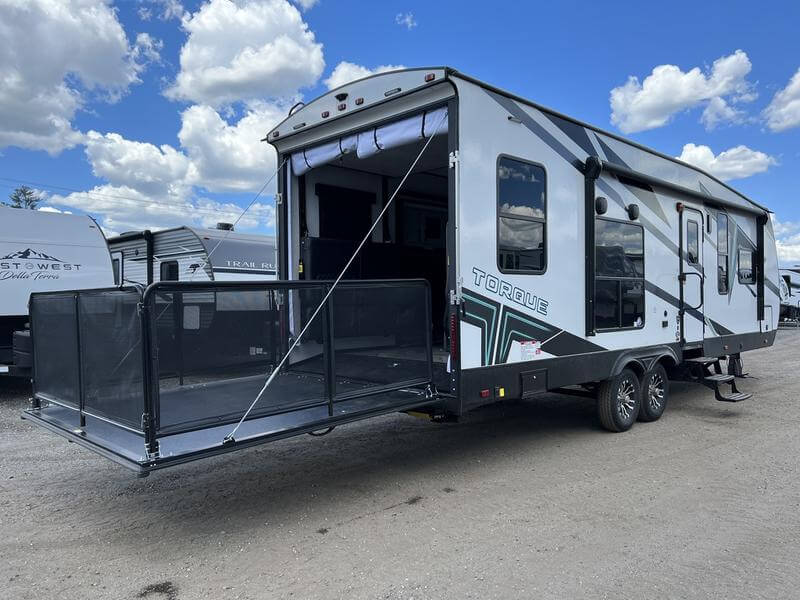 The Heartland Torque 281 is a top-of-the-line toy hauler travel trailer that offers a combination of spacious living quarters and a generous cargo capacity. One of the key features of the Heartland Torque 281 is its large water tanks, including a 98-gallon fresh water tank, a 57-gallon gray water tank, and a 30-gallon black water tank. This ensures that you will have plenty of water for washing and watering while on the road.
Inside, the Heartland Torque 281 has a fully equipped kitchen space with a large refrigerator and a full range and oven, making it easy to prepare meals while on the road. The trailer also has a comfortable main sleeping area with a king-sized bed and a power queen bed above the bench seating in the garage, providing plenty of space for up to six people to sleep comfortably.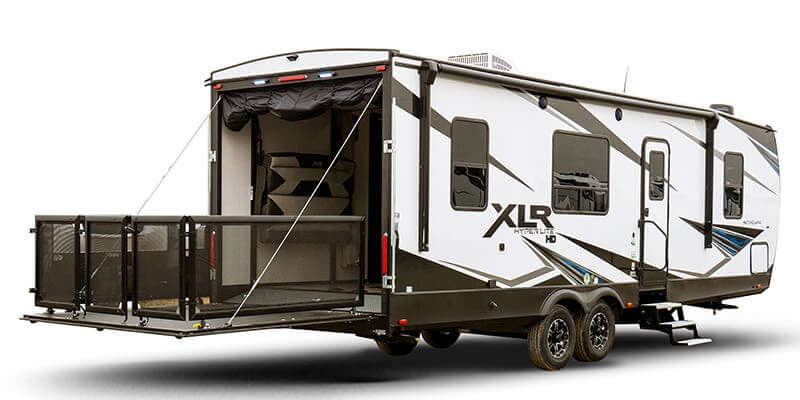 The Forest River XLR Hyperlite 2513 is a top-quality toy hauler that offers a wide range of features and amenities. One of its key features is the Lippert Maverick System, and This helps to prevent delamination of the ramp and patio floor, even in heavy rain conditions. The garage features two comfortable leather sofa that folds up when not in use; apart from that, it features dual dinette tables that can also be removed to create an aisle out to the large deck on the back side of the trailer.
The owner's suite of the Forest River XLR Hyperlite 2513 is a luxurious and convenient space with a slide-out queen-sized bed, a large window bench seat, extra countertop space, and a private bathroom entrance. Other features of this toy hauler include a deluxe entertainment center and a spacious garage with a capacity of 13.4 ft. This toy hauler can house 2-6 people and allows you to carry a wide range of toys and gear.
Different Types of Toy Haulers
There are several different types of toy hauler RVs, each with its own unique features and benefits.
Fifth-wheel toy haulers: This type of toy hauler is designed to be towed on the back of a pickup truck. It comes with a special hitch system that connects to the bed of the truck. This type of toy hauler is usually larger and has a more spacious interior as compared to other types of toy haulers. This makes it a good choice for a family who loves long-term trips with a lot of gear.
Travel trailer toy haulers: This type of toy hauler is similar to a traditional travel trailer; however it comes with an added section of a garage area at the back side for hauling the toys. It can be easily towed by a variety of vehicles, such as an SUV or a pickup truck.
Class A toy haulers: Class is the largest and most luxurious type of Toy Hauler. This type of toy hauler is built on a bus chassis. It has all the amenities you will find on a regular Class A motorhome, and it includes a fully equipped kitchen, bathroom, and living area.
Class B toy haulers: A Class B toy hauler is built on a van chassis and is smaller than the Class A toy Hauler. These are great for people who are looking for a more fuel-efficient option and do not need a lot of space.
Class C toy haulers: Class C toy haulers are very similar to Class A toy haulers and are built on a truck chassis. The Class C Toy Haulers are more rugged and durable in construction. These are a great choice for people who want a toy hauler for off-road adventures and rough terrains.
Are Toy Haulers Heavier and More Expensive Than Other Towable RVs?
Toy hauler RVs are generally heavier and more expensive than other types of towable RVs. The added weight is due to the extra space and amenities included in a toy hauler, as well as the fact that they are designed to carry and transport heavy toys.
The cost of a toy hauler will depend on the size and features of the RV, as well as the brand and model. These Toy haulers can range in price from around $30,000 for a smaller, basic model to over $100,000 for a larger, more luxurious toy hauler.
Conclusion
If you love taking your hobbies with you on the road, a toy hauler camper is a great option. Whether you're into ATVs, mountain biking, or surfing, these campers give you a place to store and transport your gear while also providing comfortable living space.
If the outdoor lifestyle is your thing and you want to bring your toys along, it's definitely worth looking into getting a toy hauler camper.