RV water pumps are an aspect which you can't deny no matter what. Without it its nothing less than just a moving truck. When deciding to live full-time know how you can have (Best small RV for full-time living) the best of both worlds. Let's get to know what is a water pump first.
What Is a Water Pump?
A water pump gives a flexibility of running fresh water to the RV to give a free-flowing access to your sink-valve, shower, toilet basins, and flush water. It's a pump designed to work in a motorhome, an RV, and provide water to showers, to caboose, sinks etc. Typically, if we talk about a 12V pump then what we do is to wire it directly with a 12 Volt system of the RV. The difference in size is based upon the difference in RV.
How Does an Rv Water Pump Work?
It is used to draw water from a storage tank, so when you fill it up before heading on to your trip it will supply the water in all your RV. There's a pressure switch on the head of the pump, so when you open the nozzle in your galley, it will switch on the pump. When you close the valve, it will turn the pump off.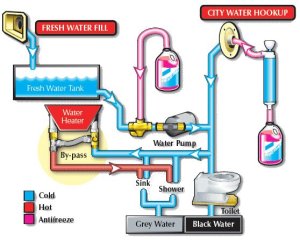 After getting into detail about the pump, you must be wondering about some of the best RV pump with 12V.
Let's see below about some of the 5 best 12V RV water pump
1-   12v Seaflo Rv Freshwater Pump
Weight: 12.15 ounces
It's a 12 volt three gallons per minute with a 55 psi with a simple inlet and outlet with two different positive and negative wires. This provides a fresh flow of water in either your boat or RV. It allows to pass the amount of water that you are going to need without having to do any built-in pressure. When you switch open up, you're your faucet. When you turn the handle, it will automatically start putting water towards the fixture. When you close, it will automatically be going to turn off again. It has a three-chamber diaphragm. It provides 3.3 gallons per minute of water flow of water. It is a self-priming design that's going to eliminate the air by binding by removing air from the pipeline. it works with a maximum temperature 0f about 140 degrees. So, it's really a nice option to make sure that you going to have water pressure.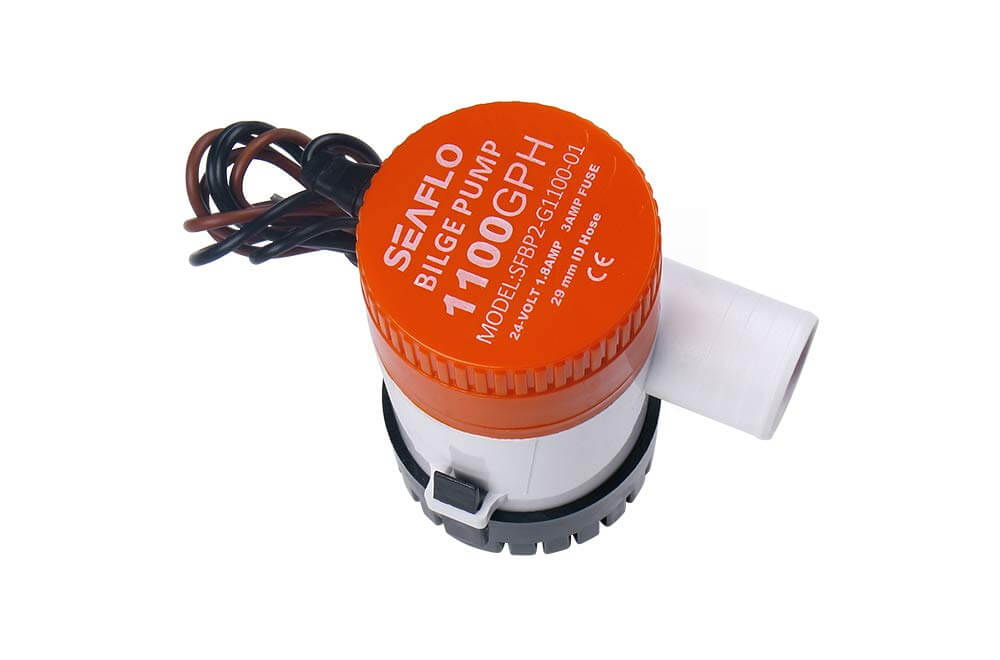 2-  12v Water Pump From Toyota Priusv
Weight: 2KGs.
They are electric and they have three little rubber mounts on them to easily mount on to things. There's a rubbery substance not very hard but quite mushy. Its well-sealed and can be submerged. Make sure to get the original equipment plug. Just snip the wires and take it with you. It's a weather packed and if you get one of these pumps. Analyze the positive and negative sides by holding the pump with flat edge of the bracket like the right terminal. There is a magnet and impeller with three little flutes. It let the inverter in with the water creating a film inside.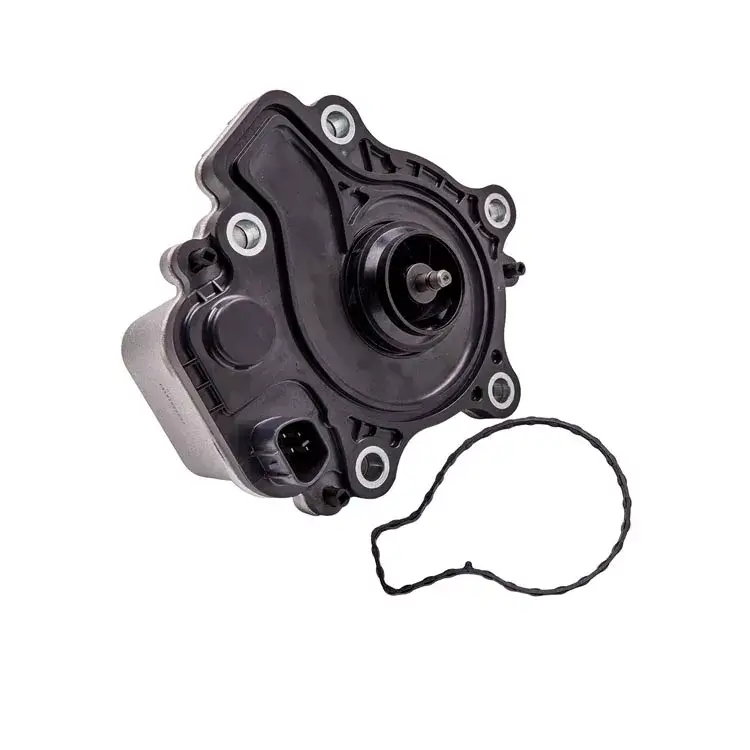 3-   Shurflo 088 Water Pump
Weight: 4.79 pounds
It pumps about here to three and a half gallons a minute at 55 pounds. It works by pulling water from the freshwater tank up to the pump and then pump it pushes it out to the rest of the RV. There's a tube with a freshwater tank with a filter slash trainer. It helps in keeping any trash and garbage from getting in the pump because it might damage it. Later on, the water gets into the pump where little diaphragms help pushing in and out the pump. There's a check valve to keep the water from going into the wrong direction. It also has an adjustment point on it to for you to set the pressure as well as to set the bypass. The city water connection is also works in most of the part. It has a 10-amp slow fuse but can handle a little higher than that.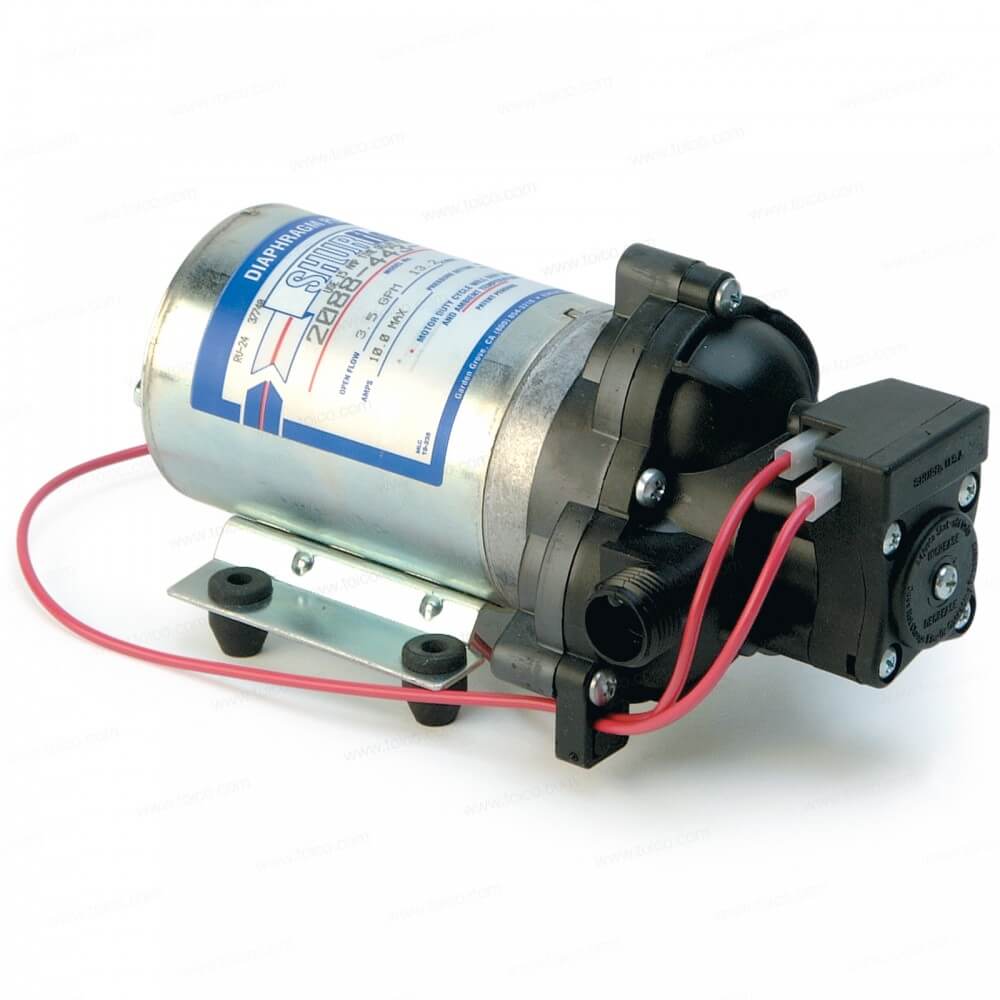 4-   Flojet Triplex
Weight: 2.6 pounds
This product offers a descent price with so many features with a great quality and resilience. It comes with an instruction manual to avoid any mishandling. It will tell you the way to use the machine. Since the device looks a bit complicated even if it's easy with the manual. The device is a dry running, and the product doesn't require much sound while working. It effectively absorbs the noise and sound-proof. It has a pressure switch to adjust it accordingly. It gives the device an access of choice to the users to adjust the pressure according to them. For less pulsation it comes with a built-in bypass. This feature adds to the convenience of the and using the device because it has extra features. It allows it to reduce the need for an accumulator for products. The immense pressure can cause adverse effect to the texture or the surfaces of the product, but this product is not like that. It is corrosion-free. It will last for a long time because of durability.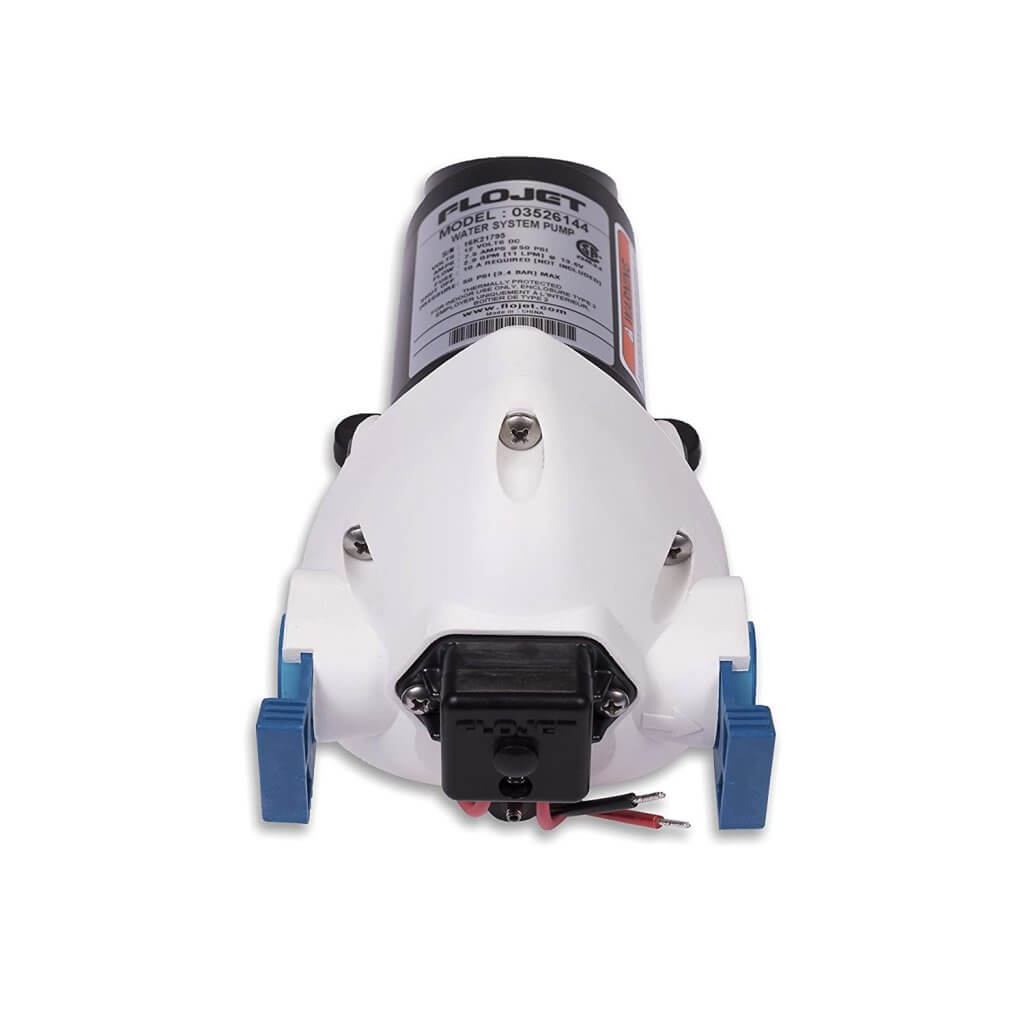 5-   Remco Aquajet Rv Water Pump
Weight: 6.43 pounds
The Remco RV water pump employs state of the art electronics to the automatically control the speed. The pump adjusts the speed as you open and close the water fixtures. Its soft features eliminate annoying rapid cycling, and its five-valve design can deliver twice the flow and pressure of conventional RV industry pumps. It automatically overcomes pressure drops typically caused when multiple fixtures operate at the same time. It 5-chamber design displaces substantially more water per motor revolution than typical 3 and 4 chamber models in the RV industry, making it the highest flow diaphragm pumps available. Its liquid temperature is 140 degrees maximum. The soft feature eliminates annoying rapid cycling.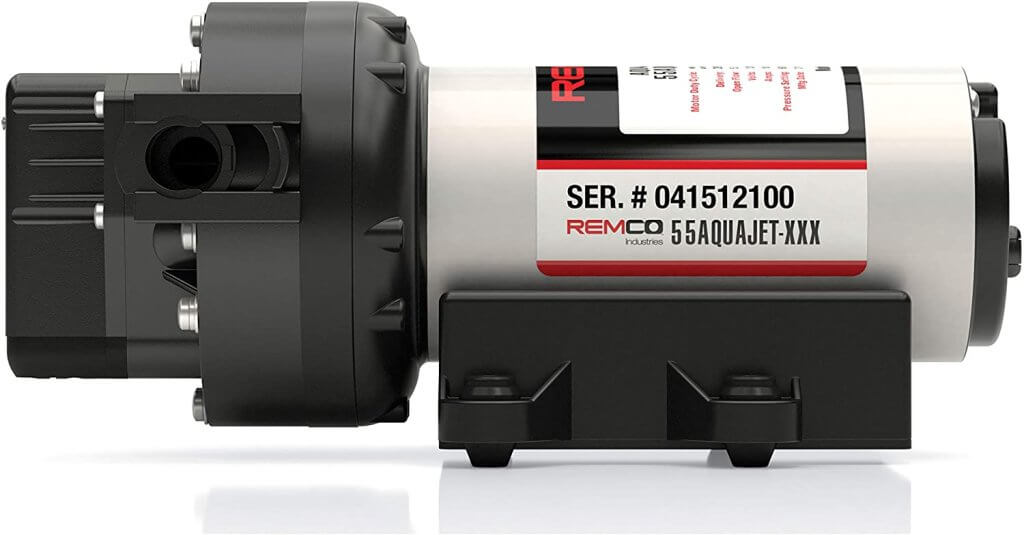 Things to Consider While Having a Water Pump
1-   Freshwater Tank Flush
It is always better to flush your freshwater tank periodically because to go to the campground or doing it at home you need to have at least once a year to open the drain to your freshwater tank. at the bottom of the RV, took the cap off and drain all the water out of tank. if you fill it up a little bit of water and let it slosh around and then go ahead and drain it. do it a couple of times at the beginning of the season.
2-   Cleaning the Filter/strainer
The little filter strainer that is right before the pump has a little container which screws it off and inside of it has a little mesh screen. it's good to take it off and clean the screen because it is delicate. Take a soft bristle brush and lightly rub it and rinse it out. It will be nice and clean afterwards.
3-   Filtering Freshwater Tank
When you fill up your freshwater tank make sure you use some kind of filter on your water hose. Don't just hook up the water hose and start pumping it directly into your tank. Put some kind of water filter on your hose. This way whatever you put in your tank will be cleaned on its own.
4-   Check the Fuse and Strainer
If you don't have any water flow check whether there is power to the pump and the fuse. If the fuse is working the power is going well. Inside the power destination all of the circuit lies. If you don't have pressure, then take off the strainer to make sure it's not dirty and won't restrict the water flow.
5-   Making Sure to Adjust the Pressure
If you are getting little to no water and the pump is not smoothly working, then adjust the screw a bit. Turn the pressure setting on to reduce the water level. Go to the water faucet to the sink and turn on slightly just to run it slow.
Frequently Asked Questions
1-   When to on My Rv Water Pump?
Because the pump is pressure activated, most of the time you can leave your pump on. However, the right way is to on the pump when you are using it. and off when its not in use.
2-   Why Is My Pump Not Pumping Water?
A leak in the system can be the reason of this issue. Replace the leaking and damaged pipes and wires and make sure that water hasn't exceeded the water level.
3-   What Are the Components of Rv Pump?
It has not much except the pump itself, the fittings and the wires. The fittings can come either as a coiled unit which can be attached with nuts or can be hooked straight.
4-   How Do Long Do Rv Water Pump Lasts?
When properly cared and maintained it can last for 10 years or more.
5-   How to Know if the Water Pump Has Been Broken?
When a pump is broken it creates unnecessary noise. Excess noise could be the main reason behind a failure of a water pump.