What Is an Rv Carport?
A carport is a protective covering for your RV to save it from the harsh weather and extreme conditions. It is tall in size and made of metal. Its other name is metal RV covers.
More than 10.5 million Americans are living and travelling in an RV. Their vacation, leisure time, and holidays are all spent in their RV. Some like to travel in summers and some in winters. While you are a travel enthusiast and switch your time between different weathers. Even though you got parking or an RV park campground (check our article on RV parks and how much they cost) you will need a cover to protect it particularly
Types of Rv Carports
There are multiple types of carports which work according to the type of the RV. What options and different styles are there depends on the decision of the customer while selecting the product.
Let's see the different styles of RV carports below: –
Standard
With the finest quality metals the standard carports are economically pricey and expensive. But one doesn't know what shape, design, color of RV it is so a lot of things depend on that. These are made of steel and yet managed to look attractive and quite functional. The base price is different and need to be installed by the expert only. The best thing is these metal carports can be transformed into metal garages, buildings, workshops or barn as and when required.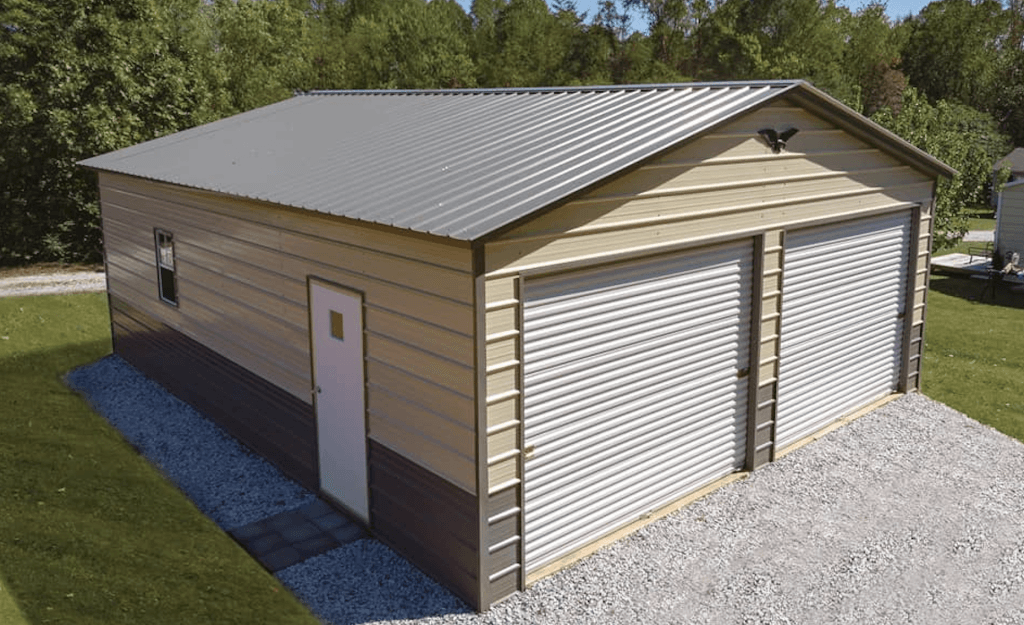 What is so special in standard metal carports?
They are wide
They come in big lengths
They have a huge height
There steel metal framing is up to more than 14-gauge
The roof panels are also very high
Done with full bracing
On wood the installation is restricted but its automatic if installed on ground or concrete.
It comes in variety of colors such as tan, grey, ocean blue, taupe etc.
Roof Types
Roof types are common yet and inexpensive which includes the standard roofing style with called the regular roof. This kind of roofs have no eaves, and they are rounded at the edge. The style is completely viable with metal carport. It is quite acceptable for every weather conditions.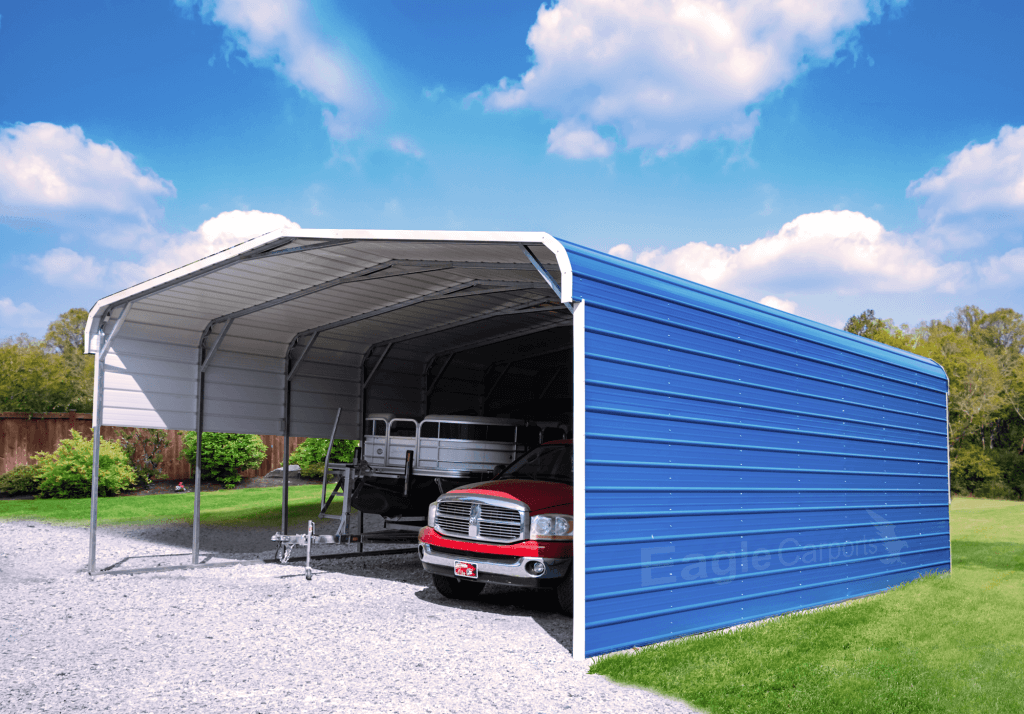 What is so special about this roof design?
14- gauge framing
The right-side sliding is horizontal
The roof pitch is 3/12
Its style comes in regular form with the right leg height
Boxed Eave Roof
The name suggests something about a traditional A-frame style look running front to back with perfect roofing panels. This gives a greater appearance. It should be upgraded to a vertical roof style to avoid any unnecessary leaks at the seams. It can be converted into a metal garage as well by adding side panels to its structure. It provides complete protection from all the weather conditions.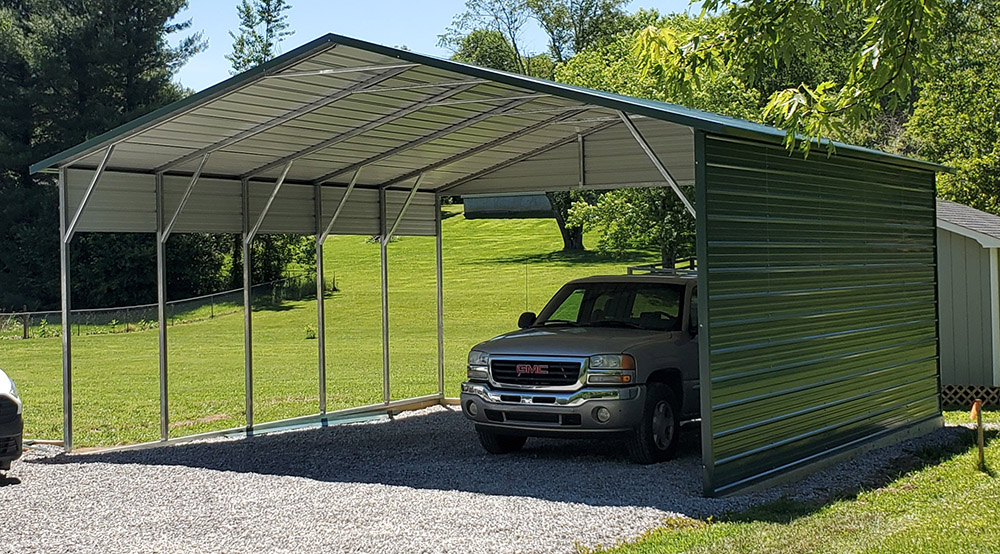 What so special about this roof design?
A-frame design
Least expensive than vertical carports
Roofs are long-lasting
Maintenance free
Ridge caps
Vertical Roof Style Carports

It is the strongest of all. it is laid in vertical form and each side is lined vertically. It helps allowing water, dirt, snow and debris fall of the roof easily. You can get the customized option also. It is you who would decide the market, requirements and budget according to the market.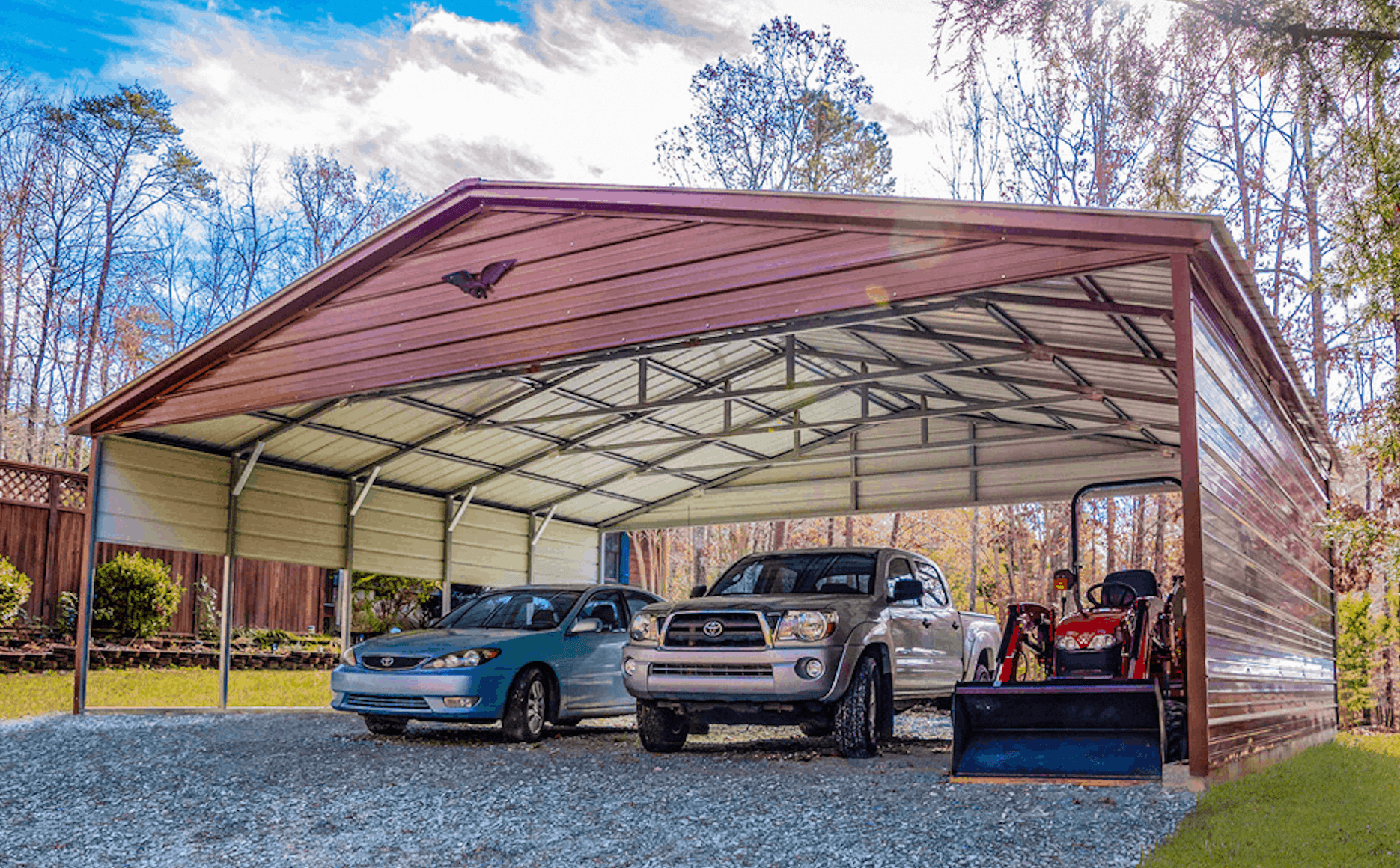 What so special about this roof design?
It has great design
Very affordable
Gives you extra space
Very durable
How to Pick the Best Rv Carport for Your Recreational Vehicle?
So here comes the most important question that how and on what criteria you would pick an RV carport. It depends a lot on the preference of the person. Protection and maintenance are the primary concern of any vehicle. There are some key points one can ponder over while picking up the best RV carport.
For what primary purpose you are going to use your RV carport?
Do you need it for sheltering purpose only or other purpose?
Do you have more than one RV to shelter?
What kind of weather is there?
Where do you want to install it?
Do you need any certification or approval for that?
You can pick according to your style preference as well.
These criteria can help you deciding the best carport for your recreational vehicle.
Things to Consider Before Buying an Rv Carport
20 years from now they were completely different until the RVians and the market began to notice its usage. But now it is totally opposite to what it used to be. They have become more taller, organized, efficient and long-lasting over the years.
Investment
First of all, when planning to buy you should be aware that it is a big investment after RV, and it needs to take good consideration as this is going to protect your RV in all of the possible ways. Keep it to the best possible form, protect it from all you can do. The metal surface reacts easily so it needs extra care. Your investments shouldn't go waste.
Roof Type
The second important thing people consider while buying and RV carport is its roof type. Each roof gives a different feel and works in a different way. The exterior, the interior all plays a very different role in keeping the carport alive. Check whether it is protecting form the harmful UV rays or not or capable of giving enough protection from all kinds of natural calamities.
Roof Panel
Roof panels works as giving extra protection and coverage to the Carport from both sides. It gives an added coverage form each side. So, make sure you get an added roof panel to your carport.
Frequently Asked Questions
Are Metal Carports Being Heavy?
It can be because the actual weight falls into the category of few pounds to up to 1000 pounds almost. Wood carports are heavier but if you opt for bigger materials then this can be heavier to lift.
How to Fix a Carport Leakage?
For that you need to remove the top layer of it- roof from the structure of the metal body. Scrub it clean any of the old sealant area and repair it cover by adding a piece of material such as a cloth or a plastic. Finish it off with a new sealant again on the roof.
Are the Metal Carport Rests on a Foundation?
You can't say every time, but it is prescribed for extra protection. With a proper foundation you can have a secure floor rather than having a dirty one which needs time to time cleaning.
Can You Make It Look Pleasing?
Yes, you can do that provided if you keep it in mind that these are designed specifically for the protection purpose. You can spice it a notch further by adding floral look or can buy one in a different color. You can even decorate with some lights and added colors or paints.
Are They Really Worth Spending Money on?
Oh yes of course, they are by far the most effective and best purchasing decision you will have after an RV because they will a the end provide you extra protection from all that you want it to protect.