In an RV, everything is so important whether it's electricity, washing supplies, sewer system, and many more. Electrical hookups are so mandatory. We can't be just like install and forget. You have to have a complete electric hookup and if DIY ed even better. This way you will be able to save a lot of money.
What Is the Use of a 50-amp Rv Plug?
If you want more energy for your RV electricity, then a 50-amp plug is needed. Why? It is because it has four prongs- 2 120-volt wires, a neutral wire, and a ground wire. It has the capacity to produce 12,000 watts. It can run 2 air conditioners, the microwave, a washer, and even a TV with no risk whatsoever. A 50-amp consists of two 50-amp circuit breakers because the wires give exactly the same amount of power. Due to its, 4 prongs, they use a 4-wire system. The two spines work as 50-amps of power each in your RV increasing the maximum watt to be used at a time.
Usually, the largest vehicles and RVs such as travel trailers, fifth wheels and super C have a 50-amp plugin.
What Things Do You Need to Install a 50-amp Rv Outlet?
So before installing this you need to have these materials available even if you are DIYing.
The 50-amp circuit breaker of about 120/240 volt
A receptacle of 14-50R
A 6-gauge wire
A must-have Screwdriver
Electric toolkit
A wire cutter
A wire stripper
A voltage meters
A conduit
An outlet box and its cover
How to Wire a 50-amp Plug Through DIY?
Decide where you want to set the panel- the barn, wall or wherever you feel suitable to fit in. it is advisable to consult an electrician but if you are adamant about doing DIYed then here is a simple way.
First, take off the panel screws where you will see a couple of large breakers that are not much in use. You will need some box connectors, and copper wires because for a 50-amp circuit you would need a six-gauge wire and three conductors. Set the wire connector in one of the sockets and pop up the wire from it and pull out the cable, tighten it making sure you don't cut into your connectors. Connect the wires from all sides.
Get into the 50-amp box and undo all the screws sliding out the panel.
There's a knockout in the bottom if you have a UF cable.
UF cable is the best place to link the channel if you are fixing it. There is a weather head connection on the top of the head. From the back of the box, you need to drill a hole so that a connector could fit in. Mount the box and put the self-toppers in it. feed the wire out connecting it outside with a heavy gauge wire outside. Cut it with a saw the rest of the wire. Strip the end of the wire. Connect all the four lines of the wire to the four black spaces of the box. Fit the white wire in the centre. Make sure to connect the full copper and not pinch the insulation. Be sure to torque these wires and place in neatly all in one place. Check with all the screws to be tightly fitted. Secure the cover properly now. Put on the silicone tube in all the open spaces.  Check the final connections and put all the covers back. Now put the 50-amp version. It has two lights blue and green for a good circuit. Now plug in your RV, drop the waterproof cover and cover outlet both. This gives an overview of how easy you can do it by yourself.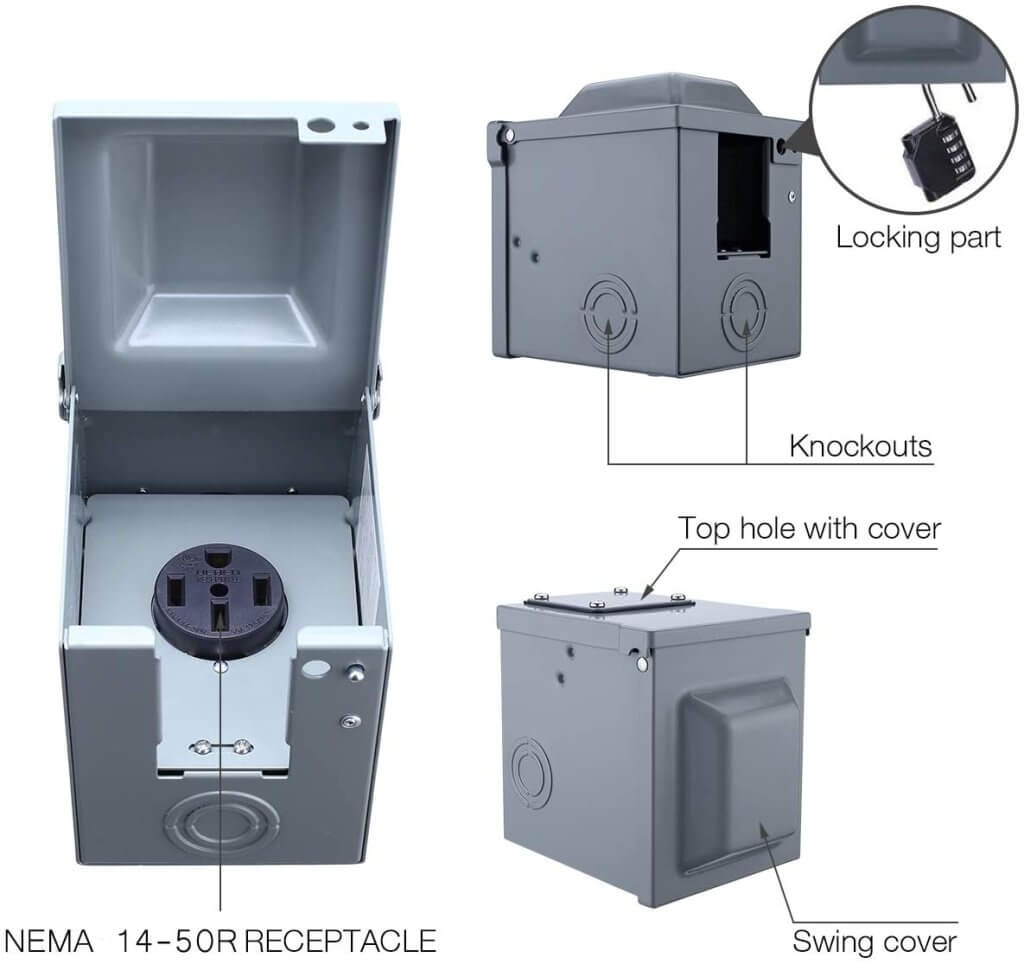 Frequently Asked Questions
Does the 50-amp RV plug work with 220 or 110 volts?
RV plugs usually have two prongs that have 120 volts each. The plug has to offer both 50 and 240 V total. It works as an RV plug only when it has four prongs.
Can We Use Microwaves, Ovens and Other Electrical Appliances by Connecting Them to 220v?
Yes. For that, you will need 220V plugs and a three-phase charging cable. This is the basic way to use it in your motorhome. Keep a power cable and an adapter to connect it to any type of outlet.
Can We Plug the 50-amp Into the 30-amp Socket?
It works but makes sure to check the watt and amps. Don't use more than 3600watts in a 30-amp in the socket.
How Different Is 30-amp From 50-amp?
There are two 120-volt pins in a 50-amp with a flat, and neutral pin. The adapter will help you to find the right power for your RV. Whatever your setup is such as AC, inverter, or high-powered machine your 50-amp will work.
Can We Plug the 30-amp Plug Into a 50-amp Power Pedestal?
By using an adapter chord, you can 30-amp receptacle into a 50-amp power receptacle. At the end of the adapter plug it into your RV chord, and at the other end plug it into the power pedestal.
Can We Plug a 50-amp Rv Plug Into a Generator?
Yes. You can plug a 50-amp RV plug into a generator, for that, you have to use an adapter specifically for that purpose. Make sure that your adapter fits the generator plug socket.
Can We Keep Plugged in All the Time?
Its utility won't compromise but it would definitely compromise your pocket. It won't cause any issue if left plugged in 24/7.