Wheel chocks are an absolute must-have when you are out shopping for accessories you'd need along with your RV. Wheel chocks for RVs are necessary because they stop the vehicle from involuntarily moving across a surface. They're also used to prevent accidents and used to promote safety while the vehicle is in a stationary position.
Some might argue that you don't need wheel chocks for your RV if you've parked it on a flat surface, and the fact that RVs have brakes and leveling jacks makes that argument even stronger. But isn't it always better to be safe than sorry?
There's a myriad of choices out there, making the process of singling out the best of the lot a painstaking process. However, fret not; we've listed the 9 best wheel chocks for your RV that are really popular in today's market.
Why is Wheel Chocks Necessary for Your RV?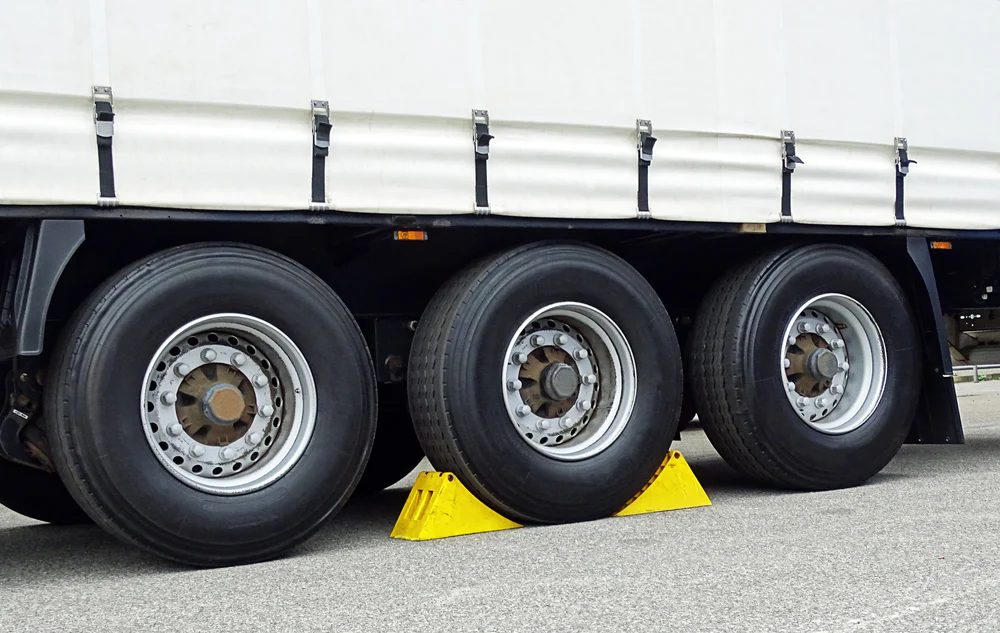 Wheel chocks are indispensable because they're used in conjunction with the vehicle brake to prevent unnecessary motion while you're parked.
They're positioned between or behind the wheels, ensuring that your mobile home stays put when in a stationary position.
Your RV wheel chocks prevent any damage or injury that could potentially be caused by your camper rolling away into a tree, or even another RV for that matter.
Types of Wheel Chocks for RV
You need to be aware of a handful of wheel chocks. The different types of RV wheel chocks are rubber wheel chocks, X-chocks, wheel lock chocks, and leveling chocks.
The rubber wheel chocks a wedge under the wheel to keep the RV from rolling forward or backward. The wheel lock chocks act like a clamp that locks the tire in place and prevents the theft of your camper. The X-chock goes between the tires to stabilize them and prevent any unnecessary back-and-forth motion. The leveling chocks level out your RV if it is parked on a slope or an incline.
This RV wheel chock is the ideal piece to bring stability to your camper. Made of hard plastic that is injected with UV inhibitors, you can even let it soak intense sunlight for long durations, and even that will not ruin its structural integrity. The best thing about this chock is its dimension. It may look compact, but it can stabilize tires up to 26 inches in diameter.
However, conversely, this wheel chock will ideally sit perfectly on SUVs, sedans, and smaller-scale campers. A class B RV would be the best recipient of this unit, but a class A or a class C RV might crush it because of its excessive weight. However, you really can't protest against this chock with the durability it provides for its price range, and it might just be your best option if you're on a tight budget.
The X-shaped wheel chock is great for its durability and stability. The best thing about this chock is it works in tandem with the tires' natural movements rather than going against them. This reduces friction by a big margin, creating a safer and more stable connection.
It is also designed in such a way that it fits various applications by withdrawing down to 1-3/8 inches and further stretching up to 10 inches. The metal it is covered with is resistant to rust, ensuring longer life due to its heightened durability. However, this wheel chock is not compatible with jacks and is relatively more expensive than most RV wheel chocks.
This unit is one of the strongest tire chocks in the market despite it not looking that way. It features an all-weather build capable of handling even the harshest elements. In addition, its non-slip rubber and oil-repellent surface offer excellent traction.
Again, it is worth pointing out that the appearance of this chock is very misleading and that it can hold a 36-ft camper with ease. Its lightweight nature ensures you don't need extra muscles to install or remove it. This is one of the best pieces in the market, coming in at a relatively inexpensive price point.
This wheel chock will dispense any tension and unwrap the jovial camper in you. It is designed to allow for all-around flexibility and permits you to insert a 9/16 nut at the bottom to make it more secure. It is also relatively simple to install with just a few minutes of effort from your end.
The design also ensures that it offers extreme stability eliminating any unnecessary motion of your camper. The superior steel build ensures that it is able to endure harsh weather conditions. A couple of cons worth pointing out about this unit are that it cannot be placed into super tight spaces, and is relatively difficult to maintain the connection on a steeply inclined surface.
This RV wheel chock is for heavy hitters. This pair of chocks look soft at first glance but is capable of holding a 25-ft camper with little difficulty. Each wheel chock weighs approximately around 8 pounds making it perfectly balanced. However, it is heavy enough to stay still on the ground while carrying the weight of a carrier vehicle's tire.
The ribbed design extends excellent stability and superb gripping strength. The dimensions of the chocks are designed to be used on vehicles other than RVs and carriers. This unit comes as a comprehensive package for a fairly acceptable price and is built to last.
This is an excellent RV tire chock to own from SecurityMan. It is made of robust polyurethane material that is capable of holding up to 20,000 pounds. These chocks can even easily stop "sprinters," such as a Mustang on an incline. They're perfect for class B and C RVs, as well as other carriages that fit into that weight range.
Each chock comes pre-drilled with holes for ropes and molded grab handles for effortless fitting and withdrawal. Additionally, the design style enables the chocking to be quicker than your average chocks as the tools are super easy to coordinate together.
A culmination between superb form factor and functionality, this tire-locking x-chock can stretch itself up to 17 inches as opposed to the 15 inches of the other competing units. This means that the chock can hold campers with specialty axial spacings.
Its unique design ensures that it doesn't need to be positioned upside down on Keystone campers which is a recurring issue with many X-shaped chocks in the market.
This set of wheel chocks for your RV beats the majority of similar products in the market space right now due to their versatility in stabilizing carrier vehicles, ground paraphernalia, and even aircraft, for that matter. It makes use of the ridged design and industrial rubber to ensure it doesn't skid across a flat or an inclined surface.
The red reflective tapes make it easy to find the chocks in low-light conditions, and the units are connected with a 3-ft nylon rope making it convenient to carry and removing them from parking spaces. However, it is also worth noting that the length of the rope is perfect for one-wheeled setups and is a tad bit short to hold the wheels of your camper from the opposite ends.
A product that falls somewhere between a wedged wheel chock and an x-chock, its distinct look helps it secure and stabilize camper wheels of varying dimensions and makes the tire resist any unwanted back-and-forth motions.
You also don't need to bend down to install these chocks because you only need to grab the cable handle and slide it between the tandem tires using your foot. Removing it is equally convenient, and the entire apparatus weighs just about 4 pounds, making the logistics of carrying and storing it much easier.
Factors to Consider Before Buying the Right RV Wheel Chock
Now that you know the importance of RV Wheel chocks, it is equally important to know the factors you need to consider before making a purchase. We are always mindful of the things listed below when we're out shopping for a set of new wheel chocks.
Style
You must know what wheel chocks will work well for your camper. We suggest X-chocks because they work as RV stabilizers that prevent the vehicle from shaking in addition to holding it fixed in its spot. That being said, it also doesn't mean that X-chock is the best option for everybody. Some may prefer the more traditional wedge-shaped chock that is extremely easy to use, while others may prefer leveling chocks for their campers.
Price
Sometimes, it all comes down to the price of owning the right wheel chocks for your RV. It becomes the determining factor in purchasing a certain model or not. If you're unsure if the wheel chock you've picked out is a bang for your buck, try browsing through local shops nearby that sell RV wheel chocks. Check each unit's price tag and compare units with their online equivalents.
Size
Another important aspect to consider is the size. Smaller chocks will work out perfectly fine if you're moving in a relatively smaller RV or a motorhome. Conversely, people with larger rigs will need to keep a lookout for larger chocks to prevent the mobile vehicle from rolling over.
Durability
You wouldn't want your RV wheel chock to break while in use. Therefore, it is equally important that you find chocks that can withstand the weight of a fully loaded camper. Hollow chocks are generally not advised, and we recommend going for chocks that are made of more durable materials, such as rubber or metal if you own a heavy RV.
Resistance to Extreme Conditions
Considering you'll be outdoors for a prolonged period of time, it naturally becomes essential to find a pair of wheel chocks that are durable and can withstand extreme weather conditions, such as continuous exposure to sunlight or camping during heavy rainfall or snowfall.
Conclusion
Purchasing a good pair of wheel chocks for your RV can set your mobile home up for safety for a long time. Remember, the ideal wheel chock for your RV must provide durability, stability, and security.
Additionally, it should also be compatible with other vehicles of different sizes so that you don't have to buy a different variant of chock for every carrier.
We hope that this list gave you clarity about which wheel chocks to go for and got you one step closer to living in your mobile home.