An RV waste tank, also known as a "black water tank," is an essential piece of equipment for any RV. It is used to store and dispose of the RV's sewage, which includes human waste and toilet paper. 
Having a portable waste tank allows RVers to take their RV on the Road for an extended trip and have a place to store their sewage until it can be properly disposed of at a designated dumping station.
Proper use of an RV portable waste tank is important for both environmental and health reasons. Misuse of the tank can lead to contamination of groundwater and pose a risk to public health.
In this blog, we will go over the steps for properly using an RV portable waste tank to ensure that you are disposing of your sewage in a safe and responsible manner.
What is an RV Portable Waste Tank
If you own an RV, then you know the struggles of not having access to sewer hookups at your campsite. Without a proper sewage system, it can be a hassle to dispose of waste and keep your RV clean. That's where a portable waste tank comes in handy.
A portable waste tank is a convenient and practical solution for campers who don't have access to sewer hookups. It allows you to store and transport your RV's waste, which you can easily dispose it later at a dump station.
I personally have used a portable waste tank on many of my camping trips, and it has made a huge difference in the overall experience. No longer do I have to worry about finding a nearby dump station or dealing with the mess and odors of storing waste on-site. Instead, I can attach the portable waste tank to my RV's sewage system and empty it when needed.
It's a simple and hassle-free process that makes your camping experience much more enjoyable. It also ensures that you're following proper camping etiquette and being a responsible camper.
How to Use an RV Portable Waste Tank
Here are a few things you will need:
A hose to connect the waste tank to the dumping station or sewage hookup.
Gloves and sanitation chemicals help keep things clean and hygienic.
It is always a good idea to keep these items on hand at all times. so you're always prepared whenever it's time to empty the tank.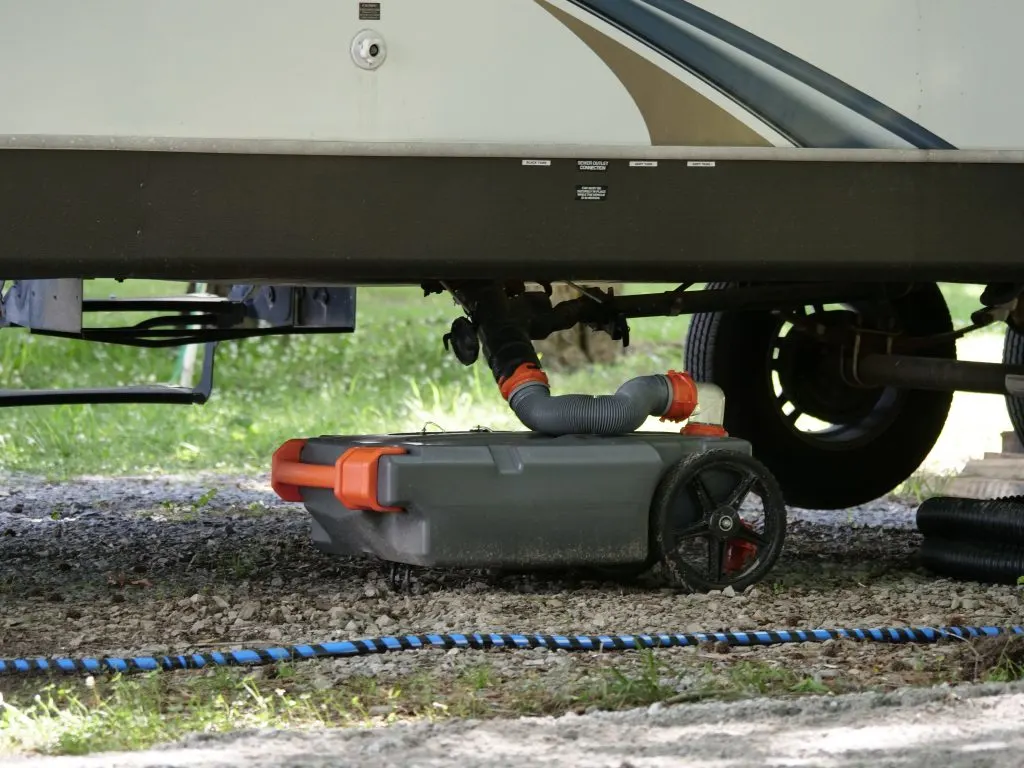 To use a portable dump tank, you will need to follow these steps:
First, Position the portable dump tank close to the RV's sewer outlet pipe.
Connect a drain hose between the top 3-inch sewer connector on the top of the portable tank and the RV's sewer outlet pipe.
Open the black water tank valve on the RV. Monitor the wastewater flow to ensure the portable tank does not overfill.
When the portable tank is filled, or the RV's tanks are emptied, close the RV's valve.
Finally, Disconnect the drain hose, put a cap on the 3-inch sewer outlet, and take the portable tank to a dump site for emptying.
Best RV Portable Waste Tank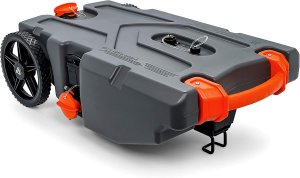 The first on the list is the Camco Rhino Portable RV Tote Tank. This tote tank comes with a variety of useful features and accessories, including a handle and large no-flat wheels for smooth transport. It comes with a removable steel tow adapter for towing or rolling like a suitcase. It has an integrated ladder hook for clamping onto an RV ladder when not in use. A built-in gate valve for easy emptying and an integrated tank rinser for easy cleaning. This tank is made of extremely durable blow-molded and UV-stabilized HDPE material that won't leak.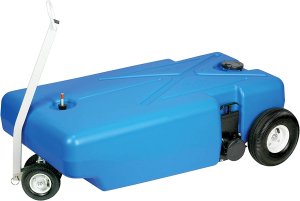 This tank is constructed from high-quality materials such as blow-molded polyethylene, zinc-plated steel, and aluminum, ensuring durability and longevity. The front-mounted double wheel-swivel is a game-changer, making it extremely easy to maneuver the tank even in tight spaces. The heavy-duty, extra-large mounting plate adds to the stability of the tank. One of the standout features is its quiet and smooth rolling action. Emptying the tank is a breeze thanks to the 3-inch conventional waste valve. No longer do you have to lift the tank to empty it – open the valve, and the contents will flow out easily.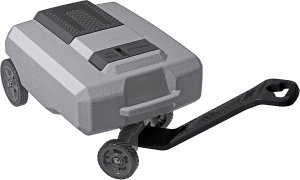 The SmartTote 2 LX Portable RV Waste Tote Tank is a well-designed product. It can be used with any RV. This is an 18-gallon tank and is good enough to hold a large amount of waste. The fast emptying and easy rinsing feature that this tank comes with makes it easier to clean. The front wheels are attached to the handle for maximum maneuverability, and the Auto Stop level gauge feature prevents overfilling the tank. The large port opening and Permastore compartment protect pre-attached hose and sewer fittings. It also makes it easy to access and store the hose. The sewer fittings and the handle that hooks onto the trailer hitch are other convenient feature that makes it easy to tow the tank.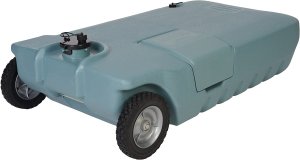 The Tote-N-Stor 25609 Portable Waste Transport is a useful and convenient tool for RV enthusiasts and travelers. Its special storage compartment allows for easy access to accessories, and the steel tow bracket allows for easy transport behind a vehicle or RV to the dump station. The rugged construction ensures durability, and the 32-gallon capacity allows for ample waste storage. The quiet rubber wheels make it easy to carry and transport. Overall, the Tote-N-Stor 25609 is a reliable and efficient choice for portable waste management on the go.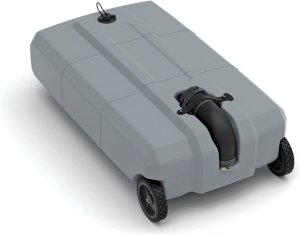 Here's another tank from SmartTote; the SmartTote2 comes with a 35-gallon capacity and rugged design making it easy to use and fast to empty. The retainer strap is a useful feature for holding the heavy-duty sewer hose in place. The AutoStop level gauge is a convenient feature that prevents overfilling and improves venting. The optional tow strap is a useful addition for easily maneuvering the tote and attaching it to an RV or car.
Features To Look For In An RV Portable Waste Tank
When shopping for an RV portable waste tank, there are a few key features to consider to ensure you get a product that is reliable as well as easy to use.
Here are some features to look out for:
Capacity: Consider how many people will be using the tank and how long you'll be traveling between dump stations.
Durability: Avoid thin, flimsy tanks that may puncture or leak.
Ease of Use: A tank that is easy to lift, carry, and transport is essential for convenience and safety.
Easy Emptying: A tank with a large, easy-to-use valve and a hose that can be easily attached to a dump station is ideal.
Leak Prevention: Choose a tank with a secure sealing system to prevent leaks and spills.
Compatibility: Make sure the tank is compatible with your RV's plumbing system. You may need to purchase additional fittings or adaptors to connect the tank to your RV.
Price: There are options available at a range of price points, so you should be able to find a tank that fits your needs and your budget.
Cleaning and Maintenance
Cleaning and maintenance are important parts of using an RV portable waste tank. 
Here are a few tips for keeping your tank clean and in good working order:
First, rinse the inside of the tank thoroughly with water: After you've emptied the waste content of the tank, then be sure to rinse the inside thoroughly with water. This will help to remove any remaining waste and prevent any unpleasant odors from developing in the tank.
Allow the tank to dry before storing: Once you've rinsed the inside of the tank, be sure to allow it to dry completely before storing it away. This will help prevent any mold or mildew from growing inside the tank.
Conclusion
Properly using and maintaining an RV portable waste tank is important. 
By following the steps outlined in this blog post, you can help protect the maintain good sanitation practices while enjoying the freedom and convenience of RV travel. 
Whether you're a seasoned RV enthusiast or a newbie just starting out, it's essential to familiarize yourself with the proper use and care of your portable waste tank. 
Don't be afraid to ask for help if you have any questions or encounter any issues – there are plenty of resources available to assist you. 
By taking the time to use and maintain your RV portable waste tank properly, you can enjoy a safe and comfortable RV experience for many miles to come.
Frequently Asked Questions
Can I Use My RV Portable Waste Tank for Other Purposes, Such as Storing Fresh Water?
No, an RV portable waste tank should only be used for storing and transporting sewage and grey water. Using it for other purposes can contaminate the tank and potentially lead to health issues. It is recommended to use a separate container for storing fresh water.
Can I Dispose of My RV Portable Waste Tank Contents Anywhere?
No, it would be best if you only disposed of your RV portable waste tank contents in designated dumping stations or RV parks with sewage hookups. Disposing of waste in unauthorized areas can be harmful to the environment and may result in fines or legal consequences.
How Do You Transport A Portable RV Waste Tank?
There are a few different ways you can transport a portable RV waste tank:
Hitch-Mounted Carrier
Hand Truck or Dolly
Pickup Truck
Trailer