Recreational vehicle or RVs has been a traveler's delight because they can enjoy their travel time without getting homesick and uncomfortable. However, an RV works like a house on the wheel for those who are traveling and camping around different destinations most of the time. Even for those who experience these camping vibes once in a while to get some change of environment from a monotonous routine.
In this article, we are sharing some worthy RV deck decorating ideas to make these camping vehicles more accessible and homely while traveling or just spending quality time.
So, let's get started with the same.
Practical and Beautiful RV Deck Decorating Ideas
Today, we will discuss this interesting portable house that goes round on the wheel. Nowadays, many RV owners are adding patios as an extension to these vehicles to encourage a homely feel during their outdoor stays in these RVs. Somehow, the only addition of this deck or patio is worthless if there is no functionality enclosed to them.
So, here we are sharing some decorating ideas for RV patios to make them look and feel good.
1. Decorate the RV Deck by Adding Some Design Flairs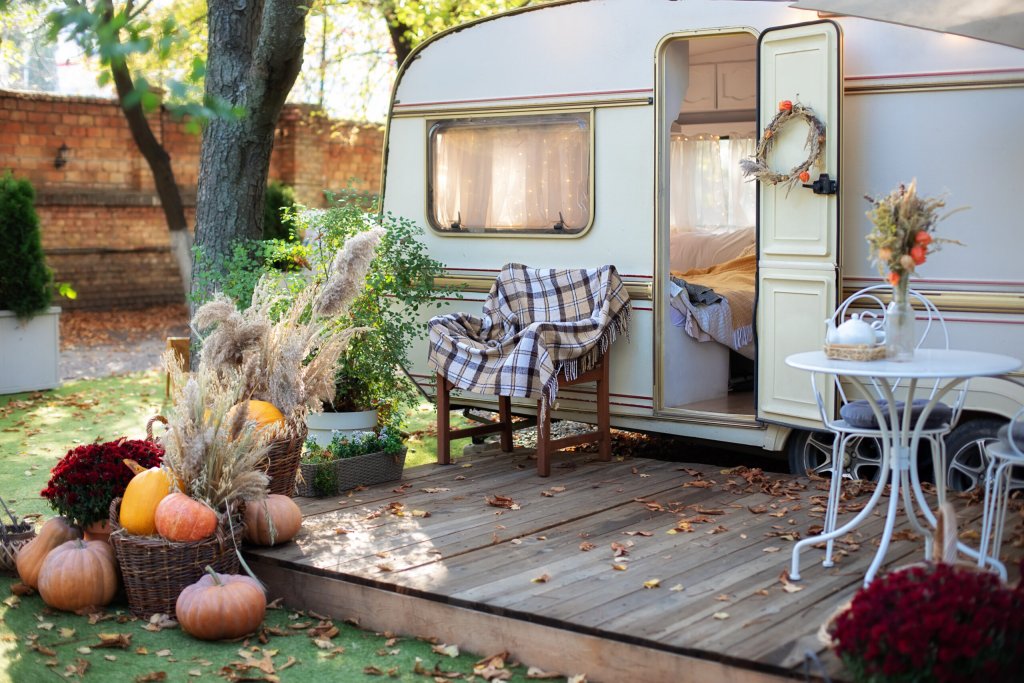 The design of this camping trailer is subtle and still elegant. This patio certainly has a conscious addition to the fall porch design style. For instance, the seasonal decoration with pumpkins, seagrass baskets, and pampas grass at the patio's entrance, along with the fall wreath at the van door, indicates the incorporation of the fall porch design style. The small seating is arranged with wooden chairs and a throw blanket, and a mini outdoor metal dining set has made this RV deck cozier and comfortable. So, if you want a kind of subtleness in your camping area, then you can prefer this RV decor.
2. Protect RV Patios by Attaching Shade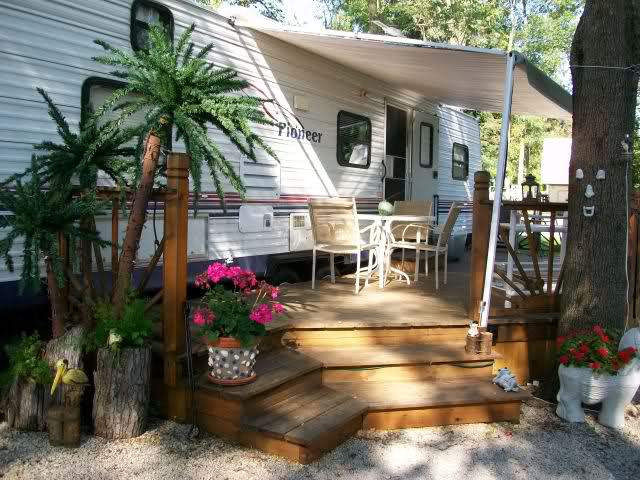 This large RV seems like a permanent camping spot for the owner. The enclosure of stairs to this semi-secured solid wood deck has added homely vibes to this outdoor space. The natural-looking planters showcase greenery, colors, and a rustic feel on this deck. To enjoy every climatic condition and protect the deck, the attachment of a retractable awning on the patio is indeed a smart choice for the trailer owner. A small dining area with an outdoor dining set has been a great addition to enjoying camping meals with nature. Anyone who is looking for a stable camping destination with their camping vans can incorporate this RV deck decor into their patios.
3. Craft and Decor Portable Patios for RV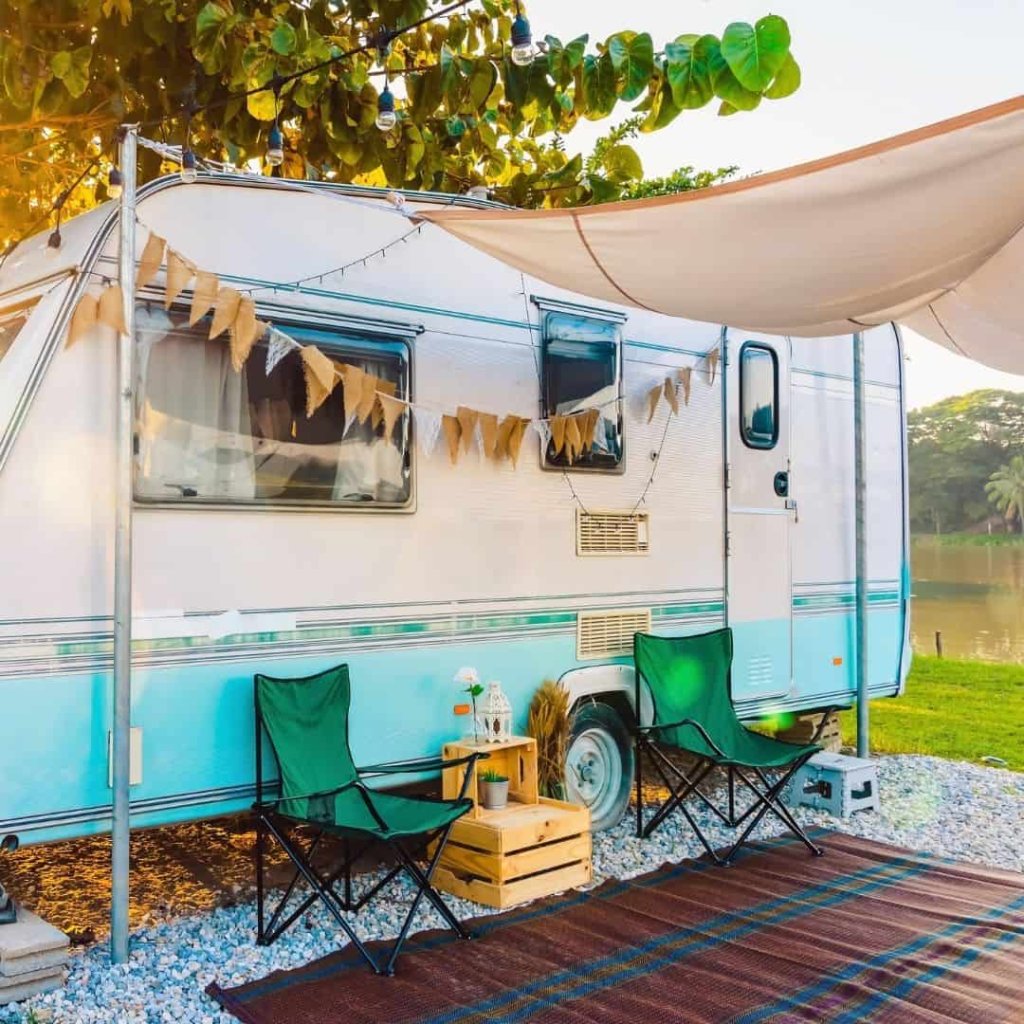 This true traveler has crafted their portable RV deck attractively, making it more functional. The portable sunblock shading net has covered the larger camping area, and it appears like a perfect RV patio. The patio base is covered with the striped outdoor rug and has twin foldable camping chairs and a mini wooden crate desk. Adding minimal string lights to relish starry evenings is a perfect decision by the owner. However, if you enjoy your travel times and do not want them too glitchy, then this portable patio decor can be an appropriate choice you can think of.
4. Cover Up RV Decks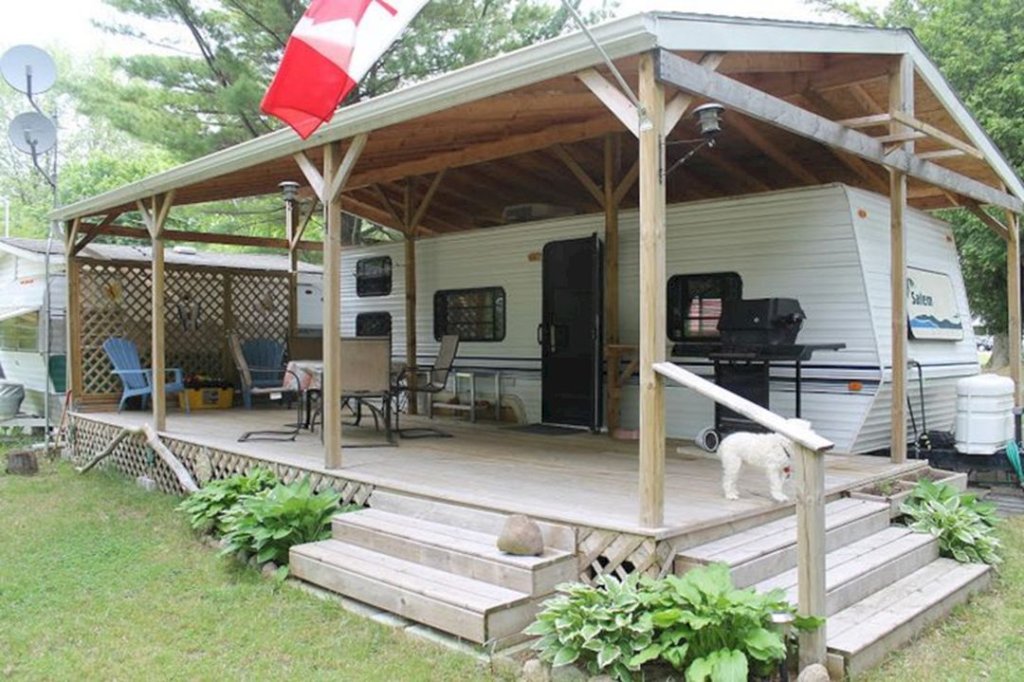 This eternal RV patio is an affixed structure for camping. The high deck of this RV has been fully covered with wooden roofing and attached LED lighting to spend a cozy night out. To have a happy camping time, the large seating area has been incorporated with outdoor furnishings such as a dining set and armchairs. In addition to this, the barbeque station at the corner has made this RV patio worthy to have meals anytime. Indeed, this RV patio will be a great party destination. So, if you are planning to spend some more, then this fixed RV deck decor will be your cup of tea for sure.
5. Brighten Up the RV Deck by Adding Fresh Hues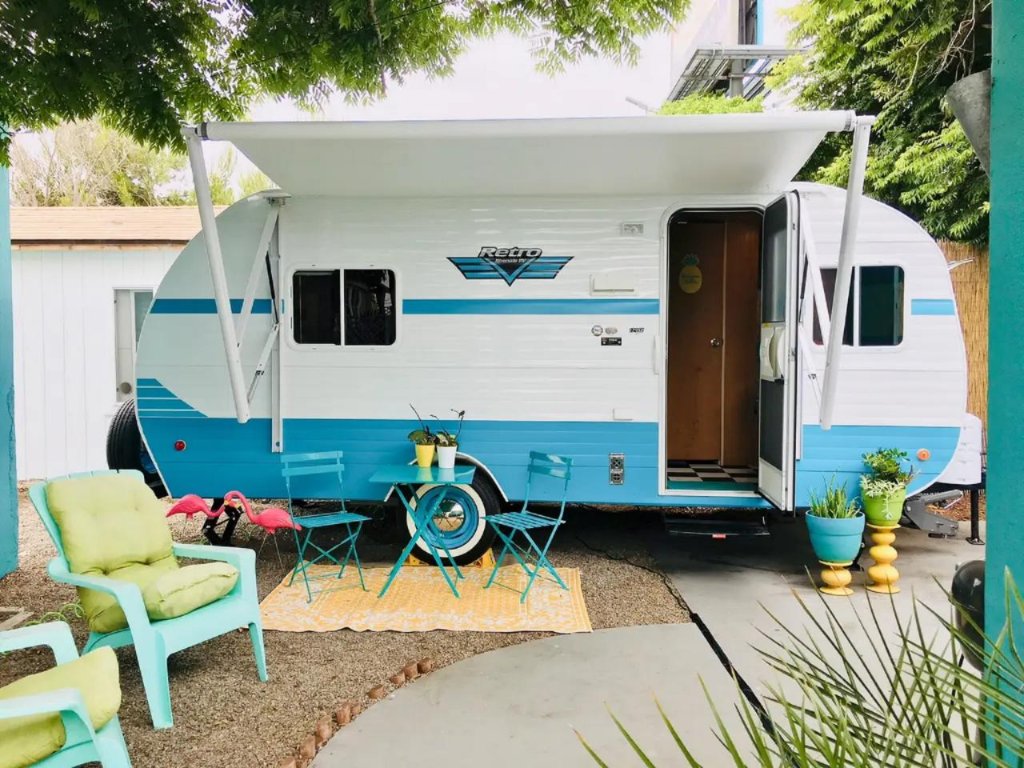 This camping van has some coastal vibes in its overall decor. The use of blue hues most made this portable camping patio vibrant. The patio has a dining area with a foldable dining table and twin chair set. The extended casual seating area consists of a blue spray-painted lounge chair with cushions on it to encourage a comfy relaxing time. Moreover, the inbuilt retractable awning addition has been a free shading option for this RV deck.
A little bit of greenery in the planters alongside added freshness to the space. However, this RV decor idea will work well if you are a frequent traveler and enjoy sea hues.
Apart from these RV patio decorating ideas, there are many other elements you can include to upgrade these amazing caravans. For example, screening in the patios, adding more lighting options, heavy furnishing (If planning for affixed structure), and many others.
Conclusion
Traveling and camping have been way easier because of recreational vehicles, which we call RV or caravans these days. Whether it is a motorized, towable, or permanent RV, it makes our travel plans enjoyable and easy to carry out. However, certain elements in these camping vans or buses make them more functional and comfortable.
Patio attachment to RV is one of them, and these patios or decks can be very practical if decorated appropriately. In this article, we have tried to inspire you with some subtle but trendy and useful RV decorating ideas.
However, these decorating ideas you can include in your RV patios to make them extra cozy and comfy all the time.