Everyone loves traveling. It's the best way to meet people, explore different places, and enjoy a variety of cuisines. But staying in hotels is not feasible all the time. In such times, RV is the best companion you can ever ask for. It makes the traveling experience comfortable and memorable.
No wonder, these days, more and more people are investing in an RV to make their travel journey convenient.
RV is just like a mini replica of your home. It has everything that you will need during your trip. However, your RV needs extensive care to serve you the best.
If you are looking to improve your traveler and make it in a way that you feel like your home, then consider building a portable deck for your RV. To increase outer space, many portable decks are used in houses, RVs, farmhouses, etc. In addition, a portable deck attached to your RV can enhance the sitting space. Besides, you can plan fun activities, candlelight dinners, a game zone for kids, and many more things in that open space.
People have different concepts about portable decks and consider it a big task as it involves construction. So it might sound daunting to go all into that building and construction. But trust me, it will be excellent for your RV. You will thank me later for this advice.
But before that, let's understand what portable decks are and how they will benefit you.
What is a Portable Deck?
A portable deck is the extension of your house or RV space, and its size may vary depending on your outdoor space.
It is movable and can serve as an outdoor living space. There are a variety of decks available. However, portable decks are more popular because of various benefits.
Benefits of the Portable Deck:
Affordable:
The size of the portable deck is smaller than the permanent deck, which leads to less use of construction material. Thus it is less expensive in comparison to a permanent deck.
Best for Rentals:
Adding a portable deck is the best way to improvise your home if you live in a rented house. The permanent deck would not be a feasible option.
Movable:
A portable deck, as the name suggests, is easy to move from one place to another in case you want to experiment with the outdoor looks of your RV. Likewise, it will be easier to move them around if you are bored of having your morning coffee at the exact location every day.
It is good to have as it adds extra space to the RV. You can plan different recreational activities in your RV for your family. However, the whole process of constructing a deck is daunting.
Moreover, there are many factors on which the overall construction of the deck depends. But we have narrowed down the complex process into seven easy-to-understand steps.
Now you know how a portable deck can be beneficial for you. So why not build one for your RV?
I hope you are convinced that a portable deck is one of the best ways to improvise your RV. Then let's jump into the steps to bring your visualization to life.
Step 1: Identify the Specifications for your Deck
The first step in building a deck is determining what size, length, width, and height you need. This will help you save money, time, and unnecessary building hassle. Also, you need to figure out what type of deck you want- elevated or ground level.
This factor will also help you decide how much material you need to build a solid portable deck. For example, if you develop a bit elevated deck, you might need some extra material for support. This planning step is crucial as it will determine the cost, time, material, and effort required to complete the project.
Step 2: Purchase the Required Materials
The next step is to list all the construction materials you will need while building a deck. Various materials are available in the market, but composite decking is gaining popularity these days.
However, it is expensive and less durable. Yet if you want to build a composite deck, then be prepared for constant repairing.
Wood is the most durable and fantastic material for building a deck for an RV. It is durable and requires less maintenance.
Other than wood, Cedar lumber is also available as material for building decks. While choosing the material for the patio, please make sure to consider its strength rather than its price.
Here is the set of tools that you will need to build the deck.
Wood posts
Drill
Deck screw
Tape measure
Circular gun
Wood Panel
Screwdriver
Screw gun
Hammer
Purchasing material from the right place is also equally important. So here is the link to the products you can buy from amazon.
Step 3: Construct a Support Structure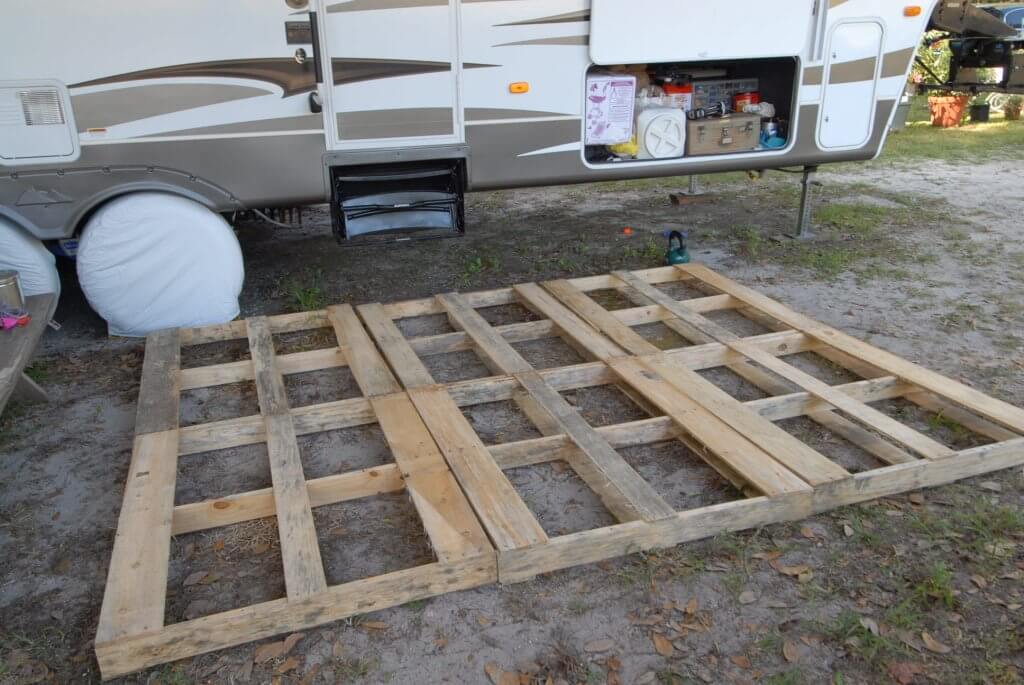 It would be best if you had strong support for your deck to hold the weight of the deck.
To construct a support structure, you must cut wood posts for different lengths with a circular saw. Now set down the posts to make a square at an equal distance from each other and fasten it using a screw gun.
Step 4: Chop and Fix the Deck Planks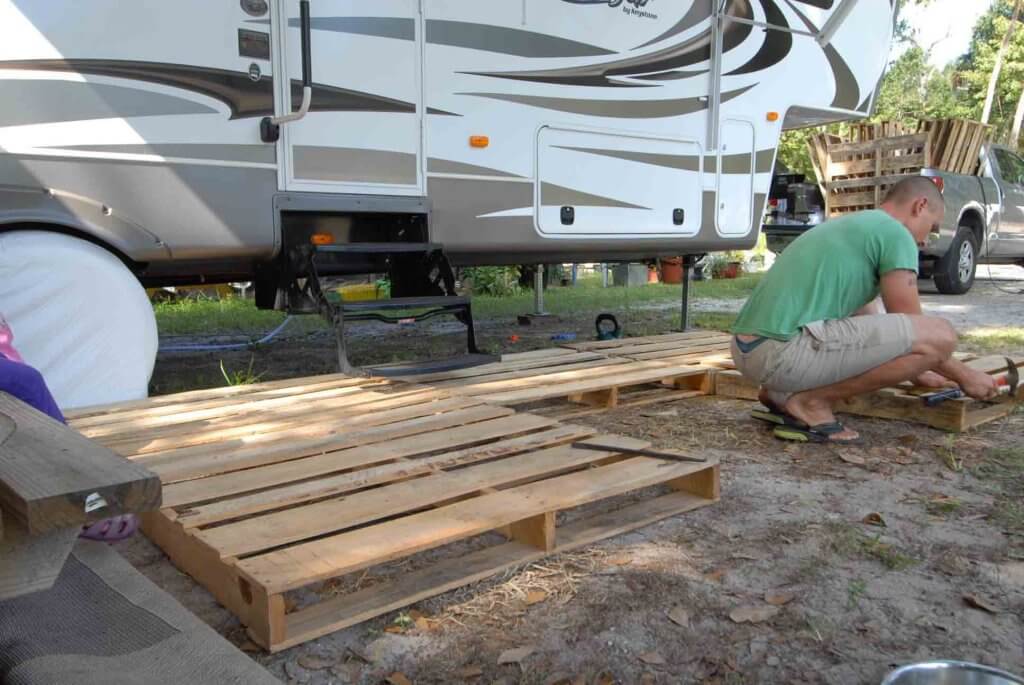 Chop eight pieces of wood and set them on the supporting frame next to each other. Ensure equal spacing.
Step 5: Add Legs to the Frame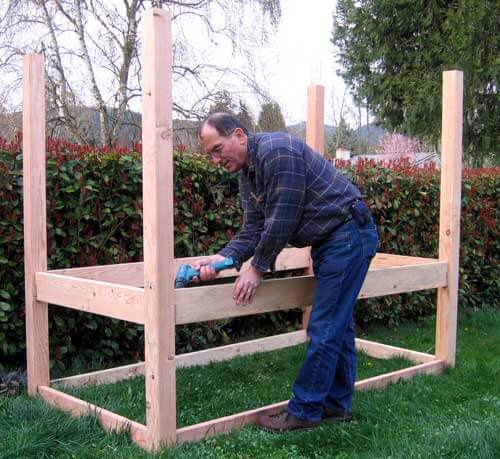 After securing the plank to the base, chop four legs from the wood and use a screw to fit all those four legs in the corner of the other side of the plank.
Step 6: Safeguard the Deck
Finally, safeguard your deck by adding a protective layer to enhance its durability. For this, turn the deck and remove all the dirt and sawdust with a cleaner.
After cleaning the surface, apply a thin sealant layer to save your deck from moisture. Let it dry for 24 hours, and use a stain for protection.
Step 7: Find the Place.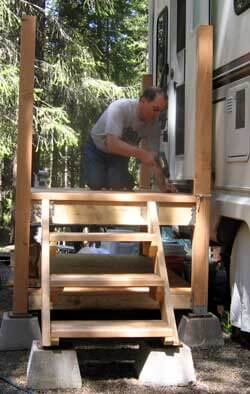 Cost of Building a Portable RV Deck
The cost of the deck will depend on many factors, but primarily what impacts more is the material used and the size of the deck. On average, a ten by 10-foot wooden portable deck will cost around $1000 to $2500. A hardwood deck of 10 by 10 feet will cost about $6000.
However, you can cut costs through intelligent planning. For example, you can use plywood to build a deck rather than pine wood. Also, the material and tools price will vary, depending on your residential location.
Inspiring RV Deck Ideas:
If you are wondering what shape or design to give your RV deck to make it look exotic, here are some ideas for you to take inspiration from.
An Extended RV Deck Spans the Length of the RV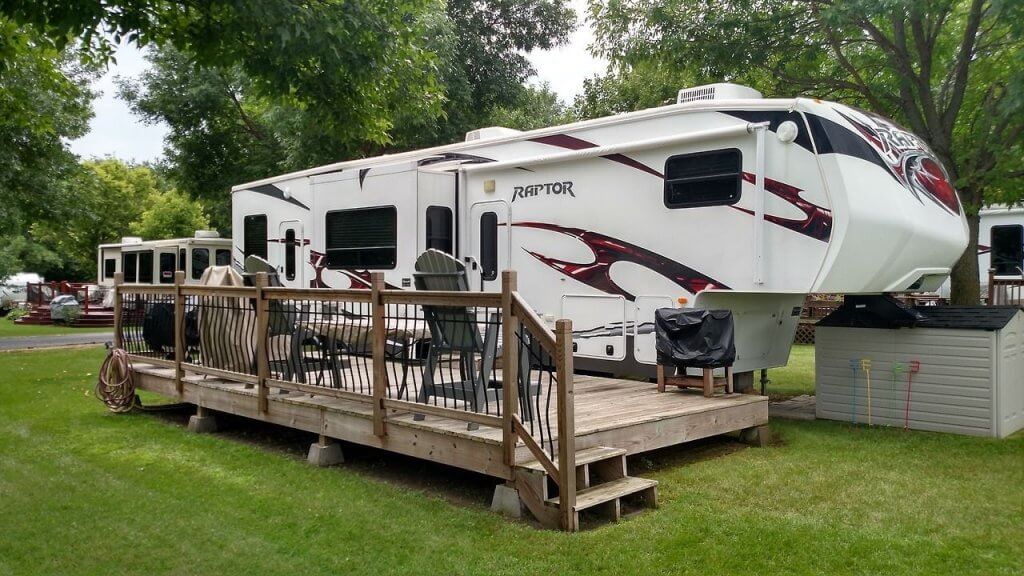 Deck with Railing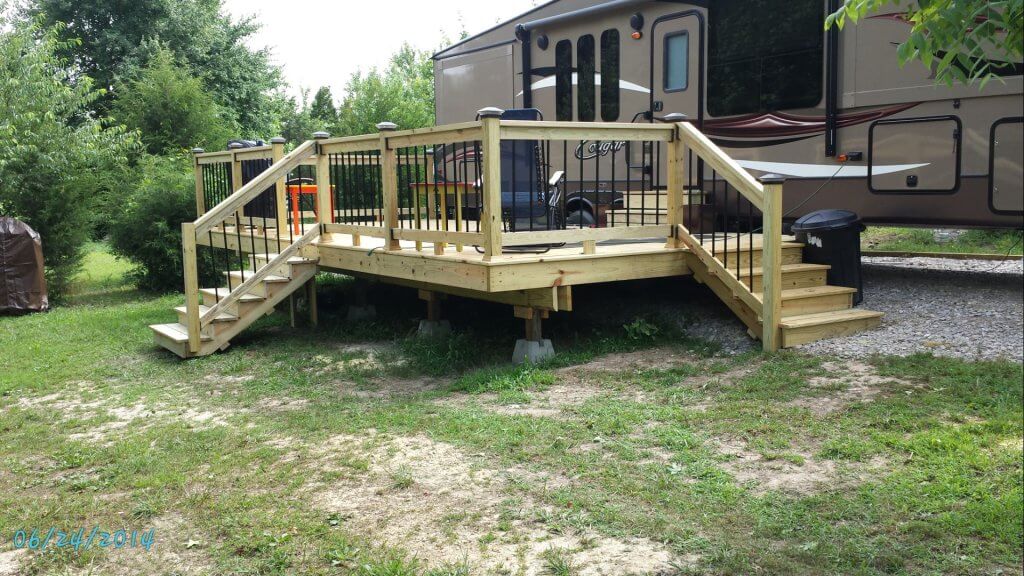 Raised RV Deck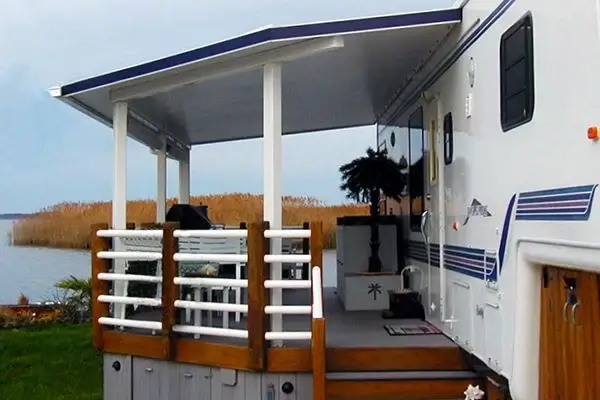 Simple Square Deck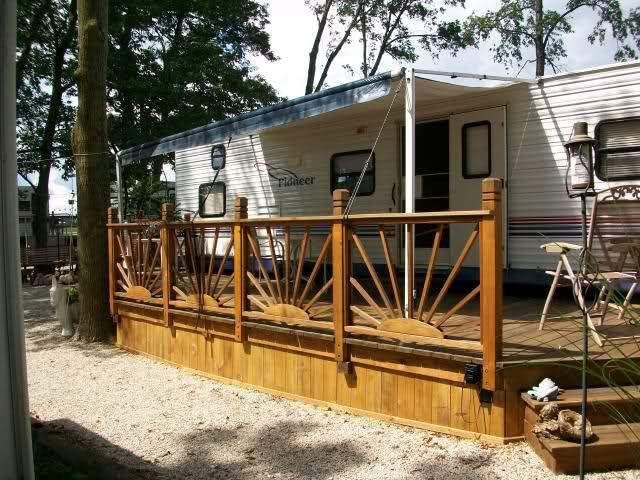 Final Words
Adding a portable deck in front of your camper is a great way to enhance your living space. It also provides a friendly place to enjoy your morning coffee or plan an evening barbeque.
Mostly wood is preferred as a building material, but you can also use metal. However, it is easy to work with wood, giving a more finished look to the deck.
Following these 7 steps, you can build a nice portable deck for your RV.