Recreational Vehicles are usually bigger and longer. They are also called motorhomes, caravans, and trailers. A mobile home that you can take away on your vacation. It is a great way of taking long vacations with a large group of people. It is a home-like comfort mixed with an adventurous trip. While the number of people fit into an RV is dependent on its size and model.
There are many different varieties of RVs present in the market. All RVs vary in size, length, width, and height. Now before going into the measurements of the RV, it is very important to look at the types of classes it is divided into, that is:
Class A
Class B
Class C
Class A RV And Its Average Length, Width, And Height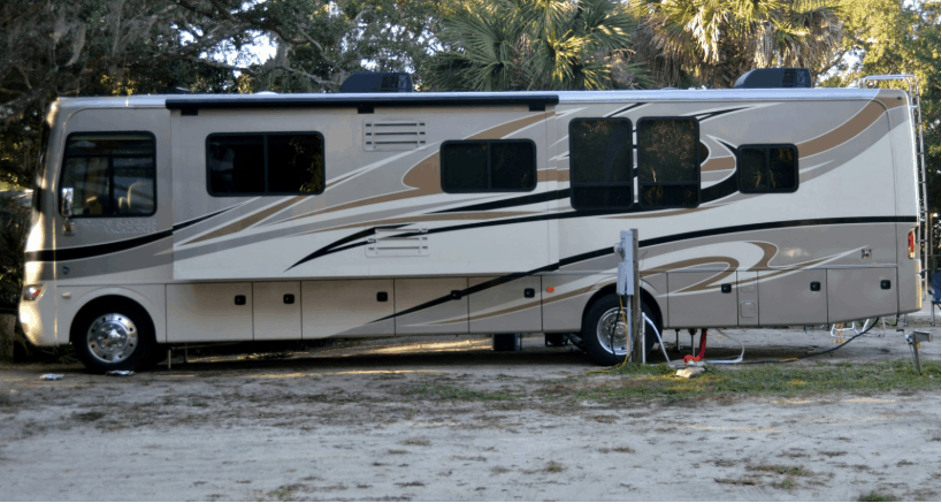 Class A Recreational Vehicle is the longest one in the market. It is an RV perfect for larger families. The length of this RV ranges from 21 feet to 45 feet. 
The average length of a class A RV is around 33 feet. Its average height can be about 10 feet to 13 feet long. And the average width is around 9.5 feet.
Usually, Class A RVs are the biggest which is why they are also very heavy in weight.  The average weight for class A is 33,000 to 36,000 pounds. Drivers need to get a  class B license if they use larger than average size. There is a difference in height,  weight, and length because of the different models and making processes. Most practical RVs in this class are 32 feet long RV because of their length and the luxuries provided in them.
Some examples to show the diversity in sizes: 
National Sea Breeze 1994 model – this is 32 feet long RV
2017 Forest River Fr3 32DS – this is 34 feet long RV
Safari Passage 315 model year 2009 – this is 33 feet long RV
Class B RV And Its Average Length, Width, And Height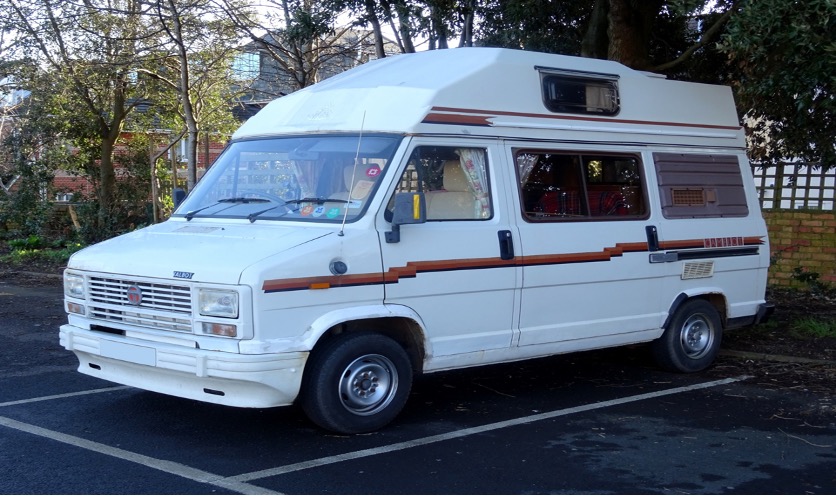 Class B RVs are smaller in size as compared to the other Classes A and C. These types of RV are very common in the market as it is easy to handle and drive in difficult areas.
The average length of class B RV is 20 feet long, the average width varies from 8  feet to 9 feet and the average height is 7 feet to 9 feet. On average it weighs around 10,000 to 20,000 pounds. It can easily accommodate around four to six people. The measurements can vary with different models and makes. 
Some examples of class B Recreational Vehicle:
The Model year 2018 Hymer Aktiv – this is 20 feet long RV
Winnebago Revel – this is 19 feet long RV
2018 Thor compass – 23 feet long RV
Leisure Travel Serenity 2015 model – 25 feet long RV
Class C RV And Its Average Length, Width, And Height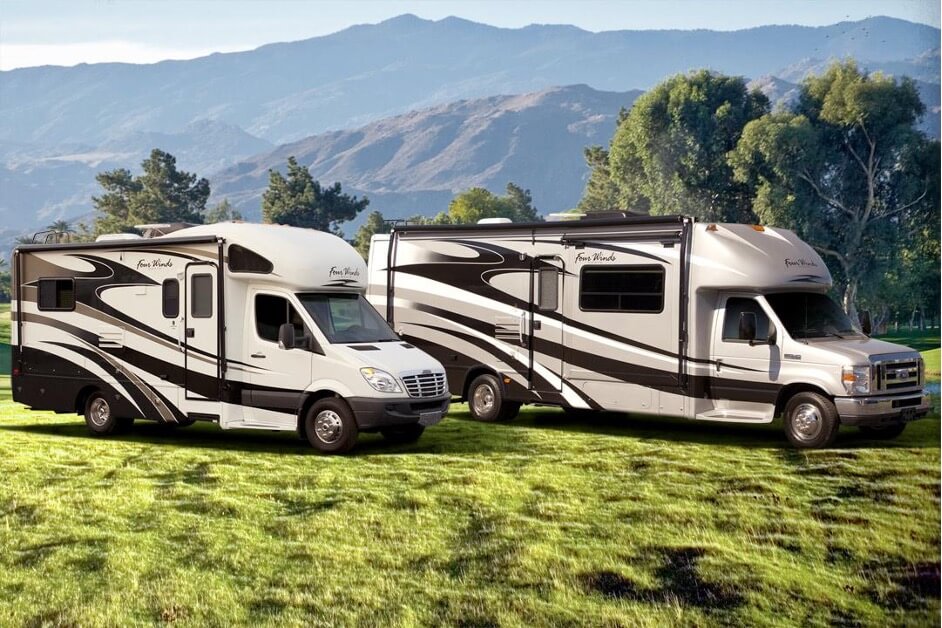 Class C RVs are a little smaller in size than Class A RVs but are bigger than Class B  RVs. They can accommodate about six to eight people. It acts as a great mobile home for family weekend trips. It provides all kinds of necessities that are present in our homes. 
The average length of Class C RV is around 28 feet long, the average width stands for about 9 feet and the average height is 10 feet. It usually weighs around 12,000  to 20,000 pounds. For safety purposes, it is very important that you first take a  commercial driving license for vehicles that are heavier than the usual weight of the  RVs. 
Some examples of Class C RVs are:
Fleetwood Tioga – 26 feet long RV
2017 Coachmen Leprechaun – 27 feet long RV
2014 model Coachmen Freelander – this is 28 feet long
Mercedes Itasca Navion 2015 model – 26 feet long
The Ideal Length Of RV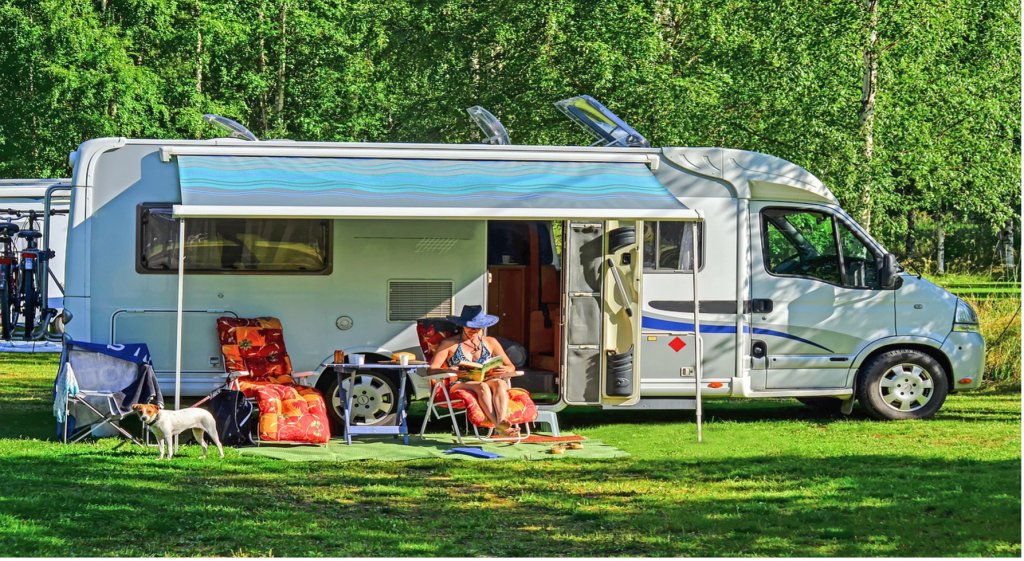 Generally, the ideal length of an RV is whatever suits you and your lifestyle. It is true but it leaves us a little discontent. So many times people have switched long and luxurious RVs for convenient 32 feet long RVs.
Many internet polls and experiences of the people also suggested that 32 feet RV is the ideal length of an RV. Now let us understand the reason behind the downgrading from monster motorhomes to average 32 feet long RVs::
Inaccessibility To The Roads And Its Never-Ending Danger
The longer the RV the more danger will drive itself around on the roads. Not all roads are designed for any 40 feet longer RVs to be driven around the States. Hence, it raises the chances of danger and accidents to a higher level. The average length which is 32 feet RV can still be driven around and maneuvered into areas that can be a little tricky for a monster motorhome. 
Some national parks do not have enough space to entertain the longer RVs. The roads become inaccessible to the longer and bigger RVs in the areas with less space. 
For example, Limekiln State Park is a beautiful redwood park that allows RVs up to  25 feet long. 
Space Limitations In The National Park For Rvs
Space can become a problem for longer RVs like 40 feet in National Parks. Sometimes parks cannot host longer RVs because of their limited capacities.
The 28 feet and 32 feet RVs are preferred over any longer RVs. If we see statistically, 81% of the National Parks have the space to host 32 feet long RVs.  Any longer than this may not get the parking space or worse, cannot fit into the entry of the parks.
However, many National Parks do allow longer RVs and special parking systems for them too. Please look out for restrictions put up by National Parks and campsites for RVs before going there.
Specific Licensing For The Longer Rvs
Many RVs require different types of licenses like commercial ones for heavy vehicles. 
The 26,000 pounds weight of the RV combined with the TOAD is ideal according to the  States. Longer RVs come with towing capacities, but if you want to tow some significant weight, the commercial license is crucial.
For license, it varies from state to state, so it is better to contact your local authorities in this matter.
Conclusion
For Longer RVs or smaller RVs, the choices are numerous in the market. Before making an efficient choice for yourself, the measurements of an RV are crucial. Make sure to check the measurements and decide accordingly. Sometimes longer RVs are the best way to travel for some people. It all depends on you and your needs. Don't hesitate and choose what fits you. You can also rent and try it before investing fully. Enjoy RVing.