Tires are the most important part of making your road trip safe. All you need is to find the right RV tire and you are all set to go. The right RV tire makes your journey comfortable and enjoyable. In this article, we will be discussing everything about RV tires including how much do they cost. So, stick to this guide and plan your comfortable and safe road trips with RV tires.
How To Know That You Need RV Tire?
Have you ever thought about what RV Tire is and how it could play an important role in making your journey easier and more comfortable? If not, then this is the perfect guide for you which will help you in understanding the need for RV tires and will help you in deciding whether you need them in your journeys or not.
So, a good place to start thinking to buy RV tires is when you require buying tires for your rig. If your current tire has gone flat or if lately, you have been feeling that the tires of your rig are not supporting you well, you can go for purchasing RV tires. There are different types of RV tires that you can use according to your specific needs. For instance, there are Radial RV tires which are quite expensive but also durable. Then, there are Bias RV tires which are a little less expensive than Radial tires but they have a low turn angle.
Another primary feature to consider buying RV tires is their size. The RV manual guide will help you in deciding which tire to pick as they all have different sizes and you have to pick one of them according to your specific need. Weight capacity is also one of the most important features which need to be considered at the time of purchasing RV tires.
Top 5 RV Tires for You to Hit the Road
As you must have been aware of the fact that the RV tires are slightly different than your regular vehicle tires. Your RV could be bulky, heavy, and weigh many pounds more than your regular car or any other vehicle. This is the main reason why you need to give extra thought while purchasing tires for your RV. So, if you are an RV owner then you should give these tires a shot as they are worth it.
Free Country Trailer RV Tires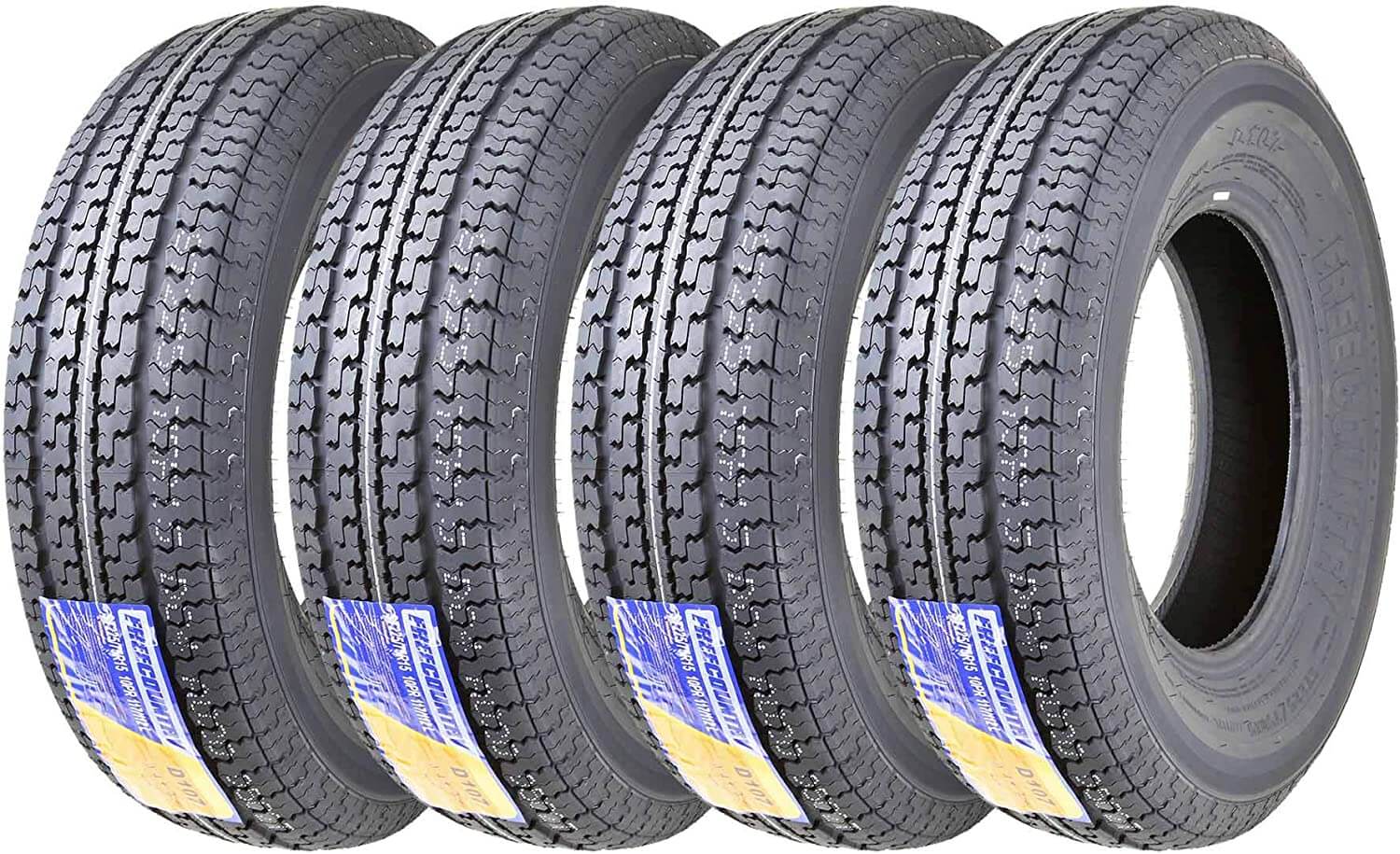 One of the best RV tires you could find online is this Free Country Trailer RV tire which is offered by one of the biggest tire-selling companies which you might have heard of, Grand Ride.
The size of these RV tires is 225/75R15 10PR with a Rim size of 15 inches, a section width of 225 millimeters, a tire aspect ratio of 75.0, and last but not least load index rating of 117.00.
This tire has nylon overlay across the entire tread area which is an upgrade from most of the other tires currently present in the market. This gives RV an upper hand and provides better chances to offer their customer happy and safe rides. Most of the other tires have nylon strips on their shoulder area only and not on the entire tread area. This is where RV tire beats them.
The price range of Free Country Trailer RV Tires varies between 100-105$.
Endurance Radial Tire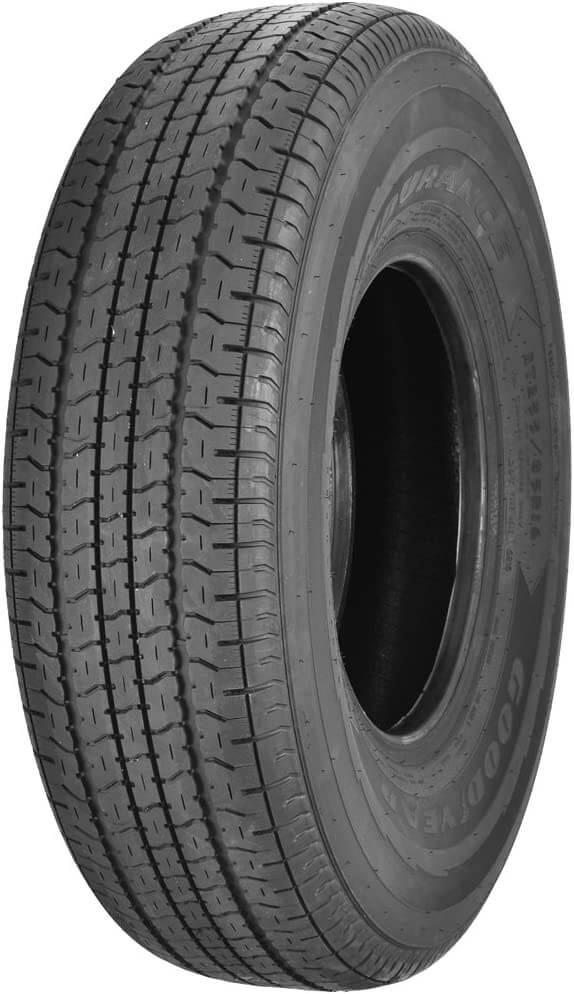 Another equally good RV tire can be considered from the Goodyear brand. So, this is a non-winter season tire that provides the size of 205/75R 14 with a Rim size of 14 inches and a section width of 205 mm. Also, the tire aspect ratio of this Endurance Radial tire is similar to that of the Free Country Radial tire from Grand Ride which is 75.0.
The construction material used for building and enhancing these tires is much smoother and enhanced. It also provides scuff protection to the tires so that they can help in providing their customers with safe and comfortable rides.
The scuff protection also helps in protecting tires from regular wear and tear and hence it is considered as hard and durable. It also has rugged fabric steel construction which offers durability, compatibility, and good weighing capacity with a quality tire pressure monitoring system.
The price range of Endurance Radial RV Tires varies between 200-300$.
Transeagle ST Radial Premium Trailer Radial Tires
Transeagle ST Radial Premium RV tires are one of the best-selling RV tires all over the world. As big as the name of the company, these premium radial RV tires certainly help you in creating a good and unbiased environment for your RV while going on road trips and vacations. The size of these tires is 225/75R 15 with a Rim size of 15 inches and a section width of 225 mm.
You could think of these tires as an all-season tire and not only for winter or summer. These tires give their way best performance on highways. Although you can use them in your short road trips as well you will see the results on highways.
These RV tires cost between 150-175$.
Gremax All Steel Trailer Tires RV Tire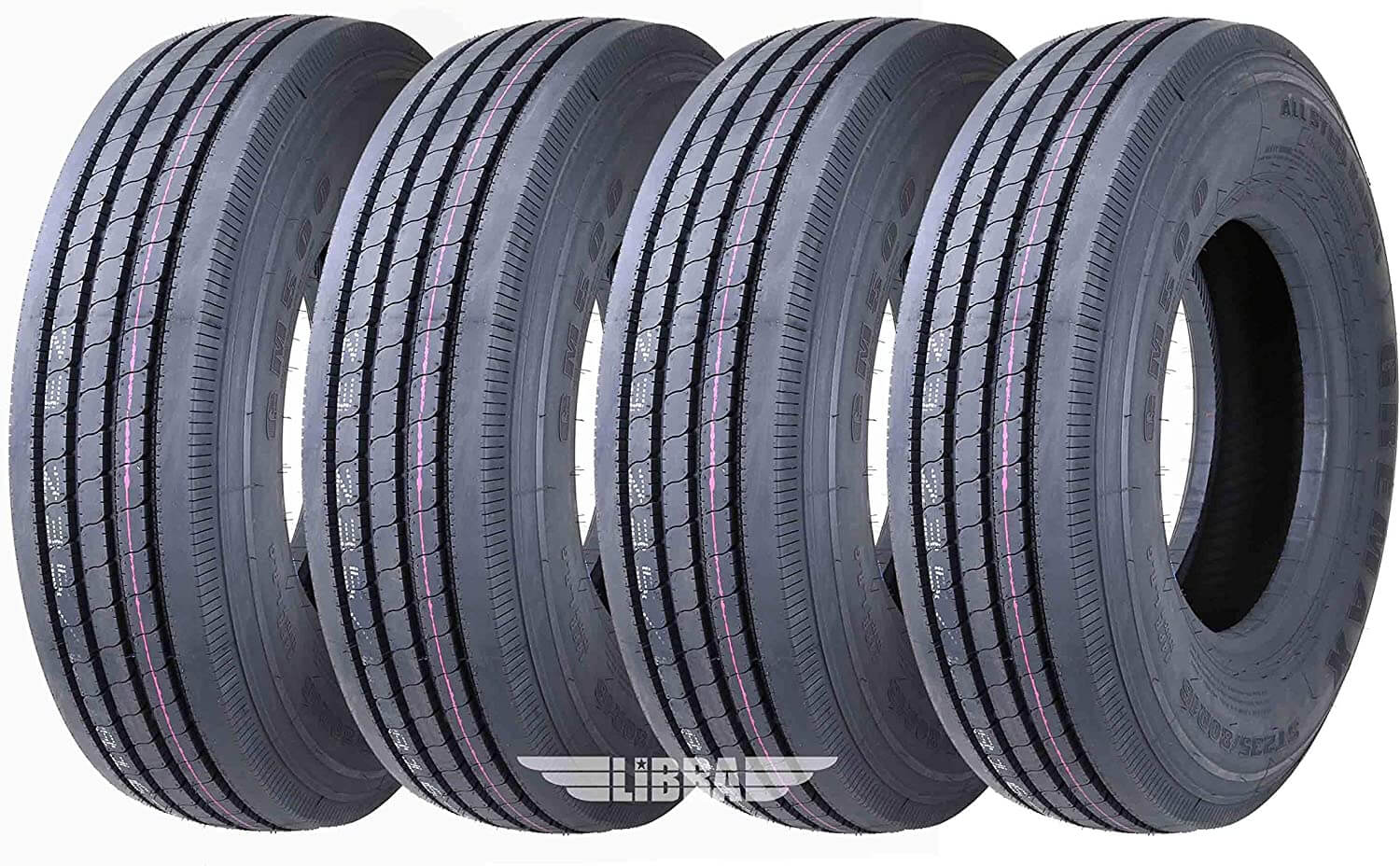 Another remarkable tire for your RV could be the well-known Gremax All Steel Tires which is built and manufactured by Zeemax company. It offers the size of the tire 235/80R 16 and a Rim size of 16 inches. The section width of these tires is 235 mm with a tire aspect ratio of 80.0.
The construction material of these tires is all steel and hence it is the most reliable option for you if you are thinking to buy tires for your RV. Although it could be a little bit pricey as the material used in its construction are way too much expensive and provides durability, compatibility, and a safe journey in all your rides but the quality offered is definitely worth the price of these tires.
These RV tires could easily cost between 300-600$.
Conclusion
In general, RV tires cost around 200-400$ and they could rise upwards if you want to give full protection and safety to your RV vehicle. It is quite different from your regular vehicle tires and this is the reason why they are quite expensive. However, their quality always marks up to the level of their price as they are worth it.