Oh, the joys of winter! With the ability to experience seasonal changes while traveling in the RV comes the bonus of enjoying the snow and frigid cold. Sounds wonderful, right? But wait, what if you end up dead from hypothermia? If you're planning on RVing this winter or living full-time in an RV in winter, you want to do it right. You don't want someone to find you in your recreational vehicle in the form of an ice cube!
Besides, even the most well-built RVs lack the thermal efficiency of a traditional brick-and-mortar dwelling. And much like your house on a concrete slab, recreational vehicles contain several sensitive systems that could be harmed by prolonged exposure to subzero temperatures.
In this article, you get to learn everything, right from staying warm inside your RV throughout the winter to preparing it for storage during the cold season. So, stick to us till the end!
How To Live Full-Time in An RV In the Winter?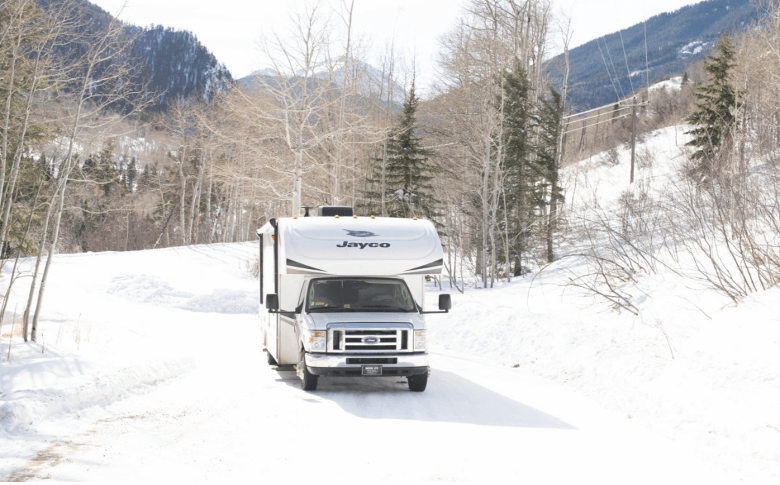 Living full-time in an RV in winter requires one thing above all others: proper planning and preparation. Just like you, your RV hates the cold too.
Keeping all the jokes aside, if you fail to maintain a warm environment, you must be ready to face some serious issues. Just like at home, the pipes in your RV can freeze and burst, and the cold is terrible for the batteries. Many all-weather recreational vehicles (RVs) have thermal packages that add insulation, but even that isn't sufficient for driving in temperatures below zero. 
If you want to go camping in subzero temperatures, put a cover/skirt on your RV. Putting a skirt around the RV will insulate the battery compartments, plumbing, and other vital components. You can also use snow to seal off the RV storage compartments as an alternative to a skirt.
No matter how well-insulated the manufacturer claims their RV windows are, they still let a lot of heat out. Foam insulation boards, bubble insulation, solar blankets, etc., are just a few of the options for keeping them warm. Install thick thermal curtains to trap heat and keep the cold out. Adding a layer of RV sealant or caulk to your RV's windows and doors can help keep them keep nice and tight. Make sure there is no weather-stripping damage or cracks in these areas by carrying out a thorough inspection, and if you find any, repair it immediately.
Keep in mind that your RV's underbelly is home to some of its most vital (and fragile) components: the pipes, batteries, and plumbing. So, if your RV is linked to a city water connection, you may prevent the water line from freezing by wrapping the pipes with heat tape and using a heated RV water hose. Of course, the last thing you want to do when it's cold outside is clean up a huge mess caused by your hose freezing and cracking.
Best Ways to Keep Your RV Warm in The Winter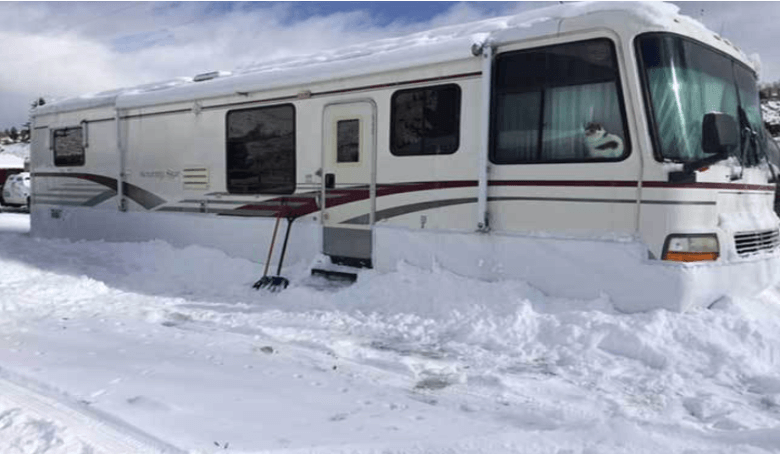 When it comes to living full-time in an RV in winter, many campers are unsure about their heat ventilation air conditioning system. Most big rigs feature both a propane furnace and an air conditioner/heat pump in their rooftop units. So how do you decide which one is most appropriate?
The answer is simple and clear – when the temperature drops to around 45 degrees, you should turn on the RV's furnace instead of the heat pump. If you try to heat a frozen RV with just the HVAC system, you risk totally burning it out, as the system is only designed to warm the area down to a particular external temperature. 
Even though propane is used in your furnace, the fuel is efficient and helps to swiftly heat the room. This means you'd better stock up on propane if you want to spend the winter in your RV full-time. You can keep your RV reasonably cool during the day if you don't have any waiting pets, but you don't want your RV to freeze inside while you're gone, so leave the thermostat set to turn on the furnace if the temperature drops below a specific threshold before you leave.
Along with skirting, insulating, and wrapping your pipes with heat tape, a small indoor space heater is another fantastic option to keep your rig cozy in the winter.
If your RV doesn't have a furnace, you can boost the heat with electric or propane space heaters. They are cheap and consume little electricity, making them ideal for the winter. Moreover, they save you a lot of money compared to replacing your RV's plumbing system once it freezes.
If you want your heaters to be as effective as possible, you might want to leave the cabinet doors open and let the heat from the room radiate down onto the pipes. This is especially convenient when you're not inside your RV, and the open doors won't cause any problems.
What Are the Things You Need to Carry for Rving In The Winter?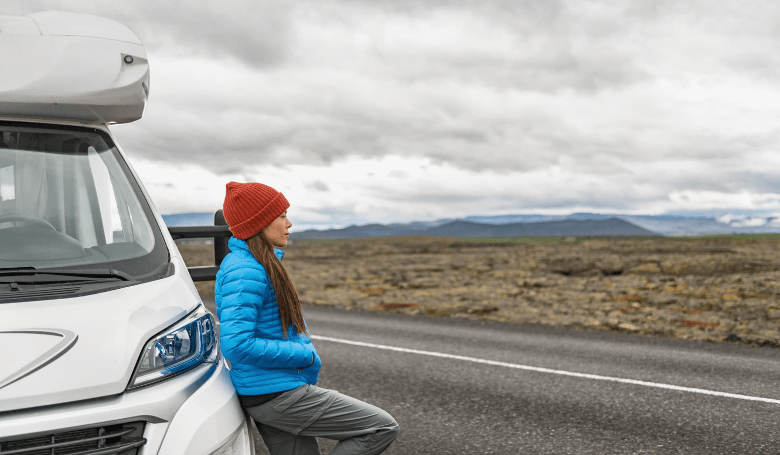 If you're planning to RV in the winter or living full-time in an RV in winter, it's important to bring extra supplies just in case the weather turns out to be worse than expected. Preparation for a winter storm is necessary, even if sunny skies are predicted, because winter weather can be unpredictable.
Make sure you have everything you need to fix your RV in case of an unexpected freeze-up or breakdown by packing an emergency kit. Also, look for waterproof and warm gear while packing for an RV trip in the winter. Bring a variety of layers so that you're ready for any weather, and keep in mind that you can always shed some clothing if you get too hot.
Here is a list of things that you need to carry while living full-time in an RV in winter:
Pack a few layers of basic clothing that can breathe and wick away moisture without losing out on warmth.
Mid-layer options: Given winter's wildly differing temperatures, it's best to be prepared with a wide selection of insulating and breathable mid-layer options, like fleece and wool.
Pick a winter coat that is waterproof and warm enough to keep you dry and warm in the event of snow or freezing rain.
Be sure to wear a warm hat and socks. Body heat will quickly dissipate through your head and feet without proper protection.
The evenings tend to be cooler, so be prepared to cuddle up with extra blankets and warm clothing. Extra layers of clothes are crucial if you get drenched in the snow or rain.
Bring a sleeping bag that can keep you cozy at zero or below temperatures.
Playing in the snow or going on a hike when it's freezing calls for a pair of waterproof gloves or mittens.
You must have a good pair of snow boots when venturing outside in the snow and rain.
Protect your eyes from the bitter wind and flying snow with a pair of goggles if you plan on snowboarding, skiing, or snowshoeing. In addition, goggles will help you see better in the snow if you venture outside.
Since the sun sets earlier in the winter, it is important to have a headlamp and light in case you get lost when trekking or exploring in the dark. Make sure you have a headlamp to help you navigate through the campground after dark. You can also use a battery-operated lantern to brighten your campsite after dark.
Final Thoughts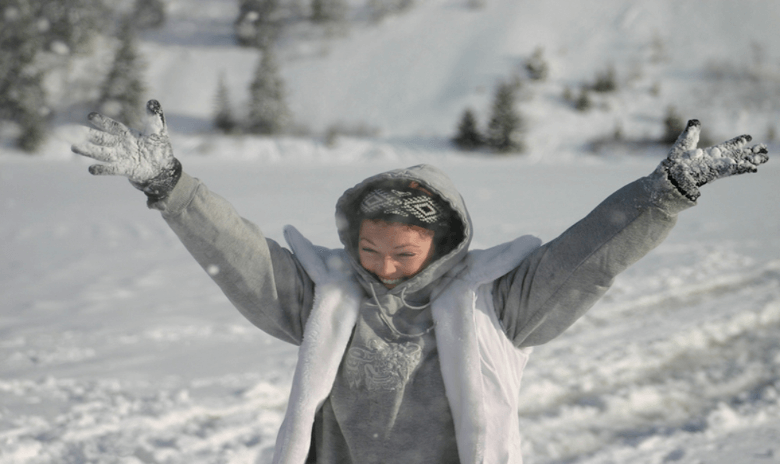 You may expect to encounter some stunning and unusual places on your winter RV vacation. Of course, nothing beats sitting in silence at a winter camp and watching the snowfall.
However, please make a note of the safety advice we've provided so that you can have a fun and risk-free winter excursion. Warm and dry is the way to go, and not cold and damp!