Many people enjoy the freedom and flexibility of traveling in an RV, but sometimes it can be difficult to drive one safely and efficiently. To ensure a successful and stress-free trip, it is always important to have a reliable GPS device that you can trust to help you get to and from your destination. Not only will it help you find the best routes, but it will also provide helpful updates on traffic and road conditions. This will allow you to plan your journey accordingly and make the most of your time. Investing in a high-quality GPS device can be a great way to enhance the RV traveling experience.
An RV GPS can help you to navigate around low bridges, narrow roads, and other obstacles that might otherwise stand in your way. Additionally, it can be of great assistance in finding campsites, rest stops, and other useful destinations that are suitable for RVs. It can even inform you of amenities and attractions in the area, so you can determine which locations meet your needs. With a GPS device, you can make sure that your RV journey is a safe and enjoyable one.
It can be difficult to choose the best RV GPS device from all the options available in the market. That is why we are here to help – we have crafted this article to provide you with an in-depth look at the 6 best RV GPS devices of 2023, including honest reviews to ensure that you make an informed purchase decision.
List of Best RV GPS of 2023
The Garmin Drive 52 GPS Navigator is an excellent choice for those in search of a user-friendly and dependable GPS device. With its 5-inch display and straightforward on-screen menus, navigation and map viewing are made effortless. The device comes preloaded with maps of the United States and Canada, making it ideal for frequent travelers in North America.
Equipped with a range of features to enhance your road trip experience, the device boasts a network of notable historical sites, a directory of U.S. National Parks, TripAdvisor ratings, and millions of Foursquare points of interest. To ensure safe driving, the device issues special warnings for sharp turns, speed limits, and train tracks, allowing drivers to make informed decisions while on the road.
Turn-by-turn directions are provided verbally, using street names, store names, and recognizable landmarks, making navigation even more seamless. The device's search field allows you to easily locate addresses and millions of POIs, with search results that reflect the exact wording used for added convenience. No smartphone is required to use the device, so you can navigate with peace of mind without having to worry about connection issues.
Key Features:
5″ Display
Preloaded Maps of the US & Canada
Warnings for Sharp Turns, Speed Limits & Train Tracks
Turn-by-Turn Directions w/ Street, Store, & Landmark Names
No Smartphone is Required for Use
The TomTom Go 52 GPS Navigator comes with a 5-Inch display and is a really good GPS system with lots of great features for RV drivers. It will make driving much safer and easier. The device gives really accurate traffic info in real-time, so it can plan alternate routes around traffic, which save time and lower stress.
The TomTom Go 52 has a great feature: it works with Siri and Google Assistant. This means you don't need to take your hands off the wheel or look away from the road to use your personal assistant. With Wi-Fi included, users can quickly get the newest maps and software updates without needing a computer. The device's improved processor makes starting up, looking for destinations, and working out the route quicker, giving you a smooth and efficient navigation experience.
The device also has a "destination prediction" feature which learns your driving habits and can predict when you are likely to drive to places you usually go to. The TomTom Go 52 is part of the "Road Trips by TomTom" community. This community gives users lots of driving and riding adventures made by other community members. These experiences can be quickly synced to the device, making it easy to plan RV trips.
Key Features:
5-Inch display
Gives accurate traffic info in real-time
Works with Siri and Google Assistant
Wi-Fi is included for quick maps and software updates
Improved processor
Destination prediction feature
The next on the List is the Gramin RV 780 GPS. Gramin makes some of the best RV GPS on the market. The Garmin RV 780 is a special GPS for RV and camping lovers. It has lots of cool features. The 6.95-inch touch display is crisp and easy to understand. The Garmin RV 780 has a great feature called custom routing. It will plan the best route for your RV based on its size and weight. It also gives warnings about steep grades, sharp curves, weight limits, and other risks. This helps you stay safe while you drive.
This device is packed with features to make your next adventure on the road seamless and stress-free. The RV 780 comes with a list of RV parks and services, including content from popular sources like Ultimate Public Campgrounds, KOA, iOverlander, PlanRV, TripAdvisor, Foursquare, and more. This makes it simpler to find the perfect spot for your RV with all the details you need right in front of you.
The Garmin RV 780 can be paired with your smartphone for easy hands-free calling and smart notifications. Plus, it has voice-activated navigation, so you can use it while you're driving. This is a complete bundle that includes several accessories, such as a mount for your car, traffic receiver/vehicle power cable, instructions, and warranty documentation from Garmin. You will also get a dual DC12V/24V electronic car socket cigarette lighter, a cloth to clean the device, a screen protector, a case to store it in, and a stylus.
Key Features:
6.95″ touch display
Custom routing plans for RV size/weight
Warnings for steep grades/curves/weight limits
Pairs with a smartphone for hands-free calling/smart notifications
Voice-activated navigation
Moving on, the List of best RV GPS is the Gramin RV 890. As the name suggests, it is also specifically designed for RVs. This device has a big 8″ touch display with High Resolution as compared to other GPS with only 5 or 7 Inch displays. It lets you see clear navigation instructions, and you can use either portrait or landscape mode.
Just like the Gramin RV 780, the Garmin RV 890 also features custom routing capability, a preloaded directory of RV parks and services, and hands-free calling capabilities. The custom routing feature considers the size and weight of the RV to find the best possible route. This is helpful for RV owners who want to avoid roads that aren't good for their vehicles. While the directory of RV Parks and Services helps you find the best places to stay during their trips, and you can even plan your trips accordingly.
The Garmin RV 890 can be paired with the Garmin Drive app for GPX file sharing and access to live traffic, weather, and smartphone notifications. The device can also be paired with a wireless backup camera or a compatible third-party wired camera, which allows RV owners to see behind their vehicles while in reverse.
Key Features:
8″ High-Res Touch Display, Portrait/Landscape
Custom Routing for RV Size/Weight
Preloaded RV Parks/Services Directory
Hands-free Calling
Garmin Drive App Compatible with GPX File Sharing, Live Traffic/Weather/Notifications
Compatible Wireless/Third-Party Wired Backup Camera for RV Reverse
The Rand McNally TND 750 is a complete package for all your RV navigation needs. The screen on this device is 7 inches and features high Resolution, making it easy to see and use. The device comes equipped with various features that help make the journey more comfortable and efficient, such as a built-in dash cam, Bluetooth, and free lifetime maps.
The Rand McNally TND 750 RV GPS Device has a great feature: real-time traffic and construction updates. It shows how busy roads are at different times of the day or on different days of the week, especially useful in rural areas. Drivers can follow routes with 3-D images of nearby buildings and landmarks, which is a great way to discover new places.
The device shows where gas stations are and what the fuel prices are, and it records fuel purchases and miles driven to calculate fuel efficiency – making it a great tool for RV drivers. The device is made to last with a stronger magnetic mount to keep it in place and better thermal resistance, which keeps it safe. The performance on this device is also great; with a 6-core processor, it offers quick responses and silky-smooth graphics, and with improved Wi-Fi and Bluetooth capabilities, it provides faster over-the-air updates and connections.
Key Features:
7″ high-quality screen
Real-time traffic & construction updates
Gas station info, fuel prices & fuel purchases recording
6-core processor
Improved Wi-Fi & Bluetooth
OHREX GPS Navigation is great for drivers to stay on route and maximize the navigation experience. This device comes with maps of North America already installed, including the USA, Canada, and Mexico. You can view the maps in 2D or 3D on the 7-inch display. The maps can be quickly updated through a Windows PC connection or a TF card, and you don't have to pay for the updates, and there are no ads.
The OHREX GPS Navigation system has detailed maps and turn-by-turn directions that are spoken loudly from the device's speaker. With this device, drivers will never miss a turn or have to make sudden lane crossings. It helps you find postcodes, addresses, coordinates, and places of interest, plus it warns you about speed cameras. It also gives you street names and real voice directions to make navigating easier.
The device shows speed and ETA, making it a professional navigation system for drivers who want top performance. The OHREX GPS Navigation system is backed by a US-based brand and a professional technician team in the US, which makes it a dependable and trustworthy option for drivers.
Key Features:
Large 7 Inch Display
Pre-installed North America maps (2D/3D)
Detailed maps & spoken directions
Speed camera warnings
Street names & real voice directions
Provides Speed & ETA
How to Buy the Best RV GPS: Buying Guide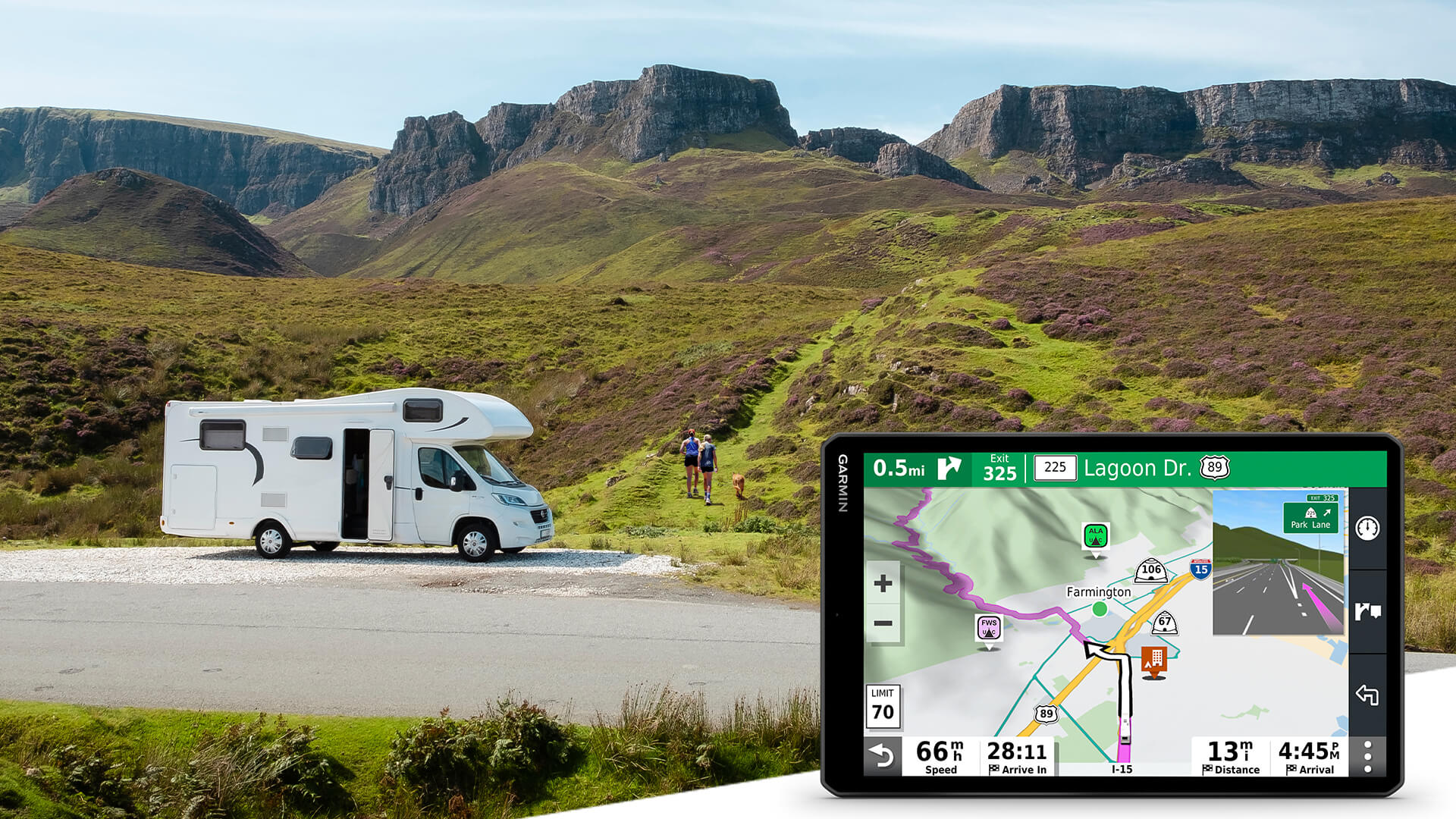 Screen Size
The size screen of RV GPS is really important because it is what makes the device easy or difficult to use and navigate. The bigger screen size makes sure you see all the directions and maps easily without having to squint or get too close to the device. A smaller screen size can make it more difficult to see the directions and maps accurately and make it more inconvenient to use the device.
It is especially important when you're driving, and you have to keep an eye on the route and traffic updates at the same time. A screen size of 7 or 8 inches is the best for RV GPS units. It gives you a good mix of being able to see the screen clearly and is easy to carry when you're walking and using the device as a portable GPS.
Resolution
The higher the Resolution, the clearer and more detailed the screen will be. This will help you navigate safely while you are on the road. A big screen with a sharp picture will give you the best navigation experience and help you avoid any surprises while driving. A resolution of 1280 x 800 pixels or higher will give you a sharp and clear picture, while a lower resolution of 800 x 480 pixels could make the display less clear.
Remember, though, that RV GPS units with higher Resolution come at a higher cost. So if money is an issue, you may have to accept a less clear option to save money. When buying an RV GPS, check the resolutions different models offer and pick the one that works best for you and your budget.
Connectivity
Connectivity is very important to think about when you are choosing the best RV GPS. It is because it allows you to use all the different features of your RV GPS device, such as downloading maps, beginning navigation, playing media files, and checking the current traffic information.
RV GPS devices offer lots of connectivity options such as USB, aux, Bluetooth, WIFI, and cellular. USB and aux are mainly used for playing music from your phone. While Bluetooth lets you make hands-free calls and stream audio.
Look for Wi-Fi connectivity when choosing a GPS. It lets you get maps and traffic updates from the internet. You will always have the most up-to-date info for your trip. Cellular connectivity is also useful when you're not near a Wi-Fi spot. This way, you can stay connected even when you're far away. This is great for those who travel long distances.
Features
When buying an RV GPS unit, it's essential to look at features other than just navigation. Even though it mainly helps you get to your destination with step-by-step directions, modern RV GPS units have a lot of extra features to make your drive better.
The RV GPS devices can be used for entertainment, too! You can listen to music and watch videos while you're on the road. This is a great way to pass the time, especially for families who are taking long trips.
It often comes with hands-free Bluetooth, so you can make and receive phone calls while driving. This helps you stay focused and stay in touch with family and friends while on the road.
An RV GPS unit can also provide helpful features, like voice commands. This lets you control the device without needing to take your hands off the wheel. It may also have a dash camera, which records video in case of an accident or other road incident.
Installation
Some RV GPS units have a standard DIN size like a regular RV stereo and can be installed directly in your dashboard. Other units come with a suction cup so you can mount them on your windshield. This gives you more flexibility, and you can take the GPS unit off if needed.
When buying an RV GPS with a dashboard installation, measure your dashboard space first, so it fits. This type of installation may need some technical know-how and extra tools.
On the other hand, RV GPS units that mount with a suction cup are usually easier to install and can be done by anyone. But, it is important to make sure the suction cup is secure and stays in place while driving. This is because if it comes loose, it can be distracting and could cause an accident.
No matter which installation you pick, it's important to spend time learning about the process, read the directions closely, and follow them step by step to make sure your RV GPS unit is installed safely and successfully.
Battery Life
Battery life is an important factor to consider when choosing an RV GPS Device. A device with a long battery life will let you use it for an extended period without having to charge it again. Most RV GPS devices have a battery life of about 2-3 hours, which should be enough for your portable walking navigation. In case you're going on a long drive, then you should think about getting a GPS with a battery life of 4-5 hours or more.
You won't have to stress about charging your GPS during your journey, which will make you feel at ease. Furthermore, some RV GPS units may have the option to use external batteries to make the battery last even longer. To make sure you get the most out of your RV GPS, look for a device with a big battery, energy-saving features, and a power-saving mode you can adjust.
Conclusion
The best RV GPS device of 2023 is one that is packed with features and functionalities to make your RV trip enjoyable, efficient, and safe.
With this unbiased review and buying guide, you can now make a good purchase decision on the best RV GPS device to suit your needs and budget.
The Garmin Drive 52, TomTom Go 52, Garmin RV 780, Garmin RV 890, Rand McNally TND 750, and OHREX GPS Navigator are all excellent choices for anyone looking for a reliable, feature-rich GPS device for their RV trips.
With a range of features and functions, these devices make navigating easier and safer and are sure to make your next road trip a breeze.