A fifth wheel can be the best investment for you if you enjoy occasionally getting away from the hustle and bustle of daily life. If you still need your car after parking your trailer, this is a fantastic choice. A fifth wheel can be your best option even if you only need an RV sometimes or for side trips. If you identify with this, continue reading to learn everything you need to know before buying a fifth wheel.
What Does a Fifth Wheel Mean?
A fifth wheel is, in the most basic sense, an RV that is pulled by a truck. It's simple to mistake these for other recreational vehicles (RVs), such as travel trailers, although those are pulled by a hitch on the back of the car.
If you don't want a hitch in the bed of your truck but still want a fifth wheel, a gooseneck hitch is an option. Because they won't sway or swing as much while you're driving, these are frequently safer than travel trailers and easier to transport.
Fifth wheels are a common alternative for RVers who wish to keep their daily driving separate from their motorhome because they have a better turning radius due to where they are hitched.
Exterior
The majority of modern fifth wheels are constructed from a gloss-coated fibreglass that is meant to retain its colour and lustre while also withstanding the effects of exposure to the environment. Some of them come equipped with rubber rooftops and attached awnings, while others come with ramps and miniature garages that may be used to store toys.
Because of the manner it is attached to the vehicle that it is being towed, fifth wheels make it simple and safe to carry a significant amount of weight. This is achieved through the preservation of balance and the elimination of wobbling. If you do a lot of boating or off-roading as part of your RV lifestyle, you might want to think about switching to a different type of RV or looking at models that are constructed to carry toys inside the 5th wheel itself.
Interior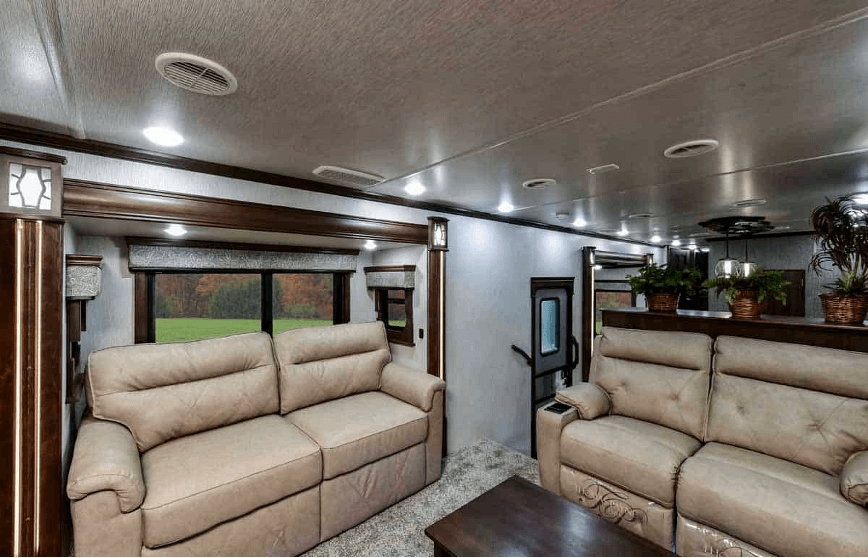 Fifth-wheel floor designs come in a wide variety and can include a variety of amenities such as bedrooms, baths, common living space, eating areas, and more. Every manufacturer will offer a selection of floor designs that are unique to their business, and it is up to the customer to choose the one that most closely matches their requirements.
As opposed to the more traditional layout, which places the bedroom at the front of the fifth wheel, one popular floor design places the living space in the front of the fifth wheel.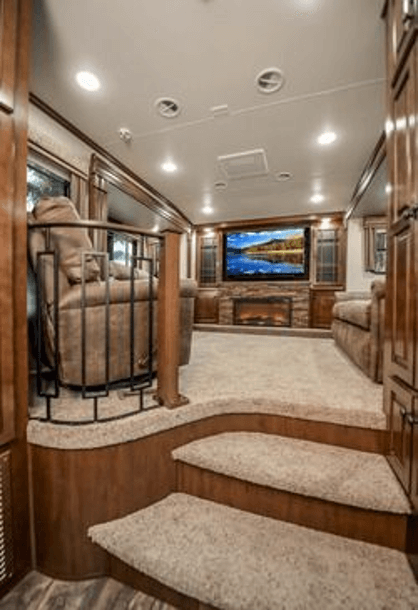 Many fifth wheels come with slide outs, which are simply pieces of the trailer that can be moved out of the way by pushing a button. This makes the interior of the trailer more spacious. Some fifth-wheel trailers are equipped with as many as four slide outs.
Walking through the trailer on your own is the best way to decide the dimensions and amenities that are most suitable for your needs. This gives you the opportunity to picture the conveniences and adventures that could be had in that particular RV.
Towing Fifth Wheel RVs
Fifth wheels can range in length from 30 to 45 feet and weigh anywhere from 5,000 to 10,000 pounds. As a result of this, it is essential to consider the towing capacity of your truck and make certain that the two are balanced to ensure the highest level of safety and the easiest level of towing possible. It should come as no surprise that the hitch plays a vital role in the way in which the trailer is towed; therefore, you should be sure to consult with your RV Dealer on the hitch that is most suitable for the requirements of your trailer.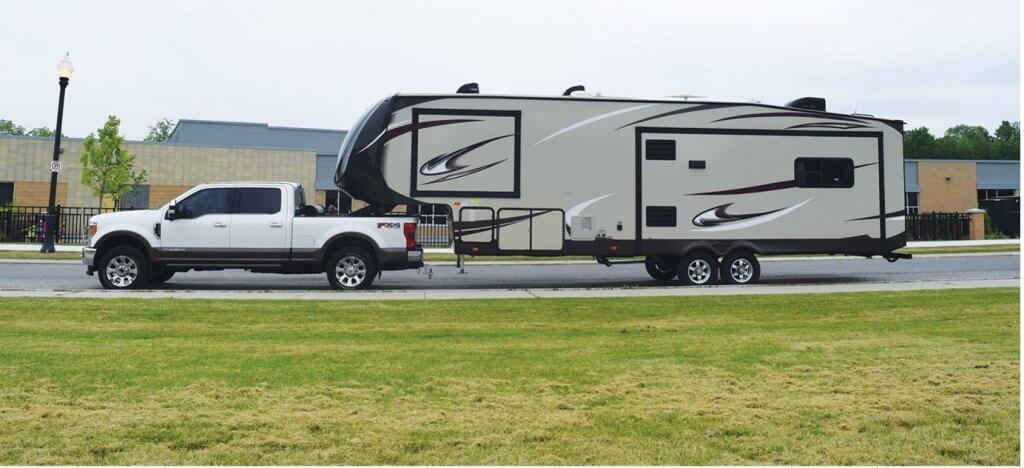 Fifth-wheel trailers that are not too heavy can often be towed by trucks of a more moderate size. RVs that are both smaller and lighter in weight are wonderful options if you plan to take shorter trips or if you don't require a large amount of living space while you're travelling. Towing the largest trailers will require a car with a diesel engine. Midsize and full trailers, which offer greater living space than their smaller counterparts, require larger vehicles.
Once you have loaded all of your personal belongings, gasoline, water, propane, and other supplies into your trailer, you can anticipate that the total weight of your trailer will increase by somewhere between 2,000 and 3,000 additional pounds.
What Can a Fifth Wheel Trailer Be Used For?
Go Camping
A luxurious vacation in the woods is possible if you bring a fifth wheel. Prepare dinner over a nearby campfire, toast marshmallows, and share stories around the flames before returning to your RV to enjoy a clean, cosy interior and the convenience of modern bathroom amenities.
Take Road Vacations
 A fifth wheel has never made a family road trip better. Driving across the nation, stopping at each city, might provide difficulties and costs. Staying in your fifth wheel allows you to save paying hotel fees and to experience familiar surroundings.
Live An Adventurous Life on The Road Full-Time by Becoming A Full-Timer
Wherever your life and travels take you, fifth wheels offer luxury and comfortable living. Visit your grandchildren, travel to places you've always wanted to, or go RV camping at random. Park for weeks, months, or even years in one of your favourite places and just take it easy with all your possessions and comforts.
Why Would You Prefer a Fifth Wheel Trailer over a Motorhome?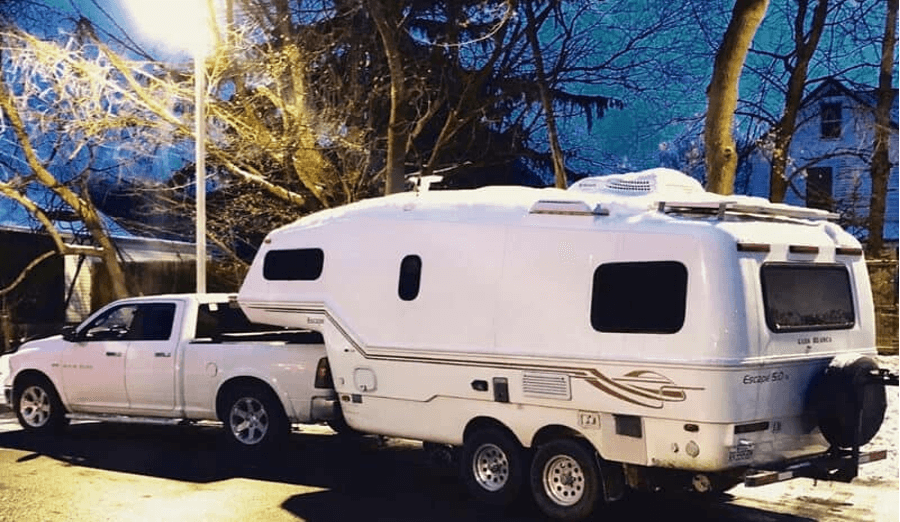 A fifth wheel frequently has greater living space than a motorhome, especially with the option of a slide out.
When trying to park or manoeuvre, they are usually simpler to move.
Your entire home won't have to travel to the repair facility with the engine if an engine repair is required while you're travelling.
RVing is a lifestyle to be cherished, whether you travel full-time or just like to go on short road excursions or camping trips. The fifth wheel can make it more convenient for you to travel with a car that is always conveniently accessible and detachable.
You can still bring all the comforts and amenities you would enjoy in your own home even though it doesn't have a motor of its own.