Wondering what's the best way to clean dirt, grime, and dust from your RV? Given the sheer size of the recreational vehicle, you certainly cannot expect to scrub it off manually. You will have to rely on some or the other form of automated washing techniques.
The two most common forms of automatic washing techniques are pressure washing and power washing. These terms are often used interchangeably and confused frequently by people. But to understand which is the best washer for RV, you need first to understand the key differences between both.
So, this blog aims to educate you about the difference between pressure and power washing techniques and then help you arrive at a suitable conclusion about the best washer for your RV camper.
Difference Between Pressure Washer and Power Washer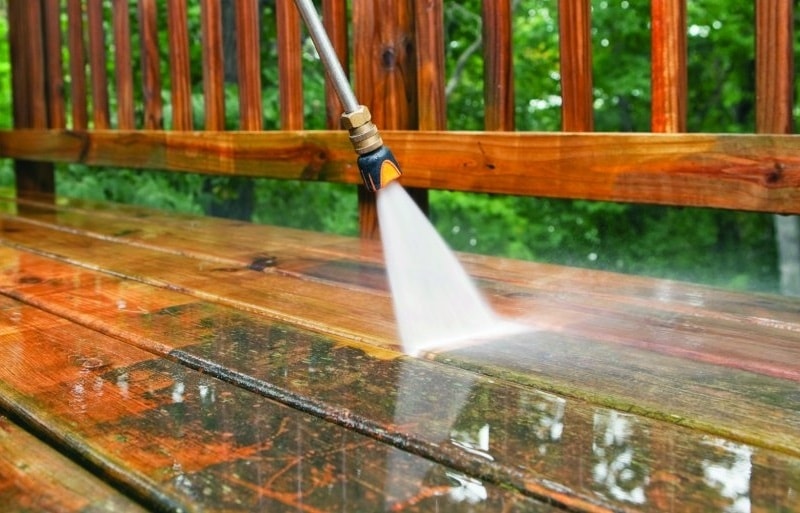 A pressure washer utilizes high pressure to get the water out of the hose powerfully to wash away the dirt and grime and even scrape off paint from the surface.
A power washer uses heat instead of high pressure to wash off stains and grease.
A pressure washer is cheaper than a power washing system.
The three methods used for power washing are cold water pressure washing, hot water pressure washing, and steam pressure washing.
Cold water pressure uses cold water under high pressure.
Hot water makes use of hot water.
While the third method runs on Steam.
Best Uses for Pressure Washer
Pressure washing systems are useful for individual uses at homes or for cleaning RVs.
Sidewalks, walkways, stairways, patios, and driveways.
Vehicles of all kinds, including cars, buses, trucks, RVs, and even boats.
Exterior facades of residential buildings.
Best Uses for Power Washer
A power washer is the heavy-duty version of a washer, so it finds typical use in industrial or commercial setups.
Public places like stadiums, open plazas, and parking garages.
Cleaning of industrial places.
How to Pressure Wash an RV?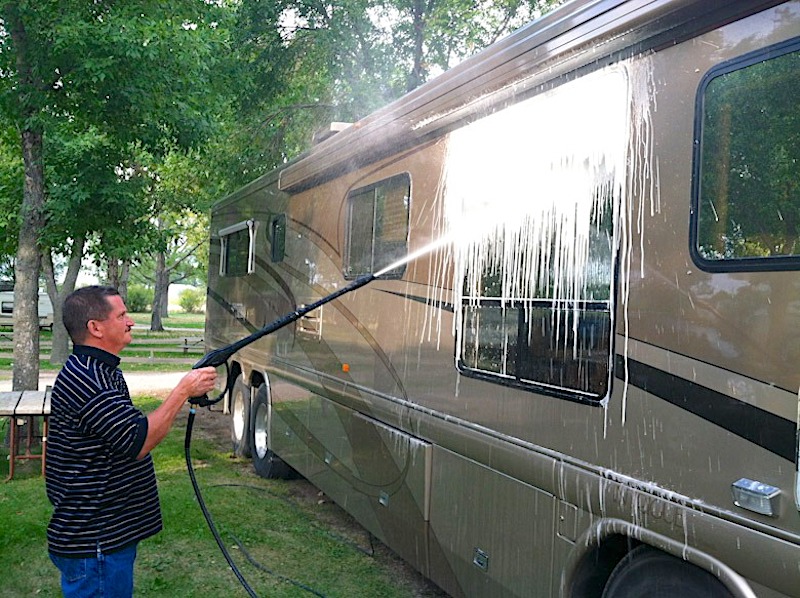 When using a pressure washer device for an RV, stick to the following steps and guidelines given below.
Mix a mild cleaning detergent specific for RV in a tank containing water.
Then, start spraying the water in a sweeping or circular motion. Start from the top and gently move downwards to avoid streaking.
You could also spray some soap with a foam cannon attachment.
You could also scrub the soap on the RV with the aid of a long hand-held scrubber.
Now spray again to rinse away the soap while maintaining a 3 to 4 feet distance.
If you are using a gas-fueled pressure washer, ensure that the PSI is set at 3,000 PSI. But if you are using an electric pressure washer, you need to maintain it at 2,600 PSI only. However, models designed for RVs only need to maintain the pressure at 1,100 to 1,300 PSI.
If you are hiring professionals to do the job, you would need to pay around $2 to $5 per linear foot.
Pressure Washers: Some Tips of Caution
Don't clean the roof of an RV or tires with a pressure washer.
Don't aim the pressure washer at 90 degrees. This is because the pressure acts at its hardest at this angle.
Don't point directly at seals, window caulk, and vents.
Definitely stay away from decals.
Never aim the pressure washer on the RV awning.
Don't be on a ladder while spraying the pressure washer.
Avoid using the washer close to the RV camper.
Pressure washer is only recommended for new models that do not have a lot of fixes and repairs.
Also, keep your appliances, like air conditioners, away from the washer.
Using Pressure Washers: Safety Guidelines to Follow
You must bear in mind some safety tips before using the tool.
Never skip safety gear like goggles, gloves, and boots. Also, cover your body with long pants and a full-sleeve shirt. You may also wear a helmet if you wish.
Always refer to the manufacturer's instruction manual, especially the safety instructions for the pressure washer.
Never aim the spray nozzle towards yourself or others.
Only employ the tool to clean surfaces that it is meant for.
Ensure to remove tripping hazards from the path.
Final Thoughts
So, hopefully, after going through this blog, you have decided which is the most suitable form of washing technique for your RV. After reading through the blog, you must have deduced that pressure washing in an RV seems a better option than opting for power washing. The reason is power washing largely relies on employing heat, which can even scrape the paint off the surface of the RV.
Now, if you have purchased a new RV, you certainly want to preserve the paint and beauty of your brand-new RV service. Also, the hot water can damage other things in your RV, such as appliances and furnishings.
It is, therefore, recommended to use an electric pressure washer with 1,100 to 1,300 PSI only.