Recreational vehicles are transforming the way we approach travel. It gives us the freedom to go out of our way to explore travel routes. It is a comfort just like home on wheels; it allows us to undertake new adventures. A recreational vehicle is a motor vehicle that blends transport and living space for travel, camping, or recreational purposes.
This multi-functional creation is not just a motor vehicle, but it can prove to be a home during travels. It is imbibed with all the useful amenities that you would want in a homely residence.
This includes designated areas to sleep, kitchen, bathrooms, and space for storage. It is definitely a wonderful experience to travel without compromising the comfort of your personal space. The height and width of the RV might differ accordingly.
Features of a Recreational Vehicle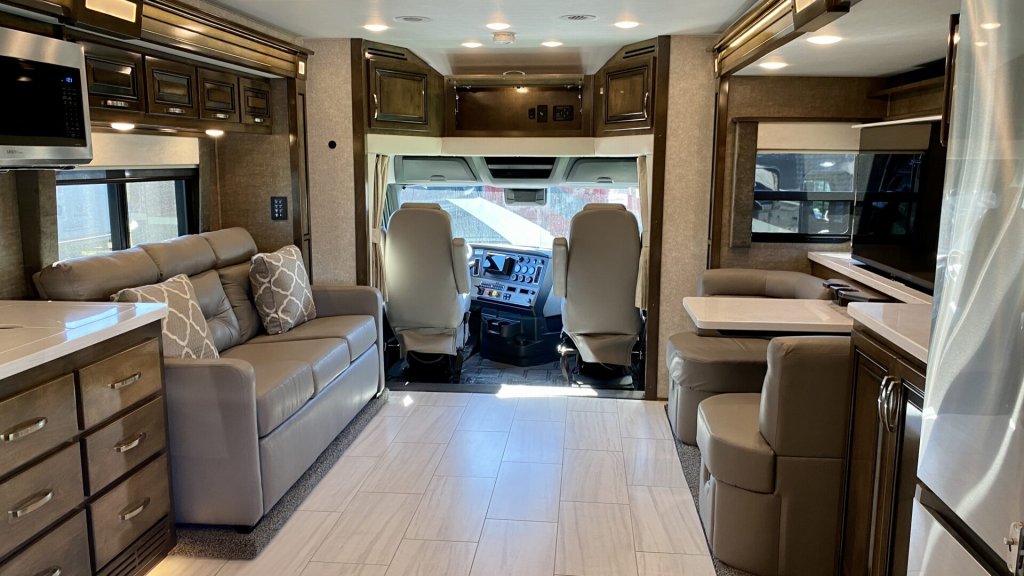 1. Kitchen
It has a designated space for cooking along with appliances, a sink, a refrigerator, and space to store all your kitchen essentials.
2. Bathroom
It also has a bath and shower along with a toilet. Say goodbye to all your worries regarding hygiene as you have your own space to freshen up and continue your trip.
3. Sleeping Quarters and Living Space
In your recreational vehicle, you will also find that there are quarters to sleep, ranging from single beds to master bedrooms. There is also a dining space for you to dine with your family or friends, sofas, and various relaxing systems for your entertainment.
4. Heating and Cooling Amenities
To help with various climate conditions of different places that you travel to, there are adequate amenities for the heating and cooling of your recreational vehicles.
5. Water Management
There are also freshwater tanks, tanks for wastewater, and plumbing facilities for your travels.
6. Power Supplies
You have facilities to connect your electronic gadgets if you are using generators and batteries, and an RV has power sources to connect everything.
7. Outdoor Facilities
There is also space for outdoor kitchens, additional space to store your outdoor equipment, camp equipment outside, and more.
How Many People Can an RV Fit?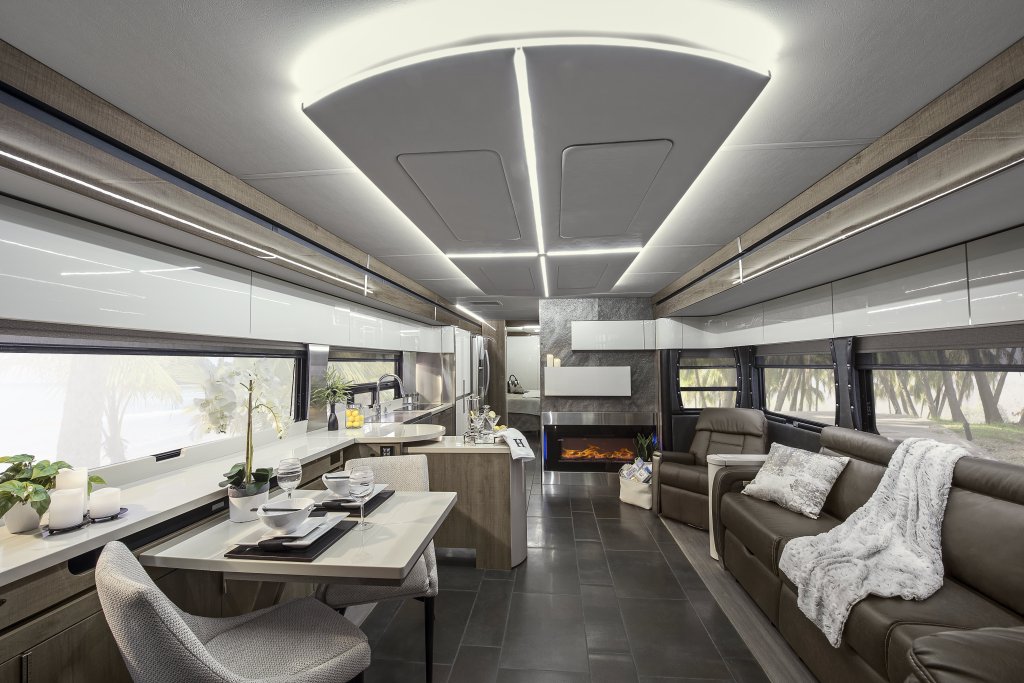 Recreational vehicles are very huge vehicles. If you decide to take trips and vacations with your whole family or a large circle of friends, you might need to look through the accurate measurements inside an RV to see how many people to include. It is a suitable option to invest in a bigger RV for the long run, one that can comfortably house many individuals.
It is also very crucial to keep the safety regulations in check as it is not advised to travel without a seat belt while driving, no matter what the distance. Hence, to decide, all these factors need to be considered.
1. Class A RVs
You can settle on a class A RV if you are looking to include your family in one scoop into your RV. Most A-class RVs include up to 12 people, but usually, about 10 people is a comfortable arrangement. There is ample space for everyone to house in.
2. Fifth Wheel Trailers
These are some of the largest RVs that you find on the road, some often larger than 45 feet, and they have a lot of slide-outs, separate rooms, and amenities just like your personal space. Some 30-50 foot fifth wheels can be the most luxurious RVs that you will ever find, with immense amenities to feast on. You can fetch about 12 people in a comfortable arrangement where you can enjoy everything.
3. Class C RVs
Similar to class A, there are class C RVs that are a great option for small families. There is no need to tow this, and you can hop and go on with your trip. They are easier to drive than class A as they have a smaller frame and can house approximately 7 people. There might only be one bathroom inside and a smaller cabin than class A, but they are more comfortable and easy to drive with your chosen number of people.
Conclusion
Recreational vehicles combine the freedom of exploring comfort and adventure all in one, drawing people to the vast world of trailers. They are multi-functional and purposeful. It allows people to embrace travel and a comfortable lifestyle. You can spend quality time with your family by taking trips and vacations.
It is very cost-effective in the long run as you have a motor vehicle that is handy for many facilities and is versatile and flexible to enjoy the experience on the road. You can also connect with nature as you go along the road and explore the beautiful trails on your way.
Frequently Asked Questions
What Other Types of RVs are There?
There are class B RVs, medium towable RVs, and smaller towable RVs to travel small and comfortably. They are more compact and streamlined and even better fuel-efficient than the Class C RVs
How to Maintain an RV?
For the maintenance of an RV, you've to replace the air, fuel, hydraulic filters, and coolant. Timely inspection of these filters will ensure the proper running of an RV